The Timeline: Trent Rockets Men v Southern Brave Men
Trent Rockets opened up their season with a home clash against Southern Brave on Saturday. Here's what happened...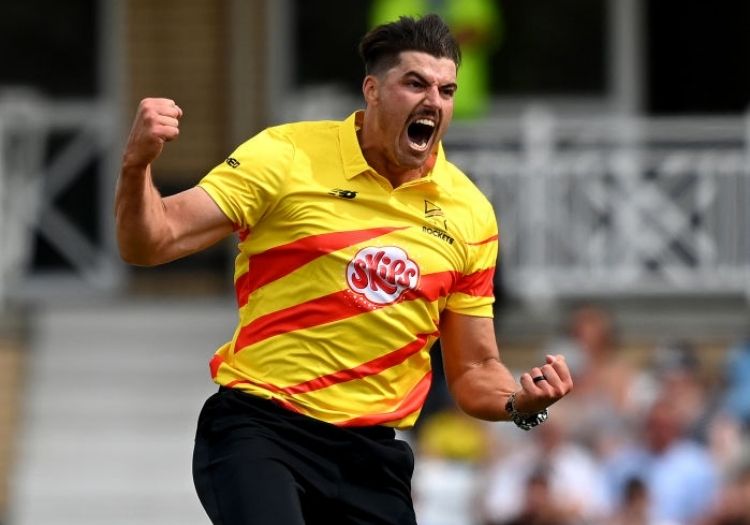 Trent Rockets opened up their season with a home clash against Southern Brave on Saturday.
Here's what happened...
Ball 2: Hello The Hundred, I'm Devon Conway. And this is what I can do. One ball faced, one brilliant boundary from the Kiwi - a cover drive on one knee that gets to the rope quicker than you can say "why didn't South Africa realise what they had". 5-0
Ball 5: Big breakthrough for Luke Wood. A fizzing inswinging yorker bumps off James Vince's pads and onto his stumps. Wood veers off, roaring, in celebration. Vince had been in tremendous nick for Hampshire Hawks in the T20 Blast and Rockets would have known letting him settle would have been asking for trouble. 6-1
Ball 7: Lewis Gregory tells Wood to bowl 10 straight through from the off, after an excellent first set of five deliveries, but his sixth is a wide half-volley and Alex Davies - the Warwickshire-bound wicketkeeper - flails a square drive for four. The next seventh ball is wayward on the other side, and Davies can nurdle four to the fine leg boundary. 14-1
Ball 20: Davies had been going along like an express train but he's attempted one big shot too many against Gregory and in the end can only slice a catch to Dawid Malan at cover. Davies goes for 21. 32-2
Ball 26: Joe Root has come on to bowl his slightly-more-than-part-time off-spin. And Brave's left-handers cannot get him away. Just four runs from his first set and with the first ball of his second there's a huge lbw shout against Delray Rawlins. Not out is the decision, and there's no review. 36-2
Ball 30: Root has got through his 10 deliveries in the time it took me to reach for a glass of water. Piling the pressure on the batsmen. His 10 balls go for just seven runs. 40-2
Ball 32: A quarter of a chance for Tom Moores, as Rawlins gets a bottom edge to a Rashid Khan delivery and it angles downwards, quickly, between the wicketkeeper's legs. 45-2
Ball 36: Marchant de Lange claims a wicket with his first ball in The Hundred. Desperate to relieve the pressure piled on by the Trent Rockets spinners, Rawlins stands and delivers, clattering a back-foot drive at extra cover. 47-3
Joe Root enjoying his Saturday afternoon
Ball 40: Colin de Grandhomme's very peculiar knock is over pretty quickly. The New Zealander has moved across his stumps and tried to turn De Lange to fine leg from each of the four balls he faced. He played and missed at two, got a four with another, and found his leg stump knocked back from the fourth. A spot of bother for Southern Brave. 51-4
Ball 45: Another excellent set of five from Rashid Khan, despite a change of ends. His quick leg breaks and clever variations are causing all sorts of problems for the batsmen. 53-4
Ball 50: Rockets have flown through half their balls to be bowled and it's still taken them 33 minutes. The competition's stated aim of innings taking 65 minutes seems increasingly fanciful by the day. 55-4
Ball 53: Trouble, trouble, trouble. Conway is the next to go, a thin edge from a half-hearted chop making its way into Moores' gloves. It's a good catch, low in front of him. My, this is a difficult position for Brave. 58-5
Ball 61: A pressure-valve for Southern Brave, as Whiteley skews a boundary through point, thanks to a fielding misunderstanding on the rope. Root is still proving incredibly tricky to negotiate. 68-5
Ball 65: Root finishes his 20 balls with a wicket. Liam Dawson tries to slog sweep the England captain and is done by what appears to be a seam-up delivery which swings a little. It would certainly have surprised Dawson. 71-6
Ball 72: Finally, a six. Ross Whiteley is one of the cleanest strikers of a cricket ball in the county game and he has connected 100 per cent with this one from Rashid Khan. It sails over midwicket and into the stands. Five or six more of those and Brave might have a score of note. 80-6
Ball 83: Whitely is playing a heck of a hand for Southern Brave. This drive down the ground off Rashid Khan races to the straight boundary. A total of 120 looks well within reach now. 97-6
Ball 91: Big chance for Rockets to be rid of Whiteley. Gregory collects off his own bowling and has all three stumps to aim at, with the Brave batsman so far out of his ground he could be issued with a trespassing notice. Gregory misses, Whiteley survives. Can he make the most of the chance? 111-6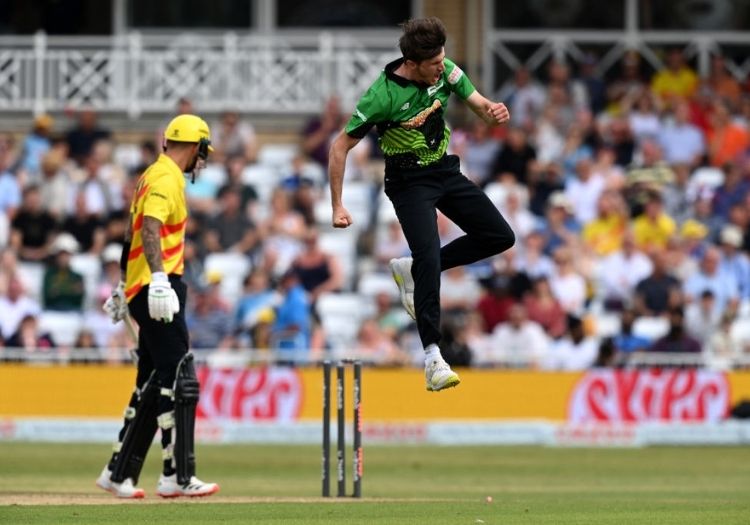 George Garton celebrates an early wicket for Southern Brave
Ball 95: Chris Jordan has waded his way through this innings so far, so this is a crucial boundary. He sits back, waits for the short delivery from Gregory and short-arm jabs it aerially down the ground. Root is underneath it on the rope but needs to grow a good foot to stand a chance. Six. 121-6
Ball 96: Jordan goes again. The England allrounder hooks hard towards the square leg boundary but it's not got the height and D'Arcy short is in the right place to take the catch. 121-7
Ball 98: The Hundred's first five-for. Marchant de Lange steams in and fizzes down a 90mph yorker, which is not what you want to face from your second delivery, as George Garton has just experienced. Bails cartwheeling, lights flashing. 121-8
Trent Rockets make 126 for 8
Ball 2: What a start for Southern Brave. Garton's first ball is a horrible beamer, his second a free hit to D'Arcy Short. But his third - the second legitimate delivery of the innings - is a savage swinging yorker which Alex Hales simply doesn't pick up. It flicks the pads and cannons into the foot of off stump. 3-1

Ball 7: A nasty blow for Dawid Malan. Tymal Mills is quick and this delivery - clocked at 87mph by the speed gun - rises sharply off the surface and strikes Malan on the back hand. Glove off, fingers flexed, physio on hand. Mills has the capacity to hurry batsmen like very few others in this competition, and this is a terrific example. 11-1
Ball 8: Another body blow. This time Malan takes one on the front glove, eyes off the ball, seemingly startled by how quickly Milles has got the ball to leap off the surface. 11-1
Ball 16: The crowd delight as Short plays the latest of ramps, having appeared to be ducking out the way of another Mills short ball. It catches the middle of the bat and flies away for four at third man. 24-1
Ball 22: Vince calls on left-arm spin to the left-handers - an interesting move. Malan takes this as a cue to throw his hands through the ball, and he manages four over the covers. Rockets still very much favourites despite the early wicket. 35-1
Ball 36: Malan is slowly moving through the gears in a very Malan kind of way. Chris Jordan comes into the attack but his first ball is guided through backward point for four. 53-1
Ball 47: It is getting quite predictable. Trent Rockets are able to pick up singles, manipulate the field and edge closer to their target without too much trouble. The combination of left-arm spinners and De Grandhomme's medium pace just doesn't look like making inroads. And now Malan cuts to the fence for four. This one feels over already. 65-2
Ball 53: Kerpow. Malan's favoured strategy to wait 10 balls before beginning to accelerate might be tested later in this tournament but today, with a very modest total to chase on a very run-happy ground, he is in his element. And now he can just wait for bad balls. That's what he does here, as Garton drops one short and Malan slopes onto the back foot to pulverise it over square leg for six. Rockets are romping to victory. 78-1
Ball 62: The parade goes on. Malan picks off Jordan, hitting him over cover for four, then following the next ball with a glorious cut to reach his half-century from 35 balls. 94-1
Ball 64: Oh my word. Malan, uppercutting for six with little more effort in his wristy flick than you might need to stir a cup of coffee. It's a short boundary down there but still… wow. Rockets will have this done very soon. 100-1
Ball 67: That's the century stand between these two. All getting a tad too easy. 103-1
Ball 68: Brave want an lbw when Briggs hits Short on the front pad as the Aussie attempts a reverse sweep. Not out is the call on the field, and it's sent upstairs but the bounce would have taken the ball over and the visitors lose their review. 103-1
Ball 81: We're nearly done here. Short and Malan are making mincemeat of this, and as I write that the Aussie drives Dawson down the ground for six to reach his half-century in 40 balls. 126-1
THE REACTION
Rockets fast bowler Marchant de Lange said: "The top wicket takers in the short formats are normally spinners and slower bowlers but I feel like there is a time and a place for express pace. I tried to keep it simple and just do the basics well and it was a pitch that helped me today.
"In general, our bowling unit stuck to their plans and our captain led very well. It was quite a comfortable win in the end. The batters did really well in assessing the wicket as time went on through the innings. You've actually got more time than you think. We've got a solid team and we gelled together pretty well for the first time out.
"I didn't expect to be involved in the competition until a couple of weeks ago but I just try to take opportunities whenever they come along."
Brave's Ross Whiteley said: "De Lange is quite an aggressive bowler and he hit the deck pretty hard and used his yorker well towards the end. He is a class act.
"Losing a couple of wickets in the Powerplay is always tough. We tried to rebuild through the middle but kept losing wickets at crucial times and were probably 25 or 30 short.
"I'm not sure anyone knows what a good score is in this format yet and it is going to take a while to get used to it. We've got used to seeing over-rate on the scoreboard and that's not there any more, so we need to be quite good with our numbers to work out where we are and that will take a bit of adapting to, but that's part and parcel of it, something we'll have to do a little bit better at in future games."
Southern Brave 126 for 8
Trent Rockets 127 for 1
TRENT ROCKETS WIN
Please ensure all fields are completed before submitting your comment!