The Timeline: Trent Rockets Women v Southern Brave Women
Trent Rockets and Southern Brave opened their accounts in The Hundred at Trent Bridge on Saturday. Here's what happened...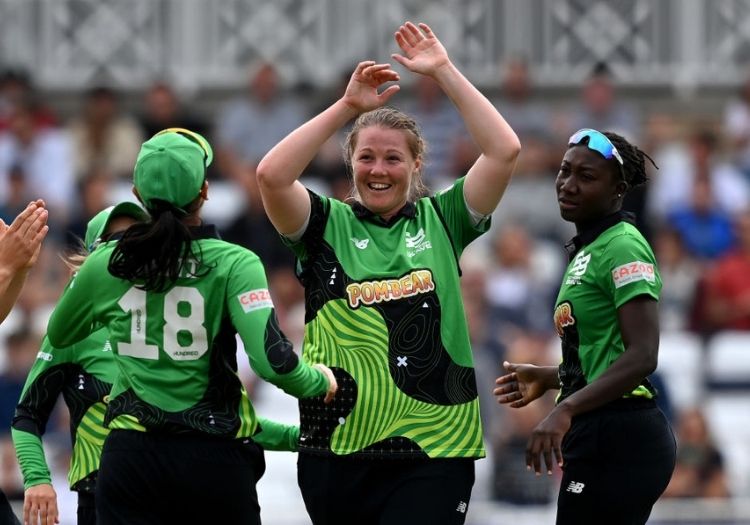 Trent Rockets and Southern Brave opened their accounts in The Hundred at Trent Bridge on Saturday.
Here's what happened...
Ball 4: Three dots and the pressure is building already. Danni Wyatt looks to take Katherine Brunt over the infield but can only chip to mid-off. She takes on the arm and would have been out by miles with a direct hit. As it is, the England opener survives. How important will that be? 1-0
Ball 5: Just one run from Brunt's first full set. That's impressive. At such a high-scoring ground, a start like this is gold-dust. 1-0
Ball 6: Pressure pays off. Smriti Mandhana, looking to get a move on, tries to launch Sammy-Jo Johnson over the midwicket boundary, and it sounds cracking off the bat, but the Indian international has got way too much height on her shot and nowhere near enough length. It is a terrific catch by Michaela Kirk in the deep, she had so much time to think about dropping it! 1-1
Ball 9: Finally, a boundary. Sophia Dunkley is at the crease at No.3, and after a little shuffle down the crease she punches a lovely drive straight down the ground for four. 5-1
Ball 14: Fantastic work in the field from Sarah Glenn. Dunkley tries to find another quick single down the ground but Glenn gets down quickly and throws from the floor, Sarah Bryce takes off the bails and Dunkley is considerably short of her ground. Brave are in trouble. 8-2
Ball 18: Brave have a lot of catching up to do. Nat Sciver drops one short and Wyatt can shivel to pull the ball for four behind square. 14-2
Ball 19: Oh dear. Wyatt, who hasn't looked in nick, has gone for a nine-ball 7. Sciver throws down another short'un and Wyatt can only find the splice of the bat, the ball ballooning to mid-on where Johnson takes a simple catch. Hmmm. 14-3
Ball 35: A little acceleration from Brave, thanks to Maia Bouchier and Stafanie Taylor. Taylor square drives Heather Graham to the boundary early in the set of five, and Bouchier follows that with a lobbed straight drive for four more. That's more like it! 35-3
Ball 41: Here we goooooo. Taylor opens up her body to launch Glenn over wide midwicket for six, the first one of the match. Brave are starting to motor. Funny how things change so quickly. 48-3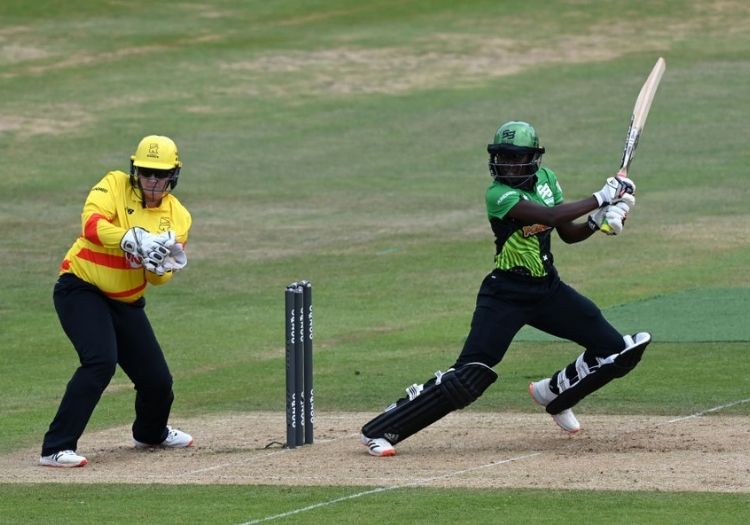 Stafanie Taylor was topscorer for Southern Brave
Ball 44: And just like that, the momentum swings again. Glenn isn't put off by the treatment afforded to her by Taylor and tosses another looping legbreak to Bouchier, who gets a leading edge and the ball scoops up to Higham at extra cover. Just when it looked like they were getting away, Brave have been hauled back in. 49-4
Ball 55: Ping. That's a terrific catch by Abbie Freeborn. Amanda-Jade Wellington has absolutely leathered a square drive and it's got to Freeborn in the blink of an eye, but she's held onto the chance. Rockets have been pretty good in the field today. 57-5
Ball 62: The innings hinges on Taylor. She's clubbed Glenn through midwicket for four, but there's an awful lot more work to do if Brave are going to post a challenging total. 63-5
Ball 79: Anya Shrubsole and Taylor have been tucking into this Trent Rockets attack and the latest blow is a towering six over mid-on by Shrubsole. Brave are starting to motor again. 96-5.
Ball 88: As Stuart Broad on commentary pleads fir the Rockets to bowl into the pitch, Glenn tosses up a slow leg break on a length and Shrubsole drops to her knees to sweep for four. That's the fifty partnership. 108-5.
Ball 99: Taylor has relinquished most of the strike to Shrubsole since the halfway point in the innings but she's in on the act at the death here, striking back-to-back boundaries behind square. 132-5
Southern Brave post 133 for 5.
Ball 2: Early intent from Priest, who steps across her stumps to help Shrubsole's inswinger to the square leg fence. 4-0
Ball 4: Gone! Priest looks to go big again but can only chip a catch to mid-on, where Mandhana takes the simplest of catches. 4-1
Ball 7: Sammy-Jo Johnson was very nearly bowled by a wonderful inducker from Lauren Bell first up, but she slices a boundary over cover from Bell's second delivery. 8-1
Ball 8: Now she's outta here. Bell finds a full length again, Johnson swings again, and Taylor takes the catch at midwicket. Rockets seem a bit wild in their approach to this chase at the moment. Brave showed how quickly an innings can turn. 9-2
Ball 9: Wife and wife at the crease now as Brunt joins Sciver. Brunt makes a perfect start by carving Bell through backward point for four. A punch of the glove with her batting partner, perhaps a discussing of who's on laundry duty at the same time? 13-2
Ball 20: Sciver is having some fun out there. Three consecutive fours off Tara Norris, the first a delicate flick through fine leg, the second a comanding punch down the ground, the third a tickle on a poor delivery down the legside. A lot depends on this Rockets pair, and they look up for the fight. 29-2
Ball 30: Excellent work from Bell. She's only 20, and she's bowling at two of the most decorated cricketers in the English game, but she's holding her nerve. The inswinging yorker is proving very difficult to get away and with 70 balls left Rockets need an even 100. 34-2
Katherine Brunt in action
Ball 35: The spin of Amanda-Jade Wellington is now in the attack, and Brunt just cannot make a good connection. Her first five deliveries are all dots - in the old days we'd call that a maiden, not sure whether that's the accepted terminology now we deal in fives not overs. 34-2
Ball 40: Well now, Wellington has put Brave in control. She takes on a set of 10 and concedes just five runs. Mega. 39-2
Ball 50: Trent Rockets are halfway through the chase and still 82 needed. Sciver turning on the flair with a ramp for four off the left-arm seam of Norris. The hosts are in a very similar position to Brave in the first innings at this stage, so we know what's possible. 52-3
Ball 64: A massive moment in this match. Sciver advances down the track against Bell but gets undone by a well disguised slower ball from the seamer. Bails everywhere. Limbs everywhere. Brave delighted. 75-3
Ball 66: And now Brunt goes, after a difficult stay at the crease. Taylor claims the wicket, with Brunt top-edging a sweep to square leg. The task just got a whole lot steeper for Trent Rockets. 76-4
Ball 80: A quite wonderful shift from Wellington, who finishes with remarkable figures of 0 for 10 from her 20 deliveries. Rockets just could not figure out a way to get under her skin. 82-4
Ball 83: Four, two, four for Graham, who is taking on a daunting chase. Have Rockets left themselves too much to do? Forty-one needed off 16. 92-4
Ball 87: Finest shot off the day from Graham, who scoots down the wickets and goes in-to-out over extra cover for four. Fantastic sound off the bat. The crowd appreciated that. 99-4
Ball 89: Oop. A poor drop from Dunkley at cover. Graham gets to a wide full toss and slices it to Dunkley, who gets down low and gets two hands on the ball but cannot hold on. It shouldn't cost the visitors, thankfully for the England allrounder. 100-4
Ball 95: Trent Rockets will have to have the final over of their lives to win this. They need 26 off five, and Shrubsole has the ball. 107-4
Ball 97: Freeborn has found the going tough and, in the pursuit of late boundaries, she is dismissed lbw by Shrubsole attempting the scoop. It's so plumb you could turn it into a very reasonable jam. 109-5
Ball 99: A mighty fine catch from Wyatt in the deep, who has to make 30 metres and then dive full stretch to give Shrubsole the wicket of Graham, as the Aussie hits out. 110-6
Ball 100: Three wickets from Shrubsole's final five balls, as Bryce swings across the line and is bowled. Southern Brave have really turned up with the ball here. It's an excellent opening win. 110-7
THE REACTION
Shrubsole said afterwards: "It was not the ideal start to be 57 for 5 but we back our batting line-up to bat deep and while we thought our total might have been a bit under par we thought it was defendable.
"I'm pleased to pick up a few wickets and to be contributing but the way we bowled as a unit today was exceptional today, especially Wello, who was crucial in strangling the batting in giving way, I think, just 10 runs in 20 balls.
"And the way Stefanie batted - she was positive and aggressive but she did it in such a clever way. She's a world-class performer."
Rockets skipper Nat Sciver said: "I think so long as me and Kathrine stayed together we had a chance but when two batters who are in get out close together it puts a lot of pressure on the batters coming after. Anya Shrubsole bowled very well and Wellington made it difficult for us, mixing up her pace and her lengths.
"It is disappointing, but you can't have a crisis meeting after one game, we're still working out as a team how to build an innings, how to build a partnership.
"Our fielding was brilliant. Being able to perform when there is a crowd in and there is pressure on is difficult but we handled it very well, and that was a pleasing part of the performance."
Southern Brave 133 for 5
Trent Rockets 110-7
SOUTHERN BRAVE WIN
Please ensure all fields are completed before submitting your comment!