The Timeline: Southern Brave Men v Birmingham Phoenix Men
Chris Jordan was the hero as Southern Brave produce a spirited fightback against Birmingham Phoenix to seal their first win... as it happened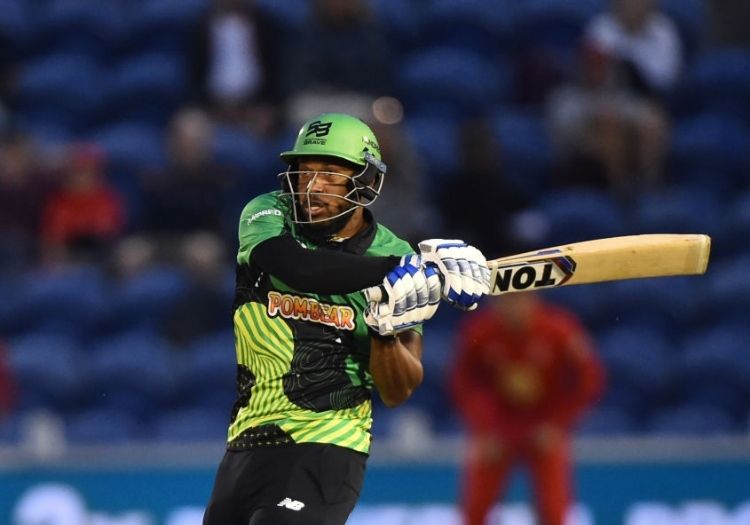 Chris Jordan was the hero for Southern Brave , scoring 17 runs from 9 balls to steer his side to an unlikely victory over Birmingham Phoenix .
A 104-run partnership between Liam Livingstone, who scored a half-century, and Miles Hammond propelled Phoenix to 151 for 3 before a half-century from Brave captain James Vince put his side in pole position.
A flurry of late wickets left Brave rocking but the experience of Jordan, aided by a field punishment for Phoenix, was enough to see the home side to their first victory in The Hundred.

Here's how it happened…
Ball 1: Allen straight in! Welcome to the Ageas Bowl, Finn Allen. In the words of Daren Sammy, "a juicy half-volley" straight through mid-on for four.
Ball 5: Review! With one second left on the clock, James Vince gives the signal to go upstairs, believing George Garton's delivery hit Daniel Bell-Drummond on the pad. DRS says… not out, bat clearly involved.
Ball 19: SIX! Phoenix's first boundary since the opening ball and it's a maximum! Bell-Drummond gives himself room and flashes the ball just over the rope towards deep third.
Ball 22: DBD OUT! Bell-Drummond attempts a cut to point and sends the ball straight into the hands of Ross Whiteley. That's just the sixth wicket Southern Brave have taken in The Hundred to date and Tymal Mills' first. Enter Liam Livingstone. 22-1
Ball 25: Chance! Heart in mouth moment for Livingstone who sees his one-handed shot sneak past a diving Whiteley and away to the boundary.
Ball 27: SIX for Livingstone! Colin de Grandhomme slapped over midwicket by the Cumbrian – that's more like it.
Ball 28: Carnage! Livingstone mistimes his swing, goes aerial and straight into the hands of James Vince at mid-off. But it's a front foot no ball and there's no prizes for guessing where Livingstone sends the free hit… straight over the boundary (and nearly into the commentary booth) for six.
Ball 34: Allen OUT! Jake Lintott strikes in his first five of the day, removing New Zealander Allen (stumped Quinton de Kock) for 14. 47-2
Ball 37: Ali OUT! Lintott strikes again! This time the ball crashes into Moeen's middle-stump to send the Phoenix captain back to the dressing room for a three-ball duck. 47-3
Ball 55: SIX! Livingstone dumps the ball into the stands with a monster 84-metre maximum – Phoenix's first boundary for 29 balls.
Ball 63: Back-to-back boundaries. Miles Hammond headed into this five with six runs from nine balls but had Garton in his sights, dispatching a pair of boundaries – the first a tickle down to short third man, the second a delightful reverse swing  - to properly open his account.
Ball 78: SIX! Livingstone is struggling to find his rhythm, but Hammond is seeing it nicely, sending Garton 80+ metres over midwicket.
Ball 80: Livingstone survives again! How many lives does this man have? This time, a slower ball goes up in the air and lands just short of the on-rushing Garton and Vince.
Ball 88: 50 for Livingstone! My word, it hasn't been pretty or fluid, but Livingstone brings up his half-century with a thick outside edge down to third man for four. 53 runs off 35 balls for the England international. That de Grandhomme no ball suddenly feels even worse for those in Brave green.
Birmingham Phoenix finish with 151 for 3 thanks to a strong finish from Hammond and Livingstone. Chasing 152 should be too much for an out of sorts Southern Brave, shouldn't it?
Ball 6: Boundary for Vince! A first four of the day for Vince and Southern Brave, dispatching Tom Helm to the fine leg boundary.
Ball 9: SIX! He'd already conceded two fours off the over and it continues to get worse for Helm, this time a maximum into the crowd at square leg from the bat of Vince.
Ball 10: Horror show for Helm! Another ball to Vince, another boundary. 18 off the over.
Ball 18: de Kock OUT! An unfortunate edge from Quinton de Kock balloons into the air and straight back down into the hands of bowler Adam Milne. 27-1
Ball 25: Advantage Brave! Southern Brave finish the powerplay on 33 for 1, putting them six runs ahead of Phoenix at the same stage. Is the chase on?
Ball 44: 50 for Vince! Leading the charge, James Vince brings up his half-century from 30 balls with a tidy single off Imran Tahir. A good knock from the captain.
Ball 58: Vince OUT! Just what Phoenix needed! Feeling the game slipping away, captain Moeen brings himself into the attack and forces Vince in a top edge, taken by Tahir. 82-2
Ball 71: Boundary for Conway! That will take the pressure off! Four for Devon Conway, pulled through square leg, to end a 17-ball drought for Southern Brave.
Ball 73: SIX! Alex Davies just clears long-off.
Ball 75: SIX! That's gone a long way from Conway. 18 runs taken from Moeen's over and 39 needed off 25 balls for Southern Brave.
Ball 77: Davies OUT! Going for the big six, Davies doesn't get the length on it and picks out Hammond at long-on. A potentially crucial intervention from Tahir. 114-3
Ball 81: Conway OUT! Milne returns to the attack and goes through Conway, who departs for 34 from 27. 120-4
Ball 87: de Grandhomme OUT! An outside edge falls to man of the moment Tahir at short third man and a morale-boosting wicket for Helm. 126-5
Ball 92: Whiteley OUT! A third wicket for Milne. This time it's Whiteley who struggles to place a slow full toss and picks out Benny Howell on the boundary. 135-6.
Ball 94: The clock's ticking! Milne bowls two wides while trying to finish his over inside the cut-off time. 11 runs needed off six balls and Phoenix have lost a boundary fielder.
Ball 96: Boundary from Jordan! A four through deep square leg, straight into the gap where the fielder should be. Five runs from four balls.
Ball 97: DROP from Howell! Oh no! Howell has Jordan in his hands and lets it slip through. Two needed from three balls.
Ball 98: VICTORY FOR BRAVE! A wide ball from Helm and a dashed single from Jordan to seal the win.
Birmingham Phoenix captain, Moeen Ali, praised Liam Livingstone and Miles Hammond for their efforts with the bat but admitted that his side are still in a learning phase.
"It was a very good game. I thought we pulled ourselves back into the game twice, with the bat and the ball. We lost 3 wickets quickly but Miles [Hammond] and [Liam] Livingstone played extremely well to get us to a very good score," he said. "We had a decent start with the ball, the bowlers were going nicely and got us some wickets, and in the end probably we should have won the game. We need to get used to being in that situation and hopefully next time we win it.

"We're still figuring out our best team. It's only been three games and we've stuck with the same team for all three, and we're getting close to where we want to be. We're learning, The Hundred is a new competition, so it's going to take a bit of time."
His Southern Brave counterpart, James Vince, voiced his delight at getting a first win under his belt, commenting: "It's nice to be at home in front of a decent crowd and have them behind us. It got a bit tense towards the end, but delighted that we could get over the line tonight and get our first win on the board.

"It's never nice getting out but luckily we bat deep. We've got the luxury of having those all-rounders, those quick bowlers that are able to give it a bit of a whack at the end, and CJ [Chris Jordan] with his experience was useful at the back end.

"It's a fairly short tournament so to get that first win on the board, particularly at home, should hopefully give us some momentum going forward. We know in these competitions if you make use of that momentum and that winning habit, you can get on a bit of a roll."
Birmingham Phoenix: 151 runs off 100 balls (11 fours, 6 sixes)
Southern Brave: 152 runs off 98 balls (11 fours, 4 sixes)

Southern Brave win!
Please ensure all fields are completed before submitting your comment!