The Timeline: Northern Superchargers Women v Welsh Fire Women: Jemimah Rodrigues stars with 92 not out
With the home team in trouble early on as they chased down Welsh Fire's 130, opener and 20-year-old Rodrigues came to the crease and played one of the innings of her life to secure the win with 15 balls to spare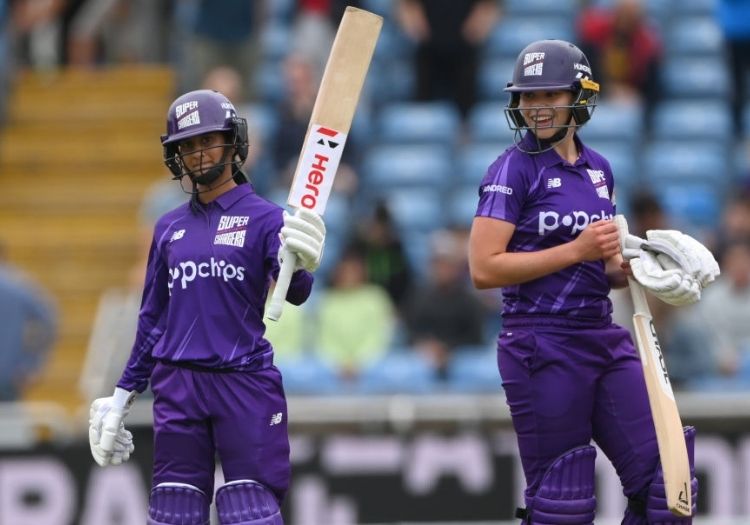 A phenomenal innings from the 20-year-old Indian batter Jemimah Rodrigues carried her side to victory having been 19-4 at Headingley.
Having been put into bat first, Welsh Fire weren't quite able to find a string of boundary-hitting form as they returned 130 from their 100.
In the chase, Northern Superchargers lost key wickets early, but the skill and talent of Rodrigues stole the show to give the home fans a win to cheer. Here's how it happened...
Ball 10: Chance for caught and bowled! Linsey Smith couldn't hold on. The left-arm spinner floats this one up, and the Welsh Fire's Bryony Smith smacks it in her direction. Not the easiest, but she'll be frustrated that it came into her hands and then right out again. 9-0
Ball 12: Our first six of the game! Phoebe Graham, the fast bowler, comes in and is dispatched. In the so-called "slot", Bryony Smith was not going to miss out there, lumping it with a massive swing over cow corner for a maximum. 17-0
Ball 17: Caught! The Superchargers have their first. It's Bryony Smith who looks for another big shot. The experienced leg-spinner Katie Levick puts one on a good length, and Smith just pushes her luck a little, as the conveniently placed Laura Wolvaardt at long-on makes the catch without much trouble. 25-1
Ball 30: Six more! Hayley Matthews is in on the action. It's a fuller length from Alice Davidson-Richards. Matthews shifts her feet to make some space, before blasting the ball right over mid-wicket and over the rope. 47-1
Ball 31: Bowled! Katie Levick has her second! Lissy Macleod put herself in danger's path there, stepping to her right to try and give herself some room, leaving leg-stump exposed - and Levick finds her target. Textbook bowling. 47-2
Ball 48: Out! Matthews has to go. This is a terrific change of pace from Davidson-Richards, who holds back and releases a slower one, and Matthews, who wants to go big, is flummoxed. Her bat is beaten and the middle stump is toppled accordingly. 74-3
Ball 60: Textbook Taylor! That's four - Phoebe Graham goes for the inswinger on middle, but with some nifty footwork she flicks it into the leg-side and pierces the fielders for four. 87-3
Ball 65: Another one bowled! Liz Russell has worked hard for a wicket and finally gets one. Georgia Redmayne looks to attack this length ball, but there's not as much bounce as she expected. She inside edges it onto the stumps, to the bowler and wicket-keeper's delight. 91-4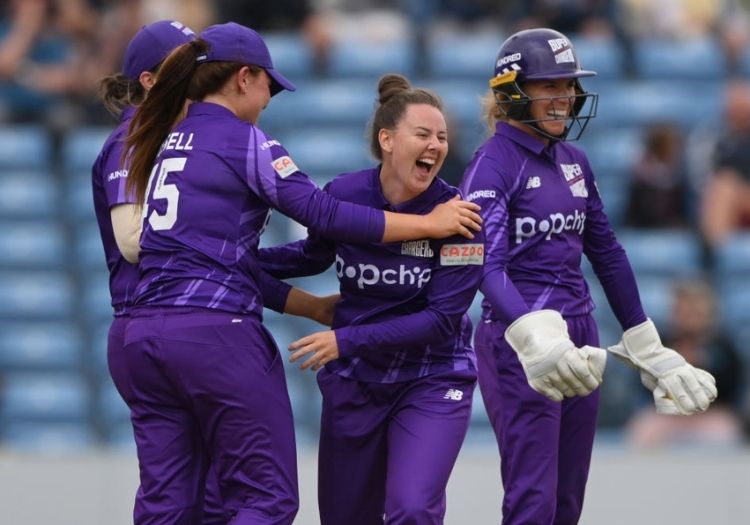 Ball 82: Steps down the track, beaten, stumped! Bread and butter for Winfield-Hill behind the stumps. Linsey Smith finally gets on the board with a tempter that lures Sarah Taylor in, and after she is beaten, the captain with the gloves was never going to miss out. A long way from home. 114-5
Ball 85: Gone on review! This is excellent captaincy from Lauren Winfield-Hill. Smith goes for her second dismissal of the five, and crashing into the front pad looks close. The umpire not interested, it's immediately sent upstairs where a delayed ball-tracking shows it was hitting middle. 115-6
Ball 92: Another stumping - simple this time, as Piepa Cleary, the new batter chases down a slower one from Davidson-Richards. Winfield-Hill behind the stumps is primed to collect as Cleary swings and misses, and the bails are quickly dislodged. An excellent last few 'fives' from the Superchargers. 122-6
Ball 100: We finish on a wicket, as new batter Griffiths looks to finish on a big one, but it's not quite hard enough to long-off, and Laura Kimmince grabs it. Have the Welsh Fire got enough here? 130-7
Having restricted the visitors to 130, the Northern Superchargers will feel they are in control of their own destiny here.
Ball 2: Gone second ball! Lauren Winfield-Hill looks dismayed. Bryony Smith opens the bowling - the off-spinner puts it on a good length, and the captain fires it straight to mid-off. 0-2
Ball 8: Run-out! Two down! Laura Wolvaardt flicks one away to point, where there is a misfield - but that triggers a run! The ball is quickly returned and the South African can't get home in time, as the quick wrists of Taylor get the wicket. 2-2
Ball 11: Bowled! Superchargers in real trouble early on. Piepa Cleary is handed the ball to deliver some quick ones, and strikes gold at the first time of ask. It's full and off, beats Hollie Armitage all ends up, striking the stumps via her pad. 11-3

Ball 18: In the air... and gone! Bess Heath tries to go for the big one, pulling over midwicket, and gets a very decent contact on the ball. However, Katie George at the rope reacts well and grabs it by her midriff. 19-4
Ball 29: Six for Rodrigues! A much needed boundary. This one's on a shorter length and the door is open for the 20-year-old to move into position and hammer it to the long-off rope. 31-4
Ball 51: One bounce, four! It's Rodrigues again who is starting to motor. Hayley Matthews floats it up, and Rodrigues hits with the middle of her bat, over it sails for a boundary. 64-4
Ball 59: Four more, and that's fifty for Jemimah Rodrigues! What a wonderful innings this has been, and the WinViz which condemned her side to having a mere 12% chance of victory 41 balls ago has now shifted all the way across, firmly in the Superchargers' favour. One foot out, and carves through covers. The crowd on their feet. 80-4
Ball 72: Another one! Rodrigues this time decides to fire one through square leg, lovely wrist action and perfect timing. 106-4
Ball 80: This is getting outrageous! What a show from the youngster. This time it's a pulled short into the leg side, and through it goes for four again. 7 off 20. Shame really, that there's not enough runs for her to get a century! 124-4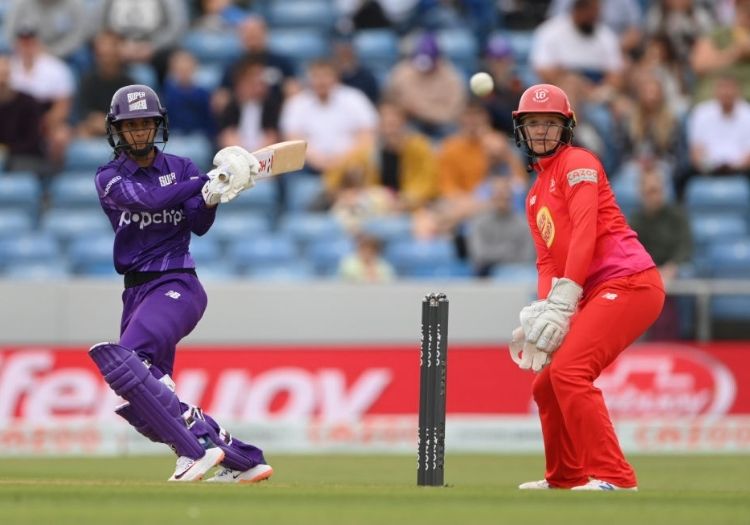 Ball 84: That's the game! Davidson-Richards strikes the winning but all the plaudits - and indeed all the Fire players - go round to Rodrigues. What an innings, under such pressure. 131-4
Jemimah Rodrigues is unsurprisingly named Match Hero. "It feels like England is my second home! I love playing here at Headingley", she says. "It's never easy, especially in a 100-ball, and wickets are falling - and one of those was my mistake! I felt like I had to take responsibility, sticking to the game plan."
"Honestly, there's always pressure being an overseas player", she says, when asked about the role of coming from abroad. "It's about how comfortable your team makes you feel, I think my team feels like family", she added.
Welsh Fire 130 off 100 balls, 13 4s, 2 6s
Northern Superchargers 131 off 85 balls, 21 4s, 1 6
Northern Superchargers won
Please ensure all fields are completed before submitting your comment!