The Timeline: Birmingham Phoenix Women v Trent Rockets Women
A round-up of the best of the action from Edgbaston in the first of four matches on a busy Sunday of Hundred action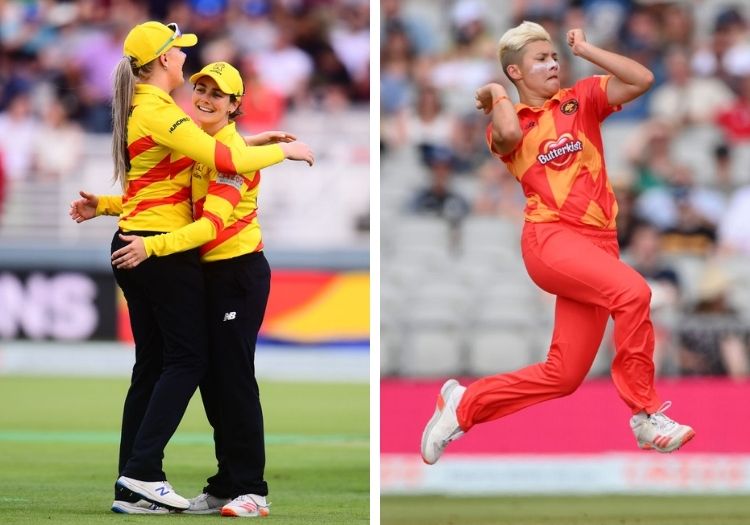 Trent Rockets claimed successive wins after easing to victory over Birmingham Phoenix in the women's Hundred at Edgbaston.
Heather Graham's late cameo, 44 off 21 deliveries, pushed the visitors towards 145 from their full allocation.
Phoenix started the chase well but lost wickets at regular intervals before eventually falling to an 11-run defeat.

Trent Rockets won the toss and chose to bat following a sprinkle of morning rain in the Midlands.
Here is how the game unfolded...
Ball 3: Sammy Jo Johnson has waited until 11:02am to take on Issy Wong, smashing her through the covers and that, I believe, is the middle of the bat. Imagine being able to do that first up on a Sunday morning.
Ball 7: Rachel Priest might be the best hitter of the cricket ball in this competition. This is a cracker through mid-wicket for her opening boundary.
Ball 13: Johnson slept well last night. She goes over mid-on and Emily Arlott can be rightly cheesed off by that one. That delivery had some nice shape.
Ball 24: Much better from Johnson, who edged the last one through fine leg, as she comes down the ground to hits Issy Wong back over her head.
Ball 32: Finally a breakthrough for Phoenix. Johnson goes down the ground again and Maqsood, attempting to take the catch, misses the ball but it deflects off her boot and smashes into the stumps. That's the second time Maqsood has pulled off a run-out of that nature in this competition.
Ball 36: Nat Sciver doesn't miss out on these. A loopy full toss is dispatched to the rope.
Ball 41: Phoenix just pegging the Rockets back a little. Priest doesn't get through the shot and Emily Arlott takes a smart catch.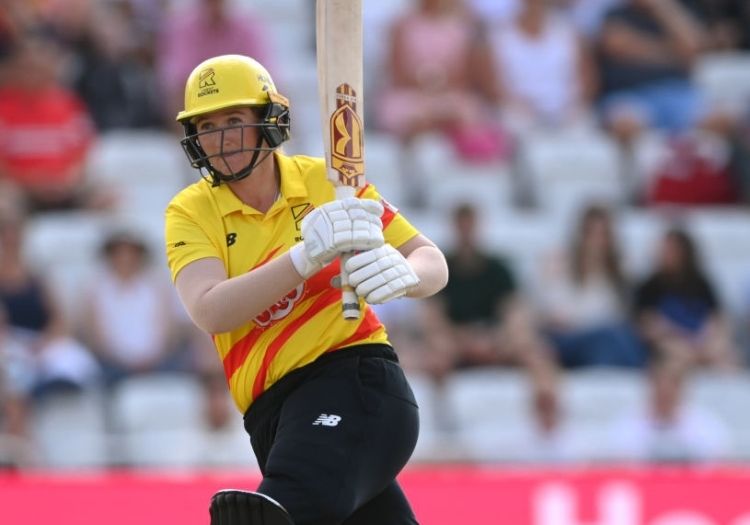 Sammy-Jo Johnson starred with bat and ball
Ball 51: Just when Rockets were on the backfoot they're let off the hook. Eve Jones puts down a miss-hit from Sciver. The less said about that the better.
Ball 61: Sciver taking advantage of her second life, smacking Arlott to the boundary. No need to run for those.
Ball 62: This is even better from the England allrounder. Sciver is down on one knee and heaving the ball over cover. Arlott getting punished.
Ball 68: A classic double-play and Amy Jones is the beneficiary. She spills an edge from Sciver but she is alive to the loose ball and with her international teammate out of her ground she completes the stumping.
Ball 82: Heather Graham making up for lost time with a cracking six over wide long-on. Can she give Rockets some late impetus?
Ball 84: I'm not sure Katherine Brunt at No.4 works for the Rockets. An uncertain innings is ended with a dismissal at cover.
Ball 94: A no-ball given on height against Wong. Graham did well to keep it down and gets the single.
Ball 94: Wong gets that slower ball wrong again and that might be her done. She's taken out of the attack and Arlott will complete the over. A real blow for Jones, who will have planned in advance for this death period.
Ball 94: This is turning into an expensive over now. Arlott is back and Graham takes full advantage, slogging her down the ground. Quite a hit that.
Ball 100: What a knock from Graham and how crucial might that be come the final evaluation? She finishes with 44 from 21 balls after a six over wide long-on. Georgia Elwiss has gone for 31 from her 20.
That's another big total from Trent Rockets, who set 146 to win. The hosts have it all to do.
Ball 4: I fancy a Shafali Verma clinique. This isn't a vintage stroke, pulled through the leg-side in a slightly ugly manner but they all count.
Ball 6: Eve Jones is having a decent tournament and she jumped on a straight one from Bryce and gets four.
Ball 9: This is a perfect start from Phoenix, who now have four boundaries from the first nine balls.
Ball 14: Rockets needed that. Jones dances down the pitch and slams the ball to Sciver, who dives forward and takes a fine catch just off the ground.
Ball 17: Two wickets in four balls for Rockets and Phoenix's top two are out. Verma follows Jones as she is done by a slower ball, which does appear to be her kryptonite.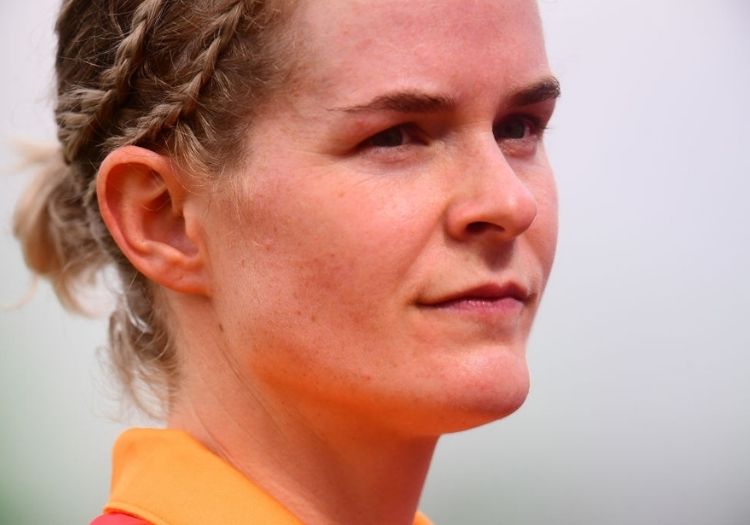 Katie Mack gave Phoenix late hope
Ball 23: This feels like a Rockets game to lose now as Amy Jones, who has a big role to play in this chase, goes for a single. She takes an almighty swing at the ball and is easily caught by Heather Graham.
Ball 37: No boundary since the 16th delivery and the pressure is starting to show on the home side. Erin Burns is the next to go, finding Sammy-Jo Johnson at mid-off.
Ball 44: Katie Mack has bided her time but she ends the wait for a boundary with a four through the vacant mid-off region.
Ball 53: It's all happening here. Glenn bowls a top-spinner, it beats Elwiss' bat, hits Priest who misses the stumping chance. Rockets have gone up for an lbw review but it is turned down. All sorts to unpack there.
Ball 56: Glenn kept on for a full 10 and she should have a wicket. Mack gets a flick on this straight delivery, it smacks Priest on the thigh and bounces to safety.
Ball 75: Bowled her! Glenn finally gets her reward as Mack goes big but only gets fresh air. The inevitable rattle follows.
Ball 88: That will have exorcised some demons. Issy Wong had a tough end to the first innings but she is giving it a good old heave to keep Phoenix's hopes alive.
Ball 93: Chaos! Rachel Priest has had a torrid time behind the stumps and she catches one off the end of her finger while standing up to a Brunt bouncer. Phoenix go for a quick run and Rockets somehow conspire not to complete the run-out.
"Just one of those days, today was my day," said Graham. "I'm glad we got the win. I think at the start of the tournament we thought chasing was the right way to go, but the way our batting line-up is (batting first works).
"We bowled pretty well as well. I'm just doing the basics and if you can do that, more often than not, you'll come off. (The crowds) are really nice. Probably a bit more than we see in the WBBL."
Captain Sciver added: "I think it was a pretty good all-round performance. We got a good score on the board, and Heather Graham did well hitting boundaries.
"I didn't quite have a plan right for Issy Wong but luckily Katherine Brunt reminded me! Her passion will always be there.
"The first two games we felt we needed to score big straight away but have seen a lot of power plays are a run a ball. The two openers get off to a good start. Sammy-Jo Johnson has been class with bat and ball.
"We think we need five wins to get through. We'll see how the table looks and hopefully we can climb it."
Trent Rockets 145 off 100 balls (15 fours, two sixes)
Birmingham Phoenix 134 off 100 balls (10 fours, two sixes)
Trent Rockets win!
Please ensure all fields are completed before submitting your comment!