THE GOOGLY: As live cricket returns to the BBC, was it a mistake to take it away in the first place?
HUW TURBERVILL: Yes, Channel 4 and Sky may have significantly improved the quality of TV coverage, but the real damage was done back in 1999
Live cricket back on the Beeb. Brilliant, right?
And yet… with the Corporation being criticised by the government and battling to preserve the licence fee, could it be a bit too late?
Many are critical of the decision to take cricket off terrestrial television and give it to Sky in 2006. But, in my humble opinion, the actual damage came in 1999 when cricket switched from BBC TV to Channel 4.
Now this might seem a strange opinion, for everyone knows cricket on Channel 4 was – to paraphrase Mark Nicholas – "Crackerjack!"
The coverage on BBC One and Two had become very tired.
Dear old boys like Tom Graveney – a lovely man – talking about "beautiful drives through the covers" and balls on the pads being "meat and drink to top players" had become a bit staid.
In came the housewives' favourite, MCJN, and Simon Hughes, of this parish, who – as The Analyst – shed light upon a sport that had seemed technical/bewildering to many. The master, Richie Benaud, was still there with his apprentice, Mike Atherton, and Michael Slater, Ian Bishop, Dermot Reeve and Wasim Akram provided some funk, alongside the excellent Ian Smith and the candid Geoffrey Boycott.
Producers Sunset + Vine won a Bafta and two Royal Television Society awards in the first three years, helping them to secure a new deal from 2002–05.
What's not to like, you may ask?
The trouble was that Channel 4's commitment was never going to be for the long haul.
With the exception of horse racing (1984–2016), Italian football (1992­–2002), American football (1982–97, 2010–14) and Tour de France (1985­–2000, dropped so Channel 4 could concentrate on the cricket), flirtations with other sports have been shortlived (in comparison to the Beeb anyhow). See kabaddi, basketball, Formula One and Champions Cup rugby for further reading, plus a bit of darts, snooker, tennis, athletics and so on.
Channel 4 were sad to lose the rights to Sky and no one is saying that the Beeb was much missed in those first few years. Audiences of 8.5 million watched the 2005 Ashes. For a generation of cricket fans, that summer on C4 was TV gold, like the Beeb and Botham's Ashes in 1981 (and it was wonderful to see the World Cup final back on C4 last summer, watched by 4.5 million).
Of course both channels could be annoying. The words "Sorry we just have to go to the 3.40 at Catterick/Plumpton etc etc", were an endless source of frustration. But overall it was great.
And then it was over…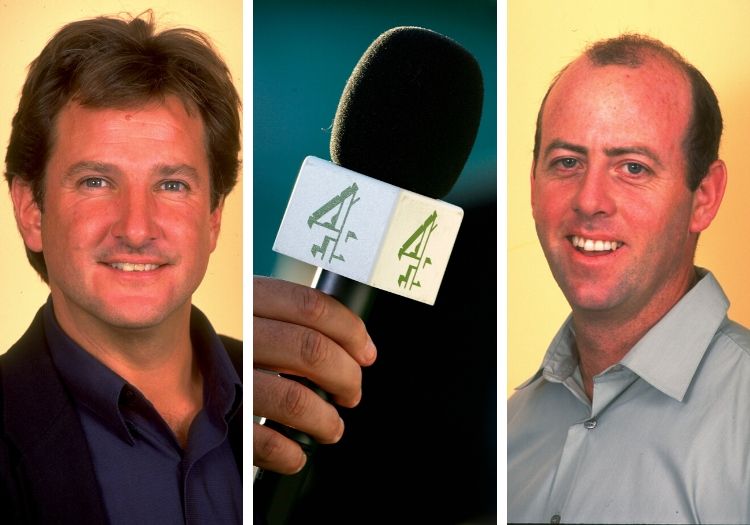 Channel 4's award-winning coverage featured the likes of Mark Nicholas and Simon Hughes
The ECB managed to persuade the government to take Test cricket off the list of sporting 'crown jewels' and Sky swooped at the start of 2006, expanding their portfolio from one Test and all ODIs each summer to the entire shooting match.
Sky's coverage has been uninterrupted and has become truly excellent. The holy trinity of Atherton, Nasser Hussain and David Lloyd – and Michael Holding – must be one of the best commentary teams in the history of the game. Rob Key and Ian Ward are the coming men.
Yet most fans would acknowledge that some live cricket needed to be back on terrestrial. Not one of Sir Alastair Cook's Test runs was seen live by people who could not or would not pay the subscription.
Recognisability is a big issue. Yorkshire director of cricket Martyn Moxon tells Paul Edwards in the March issue of The Cricketer about a recent edition of the game show Pointless, in which only two per cent of those surveyed knew that Joe Root was an England cricket captain.
The trouble was that at some stage the ECB would inevitably have to return to the BBC, cap in hand. It is my understanding that the BBC didn't want to know, and the ECB really had to pull the stops out to persuade them to climb back on board. And still they didn't want live Tests back.
And that is the crux of my argument. I knew when cricket was taken off them in 1999, the BBC would sulk. Cricket needs BBC TV more than BBC TV needs cricket. Cricket was shooting itself in the foot.
In many ways Sky and the BBC now sharing the cricket gives those who can afford it the best of both worlds, although many are sad that not even one Test a summer will be live on the latter (Lord's week? Or even Edgbaston if they want a more urban vibe).
Instead there will be live TV coverage of two England men's international T20 matches, one England women's T20I, plus live TV coverage of 10 men's matches from The Hundred and up to eight live matches from the women's tournament, including both finals.
It is not enough, but it's something.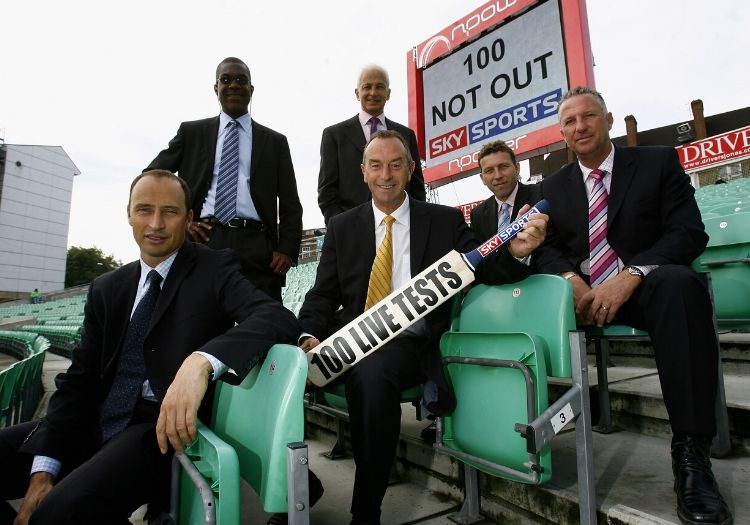 Sky won fans for its all-star lineup, but many have been reluctant to pay subscription fees
The BBC's formidable battalion of channels including CBeebies, its all-powerful website and social media reach will also be enlisted to help the cause, it is hoped, and this has been cited as pivotal in getting cricket back into the nation's conscience, and for the decline in recreational cricket to be arrested. (And it's worth pointing out that BBC radio's commitment to cricket has been unceasing, with Test Match Special holding the home rights to international cricket ad perpetuam). 
And now it is poised to return from this summer... could it even be too late?
The licence fee costs £154.50 a year. If, as the government is saying, the BBC becomes subscription-based, what percentage of people will pay up? Would you pay £13, say, a month (what you currently pay for it per month by law)?
It is believed that the Beeb might lose £200 million a year, and although they acquired cricket on the cheap (reportedly paying £100m between 2020–24 as part of the £1.1 billion deal with Sky) many are fearing for the future of county cricket commentaries on local radio and online.
Unscientifically I canvassed my 300-odd friends on Facebook and a small majority said, "No, they would not pay that sum a month if they had a choice" (some of those would pay some money).
Yes, they would miss Doctor Who, Call the Midwife, Wimbledon, the news, Top Gear, EastEnders, Casualty and Holby City (some probably don't realise the cricket has returned yet), but they wouldn't pay that much.
Maybe, as one friend suggests, you could pay a fiver a month for BBC Sounds (or whatever they are calling it this week).
So actually, now that the cricket is belatedly back on the Beeb, is it five–10 years too late?

P.S.: "I don't think it's a case of live Tests never being back on terrestrial again," ECB chief executive Tom Harrison tells me in an exclusive interview in the March issue of The Cricketer.
"What I will say is that the environment has changed out of sight. We are looking at numerous different ways people can see live cricket. Kids interact with streaming, video, highlight clips on social media. Sometimes it's not seven hours of live footage they want."
What are the odds cricket rights will go to a streaming service when the next deal is up for grabs?

P.P.S.: Does anyone think that, considering all the channels BBC Radio (Sounds?!) has, it is weird that they don't have their own full-time, dedicated sports channel?
BBC Radio 5 live offers a mixture of news and sport. I like my news/politics, but sometimes I just want sport, sport and more sport! Increasingly I have been giving talkSPORT a try. With the Beeb under pressure and rethinking their whole strategy, a 24/7 sports-only channel would seem like a no-brainer to me.
Please ensure all fields are completed before submitting your comment!