The General, The Cocksure, The Glutton... How many of these club characters are familiar to you?
You've made a decent start. The oppo, on a flat and true deck, are 30 for 3 and you sense a chance of killing them off early. Hold up, No.5 looks alright...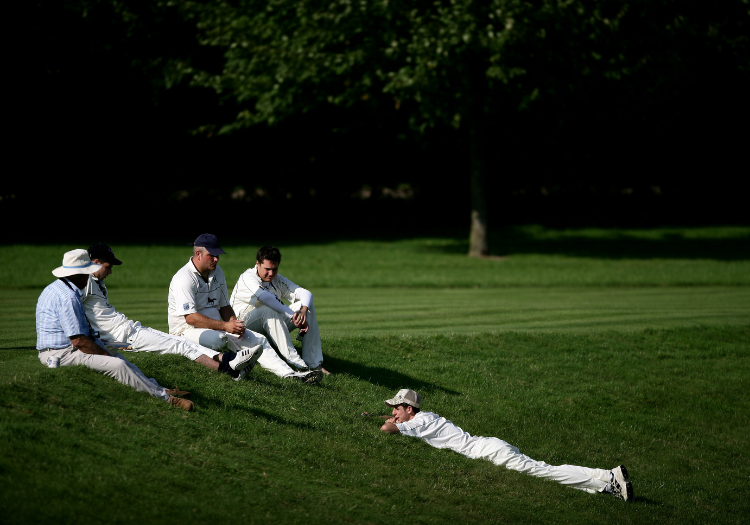 This article first appeared in The Cricketer's Club Cricket Guide - you can read the guide in full HERE!
The Clubman
He skippers the Saturday league team, he bats 11 and offers encouragement to the kids on a Sunday, he's down the club on a Tuesday night in the rain, trundling around the outfield on the ageing John Deere, he's the one rushing to the local Spar 15 minutes before play to pick up six pints of semi-skimmed, he's head of the organising committee for the annual fundraiser, he puts a roof over the overseas' head. Without him, there's no club. 
The Cocksure
He's the bloke you can't stand to be around but without whom the team doesn't stand a chance. He's pushing 40 now but, collar popped and shades pinned to his brow, in his mind it is permanently his 25th birthday. "You know what Ravi told me," he says as he adjusts sweatbands on his wrists, forehead and, for some reason, ankle. "You know… Bopara" (he played for Essex 2nds four times in 2002 and hasn't shut up about it since. "He told me…". You've already left the conversation. Later, he makes 90 and takes four for almost nothing. You don't know how you feel about that. 
The Fraud
You've made a decent start. The oppo, on a flat and true deck, are 30 for 3 and you sense a chance of killing them off early. Hold up, No.5 looks alright. Clad head to toe in top-of-the-range kit, boutique bat spinning in his hands seductively, as if emerging from a glistening pool in slow motion. Then he takes guard and, poof, the illusion is broken. Knock-kneed, bat pressed to his stomach, top and bottom hand several inches apart, swinging from the hip haphazardly, like an OAP trying to shoo off a swarm of flies. He doesn't last long, he never does.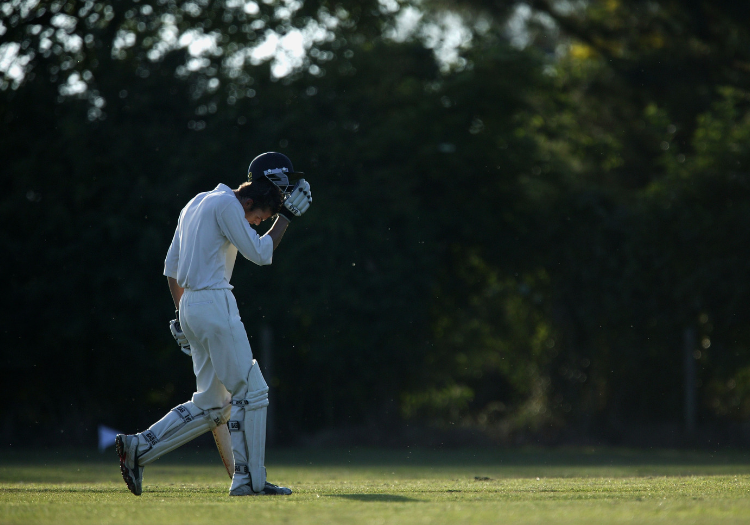 The Sopranos
Just as behind every newspaper editor there is a well-to-do mogul pulling the strings, behind every club committee exists a club family. They have been involved in the local cricket scene since before anyone can remember, between them they have held every role from groundsman to treasurer, it is entirely likely the club's address features a road bearing their surname. Do you know the Hortons? Everyone knows the Hortons. You don't cross the Hortons.
The Whippet
You turn for an easy two, the ball trickling as it is down towards deep midwicket all on its lonesome. You trundle. "No need to run hard," you think. Then, out of nowhere, a flash appears across the outfield, a whirlwind of arms and legs and bright white hair pinned back by a garish headband. "Jesus," you exclaim, perhaps briefly thinking you are witnessing the second coming. Prayers can't save you now, though. Whizz, he scoops up the ball. Ping, it flies into the keeper's gloves like an Exocet on a date with destiny. Flick, the bails fall. You're five feet short of your ground. You never see that boundary-riding mirage again. He doesn't bat, he doesn't bowl, though on one occasion you think you see him flirting precariously with the skipper's daughter. Is he real? Are you hallucinating? Time for a lie down. Or at least a beer.
The Grump
"Definitely going down leg," he says, in a fluster, after being hit bang on the toe in front of middle and off going back to a full length. One glove is thrown in the direction of the barbecue, the other ends up wedged in a hedge, his bat cartwheels across the outfield like Olga Korbut on a Saturday night. He's been out lbw eight times this season, and on each occasion the umpire has given him an absolute stinker. "I get triggered more often than a millennial," he barks. He thinks that's funny. His technique is the laughing matter.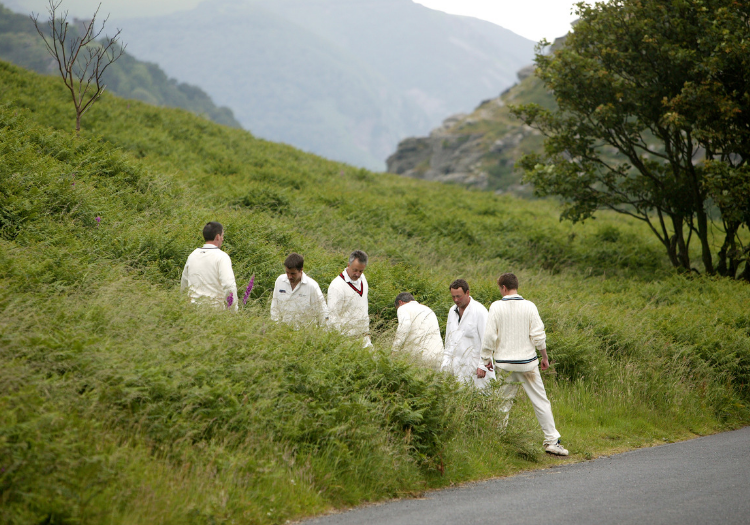 The Cheapskate
"Next week, I promise boss," he shouts over his shoulder as he leaps in a 2005 MG 35 seconds after the final over of the day. "It definitely won't," you mumble under your breath and scratch another £7 in red ink on the balance sheet. This is the man, after all, who tried to claim that attending a first-aid training session at work the other week should qualify him for student subs rates. He's the guy who hasn't paid for a drink at the pav bar for the best part of a decade. But when skip is short on numbers, he's always available.
The Glutton
"Pass us the bakewell tarts," he gasps, through a mouthful of bakewell tart. After 45 overs in the field - hands on hips at pointless gully, of course... he swapped bowling for battenbergs some time ago - he needs to refuel. There's a constant purring as he does, a paper plate being loaded and unloaded with all the pace and precision of a Formula One pit crew. A commentary inevitably follows. "No cheese and pickle?! Shame!" "Great scones, Sandra." "Have Wagon Wheels got smaller?". He's down to bat four but as the second wicket falls, the indigestion sets in. 
The Greenkeeper
Twilight is looming and the clubs' kids are milling on the outfield. A football bobbles its way towards the square. Most of the youngsters know that danger is close at hand but not one unfortunate girl. "Whaaaaattt do you think you're doing," booms a crackling, croaky voice from the heavens. "Get away from there. Now". Don't go near the old man's grass. It's just not worth it.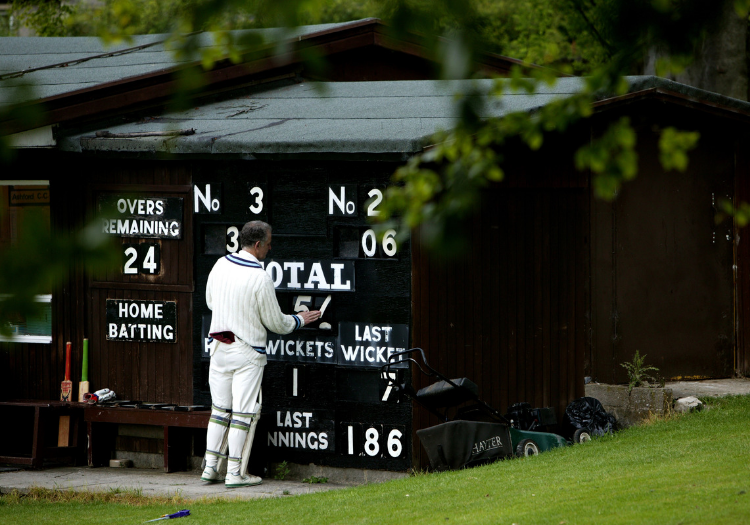 The General
Around an hour into the game, a familiar figure glides through the gate on the other side of the outfield. His distinctive walk gives him away, a lopsided lollop caused by 50 years of grind. There's always something presidential about his arrival - handshakes and kisses on cheeks. He doesn't play anymore, the annual intra-club beer match aside, but he remains intricately involved. In the corner of the bar, a seat has been named in his honour. No one ever sits in it, not even him.
The Flake
It's happened again, hasn't it. The convoy left together on the dot of 11 o'clock - four cars, 11 players, one umpire - but, 45 minutes later, you're a Renault Clio down. "Where's Dave?" No one knows. Not even Dave. Once again, he's gone awry on the backroads,probably distracted by a cow or a postbox or daydreaming about his 65 not out against Minehead 3rds two seasons ago. "He's not that much of a loss skip," you say. "Yeah, but the club kit is," the captain fumes.
The Relic
Really, he should have stopped umpiring five, maybe seven years ago, but no one had the heart to tell him. Now, with cataracts crippling his vision and his 1983 MCC handbook in desperate need of an upgrade, he struggles to keep up with the game. Overs pass in sets of four and seven deliveries, and occasionally he can drift of towards the Land of Nod while standing at square leg. But he turns up ready for duty on time, whatever the weather, a hearty grin pinned to his face at all times. It just would not be right to enforce retirement just yet.
Please ensure all fields are completed before submitting your comment!