The Cricketer launches The Cricketer App
The app, which is available now via the Google Play Store and Apple App Store, has been built for fans who want quick, simple access to the latest news, expert insight and colourful commentary on the sport we love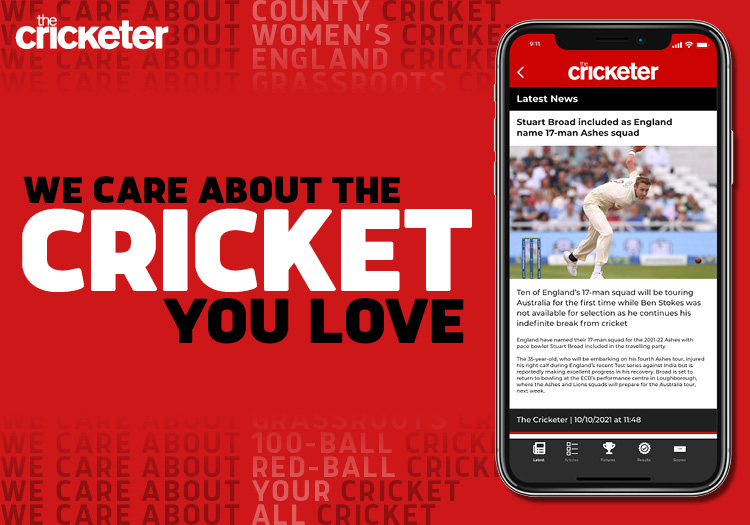 The Cricketer is delighted to announce the launch of The Cricketer App, providing all of our award-winning digital cricket coverage straight to your phone.
The app, which is available now via the Google Play Store and Apple App Store, has been built for fans who want quick, simple access to the latest news, expert insight and colourful commentary on the sport we love.
Download the basic version for free today, then add a premium subscription to unlock all of The Cricketer's digital content.
Premium subscriptions - available via the 'Browse' menu on the app - are priced at £3.99 per month, with the first month absolutely free. 
That means new digital subscribers can enjoy our Ashes coverage across the festive season - including new chief correspondent George Dobell's reporting from Australia - without charge.
The Cricketer is the No.1 place for coverage of the 18 first-class counties and offers dedicated reporting on the women's game at both regional and international level, while our digital platforms have won the ECB's Outstanding Online Coverage of Domestic Cricket Award for three straight years.
The app is also home to the reigning Christopher Martin-Jenkins Young Journalist of the Year, Nick Friend, as well as the rest of our talented team of writers.
Digital editor Sam Morshead said: "The launch of The Cricketer App is the next step in an exciting digital development programme at The Cricketer.
"Over the past three years we have enjoyed tremendous growth online and, during the year that The Cricketer Magazine celebrated its 100th birthday, this is an important next step in the preservation and progression of a trusted outlet for cricket fans."
The app is ad-free, allowing for an easier, more pleasant browsing experience, while the live scores, fixtures and results functionality allows users to keep up to date with major matches taking place across the world.
Meanwhile, access to The Cricketer's digital content on web browsers is also changing from December 1.
Our premium articles will now be available on a pay-per-view basis, with access priced at 30p per article up to a maximum of £1.80 per week, at which point the reader will unlock free browsing across the site for the remainder of the seven-day period. 
To download the app, click here.
For more on the changes, click here.
***
Subscriptions to premium access on The Cricketer App roll over on a monthly basis unless cancelled.
The Cricketer App and thecricketer.com are independent editorial products to The Cricketer Magazine, and no content is shared across the platforms. 
For FAQs on The Cricketer App and the pay-per-article function being introduced onto thecricketer.com, please click here.
Please ensure all fields are completed before submitting your comment!