Jack Carson has the last laugh to turn the spotlight on Lancashire
HUW TURBERVILL: For two sessions this felt like one of the most low-key day's cricket I have ever covered on the county circuit. But then Sussex's Northern Irish spinner stepped forward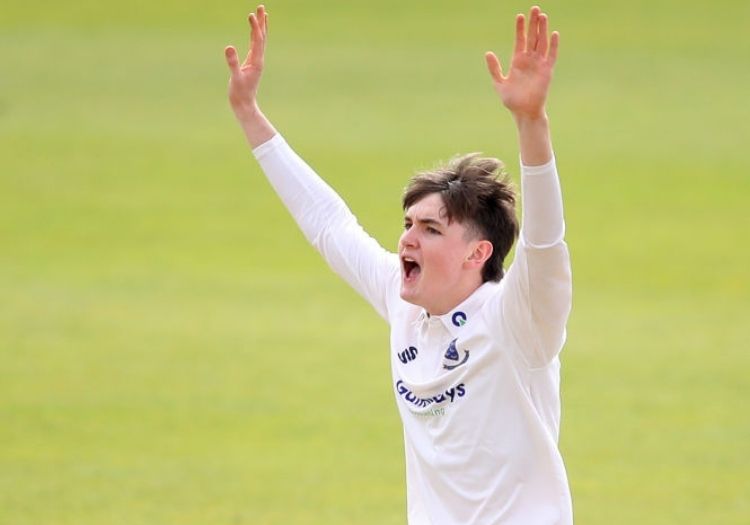 Hove (second day of four): Sussex 329, Lancashire 193-6 - Lancashire are 135 runs behind with four second-innings wickets remaining

Jack Carson's destiny is to play for England, the first Northern Irishman since Martin McCague (well the ex-Kent quick might have sounded Aussie but he was born there anyhow). The Sussex off-spinner dismissed Joe Root at Hove last week, before taking a five-for in the second innings against Yorkshire. This week he was poking thorns into the batting line-up of the other Roses county, Lancashire. "It's the way he bowls 'em!" could be his catchphrase in deference to another famous Carson from Northern Ireland.
For two sessions this felt like one of the most low-key day's cricket I have ever covered on the county circuit. Sussex added only 10 to their overnight total of 318 for the loss of their remaining three wickets. Keaton Jennings and Alex Davies then made untroubled, frankly rather uneventful progress, to 91 without loss in reply.
Carson from the Sea End swooped in like a seagull spying a discarded chip on the pebbly beach a cricket ball's throw away, however.
Former Sussex stalwart Ed Joyce helped them sign up the 20-year-old from Craigavon, and it's been an extraordinary success story. He made his debut against Hampshire at Hove in last summer's Bob Willis Trophy, recording match figures of 5 for 52.
He went on to take 4 for 46 against Middlesex at Radlett, then 5 for 93 against Surrey at The Oval for his first five-wicket haul. He bowled well at Old Trafford in this season's opener (April is hardly renowned for helping the spinners), but last week his campaign took off, with 5 for 85 against Yorkshire in an intriguing bowl-off with Dom Bess.
Carson made the breakthrough here with a sharp off-break that Davies rocked back to cut, only to be bowled. The key wicket, though, was Jennings', for he is an accomplished player of spin of course (England flirted with playing him in India and perhaps should have done in hindsight); he'd looked so solid with his angled bat and unflappable temperament. It was an enticing line that saw him push at the ball, however, and he edged to slip. Steven Croft then nicked off, while Liam Livingstone, batting at No7 oddly, was pouched at short-leg. It was Livingstone's first innings since his premature return from the Indian Premier League, but it lasted just four balls.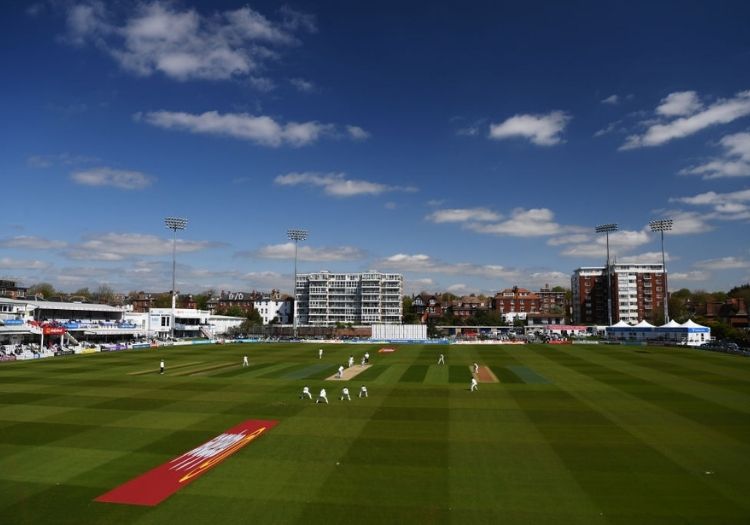 Staying warm was the priority on day two at Hove
"I thought we bowled well before tea without getting the wickets," Carson said. "We stuck at it though and got our rewards with a cluster."
There was also a memorable moment for 19-year-old debutant Jamie Atkins, Dane Vilas providing him with a maiden wicket, the Lancashire captain playing on. The Sussex jubilation was evident; Vilas had lots to say in the field on day one, by all accounts.
I had hoped to write more about Luke Wells, returning to Hove after a long stint as a Sussex player, boy and man, before his upsetting release. 'Use the force Luke!' Well, there was no evidence he had any supernatural assistance when he walked out to bat. He must have had more butterflies than in a lepidopterarium, however.
The left-hander, 30, cannot quite believe he is playing for Lancashire. Following in the footsteps of father Alan and uncle Colin, he looked a Sussex 'lifer'. He made his first-class debut in 2010 and had been pretty successful. He passed 1,000 runs in 2014 and 2017, and also came close in 2013 and 2016.
While 2018 and '19 had been leaner years, it was still a shock when Jason Gillespie sat him on the square as last summer's campaign finally started, and told him he was unlikely to play in the Bob Willis Trophy. With a game more suited to the longer formats, he was a victim of Sussex seeking a leaner squad shot through with all-format players.
He made 45 on his Lancashire debut against Kent last week, but this fixture must have been in the back of his brain since the schedule was released.
'The most-sledged cricketer in England' was the title Wells had when he was at Sussex. "I attract sledging all over the country," he admitted. "I don't know why it is, but makes me work a bit harder."

I went to the boundary edge to see if I could hear what was said on his arrival. There were a few comments as you'd expect, but they were inaudible.
Wells was off the mark first ball and soon clipped a boundary confidently off Carson through midwicket. He then thick-edged him four which slip didn't get close to. When he emphatically cut first George Garton then Stuart Meaker for boundaries, it looked as if his return was going to be triumphant. Mark Ramprakash was once a fan, and on this evidence, you could see why. He fell for a middling 28, though, a deserved victim for Meaker, who bowled well all day.
Well, fancy all that. No one had really seen Lancashire's collapse coming against a Sussex attack without the rested Ollie Robinson, protecting a slight side strain.
The youngsters hunted like a hungry pack, however, combining hostility with accuracy. They lead by 135 and it will be fascinating to see if they can press home their advantage, after narrowly letting Yorkshire off the hook last time around.
Subscribe today and receive The Cricketer's centenary issue – six issues for £19.21. Click here
Please ensure all fields are completed before submitting your comment!