Malan of mystery, the importance of Moeen and Rashid, Colonel Sanders at the toss... T20I TALKING POINTS
SAM MORSHEAD takes a look at some of the key topics of discussion to come out of the first meeting of South Africa and England in East London...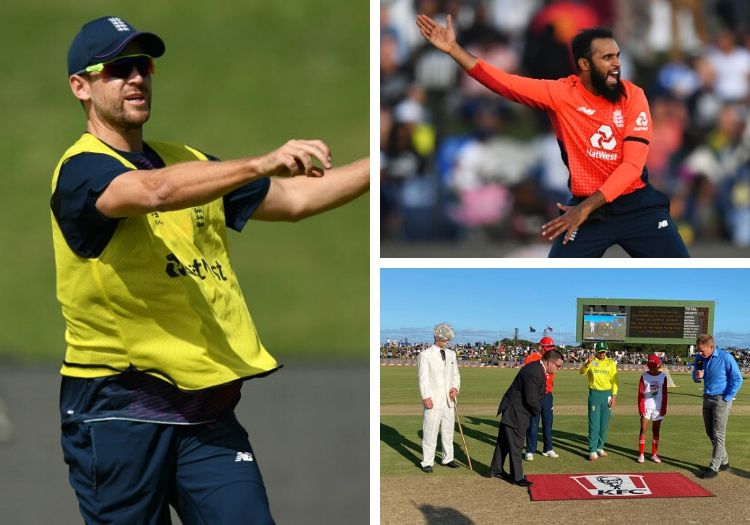 Malan of mystery
Dawid Malan averages 57.25 across his nine T20 international knocks.
He has passed 50 on six of those occasions.
He strikes at 156.31 - no one else in this England squad can match that.
He grew up in South Africa's Western Cape, beginning his first-class career with Boland, and knows conditions in that part of the world as well as anyone Eoin Morgan can call on.
Yet, as the World Cup road began in East London on Wednesday, Malan was left on the bench, bib on, drinks by his feet, as the action took place in front of him.
There was some clamour over the 32-year-old's omission from each of the three teams named by England in the ODI leg of this tour, but Malan's form and pedigree in the format - at international level at least - do not demand his selection.
Right now, in T20s, his argument - from a performance perspective alone - appears watertight.
Still, though, England manage to leave him out.
Partly, this will be down to the absurd wealth of talent the team has at the top of the order, especially given it seems Jos Buttler will be used as an opener at the World Cup this autumn.
Malan is typically a top-three batsman in the shortest format, but even his stats aren't enough to unlock a line-up featuring Buttler, Jonny Bairstow and Jason Roy.
So how does he get in, barring squad rotation, illness, injury or other acts of god?
Well, with England blessed with allround options in both Ben Stokes and Moeen Ali who could make a very good case for their inclusion in this side on their batting or bowling alone, it makes sense for Morgan to employ a second specialist finisher in the lower middle order, in addition to the captain himself.
This looks like the only route in for Tom Banton - a man who smacked bowlers around the Big Bash at 177 runs per 100 balls this past winter - and it may be the same for Malan, too.
Neither are proven there, but England do have the luxury of experimenting in the nine T20Is that pave the way to the World Cup, and Banton - for one reason or another - is not in South Africa for the ongoing series.
It seems only right, then, that Malan gets his chance. Not playing him would be both counter-productive and, quite frankly, a little unfair.
Dawid Malan missed out on a place in the England side
False start
England started this match with all the deftness and efficiency of an elephant trying to crochet.
Blunderful and cumbersome, there was at least one notable mistake in many of the powerplay overs as South Africa romped to 68 for 1 - their highest such score since the 2016 World Cup.
Only three times since the start of 2018 had England conceded more in the first six overs of a T20 international - against New Zealand at Eden Park last year (when the match was considerably affected by rain), India at Bristol in 2018, and New Zealand once more the same year.
Mark Wood opened with a 91mph beamer out of whose was Quinton de Kock danced like a bear on hot coals, before following up with another exocet full toss which was hooked for six.
Having received an official warning from the umpires for the first delivery, replays showed Wood could count himself a little lucky that he was not pulled up again for the second. Had he been, the seamer would have been out of the attack.
Joe Denly let one through his legs for four, Moeen Ali fumbled at mid-off to let South Africa through for an extra run, and Chris Jordan and Jos Buttler convinced Eoin Morgan to ask for a review when Rassie van der Dussen middled a forward defence to cover.
Hawkeye 1 Everyone else 0
Anyone who has played village cricket will, at one time or another, have been given out lbw to a booming full toss.
"Got to take it as going straight on," the ump will say, wearily.
We will have crumbled but them rules the rules - as Rassie van der Dussen proved, with the help of Hawkeye, after being given out to Adil Rashid.
In the commentary box at East London, they were convinced too. Even David Lloyd - a former first-class umpire.
But no, technology told us we're all idiots. We ought to be used to that by now, but it still hurts.
Fine fightback
As much as England were dreadful with the new ball, they were terrific at the death.
Whether it was a case of adapting to conditions a little too slowly, a dollop of ring rust or simply an unhappy coincidence, once the seamers got their early overs out the way they looked different beasts entirely.
Wood's slower ball did for Jon Jon Smuts, Jordan took successive wickets in the final over of the innings with hooping swingers which would have troubled much more prolific batsmen than Dwaine Pretorius and Beuran Hendricks, and South Africa managed just eight runs from the final 12 deliveries.
Having taken 105 from the first 10 overs, the home side managed just 72 more in the second half of the innings. 
England's composure, under the pressure they had piled on themselves earlier in the innings, will be mighty encouraging indeed for Morgan and Chris Silverwood in World Cup year. South Africa's fragile middle order, meanwhile, was exposed to be far too flimsy for its own good.
Spin twin success
Moeen Ali and Adil Rashid must surely already be assured of their places in the starting line-up for England's first game of the World Cup in October, injury permitting.
Once again at Buffalo Park the pair showed just how important their intelligent spin bowling is to the English cause - Moeen in the powerplay and Rashid through the middle overs.
Moeen claimed 1-22 from his four overs, with Rashid contributing 1-23 from his allocation. Between them, the close friends delivered 18 dot balls. England's four seamers had 20 between them. 
That frustration of an opposition is invaluable in the shortest format, and these two are as infuriating to face as anyone in world cricket. While Moeen does not have Rashid's variations, he achieves excellent flight and his nagging lines offer little leeway for batsmen to open their arms. Even in Australia, where he has traditionally struggled, right now he offers too much for captain Morgan to ignore.
Rashid, meanwhile, continued to bedazzle the South African batsmen with his pick 'n' mix of leggies, googlies and straight'uns. Insta-picks, the pair of them.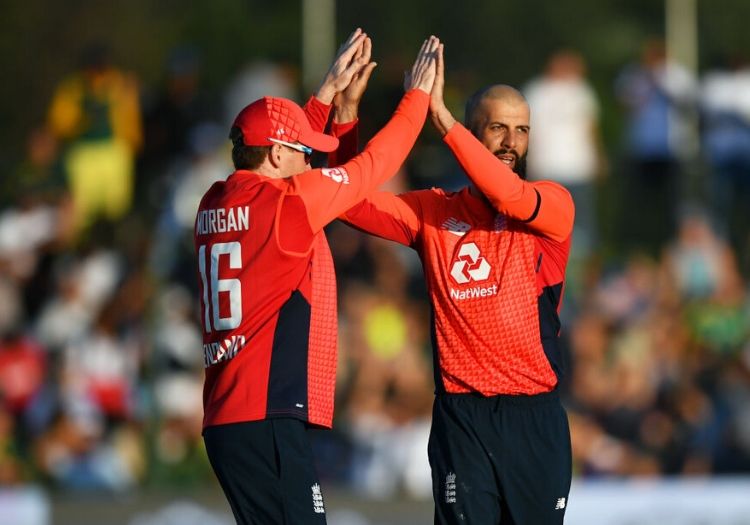 Moeen Ali celebrates a wicket
Steyn power
Dale Steyn claimed top spot on the South African men's T20I wicket-takers list outright by dismissing Jos Buttler.
The England opener was Steyn's 62nd scalp in the format for his country, taking him beyond Imran Tahir.
And it was his first international wicket for nearly 12 months - since the visit of Sri Lanka to Centurion for a T20 last March.
South Africa will be delighted to see him back.
Roy Oi!
There are a LOT of English batsmen vying for a place in the top three for this autumn's World Cup.
The list is intimidating: Jos Buttler, Jonny Bairstow, Jason Roy, Dawid Malan, Alex Hales, Tom Banton, Liam Livingstone and Phil Salt can all lay legitimate claim to a spot in the squad. And, as a result, every trip to the middle is a mini audition.
On Wednesday, Roy made the most of his.
Hitting straight with the body position and sweet swing of a PGA tour veteran, the Surrey man proved equally as effective against left-arm spin - a perceived weakness - as pace.
Jon Jon Smuts was taken apart with the methodical aggression of a baulchy mechanic, going for 22 in a single over including a giant six which briefly looked like threatening host broadcaster Supersport's employee liability policy.
Luckily for the commentators, the glass didn't shatter. Neither did Eoin Morgan's fastest England T20 half-century record of 21 balls, but only just.
Roy reached the milestone in a delivery more, having given his side exactly the platform they needed. 
Who is the finisher?
England will be concerned about the loss of six wickets for just 24 runs as their chase switched from strutting to stuttering in a matter of minutes.
And the focus will likely come back to the position of Jos Buttler in the order.
Buttler is such an enticing prospect as an opener, especially given his IPL performances, but some have called for England to resist the idea of elevating him in the international arena, instead leaving him as the team's primary finisher alongside Eoin Morgan.
This batting display showed - though credit should be given to South Africa's excellent variety towards the back end of the innings - that Moeen Ali is not necessarily suited to his role (in fact, the stats say Moeen is best utilised as a middle-overs punisher of spin). Buttler's game is applicable to both the top of the order, and negotiating a tough target in the last four or five overs.
The question is, where do England need him most?
Finger-lickin fools
If you needed any further proof that cricket is going absolutely mad, have a look at this picture from the toss at Buffalo Park.
Yes, that's a real life Colonel Sanders - the one with all the chicken - overseeing events.
What's more, during the match, South African TV hosted a live interview, featuring a bucket of branded fried chicken, inside a giant bucket of fried chicken, with regular namechecks of said friend chicken.
And we're worried about Pom Bears and The Hundred.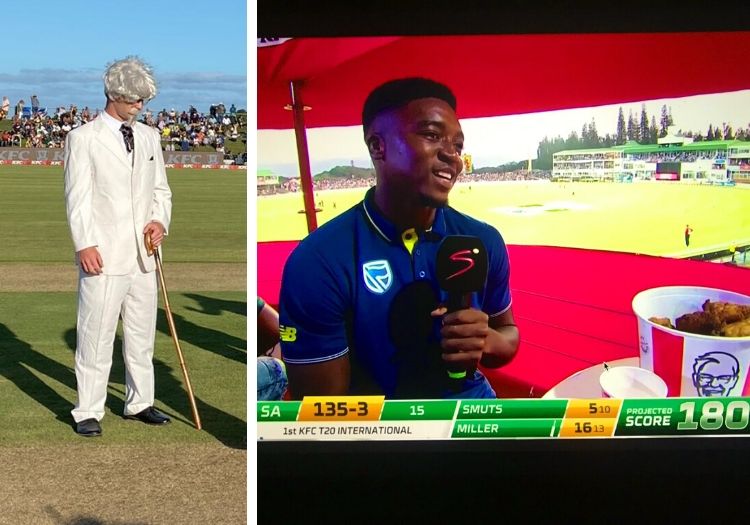 KFC had a lot of branding at Buffalo Park
Please ensure all fields are completed before submitting your comment!