Middlesex's flimsy top-order comes good as Somerset fail to cling on
SAM DALLING AT THE COOPER ASSOCIATES COUNTY GROUND: Half-centuries for Nick Gubbins and Robbie White give the visitors something to shout about on a day full of near-misses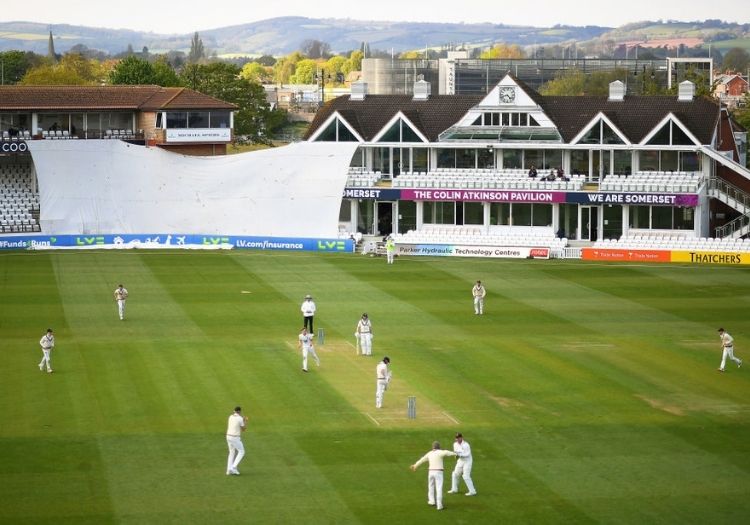 Brittle is a word oft used to describe Middlesex's batting line-up in recent years; ask any supporter and they will bemoan their inability to fire consistently. Even tempering that with the caveat fans tend to exaggerate the best and worst of their own team, the Londoners' have twice already this season evidenced their flimsiness.
First, when these sides met earlier in the month at Lord's, they had Somerset on the ropes for almost three days before failing to land the knock-out final punch. Having lost their final seven second-innings wickets for 30 runs and slumped to defeat, Stuart Law made his feelings abundantly clear. Then they went away to the Ageas Bowl and Mohammad Abbas happened.
What they desperately needed then, was a bit of batting ballast to follow up on last week's derby triumph, and their return of 308 for 6 on day one at Taunton gave them just that. They were aided by a healthy dose of uncharacteristically sloppy Somerset fielding but they ended the day ahead in the game and deservedly so.
Nick Gubbins top-scored with a classy 75, Robbie White made a sturdy unbeaten 70 and Max Holden made his top score of the season (49). Late in the day, there was a carefree 38 from Martin Andersson before Craig Overton struck with the new ball.
It is only four years since Gubbins was touted as a Test player in waiting by, amongst others, Nasser Hussain. At that point he had just starred as Middlesex secured the County Championship title, making 1,409 runs at 61.26. But his returns on either side of that have pointed toward a career average of 33.3 across 80 matches being his level.
However, he started the Bob Willis Trophy with a big hundred at The Kia Oval and today showed glimpses of a man capable of scoring heavily. He was comfortably the most fluent batter on display. Watchful at first, he reached 50 with a back-foot punch off Overton and began to motor. A pair of short balls from Tom Lammonby were dispatched with the disdain they deserved and there was a glorious whip to the long mid-wicket boundary when Lewis Gregory strayed too straight.
But with three figures well within his grasp he nibbled at a wide-ish Gregory delivery and Overton eventually held on having juggled initially. The ferocity with which Gubbins slammed his bat into his pads in frustration told its own story.
White has been a player of potential for several years and, like a few in the Middlesex side, is at a stage of his career where more regular returns are expected. He was the source of much amusement on his Championship debut on the opening day of the 2018 season where, having received a last-minute call up to replace an ill Steve Eskinazi, he shouldered arms and was on camera holding the pose with a Specsavers advertising hoarding behind him.

There will be no such ridicule from his teammates tonight. After making 70s in each of his previous two innings – attempting to save the game at Hampshire and in the win over Surrey – he came in at 129 for 3 and provided the required sturdiness at a critical juncture of the innings. He is not a player who will put bums on seats – he reached 50 off 113 balls – but was barely trouble during his innings and took advantage of any width offered, a large chunk of his runs coming behind square on the offside.
For Somerset, it was about as frustrating a day as they come. Tom Abell may be left wondering why he opted to depart from the adage of winning and toss and batting first when the coin landed in his favour. There were online grumbles that it was driven by fears over top order fragility. And there may be some truth in that, Marchant de Lange's omission at the expense of Lewis Goldsworthy – a Cornish all-rounder who bats in the top order – only adding meat to the theory.
But in defence of their captain, he cannot be expected to make allowances for a sloppy fielding display and his attack beat the outside edge regularly enough. The late April cold does not excuse their inability to clutch several chances that came their way.
It started well enough, Lewis Gregory bowling the perfect delivery at Robson who had made just six when he tried to work the ball through the leg-side. Steve Davies rolled back the years to take a superb one-handed grab diving away to his right behind the stumps. Having afforded Robson two early lives in his 165 at Lord's earlier in the month, the same such luxury was not given to him today.
From there it began to unravel for Somerset, Holden enjoying several lives in the morning. Having gone past 20 he was called through for a hospital run by Gubbins, only for George Bartlett to fail to hit the stumps with all three to aim at. Then on 24, Gregory overstepped moments before finding the outside edge. Four runs later, he got away with an edge again. This time the delivery was legitimate but Overton failed to pick it up at second slip and his wrists bore the brunt.
But there were attractive strokes too, back-to-back short balls from Overton swatted away authoritatively on the pull. And there was a cover drive that would have had Sir Alastair Cook – a man Holden is ribbed for trying to emulate – purring. Finally though, on the brink of lunch, Overton ended his stay.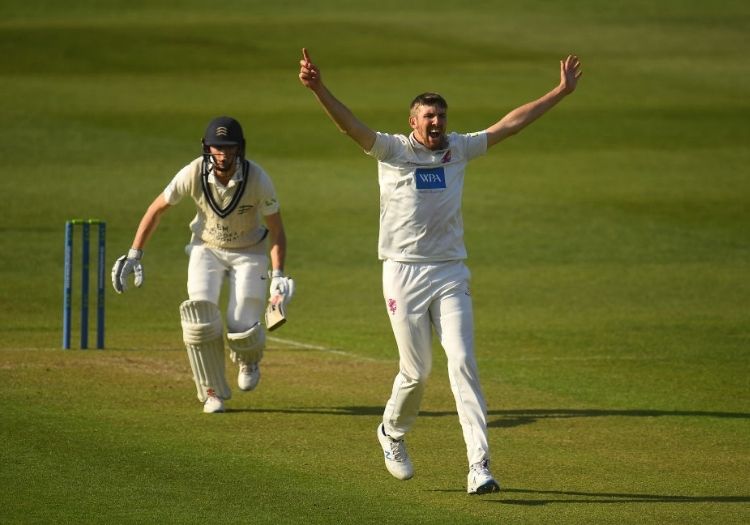 Craig Overton plugged away for 23 overs, taking 2 for 54
A square meal did not enhance Somerset's catching, Gubbins this time was shelled by Overton who stuck out a paw in an attempt to grab a ball destined for James Hildreth's hands. That meant that by the time Hildreth put one down off Overton in the afternoon – John Simpson this time the beneficiary - there was an air of acceptance from the fielding side. Certainly, there was not the usual anguished cry from the England Test bowler who was still feeling sheepish after his own efforts.
It has been a difficult start to life in Middlesex colours for Peter Handscomb. Having waited nearly two years to make his debut, he started with a third-ball duck last week. Tonight he will be cursing a school-boy error committed just as he was getting going. There were a couple of early strokes that displayed the class of a player who was the first in Test history to start with seven consecutive half-centuries, including a late cut off Jack Leach.
An over later he danced daintily down the track to flick the same bowler through mid-wicket but the very next ball he did the same again and pushed it to the left of mid-on. Seemingly unaware that substitute fielder Roelof van der Merve was left-handed, he called for a run that was at best risky. Swooping like an eagle, van der Merve gathered from the ground and threw down the stumps.
Van der Merve was on in place of Josh Davey who rolled his ankle in the early afternoon. Having gone for a precautionary x-ray he returned for the evening session but bowled just 12 overs in the day, meaning Abell and Lammonby were required to do more than their usual share.
White will spend his evening dreaming of that so far elusive maiden-first class hundred – he was stranded unbeaten on 99 last season against Kent – while Somerset will have nightmares over their inability to cling on.
Subscribe today and receive The Cricketer's centenary issue – six issues for £19.21. Click here
Please ensure all fields are completed before submitting your comment!