Our game is fearful, confused and frustrated... the spirit of cricket is needed now more than ever
SAM MORSHEAD: I've spoken to dozens from all levels of the game for a long report on the coronavirus's impact on cricket. The message is all the same: we'll squeak through 2020, but 2021 is the monster under the bed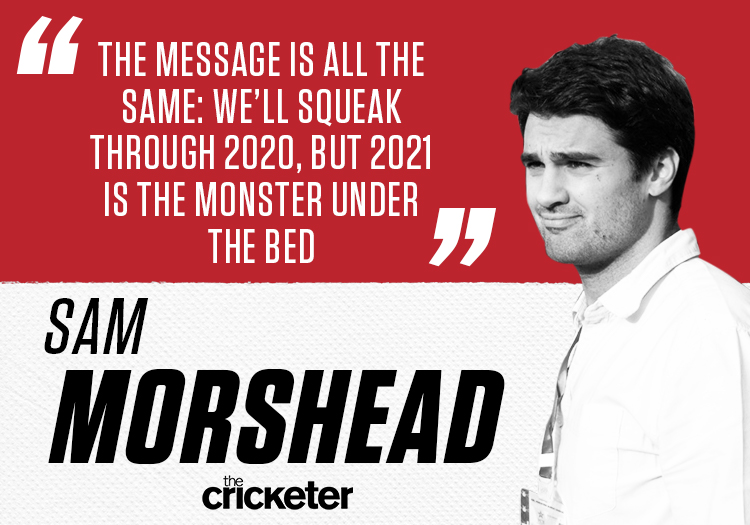 Every day, a new idea about cricket in the time of coronavirus finds its way out of ECB planning meetings and into the public discussion.
Over the past six weeks, we have learned about bio-secure venues, and testing procedures, and contact clusters, and island sites. We have discussed how Joe Root might be able to be excused from team isolation to be by his wife's side for the birth of the couple's second child, whether or not Jack Leach classifies as an extremely vulnerable person under government guidance, and how much it will likely cost to pay for the entire travel expenses of a touring team during a global pandemic.
Just as we have become steadily accustomed to queuing in four-metre bubbles for chocolate and cheese, so are we now unfazed by concepts which until two months ago would have been dismissed as utterly outlandish.
It is easy to forget why the ECB is shifting the sand with quite as much vigour and invention in order to stage these series.
So much of the discourse, when it comes to cricket, has been about three Tests against West Indies, and three more against Pakistan: all crucial in the ECB's cost-mitigation strategy.
A cricket-less summer, as we've been told on numerous occasions, will leave a gaping hole in the governing body's finances, which cannot be filled easily or quickly.
Those three hundred and eighty million pounds will have a knock-on effect everywhere in the game: for the counties which rely on central funding, for the women's game which had been promised so much, for the grassroots clubs tiptoeing around oblivion, to the players whose livelihoods depend on our summer sport.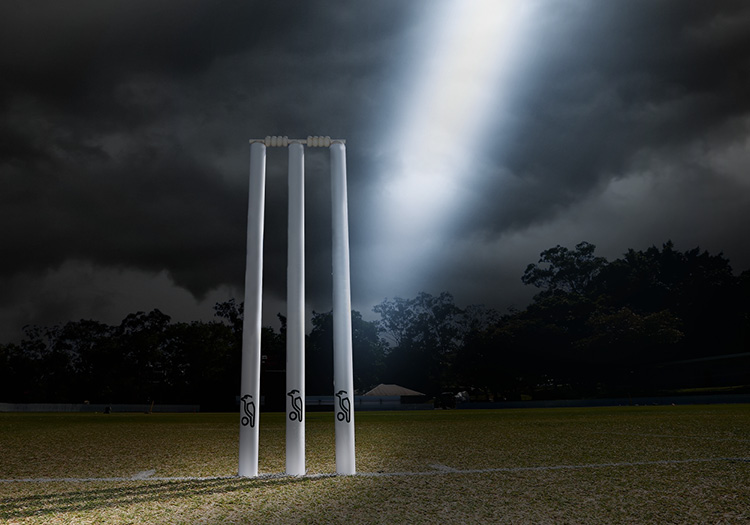 Cricket has been seriously impacted by the coronavirus crisis
Over the course of the past three weeks, in compiling a lengthy report for The Cricketer on the effect the coronavirus crisis has had on cricket, I have heard first-hand testimony from dozens of those whose lives will be significantly impacted by what happens in the next four months.
The message is all the same: we'll squeak through 2020, but 2021 is the monster under the bed. The emotions are the same: fear, confusion, frustration.
Fear for what might be. 
Counties with diversified revenue streams are suffering from all accommodation, conferencing and leisure facilities being closed indefinitely; counties with more reliance on ECB payments are okay for this year, but what about next if the money eases? 
There are 133 domestic players out of contract in the autumn, and now two years of academy graduates fighting for a chance next spring. Yet no one has had a chance to prove themselves. How do the coaches in charge of recruitment make that choice?
Some larger recreational clubs are already staring at a scenario whereby they have to pay off debts from 2020, the running costs of 2021 and two years of dilapidations and repairs all at once. With the possibility of fewer players returning to the game.
Confusion because no one can efficiently plan, as advice flip-flops and a generation of administrators, politicians and scientists try to learn about a phenomenon.
Is it really worthwhile for the county game to try to stage behind-closed-doors Blast matches when their income from the competition is driven primarily by the sale of tickets and beer? And how do you budget for 2021 when you have no idea what your stadium's capacity will be, if indeed supporters are both allowed to attend and have the confidence to do so?
How do you retain the interest of junior members through Zoom quizzes and online coaching classes alone, when there is an Xbox only feet away?
Frustration because cricket means so much to so many of us, for myriad reasons.
It is the summer distraction, the place to unwind and offload, a second family, a way of life. As a proud member of a small club in Wiltshire, it has been numbing to see the sheer weight of pleas for help - from teams all over the country - as the grassroots game comes to terms with the financial implications of just a single season without bar takings, junior subs and venue hire. 
The structure has always been fragile, relying on the benevolence of others - both in terms of money and action - but right now it feels like it is cracking and creaking with alarming volume. 
All this is why it is so important for 11 men from England to play against 11 men from West Indies and Pakistan this summer. 
Those two series will give the ECB substantial breathing space when it comes to refunds for broadcasters, money which can trickle back through the game, continue to support the counties, underwrite the growth of the women's game and haul village clubs out of their long session in the Last Chance Saloon.
Without those matches, that fear, confusion and frustration will simply keep on stewing. No good can come of that.
Please ensure all fields are completed before submitting your comment!