ODI TEAM OF THE DECADE: Who makes our XI from the last 10 years?
NICK HOWSON looks at the top performers in the 50-over game and compiles the best performers from down the years. Where has he gone wrong?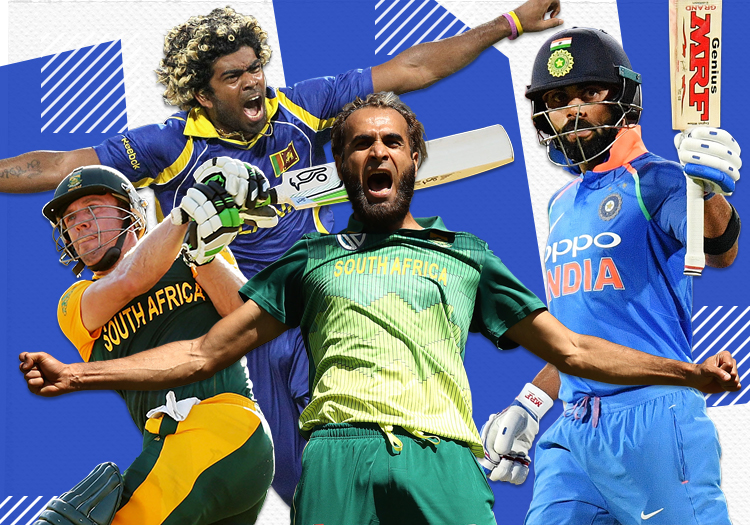 Rohit Sharma
8,249 runs @ 53.56 (28 100s, 39 50s)
Perhaps the most unforgiving run-scorer in international cricket right now. Rohit transformed his reputation from a fatally flawed batsman to one able to produce at the very highest level. A horribly poor 2012 kick-started his India career and few have been able to stop his route to greatness.
While reaching five centuries during the 2019 World Cup would generally be considered the highlight of any career, Rohit eclipsed that feat three times in the last decade. He struck a trio of double centuries, including a magical 264 against Sri Lanka at Eden Gardens. He is the only batsman to reach the landmark on multiple occasions in the format.
Hashim Amla
7,265 runs @ 49.76 (26 100s, 33 50s)
A record-breaker in every sense of the word. Over the last 10 years Amla became the fastest player to 2,000, 3,000, 4,000, 5,000, 6,000 and 7,000 ODI runs. And only Virat Kohli got to the 8,000 landmark faster.
If Amla was considered in Tests and destructive in T20s, he looked at his elegant best in the happy medium of the 50-over game. Rarely played an innings with any undue risks yet was able to score at a strike-rate a touch below 90. Leaves a gaping hole in the South Africa line-up.
Virat Kohli
11,125 runs @ 60.79 (42 100s, 52 50s)
Quite simply the best male cricketer on the planet. Scored nearly 3,000 runs more than anyone else, collected a 50-over World Cup, three ODI player of the year prizes and was the fastest to 8,000 runs in the format. Perhaps most astonishing is his record in chases, with his average leaping to 96.34 when India have won chasing.
Beyond his runs in the middle, Kohli has emerged as a cricketing enigma in India and beyond. A successor to Sachin Tendulkar and then some, he has become one of the most recognisable figures in the sport. At just 31, it is scary what might yet follow in the next decade.
AB de Villiers
6,485 @ 64.20 (21 100s, 33 50s)
The biggest casualty of the bright lights of franchise cricket. De Villiers was unplayable at his very best, hitting the ball at eye-watering angles all around the wicket. Even deep into the era of T20 era, AB was finding new ways to destroy the resolve of bowlers across the globe.
That you can have a reasoned debate regarding when De Villiers was at the peak of his powers says a lot. In 2010 he scored five 50-over centuries, two years later he averaged 107.50 and come 2015 he struck what remains the fastest ODI hundred ever off just 31 balls. What we would do to have him back.
Eoin Morgan
6,241 runs @ 40.52 (12 100s, 38 50s)
England's captain might not have a favourable record when compared to his colleagues in this XI, but when you consider what has been achieved in the four years since the 2015 World Cup his place cannot be overtly questioned.
Morgan emerged from his own crisis of confidence to become one of the cleanest strikers of a cricket ball in the world. His 148 against Afghanistan was breath-taking. But it is the manner in which he built a philosophy which delivered a maiden World Cup for his side which earns him a place. Few have had an impact on the format to rival his.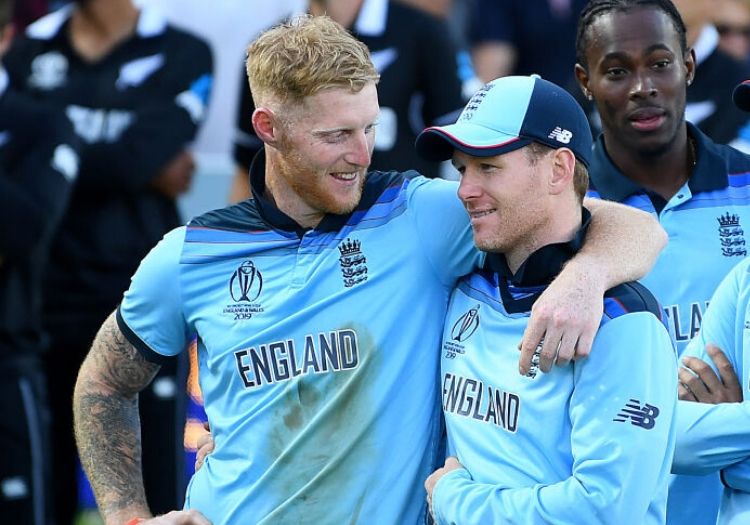 Ben Stokes and Eoin Morgan were key in England's World Cup win
MS Dhoni
5,640 @ 50.35 (4 100s, 39 50s), 170 catches, 72 stumpings
Arguably the best finisher limited-overs cricket has even seen, yet one with substantial and significant scores to boot. Dhoni was a remarkable cricketer at his best, with those days often reserved for ODIs. The helicopter shot became his trademark as did his ability to kill-off opponents with lusty late blows during the death overs.
His standout moment came at the top of the decade when an unbeaten 91 from 79 balls took India home in the World Cup final in Mumbai, with a lofted maximum securing the title in fairy-tale fashion. Few have rewritten the record books like Dhoni, nor have polarised opinion in quite the same way.
Ben Stokes
2,682 @ 40.63 (3 100s, 20 50s), 70 wickets @ 41.71
Another whose numbers don't do justice to his impact. Given the setbacks in Stokes' career both in the middle and in his personal life, that he was able to muster the most eye-catching individual performance of the decade in perhaps the most important match is a testament to his character.
Prior to 2019, Stokes wasn't even the most eye-catching star in the England team. Come the end of it, he is by far their most important. Not since 2012 has he enjoyed a better year with the bat, with his role as explosive hitter replaced by an ability to play with most restraint. The strokes of genius remain.
Come the World Cup Final, the allrounder was in his element. Batting with the tail he guided England to a tie and then in the super over kept his head to give Jofra Archer something to bowl at. His baby blue kit was stained but his reputation enhanced forever.
Imran Tahir
173 wickets @ 24.83
The best white-ball spinner in the world during this period. Had a stop-start beginning to his South Africa career, starring at the 2011 World Cup before his appearances dried up somewhat. Was still able to exert extraordinary dominance when called upon using subtle variations.
Allowed to let loose on a batting line-up Tahir could be lethal. That was never better exhibited when he took a career-best 7-45 against West Indies in 2016, tearing through the team from top to bottom. Still playing, albeit different formats, aged 40, his overzealous celebrations tell you he's doing it for the love of the sport.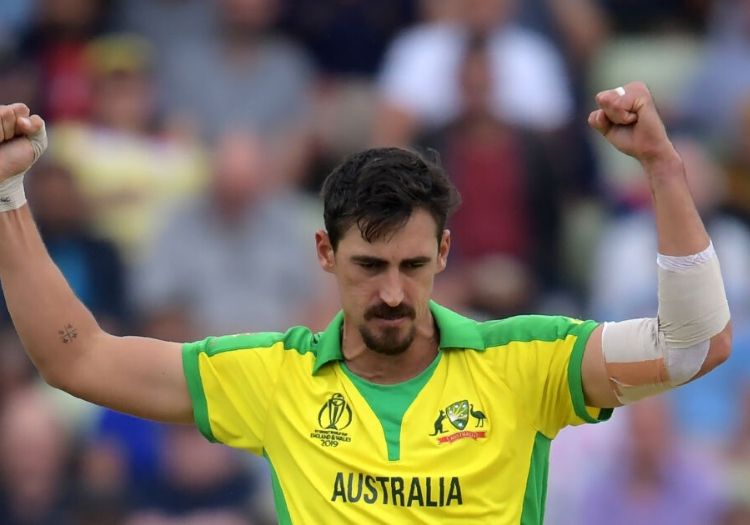 Mitchell Starc has taken the most wickets at the last two World Cups
Dale Steyn
145 wickets @ 24.80
Injury might have denied us the best of the South Africa seamer, but in full flight, there has been few better bowlers to watch over the last 10 years. Steyn was a ferocious performer at his peak, bounding in like a whippet and uprooting batsmen at will.
If you remove South Africa's issues at major tournaments, Steyn was always a key performer. In 2013, he was near-enough unplayable but missed almost all of the Champions Trophy. Two years later at the World Cup in August he showed signs of class but was cut apart by New Zealand.
Mitchell Starc
172 wickets @ 20.99
Has finished the year with an average below 20 on five occasions since 2010 - evidence as if you need it that Starc is as potent as they come with the white ball. The scourge of tail-enders regardless of the surface, he has made a living out of blowing away batting line-ups.
Finished his two World Cup outings as the leading wicket-taker, first as Australia claimed the title and then as they were dethroned by England last summer. A left-armer who swings the new nut and then produces stinging yorkers at the death. There is seemingly no weakness in his armory.
Lasith Malinga
248 wickets @ 28.74
No player has taken more wickets in international limited-overs cricket over the last 10 years than the Sri Lanka paceman. Capable of producing nothing short of wizardry at the back-end of the innings, with dozens of players being left bewildered by his full and straight deliveries.
Malinga is not your typical modern-day athlete, emphasising that it is his skill above all else which produces results. He has never possessed searing pace yet he is among the most feared quicks around. Hard to score off and with some excellent variations, it always felt as though he was toying with opponents, setting them up for fall. The batting fraternity can't wait to see the back of him.
Subscribe to The Cricketer this Christmas and receive a £20 John Lewis voucher or Alastair Cook's autobiography. Claim your free gift here
Please ensure all fields are completed before submitting your comment!