Northants' slip cordon provide reasons to be cheerful in the Yorkshire chill
ELIZABETH BOTCHERBY AT EMERALD HEADINGLEY: After tasting blood with the first ball, Messrs Curran, Keogh and Berg spent the rest of the morning session doing their best impression of a high school cheer squad
Headingley (first day of four): Yorkshire 206, Northamptonshire 36-0 - Northamptonshire trail by 170 runs with 10 second-innings wickets remaining
The last time I visited Emerald Headingley, or Yorkshire for that matter, was in July 2019 to watch West Indies take on Afghanistan in the Cricket World Cup.
Striding down St Michael's Lane not as a reporter, but as a spectator, I shared my pilgrimage with hundreds of excitable fans and a gaggle of children embarking on the coolest school trip of their young lives, politely declining the hoards of street vendors flogging knock-off merchandise and, on at least one occasion, regretting my decision to wear black skinny jeans on what I've come to remember as the hottest day of the year.
Afghanistan's limited-overs triumvirate Mohammad Nabi, Rashid Khan and a very young Mujeeb Ur Rahman were excellent value for money with the ball, Carlos Brathwaite treated the crowd to a brief glimpse of his swashbuckling white-ball batting, and cheeky fielder Fabian Allen, stationed on the boundary rope for much of the match, received plenty of adulation and appreciation from the packed East Stand.
However, the main attraction was the Universe Boss, Chris Gayle, playing in what many believe to be his final World Cup match. He didn't shine with the bat, scoring just seven, but produced his trademark showmanship in the field, taking the wicket of Ikram Alikhil, theatrically diving to make routine stops, and even completing half a dozen push-ups with Brathwaite to celebrate taking a catch.
The spectacle offered by Yorkshire and Northamptonshire on April 29, 2021 was quite different.

Both sides entered the match off the back of thrilling round three victories – Yorkshire completing a 48-run victory over Sussex inside 70 minutes on day four; Ricardo Vasconcelos scoring a daddy hundred to help Northamptonshire chase down 355 against Glamorgan – and quickly knuckled down for a gritty tug of war.
Bidding the photographers adieu as they headed off to brave the outdoors, our small band of press box dwellers turned our attention to the match at hand and immediately let out a collective gasp. Adam Lyth, a batsman without a duck of any persuasion since May 14, 2019, was skulking back towards us after being bowled by the first ball of the game. Platinum duck. His conqueror – Northants seamer Ben Sanderson – completed his wicket maiden and retreated to the Yorkshire Tea advertising hoarding at long leg, an early claim for MVP in the bag.
Not content with just the one early wicket, Northants' slip cordon – Messrs Ben Curran Rob Keogh and Gareth Berg - spent the rest of the morning session doing their best impression of a high school cheer squad, throwing their arms in the air with metronomic timing and if nothing else, adding a modicum of atmosphere to the otherwise desolate oval.
Indeed, so enthusiastic were their cheers that they sometimes skipped a beat before chasing the ball, resulting in several hurried dashes to save a boundary.
However, Tom Kohler-Cadmore and Will Fraine stood firm, both successfully surviving several close calls as balls whistled ever nearer to their stumps and the cheers and groans from the slips rose in intensity.
Kohler-Cadmore rose with it, carving Tom Taylor for two fours in the fourth over before settling into a routine of a boundary every few overs. Two gaps picked out in the 11th over, a solid edge down to third man in the 15th, ascending towards a first fifty of the season at a pleasing pace.
Fraine, however, making his first appearance of the season, laboured into double-figures, scoring just 11 runs from 65 deliveries before being trapped lbw by Berg with the fifth ball of the 21st over.
With vim and vigor anew, the cheer squad leapt for the skies once again two balls later, appealing for the wicket of Kohler-Cadmore. The umpires instead awarded a leg bye before ushering the players from the field moments later.
The morning's chilly blue hue had been replaced by apocalyptic grey, hail began to fall, and we were temporarily left wondering when play was going to resume – and more importantly, if we should have brought an extra jumper/blanket/survival kit for the positively Baltic Yorkshire weather.
Wayne Parnell completed his disrupted over just after two o'clock, bowling a handful of deliveries before the rain set in again: players off, covers on, photographers dashing for safety - an increasingly familiar dance. Choreographed by the slip trio? Possibly.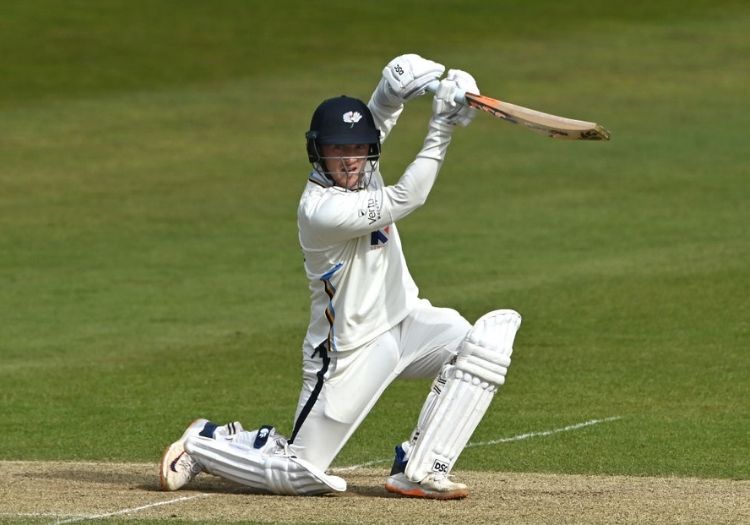 Resuming properly a few minutes before three, Northants came out firing on all cylinders.
Emerging into the sunshine with the scoreboard showing 67 for two, Yorkshire tumbled to 80 for five inside 30 balls. Second and first slip played hot potato to dismiss Gary Ballance for four, Ben Curran getting his name on the scorecard; Parnell pinned Harry Brook lbw for nought; and poor Kohler-Cadmore – stranded on 42 since before lunch – was bowled by Berg.
Jordan Tattersall and Dom Bess, the hero of Hove, saw the hosts beyond tea, adding 57 for the sixth wicket before Berg popped out of the slips to snaffle a catch. 137 for 6 or, more accurately, slips two, batsmen nil.
They nearly had a third in the next over, Keogh dropping a low chance from Dom Bess, while in the outfield, Sanderson – bowling in tandem with Taylor – could once again be found loitering behind the rope at long leg (occasionally moonlighting as third man owing to the right hand-left hand combination of Bess and Jordan Thompson).
Unwilling to miss out on the action, wicketkeeper and acting captain Vasconcelos had a hand in two of the final four wickets to fall, taking catches to dismiss David Willey and Steven Patterson as Yorkshire were skittled for 206.
Dom Bess top-scored for the hosts, bringing up his seventh first-class half-century with a four, while Parnell (5 for 64), Berg (3 for 32) and Sanderson (2 for 48) shared the wickets.
Curran and Vasconcelos padded up with 11 overs left in the day, batting until close without loss to finish on 36.
However, the heroes of the day and awarded the honour of joining the like of Gayle, Allen, Nabi and co. in my own personal Headingley hall of fame are the Northants slip cordon – not always the safest of hands (something which can most certainly be forgiven given the unpleasant temperatures) but an eye-catching wall of enthusiasm, over-zealous appealing and cheer.
Subscribe today and receive The Cricketer's centenary issue – six issues for £19.21. Click here
Please ensure all fields are completed before submitting your comment!