Meet Kathryn and Sarah Bryce, the Scotland sisters looking to take the world by storm
OLIVER THORPE: Kathryn was appointed captain of Scotland's senior team in April 2018, having spent four of her five years in the under-17s as captain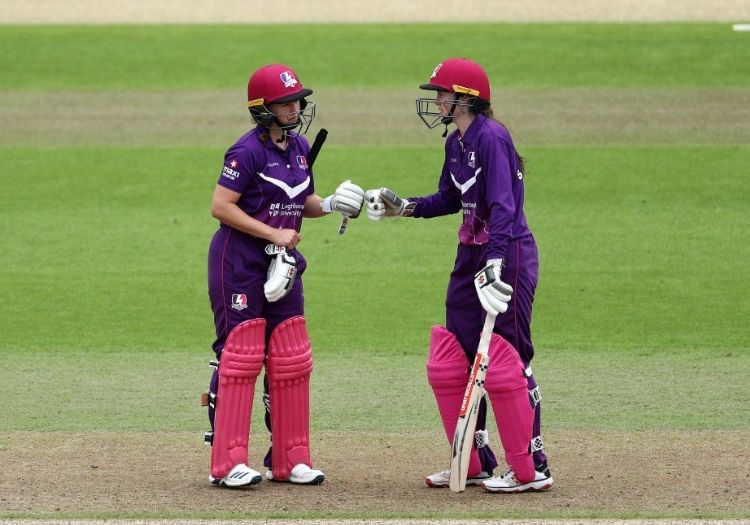 Alex and Kate Blackwell, Cecilia and Isobel Joyce: two sets of sisters that have shared the cricket field together.
The Blackwell's, who are identical twins, were lucky enough to be a part of the Australia team that won the 2005 women's World Cup in South Africa.
Meanwhile the Joyce's, sisters of former Ireland and England player, Ed, represented Ireland at three T20 World Cups between 2014 and 2018, after which they both called time on their respective careers. 
While these sisters were making names for themselves at World Cups, there were two sisters in Edinburgh working hard at Watsonian's Cricket Club to become the next Blackwell's or Joyce's: Kathryn Bryce and her sister, Sarah. 
Kathryn, 23, is an allrounder who bowls right-arm medium, is a right-hand batter and you can find her in the top order alongside her sister. Sarah, 20, is an opening batter who also keeps wicket. 
Kathryn was appointed captain of Scotland's senior team in April 2018, having spent four of her five years in the under-17s as captain. She took over from Abbi Aitken who spent eight years as skipper. 
"I feel like I've come a long way," says Kathryn. "Sometimes whenever you're younger it's easier in a way because you don't think about it too much. You just take it in your stride; Abbi was still playing at the time so it wasn't like she retired and there was nothing left – the experience was still there to go to when you had a question. 
"She (Aitken) took over the captaincy from Kari (Anderson) when she was quite young as well so I think Kari helped her through that period a lot. Abbi wanted to take a step back and enjoy playing cricket again; she was there when I needed her for chats and advice – she was always telling me to back myself." 
Being captain of a national side brings with it enormous pressure and expectation. Kathryn is aware that the journey over the next few years will be tough. However, she has hopes that her side can go on and achieve something special down the line. 
"One of the biggest things we've got is to qualify for a World Cup. More series against better nations and more international matches in general will help us raise our game, so that when we get to global qualifiers we can be more consistent and beat the teams that we should beat – having confidence against teams like Bangladesh who have consistently been at the top of those teams at the top," Kathryn says.
Sarah Bryce in action for an ICC Global Development XI
Captain and vice-captain pairings don't always go hand in hand, but Sarah believes that they have worked well so far, complimenting each other on the senior stage. 
"We're both quite good in general," says Sarah. "We're both chilled most of the time; especially Kathryn, so if I ever get at her a bit then she's very good at communicating it. 
"Last year Kathryn was away playing for Loughborough Lightning when we had a quad-series (with Ireland, Netherlands and Thailand). I ended up captaining the side during that series and I think I learnt a lot from that and what Kathryn goes through; I think I have a better understanding of my role as vice-captain as a result." 
Kathryn adds: "Obviously, I know Sarah well and we'd worked together before as captain and vice-captain so I knew I could rely on her as well to help me out. With the experience that I've gained as a player as well, the captaincy has developed over the past few years." 
"People that captain in my absence say to me 'it's much harder than it looks,' when I come back. [In all seriousness] I think we work well together when we're in the same team, but things get really competitive when we play against each other." 
Sticking together hasn't been easy for the Scotland team given lockdown restrictions at various points through 2020. However, thanks to Zoom, they have been able to do more than previous generations may have done. 
"We've been able to sit down and do some work on tactics which has been valuable. We may not have been able to do this in normal times so to be able to work on some individual stuff has been beneficial," Kathryn says. 
Yoga has been an activity that the team has bonded through after the pair picked it up at university. 
"We started doing it as a Loughborough team. One of the staff did it with us and we decided that we could do it with Scotland as well," explains Sarah. 
"Kathryn and I kind of stumbled our way through sessions on Zoom. They probably weren't the best but it was a way to relax and enjoy each other's company for a bit." 
With the pair away from Scotland, they have been unable to train fully as a group, but Sarah believes that it might play to the team's advantage. 
"I think it has actually been a good thing for us. It can be easy to get bogged down on certain players and what they do. It's more valuable to react to what that person does on the day. It'll be interesting to see how it goes."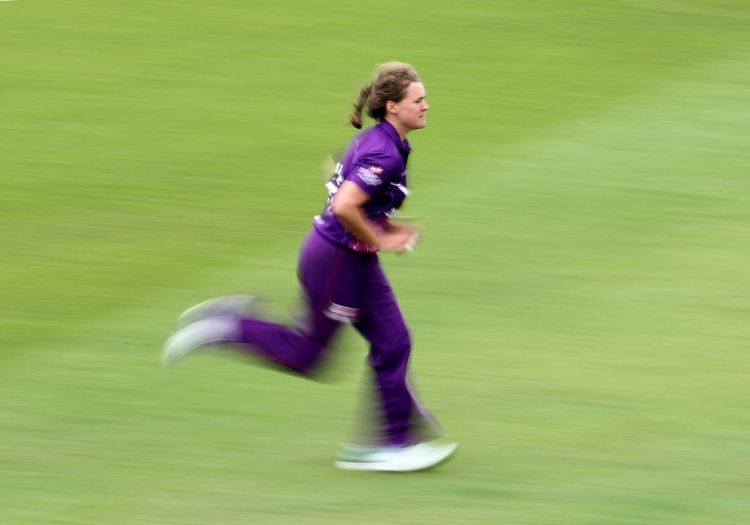 Only Charlotte Taylor, who took six wickets in the final, claimed more wickets in the Rachael Heyhoe Flint Trophy than Kathryn Bryce
Away from the international scene, the Bryce sisters bury their heads in books at Loughborough University. Kathryn studies Sport and Exercise Science; meanwhile, Sarah studies maths. 
"Having played with Lightning in the KSL, I've been involved here for a while and it's nice to be involved because it encompasses surrounding counties – giving girls who may not have been picked up otherwise the chance to play in a professional environment.," Kathryn explains. 
Having learnt so much during their time at Loughborough, Kathryn says that she can take that back to Scotland and her international teammates can feed off that, allowing them to grow and develop as a group. 
"The experiences that we've had and the professionalism that the university setup has, we can take that intensity to our own training. Being able to play with overseas players and other internationals was really beneficial; to be able to feed off them really helped because we were able to relay that to the girls in Scotland." 
They both had outstanding campaigns with Loughborough Lightning in the Rachael Heyhoe Flint Trophy: Sarah finished the competition as the second-highest run-scorer with 395 runs, averaging 79. She hit her first senior century, scoring an unbeaten 136 against Central Sparks. Kathryn was second-highest wicket-taker in the competition, claiming 14 scalps at 15.42 apiece including 5-29 against Northern Diamonds. 
"It was really nice to finish on a high," Sarah says. "I had a decent tournament but was frustrated by the fact that I kept making 50 and getting out – not really pushing on and making that big score. To kick on in the last game and get the win was really pleasing. It was a disappointing season from a team point of view, we would've liked to get to finals day, but it wasn't to be."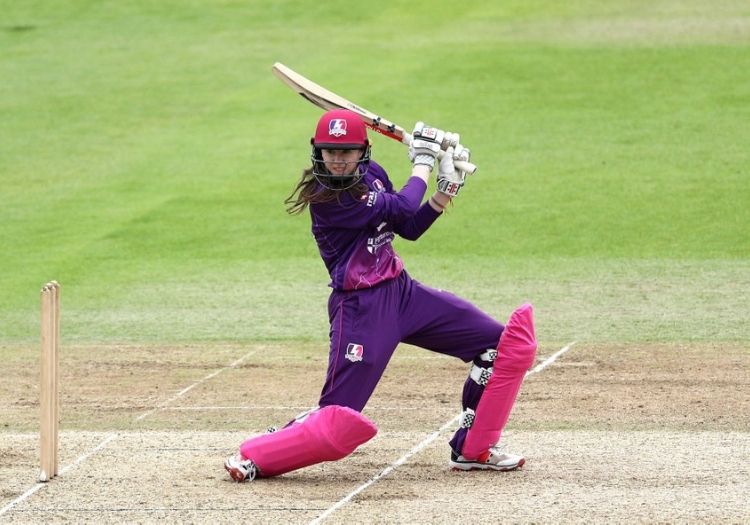 Sarah Bryce was the second-highest run-scorer in the Rachael Heyhoe Flint Trophy
Of her own successes, Kathryn added: "I was really happy with the season. I had been a consistent bowler over the past few years, but not necessarily a strike bowler; therefore, it was pleasing to take up regular wickets.  
"It was also the first time I had captained 50-over cricket in a while – probably the first time I had done so since playing for Scotland under-17s.  
"To be asked to captain Loughborough was a real honour and to be able to put my stamp on it going forward was a real opportunity. 
"It was also a great challenge; it took me a few games to get back into the way of it again. It was great to lead the team in the first year of this competition and I just think everybody was glad to play some cricket at long last because we weren't sure if it was going to be 50 overs, 20 overs or if it was going to happen at all." 
For both of these players to perform and finish the season with the numbers that they did was extremely important and has showed the cricket world that if Cricket Scotland keep developing talented young cricketers, then they can be force to be reckoned with in the years ahead. 
"Hopefully it shows that we can produce good cricketers in Scotland as well," Sarah says. "Maybe people will start to look at Scottish cricket and take it more seriously. Hopefully young girls can see that there's a pathway in Scotland to play professional cricket, encouraging them to take it up and keep going."
Gift a subscription to The Cricketer this Christmas and choose your free gift (a £20 John Lewis gift card or copy of Bob Willis: A Cricketer & A Gentleman). Subscribe here
Please ensure all fields are completed before submitting your comment!