Lancashire reaping the rewards of Liam Livingstone's renewed freedom after IPL and PSL exploits
Stints with Rajasthan Royals and Karachi Kings provided were turning points in the 25-year-old's career who is thriving once again for his county after a difficult 2018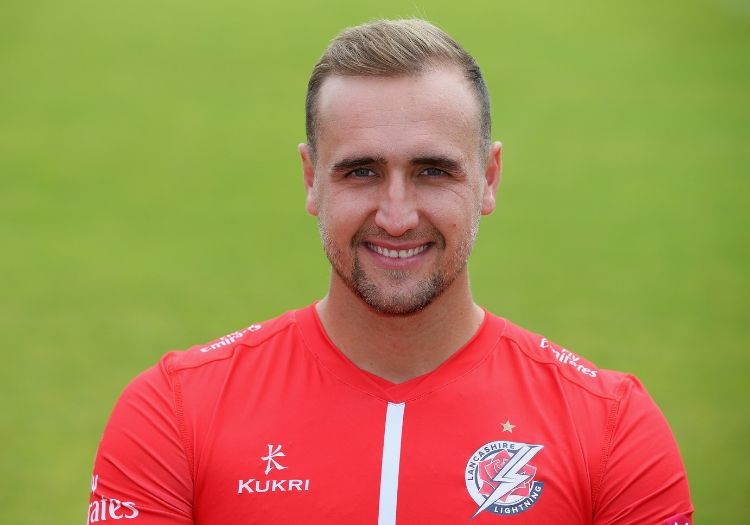 Lancashire's Liam Livingstone certainly possesses that sporting truism of having that je ne sais quoi about him. You don't go from Cumbria and Lancashire to Rajasthan and Karachi if it's lacking in any capacity.
Nevertheless, it is those experiences in different environments in the Indian Premier League and Pakistan Super League which form the components of this engaging story which has seen him scratch the surface of England selection.
After a disappointing season for Lancashire, Rajasthan Royals came calling for a fee of £55,000, which would go on to represent a first IPL stint after he had completed his PSL duties with Karachi Kings.
Yet it was Livingstone's headstrong determination off-the-field which was key in him not being overawed by the situation of competing in two successful franchise leagues in a short period of time.
"If you look at my record in T20 cricket, especially last year in the T20 Blast before I got injured it was a decent record so I wasn't too surprised [to be picked up], especially in the PSL.
"In the IPL a bit more because obviously it is the biggest competition in the world but I had belief in myself that I can perform in these big competitions so many people might have been shocked that I got picked but I certainly wasn't.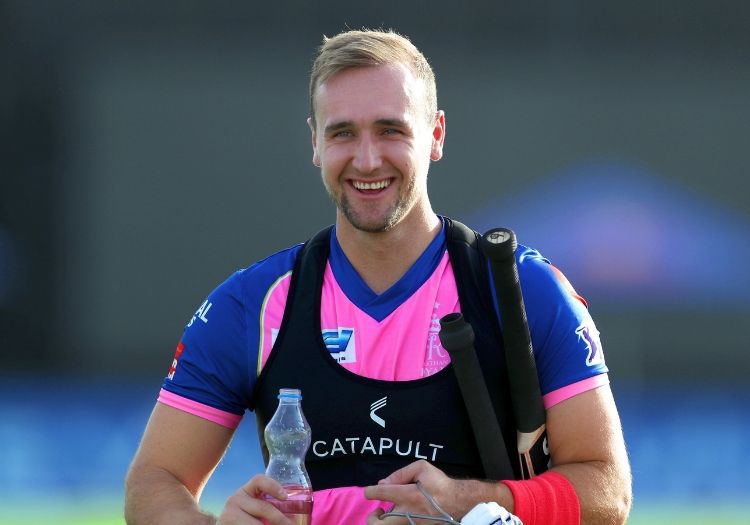 Livingstone had his first spell in the IPL this year (picture: Rajasthan Royals)
"Trying to evolve was the main reason I went away in the winter to try and play in these competitions and be able to play in them and learn about different conditions and learn a bit more about myself.
"Then it was about being able to bring that back to England and to Lancashire and pass on any knowledge that I gained in the winter. If I wasn't trying to evolve and get better at the game then I am probably in the wrong sport."
Those high-wire competitions tend to attract the best talent from the global game, and as a consequence Jos Buttler, Steve Smith and Ben Stokes were all retained by Rajasthan Royals. Jofra Archer had yet to make his international bow but that seems a distant memory given the fast-tracked nature of his international career.
Nonetheless, it was that very involvement from the world's best which Livingstone believes constituted the most noteworthy takeaway from his time in franchise cricket abroad.
"The most learning I took from the IPL was more off the field, watching the likes of Jos, Steve Smith, Ben, Jofra, watching how they go about their stuff from how they work in training with them every day.
"I probably learnt a lot more from them when they were around than what I did on the pitch when I finally got the chance to play toward the end of the tournament.
"I learnt a lot from that, and even just sitting next to people on bus rides to the ground, spending twenty minutes talking about stuff that you wouldn't usually get chances to speak about. I just think it is a tournament that you can learn a hell of a lot from without playing a lot in."
As evidenced above, it takes a lot to surprise Livingstone, and while statistically fewer star names choose to flex their muscles in Pakistan, the Lancashire allrounder was taken aback at the quality on show in the competition and believes that preconceived ideas of an inferiority complex compared to the IPL are misleading.
"I think the standards of both tournaments are actually pretty similar. I was actually quite surprised about Pakistan, their standards are right up there with the IPL.
"It's just maybe because it is not all played in their home country (that it does not get the recognition). I am sure when the PSL fully goes back to Pakistan it can be just as big as the IPL is now in India."
His participation in both tournaments came after a strenuous County Championship season which saw Lancashire relegated from Division One, which proved terminal for his time as captain after leaving the role in November.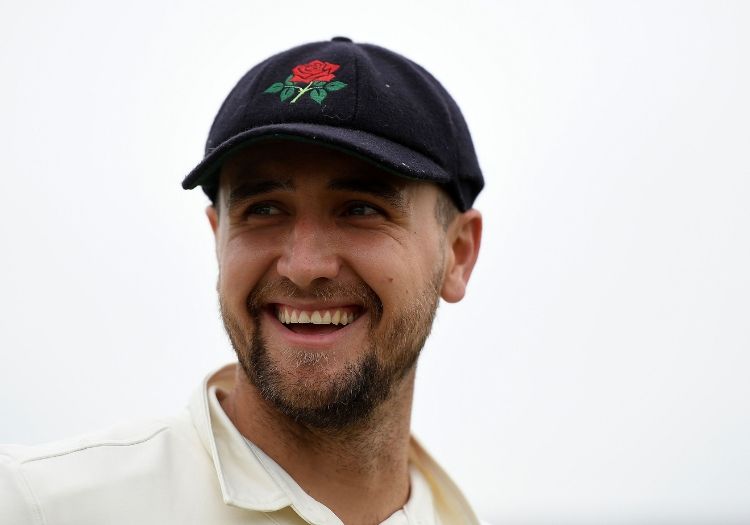 Livingstone gave up the captaincy in November
However, the pain of relegation has been compensated for by an unbeaten start to life in Division Two, which has seen an extended spell for James Anderson and a return to form for Livingstone the batsman.
He has scored a century against Leicestershire and two half-centuries as well already this season, and he admits that he is revelling in the freedom of concentrating on his batting without the strain of a captain's responsibilities.
"I was captain last year and I do score hundreds so I think it is quite easy to say that I wouldn't have [scored that Leicestershire hundred last year], but last year it was a tough year for batters.
"There weren't many people that did well with the bat last year, so I think batting in red ball cricket is a little bit easier this year than what it was.
"In a way yes [I have felt freer]. The focus is on yourself and not the team and you are not worrying about making sure everyone is alright before you have sorted yourself out.
"I have definitely found it easier to just look after myself and make sure that my game is in the right place before we start every morning, but I still field at slip next to Dane [Vilas] who is wicketkeeping and we are still talking every over about decisions and tactics.
"It is actually perfect for me because you have taken away the burden of looking after everyone but you still keep an interest in what is going on in the game and I am still able to give my thoughts of what I think and leaving it up to Dane to see what he thinks is best."
One player Vilas is constantly in discussion with on the field is Anderson and Livingstone believes the England bowler will be a potent threat once again later on this summer.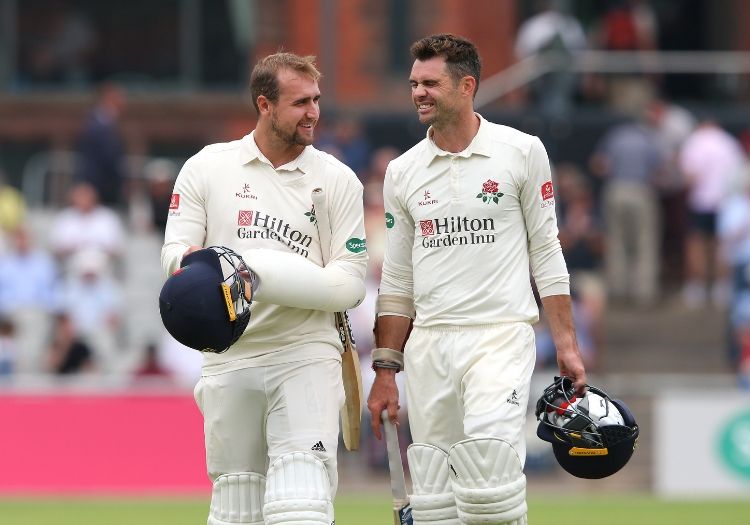 Livingstone believes Anderson is still at the peak of his powers
"I think Jimmy is the best in the world and has been for a while. He is getting better with age and he has been unplayable at times for us this year.
"He has been at a level that no one has been able to match for the last ten years so I think Jimmy will be a massive weapon for England going forward in the Ashes.
"He is a man that wants to win whether you are playing football in the morning or playing golf against him. I wouldn't be surprised if he has not got another couple of years in him yet.
"He is bowling as well as I have seen him bowl."
He would not have say it himself, but that assertion could also apply to Livingstone's batting. Whether it leads to him being reintroduced to an England side though is a matter not on his mind.
"I am not thinking about England at all at the moment honestly. England will be a by-product of doing well in county cricket.
"I am just trying to do as well as I can for Lancashire and just making sure I keep enjoying my cricket, which was something that I had gone away from in the last couple of years so it is all about just making sure I keep enjoying it."
For more outstanding county coverage, try The Cricketer for three issues free this summer. Click here to sign up today.
Please ensure all fields are completed before submitting your comment!