Lancashire offer to host international games behind closed doors
NICK FRIEND: No date has yet been given for when a decision on the venues involved in England's planned summer series might be revealed, but Lancashire acting chairman Les Platts said that he was hopeful of hearing "by this time next week"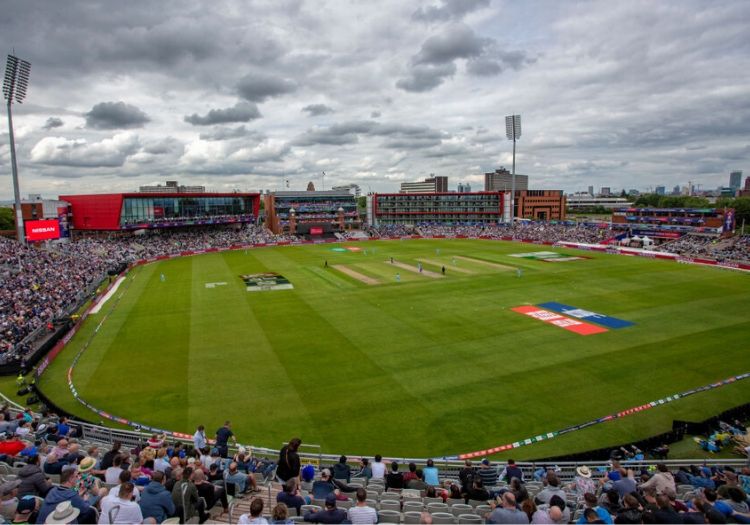 Lancashire are hopeful that their offer to host Test cricket this summer in a 'bio-secure' environment will be taken up by the ECB and are planning to that effect.
Emirates Old Trafford was already due to host the second instalment in a three-match Test series against Pakistan in August, even before the coronavirus crisis altered the shape of the summer. Currently, the ECB's stated aim is to begin a Test series against West Indies on July 8.
Counties have been invited to make presentations to the governing body to host matches, with venues which could be more easily made bio-secure standing out.
Lancashire's home – as well as the Ageas Bowl – are the most appropriate venues. Both have on-site hotels and training facilities, as well as vast concourses to encourage social distancing.
To achieve bio-security, a group of around 300 people - players, backroom staff, chefs, broadcasters and other key personnel - would need to be isolated within the chosen venue for a prolonged period.
"We have expressed our interest to the ECB and we're waiting on the ECB for a decision on that," Les Platts said during a Zoom press conference on Tuesday.
"We're continuing to plan on the basis it will happen, so we've been doing extensive planning now for behind-closed-doors cricket and we're hopeful that we'll have the green light soon and we'll have cricket going again in July.
"You never know, later in the season we might be having some spectators back in again. It must be possible for us to device a scheme when we've got a capacity of 23,000 to have some spectators in with appropriate protocols. We are hoping we might get that towards the end of the season.
"Obviously, we hope that we'll have cricket that they can watch and listen to before that, but if at the end of the year we can get cricket with spectators, that will be brilliant. I'm not guaranteeing it by any means, but we're hoping and planning that we might be able to get some of that in September."
No date has yet been given for when a decision on the venues involved in those series might be revealed, but Platts added that he was hopeful of hearing "by this time next week".
The club's acting chairman was speaking after it was announced that the county had recorded an operating profit of £7.6m for 2019, a landmark year for the club that saw the ground host an Ashes Test and six World Cup matches, as well as overseeing Lancashire's promotion from Division Two of the County Championship.
The club recorded a turnover of £34m, with revenue of more than £17.5m – the result to a considerable extent of the county's redevelopment of Emirates Old Trafford, diversifying its income streams through a Hilton hotel and conference and event facilities. Crowds for T20 Blast games also saw an increase of 34 per cent.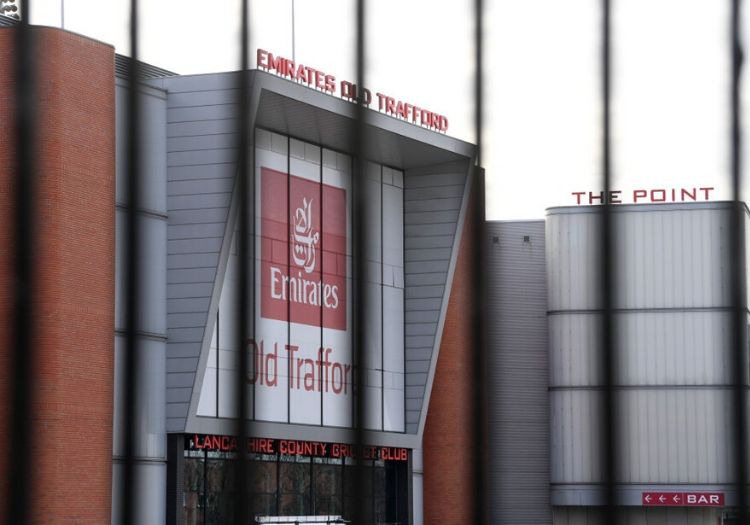 Emirates Old Trafford's on-site hotel makes it a likely 'bio-secure' candidate
"When I became treasurer back in 2013, we had long-term ambitions that we might get a revenue up to £20m," Platts added. "It almost couldn't be better than that; it was a brilliant year and it's transformed the finances of the club.
"You thought it would provide the platform for many years to come. As it is, it has provided the platform to help us survive 2020, when otherwise we might have struggled a lot more.
"It has put us in a position where we are absorbing the stresses and costs at the moment way better than we would have been able to, but the way that it's going, we still need income to start again.
"If we don't get cricket and the hotel and The Point going again, we're going to have to take more severe measures. The club will survive one way or another, but if things don't get going again it will be tougher."
He maintains hope, however, that some domestic cricket could return by the end of the summer, while use of the hotel during any behind-closed-doors international games staged at the venue would also bring income to the club, as well as any compensation and cost recovery involved in hosting the games.
Platts explained: "I think one of the most important bits about that is if we get that hotel working for behind-closed-doors cricket, it proves a model for a hotel working in a bio-secure environment that will enable the hotel to start trading in a normal commercial sense thereafter maybe quicker than hotels elsewhere, because we've proven the model and proven it in a biosecure way. And, therefore, people will have more confidence perhaps in booking."
Lancashire's England players – James Anderson, Jos Buttler, Saqib Mahmood and Matt Parkinson among those likely to be involved – are due to return to one-to-one training sessions at Emirates Old Trafford later this week, with the club aiming for a Friday restart.
The county's other players, it is hoped, could follow in the next couple of weeks – possibly at outgrounds. Lancashire – along with Surrey – took the decision not to furlough their playing staff under the government's job retention scheme, and so currently retain some control over when their squad could return to some kind of action.
The decision, Platts explained, was based on multiple strands.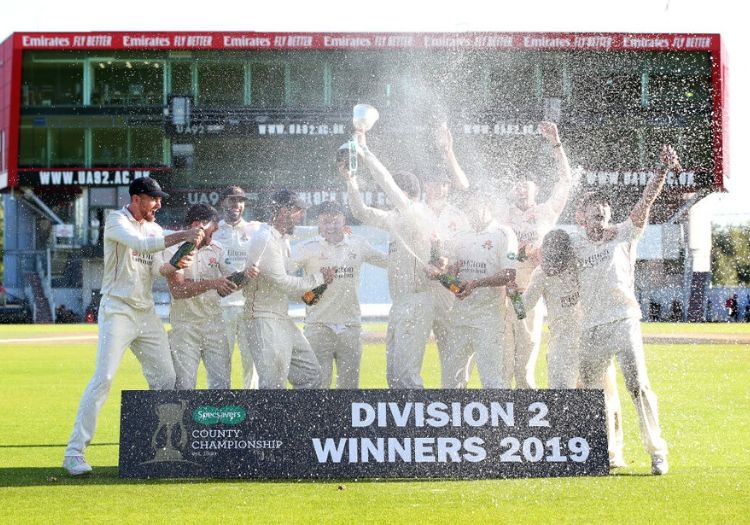 Lancashire won the second tier of last season's County Championship
"It's a judgement call and it's difficult to say what's right and what's wrong about this," he said. "Our feeling was that first of all, they're elite sportsmen and this is a job retention scheme. We were uneasy about using a job retention scheme for elite sportsmen.
"We also wanted the players to continue to be involved with the club, and you'll see that they've been actively involved in training videos, in social media, in reaching out to members. They've been actively engaged with the members even though they've been at home.
"We wanted to retain that involvement and also retain the flexibility to be able to bring them back in for training as and when that's possible. Of course, that is now looking possible over the next few weeks and we've got that flexibility to be able to bring our players back as and when we wish."
Platts added that the furlough situation was being taken "month-by-month" and being kept under review. Should it be decided that there is to be no domestic cricket this summer, it remains possible that the current decision could change.
"Players are aware that it's not a permanent decision not to furlough them, it's what we felt was right at the time and we're reconsidering it each month," he said. "We're still hopeful that we will get some cricket this summer and that they'll be out on the ground earning their money, rather than being furloughed at home, but that option remains available."
The situation caused by Covid-19 has been doubly difficult for Lancashire, whose chairman David Hodgkiss passed away in March as a result of the virus. Platts took up the role on an interim basis to help the club through the crisis.
"He had been instrumental in building the club," Platts reminisced of his predecessor, who was 71. "But more than that, he was a friend to everyone. He had a warmth, a confidence, an optimism. He believed in the club, he loved Lancashire.
"He wanted to grow it into being the best cricket club in the world; he was ambitious and engaging and he will be hugely missed."
Please ensure all fields are completed before submitting your comment!