Kia Super League: The last finals day, a celebration dressed in bittersweet sunshine
NICK FRIEND: A fitting finale. The first finale and the last finale. Western Storm and Southern Vipers. The two teams that shared the first two crowns facing each other one last time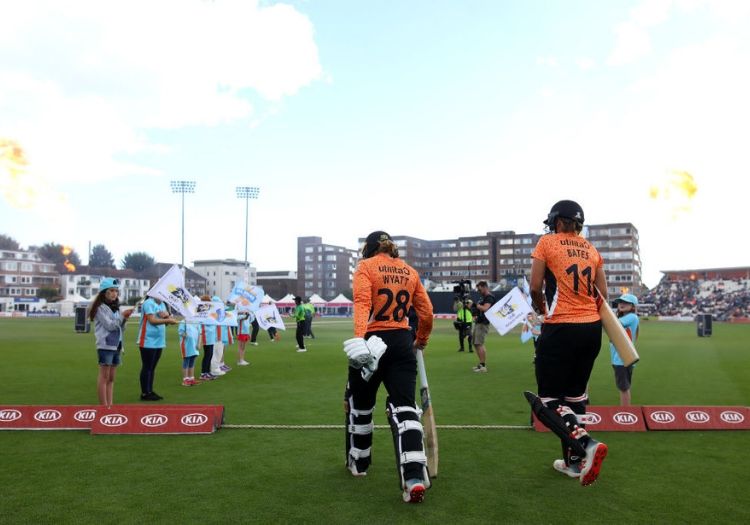 And then the lights went out.
If ever a day's cricket deserved clear blue skies, an enthusiastic crowd and persistent sunshine, then this was it.
Kia Super League finals day on the Kia Super League's final day. The last throes of a competition seemingly enjoying its finest times. But then, this is a changing world and as the game looks to accommodate The Hundred, here is the collateral.
"The KSL has really started to take bit of a hold," Julia Price told The Cricketer last week.
"People have started to identify with teams. It has started to develop a little bit of a culture and then they stop, so that's a bit disappointing for the women's competition over here."
And Price knows. There are few more qualified voices in the women's game than the current USA coach; a World Cup winner with Australia and a two-time Women's Big Bash semi-finalist while in charge of Hobart Hurricanes where, ironically, she coached Heather Knight.
Six teams who, over a four-year period, have won fans, becoming established brands in the process. The world's best players have found temporary homes and made lifelong affinities.
Ellyse Perry found herself at Loughborough Lightning, Alyssa Healy at Yorkshire Diamonds. India's crown jewels have embraced it: Harmanpreet Kaur made her way to Lancashire Thunder, Jemimah Rodrigues – a future world-beater – joined Healy in Yorkshire, Smriti Mandhana has become a fixture at Western Storm. It is a long list, which says a lot. As an event, it is held in fine esteem – perhaps greater beyond these shores.
The emotional messages on Twitter have been of those paying warm tributes to a lost friend. Marizanne Kapp bemoaned her final day out in Guildford.
"So sad it had to end. It's been an amazing four years," she tweeted. She posted her Surrey Stars side – champions last year – giving one last rendition of their team song. "Going to miss these girls," the caption that accompanied the lyrics.
It was heartfelt because these four years have meant something. In a sense, it is a reaction that should hugely satisfy those at the ECB who pushed for this all those years ago.
When Loughborough Lightning tweeted following their semi-final defeat – a tense, nervy affair, they thanked their rafts of support "not just for this season, but for the past four years". It takes a long time to build up a team spirit and a meaning.
They added a message of respect to Georgia Elwiss, who led Lightning to three finals day appearances in four years. "It's been one incredible journey," the post said.
And later in the day, after Knight had led her Western Storm side to victory with a wonderful unbeaten 78 at Hove, she described the moment as "bittersweet".
"It deserved that final today," the Western Storm skipper said of a thrilling afternoon – one on which the England captain, after a difficult summer, came to the fore in fine style. A magnificent effort from a proper leader.
When people speak of a captain's knock, this is what they are imagining – a title on the line, two major wickets down early on, staring down the barrel of the second-highest chase in Super League history. And she only went and pulled it off.
It was her side's second title at their fourth consecutive finals day. Yet, this one, one senses, will mean more.
It will mean more because that, my friends, is that. The end. The final end. The final final. The final curtain. Western Storm will forever sit engraved on their trophy as the final winners. The eternal champions.
The last innings ever seen by this competition was that of Knight. The final stroke ever played in it was hers, caressing the winning runs over mid-off. The final shriek was hers – arms aloft as the ball raced away to the boundary. In the distant future, the competition will come to be recalled by moments; perhaps, Knight's herculean effort here will be that moment.
It was a game that, at one stage, looked to be wilting away from her. But this was also a game thought through by Knight as captain and then painted by the glorious strokes of her bat.
The same Heather Knight that became the first player in history to pass 1,000 runs in the tournament – a feat she reached only earlier in the day. It was Knight's day.
"It was an awesome final," she reflected. "Credit to the Southern Vipers for playing the way they did, for putting on a great show. I think it deserved to finish on that after the four years. It has built remarkably, looking back on the start of the competition.
"How it was very much amateur and trying to find hotels and training grounds and stuff like that. To see it blossom into a semi-professional setup gives the girls below the opportunity to push for an England place, to train properly and to show off their skills."
And, whatever the motives for the culling of all this, whatever the possibilities offered up by the new competition, it is worth considering what is being lost.
And from that reputational perspective, it has undoubtedly served a purpose. It is a sign of a worthwhile venture that there is such disappointment attached to its endpoint.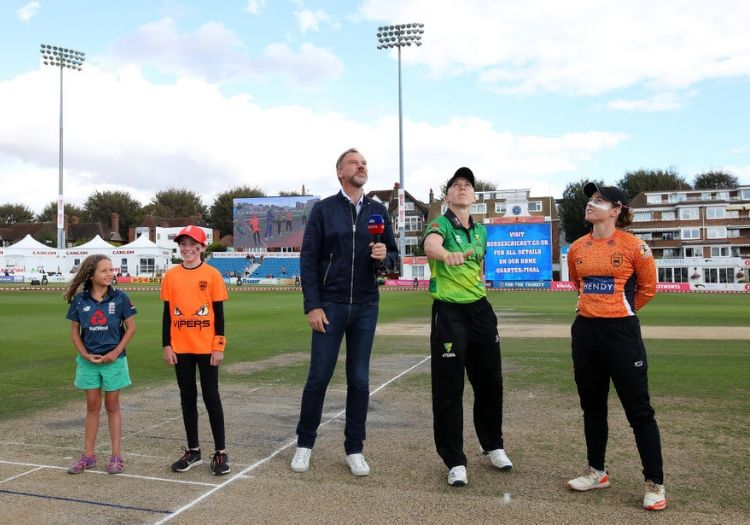 Western Storm and Southern Vipers met in the final, just as they did in 2016 and 2017
That England won the World Cup the year after its inception is, of course, the subject of much coincidence.
However, exposure to the world's best players – both as teammates and adversaries – could only ever be viewed as a positive. Kevin Pietersen used to argue that facing the likes of Dale Steyn in the cauldron of the IPL could only enhance a player's fearlessness.
When you are at the crease in T20 cricket, your only choice is to stand up and whack it. It is fight or flight. Reputations are immaterial. The KSL has been no different. It has, in that sense at least, done its job.
Whether it has done what it was set out to do is dependent on the barometer by which one might choose to judge it.
"While today marks the end of the KSL as it currently exists, the work it has done and the progress it has allowed the women's game to make has been hugely important and that work will continue across The Hundred," Clare Connor told BBC's Test Match Special during an interview on finals day.
"Positioned alongside the men's comp, with additional exposure and reach, we believe The Hundred women's competition can build on the work of the KSL and continue to drive women's cricket forward.
"Today marks the end of something very special and rewarding for all of us who have been involved in the KSL. We have huge confidence that the KSL will act as the springboard for the next exciting phase of women's domestic cricket in England and Wales.
"The KSL has proved that ambitious plans and innovative ways of working can deliver fantastic outcomes and we will take those learnings forward with us over the coming years to ensure that more women and girls can aspire to play cricket at the highest level."
As a national side, though, England have stagnated. There would be few who can truly believe that Heather Knight's side are now a superior outfit to that which won so famously at Lord's in 2017. Individuals may well have improved – Tammy Beaumont, for one, has become a bona fide, world-class star. Sophie Ecclestone, too, has emerged as a fine bowler.
The benefits, too, for the domestic players of training and playing with international stars cannot be discounted. That, of course, will run through to The Hundred and, it is hoped, will improve with the new domestic setup planned for next year.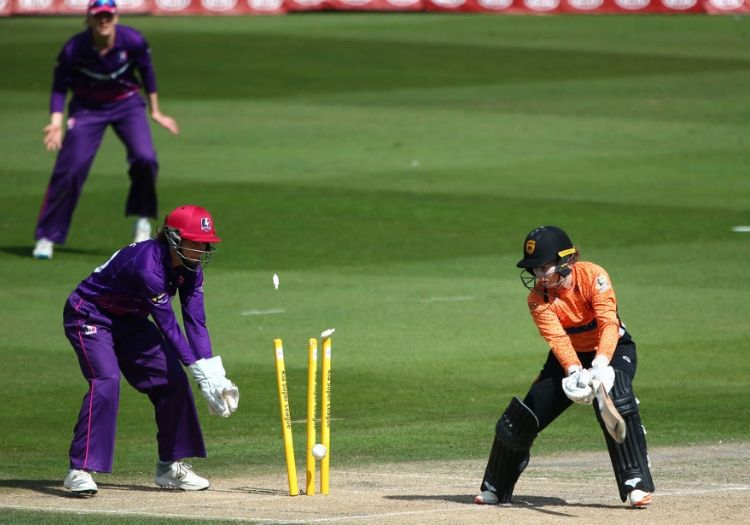 Earlier in the day, Tammy Beaumont had been dismissed by England teammate Jenny Gunn
Yet, what has become clear – most notably, through the one-sided Ashes series that preceded the Super League – is a vast gap between those selected at international level and those on the domestic pathway.
The national side remains, more or less, made up of the same personnel as the triumphant group in that extraordinary summer two years ago. And as England were hammered by Australia over the course of a chastening month, there were few – if any – alternatives to those who took to the field.
Of course, that should be of little – or no – surprise; England's pool of professionals is tiny, at least compared to that of Australia – the yardstick by which English cricket will always be measured.
In 2019, 21 players have been handed ECB central contracts, four of those – Bryony Smith, Linsey Smith, Alice Davidson-Richards and Katie George – on rookie deals.
Prior to Finals Day, you would have had to look all the way down to 13th on the list of top run-scorers to find a player without international experience: Yorkshire Diamonds' Hollie Armitage.
The reasons for this are by no means the fault of the KSL itself: a lack of investment in the infrastructure of the domestic game beneath the international elite, and a subsequent lack of quality. In truth, some of that remained on view at Hove.
The dominant players on the day, typically, were those one might expect. It is anticipated that the restructuring of the women's game in this country will correct much of that, reducing that disparity through the hope of ultimately increasing professionalisation.
Having witnessed an almighty dismantling at the hands of Matthew Mott's traveling Australian side in July, the need has never been greater. Meg Lanning's team and, more pertinently, Cricket Australia, are streets ahead.
Knight, for one, is well aware. After all, in her role as captain, she became the mouthpiece for England's struggles during a horrible month against an Australian line-up feeding off the success of its own infrastructure. Up against Lanning and the incomparable Perry, England had little answer.
Speaking after her heroics, Knight added vitally: "I'm also excited for next year – not purely The Hundred, which people seem to focus a lot of attention on, but more so the domestic setup that's going to come in.
"We don't know exactly what that's going to look like yet, but I'm sure it will become clear in the coming months. It's going to produce a lot of semi-professional women's cricketers in this country.
"The aim is to make a fully professional competition below England, which I think is a brilliant thing for English cricket and it's going to be great for England moving forward."
As Nessun Dorma blasted out before the final – it seemed an unusual choice for the razzmatazz of a T20 occasion, there was something odd about it all. It felt strangely apt: somewhere between joyous and funereal.
That there is any despondency at its last hurrah is testament to all that it has achieved. Whether it has managed all that was hoped it might, it is tough to argue that is has. Yet, it is difficult to see how that could ever have been possible. What it has done, however, is laid a priceless foundation for something bigger – something that, four years ago, was a pipedream.
And then, to the final. A fitting finale. The first finale and the last finale. Western Storm and Southern Vipers. The two teams that shared the first two crowns facing each other one last time.
Charlotte Edwards captained her Vipers side that day. Today, four years on, she watched from the sidelines as the team's director of cricket. On that occasion, she won. Not today.
The cycle complete.
Lights out.
Please ensure all fields are completed before submitting your comment!