Increased coverage of women's domestic game opens up world of opportunity to would-be commentators
HANNAH THOMPSON: While I don't have an elite former player passport to cash in on, it is only now with the professionalisation of the domestic game where I feel there is an opportunity for us amateurs to enter the commentary field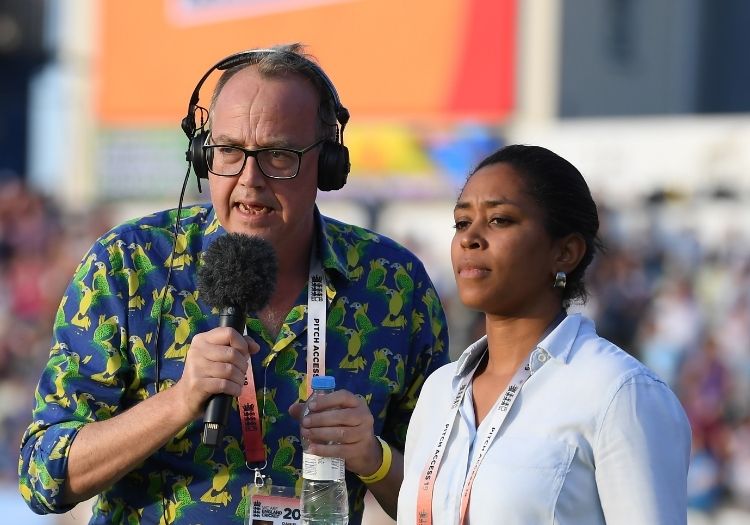 There is a growing presence of women breaking into cricket media roles, perhaps as a by-product of the domestic game's gradual professionalisation. As these opportunities continue to arise in the women's game, the demand for expert voices also increases.
Although still in its relative infancy, the last 18 months have been truly transformational for our game. Yes, there's still plenty of cracks that need filling in and not glossing over, but we have to appreciate the journey that we are on. We're on the dawn of another exciting era where these moments that feel extraordinary become part of the everyday; we won't be talking about how great it is that more women can get involved in all aspects of cricket, rather, that will be normalised – we hope.
But we're not quite there yet. I forget sometimes how I am an anomaly as a former council house kid, state school-educated woman working in a game that – though an evolving sport – remains male-dominated. I forget that cricket media has been historically a space lacking diversity, as Izzy Westbury articulated so well back in 2020, that coverage is 'shaped by mostly male, white and privately educated journalists.'
Therefore, it was to my surprise when I was asked to commentate for Western Storm this summer. As someone who stutters and falls over words, I was shocked to say the least.
But as someone who knows the players in the women's game relatively well, I am finding myself faced with increasing opportunities frankly because there's not enough of us who do know the ins and outs of the women's game. Naturally this will increase as it gets further investment and public consciousness increases. Likewise, competition for roles like commentary will increase and the standards of those calling will also improve.
I had never considered commentary as a career option – not out of choice, but because I didn't realise it was possible for me to achieve, and it's far too soon to call it a career at present. But, as times change and cricket opens its doors to include everyone in the conversation, maybe we'll see even more girls aspiring to be commentators.
In some respects, cricket has been ahead of the curve when it comes to female representation, using former international players like Isa Guha, Ebony Rainford-Brent, Charlotte Edwards, Lydia Greenway and others as pundits, providing them with the opportunity to maintain a voice within the game.
While I don't have an elite former player passport to cash in on – and it's brilliant that the player transition route is there for former players at the top level – it is only now with the professionalisation of the domestic game where I feel there is an opportunity for us amateurs to enter the commentary field. The Rachael Heyhoe Flint Trophy and the Charlotte Edwards Cup live streams are the perfect spaces to allow new voices to come to the forefront, where people like me can be paired alongside experienced pros who enable us to gain confidence with our voices.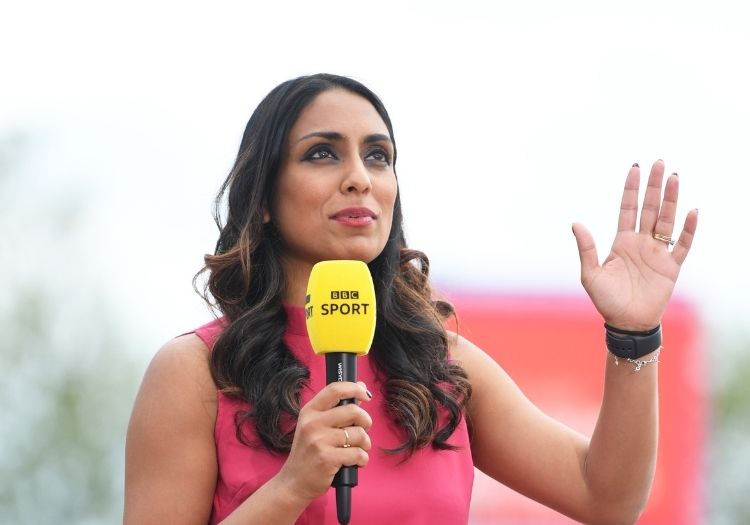 Isa Guha has become a widely respected broadcaster since her retirement from playing
During my first commentary attempt, 150,000 people tuned into the livestream. Across the streams, the diversity of voices has been excellent. The addition of Claire Jenkins, a former county player whose ties to cricket would perhaps previously have been forgotten, has elevated the coverage via her personal connections to both her region and the players. That's sometimes our problem: we remember a few of the trailblazers, but not all the women who worked tirelessly to project the game to where it is today.
Speaking to Jenkins, she laughs: "I think I could become addicted to doing livestream commentary on women's cricket. If anyone asks me about it, I can feel myself grinning and probably talking too much about how much I love it! I get gloriously lost in doing it and even talking to others about how excited I am about the whole experience."
The inclusion of Jenkins, with her Brummie accent, brings a warmth entwined with the history of the game. She knew the legendary Rachael Heyhoe Flint on a personal level which, she admits, added weight to her first commentary experience: "I felt the weight of doing Rachael justice and understood the wider significance of being the first female voice at Edgbaston for the first game in the RHF Trophy."

She played in the era of skirts with the likes of the late Betty Snowball, but also with present-day stars Georgia Elwiss and Danni Wyatt. While people may not remember Jenkins' county exploits, they can now hear those stories and the significance of her generation – tales that would go untold without people like her involved.
Other brilliant names on an ever-growing commentary list include Dr Samara Afzal, Sarah McCann, Mel Story, Allyson Byrne, Sarah Ginn, Cassie Coombes and The Cricketer's very own Elizabeth Botcherby.
And as I mention the importance of more female voices, that is not to discredit the brilliant and knowledgeable male commentators, many of whom go above and beyond to ensure the women's game gets equal treatment to the men's game.
But at the same time there remain a few who still don't quite understand the differences. As Jenkins adds: "You only have to listen to livestream comms for women's cricket with only male voices who will confess: 'I don't know much about this but…', and then proceed to talk more about men's cricket than the game they're actually watching. It's cringeworthy and often only vaguely better than having no comms at all. It's the assumptions of the male viewpoint and that 'this happens in the men's game so it must also happen here'. It's making direct comparisons where there's no need for them."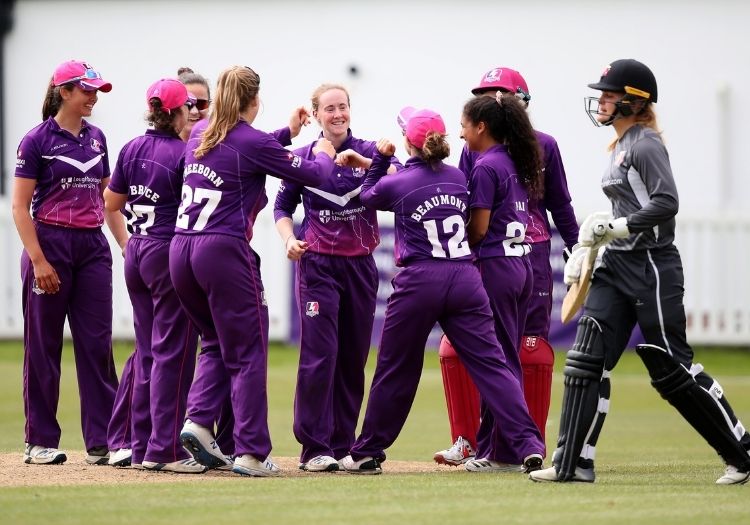 The women's domestic calendar is more jampacked with fixtures than ever before
Michael Perkins has been quietly behind the scenes masterminding a plan to increase female representation and form a pathway so that women do see commentary as a viable paid option.
"Commentaries are only as strong as the range of voices they have around them," he says. "That particularly seems to be the case right across broadcast media at the moment. Obviously having diversity in those voices is the most direct way of achieving this which clearly means women need to be part of this but regularly they are not being heard.
"Through conversations I have had with people who have been covering women's cricket a lot longer than me I have been very much convinced the starting point is getting people with knowledge and enthusiasm for women's cricket. Ultimately I am so impressed with the effort that the women I am working with put in, the standard of what they produce on commentary, and I get so incredibly overwhelmed seeing the response it has had from its audience."
But Perkins is faced with challenges in his bid to grow the talent pool. The money still isn't quite there and tensions form around who can be paid to do commentary and who misses out. Though it would be nice to introduce a range of voices in each production, the money pot doesn't stretch that far for now.
He explains: "Stuff like what to do when the fee you have for somebody to be paid equally to you has been allocated whilst there are other excellent journalists who are women at games for their own purposes who you want to give the opportunity to contribute to commentary but do not have any funds to pay equally can create a dilemma too. Sometimes you are only taking steps towards your aims or falling short of them. It can be very uncomfortable trying to work out what decision is in the interests of women's cricket coverage."
Beyond the livestreams, local radio stations are also clicking on to the importance of including female voices within their production. A strong Solent contingent has been brewing for several seasons with the rise of Southern Vipers player Emily Windsor, who made her TMS debut during the India series last week. Teammate Charlotte Taylor has recently joined her in the ranks, covering the men's County Championship.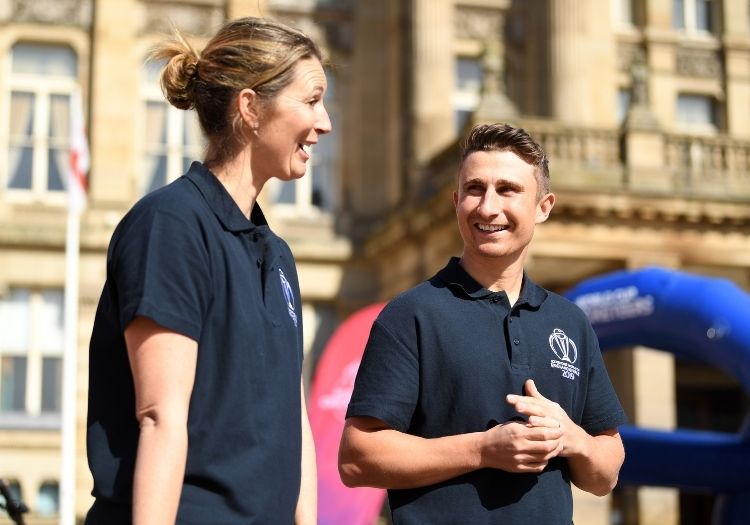 Among her many roles, Charlotte Edwards is a regular commentator for Sky Sports
"It's just a case of describing what you see and giving your opinions while having a good relationship with the other commentator is quite important as well." says Taylor. "You need to be quite confident and willing to spark conversation on different matters and discuss different topics. My experience has been positive mainly because I've been working with Kevan James, but I can't say that would be the same if I was working with others.
"I've had teammates who have done commentary with older commentators who were stuck in their ways not giving them the opportunity to talk. Basically, one guy talked and talked, and even asked and answered his own questions. Like you can't be silent on the radio obviously, but he wasn't giving an opportunity to speak so experiences really do depend on who you're paired with."
Passing the baton on once again, Taylor has recently introduced Hursley Park teammate Story to both local radio and livestream commentary. "I think it just really opens up doors; you're saying you want more coaches, you want more female players, now you're getting more female people in the media as well. There's no reason why people like Mel, who aren't involved and playing at regional level, can't move up the commentary ranks."
Story adds: "It's really a dream come true, everyone wants me to succeed and learn so I am really grateful for that. Every time I don my headset, I relish the atmosphere and excitement of it all and I guess adrenaline that comes with it.
"Having more women's voices involved can only enhance the game, it's important that women have a platform to share our experiences of cricket too. For example, from my point of view I think having played men's and women's cricket I can introduce unique insights and make links between the two.
"Secondly, the impact on younger generations shouldn't be ignored because, by hearing male and female voices on the radio, it shows young people that this is not just a male-centric career, that there is a pathway for anyone who's passionate about cricket."
Please ensure all fields are completed before submitting your comment!