Imposing audacity of Alyssa Healy epitomises Australia's Test match intentions
NICK FRIEND: As England's bowlers approach the crease, creeping ever nearer, the silhouette of Healy must feel as though it is shrinking. She is in that kind of form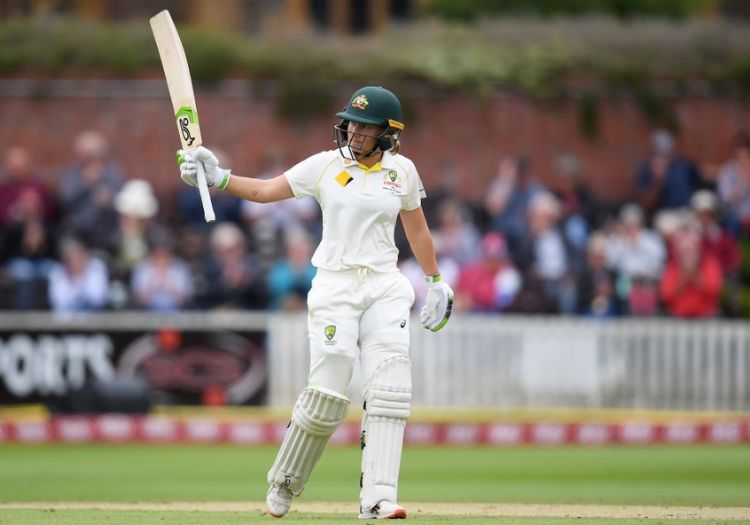 There's a funny kind of air around Taunton. Humid but cool, expectant but terrified. The comeback starts here, doesn't it? It does, right? Hello? If this game has taught us anything in the last week, it is that logic waits for nobody.
And after the initial criticism that surrounded the scheduling of this series, the unbridled madness of the recent days has, if nothing else, given this game an unlikely momentum. A kind of excitement that, given the predicament facing Mark Robinson's charges, they are somewhat fortunate to have accrued. Six-nil down England may be, but cricket is the nation's summer love once again.
The hoteliers know why you're here; there is a buzz of sorts around the place – no fervent bound in the step of the locals, but enough of a tingle to know that international cricket is here. The equation for England at their favourite of grounds could scarcely be simpler: win or bust.
There is, however, an additional pressure on this game – not one that will scurry to the forefront of minds, but one that exists every time these two sides put on their whites.
"It doesn't sit right with me that my baggy green lies in a cupboard unused for years at a time," Megan Schutt wrote in her Guardian column this morning. Quite simply, these games are not frequent enough.
Katherine Brunt made her Test debut in 2004 – it was the 123rd such game in the history of international women's cricket. Fifteen years later, the brilliant talismanic figure – a veteran of 120 ODIs – is playing in her twelfth – it is the 140th women's Test. Meg Lanning is playing in her fourth – granted, she missed the last instalment through injury, but the fact remains.
Tonight, however, the highlights are set for a primetime slot on Channel Five. It is progress, of course. Enormously so. But it is pressure nonetheless. The last time these two sides met in red-ball cricket on these shores, the pitch prepared at Canterbury paved the way for a drab, attritional affair – the type to spook rather than inspire.
It was devoid of pace, of movement, of just about anything. England batted for 143.5 overs in that game; they scored 269 runs across both innings at a run rate of under two. Watchable it was not.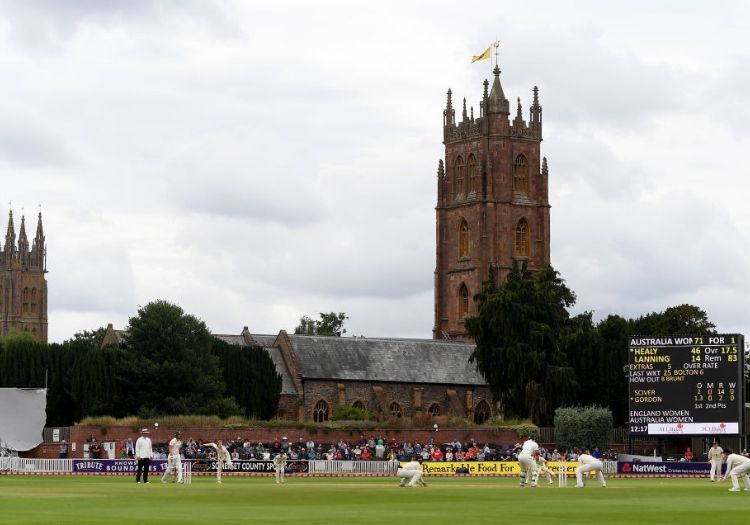 Australia won the toss and opted to bat at Taunton
And with multi-day cricket something of a rarity for these teams, there is an element of lottery involved whenever they don their whites. Both Heather Knight and Lanning stated as much at the conclusion of the third ODI. To write a side off – even at the point at which margin for error has left the building – is to play with fire when there is Test cricket to be played.
Given its relative infrequency, it comes with a fascination that the consistent diet of ODI cricket cannot bring. It carries an opportunity to unfurl the least likely of plans, to experiment, to innovate, to win games through methods not applicable within the limitations of one-day cricket.
Here, within a matter of overs, England were coming at Alyssa Healy's array of cover drives with two slips, a gully, a short cover and a curious fielder hovering a matter of yards from the bat at a square point.
Ten overs in, England had gone to spin. Sophie Ecclestone – one of four tweakers picked by Knight on this unusual surface – would be the first to explore a pitch designed, one might suggest, with a result in mind. That is not necessarily a criticism in itself; even the wicket on which Ellyse Perry struck her supreme double-hundred at Sydney erred on the lifeless side, only brought alive by a high-class protagonist.
Australia, meanwhile, had opted to make use of Healy's fine white-ball form. The wicketkeeper had slotted in further down the order on her previous three Test appearances, debuting at eight, before spending her last two outings at seven. For, that is the done thing – one of those unspoken, unwritten expectations.
On this cool, overcast day though, here she was atop the Australian order. She looked in a rare kind of form, hammering the overpitched delivery, pulling through mid-on when England overcorrected.
On an average surface, Healy was putting on an exhibition. There was an audacity to it that signified all that has been missing from England's batting throughout this series. To rewind yet further, it was a bold statement from those in charge to even stick with Healy against the new ball.
It was a call that screamed of confidence, one that belied the bare necessities of Australia's task here. Of course, avoid defeat over the next four days and retain the Ashes.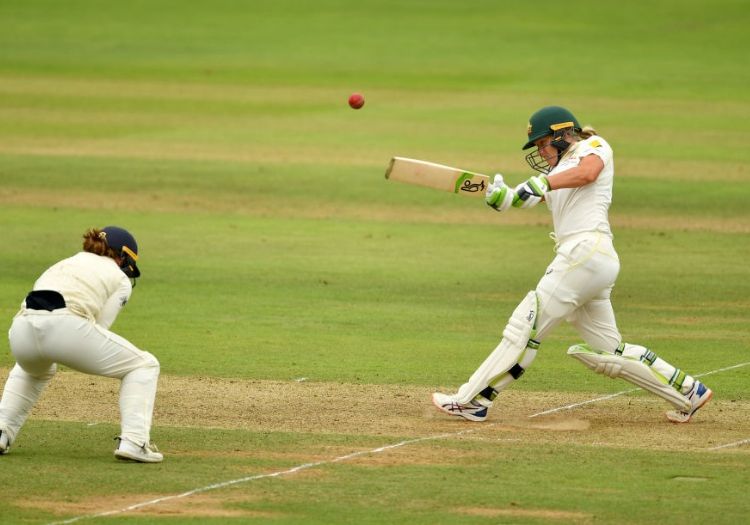 Healy looked in fine touch for her 58
The option of Healy down the order – part counter-attacking bludgeoner, part safeguard insurance – would have been a tempting prospect, especially given the workload she will later undertake under the steamy claustrophobia of her wicketkeeping helmet.
But in sending her out to face the music of Brunt and Anya Shrubsole, it was a call to arms, a declaration of war on the opening overs. Having won what appears a crucial toss, unleashing the brazen strokeplay of Healy would rub salt into the wounds. If there are poor deliveries to be put away, few in the women's game deal with them like Healy.
More demoralising, however, is seeing good balls punched to the boundary – the ones that, on release, float down with a chance of success.
Healy, in this form, is a cavalier destroyer of morale. None of this comes as any shock; she looked the best player on either side through the ODIs, a shining precedent of form bringing confidence. The top run-scorer in last year's World T20, a Big Bash star, this was merely a continuation.
Very much a wicketkeeper's size, she looks far bigger in the eyes of England's bowlers. As they approach the crease, creeping ever nearer, the silhouette of Healy must feel as though it is shrinking. She is in that kind of form; she has become a mightily imposing figure with bat in hand – and she knows it.
When she eventually fell – bowled around her legs by Kirstie Gordon – it came as a shock to just about everyone. Even the bowler covered her face. It all meant that Healy had left the scene before the damage was anything like terminal. If there was any fear of a stodgy affair, however, Healy had alleviated any such worries.
Please ensure all fields are completed before submitting your comment!