"I'd been England in the backyard: finally I could play for Australia"
Str8bat ambassador Greg Chappell explains how Ashes 'Tests' with brother Ian prepared him for the real thing in the 1970s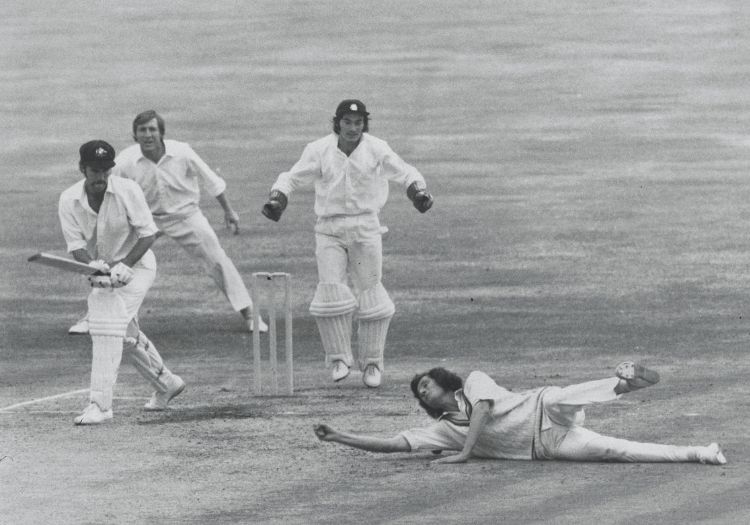 Greg Chappell is speaking on a Saturday evening in Sydney, reflecting on a fascinating career that saw him play for Australia for 14 years, including two captaincy stints.
He remained in the game after retiring as a player, initially as an Australian selector before eventually becoming coach of the India national team. This subcontinent fame created new opportunities, which included coaching roles in the IPL and becoming an ambassador for sport tech company Str8bat, who kindly set up this interview. However, it is his association with the Ashes that defined him on the field.
1972
Chappell was 24 when he came to England for that first senior trip.
"England had won the Ashes in 1970/71, and they were a very experienced team, well led by Ray Illingworth [who turned 40 that summer]. We were a younger side, with a younger captain, my brother Ian [28]," he told The Cricketer.
"The 1970/71 Ashes saw an introduction of a new group of which I was one; there was also Dennis Lillee, Rod Marsh, and Ian succeeded Bill Lawry as captain in the final Test.
"We learned so much about ourselves: that we were able to push England in 1972 gave us a great deal of confidence. That was a turning point in Australian cricket. We lost the first Test convincingly at Old Trafford with the ball seaming in very English conditions. Our inexperienced attack didn't utilise them nearly as well as England did.
"We came back to win at Lord's and that galvanised the team. Bob Massie's performance on debut (eight wickets in each innings) was quite remarkable. I haven't seen anything like his swing bowling in that Test. He had a whippy wrist and got good backspin; conditions were good and you got carry at Lord's. It was an incredible performance of sustained swing bowling.
"An innings like mine [131] had an impact in a lowscoring game. Batting in England then, you knew you had earned every run. Doing it in my first Test at Lord's made it even more special." (You can relive his sumptuous backfoot driving off Johns Snow and Price, and his playing of Norman Gifford and Ray Illingworth skilfully and late, on YouTube).
"England won at Headingley to retain the Ashes thanks to Derek Underwood's 10 wickets, but we had the chance to square the series at The Oval. Our manager Ray Steele said, 'If we go home losing 3-1 it could have a negative impact on our careers, but if we go home at 2-2 it could be the catalyst of good things to come', and that is the way things turned out. It was a six-day Test to ensure a result – which there was, at lunch on the sixth day.
"Like most of the Tests that series it fluctuated throughout. Ian and I got hundreds at The Oval, and that was a thrill. We'd grown up playing Tests in the backyard. They were Ashes Tests: Ian was Australia, I was England – so it was great to eventually play for Australia! Because it was such a competitive series, and because we learnt what it was like to come from behind twice, that helped us in the next few years."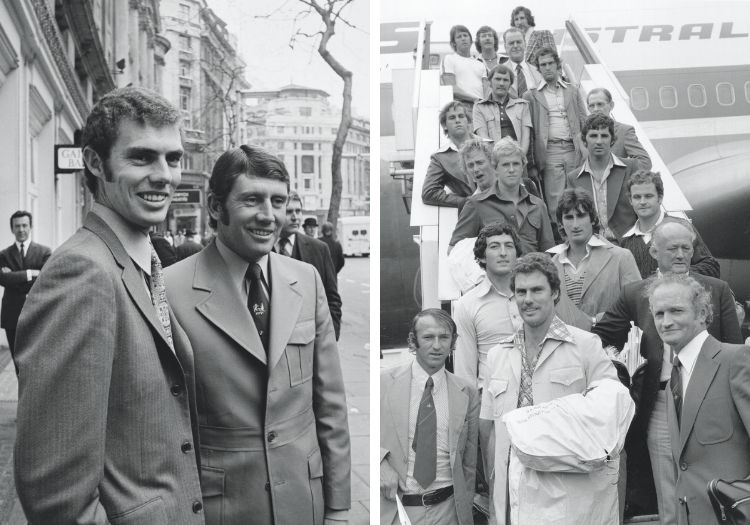 Left: Greg with his brother, Ian. Right: The 1977 Australia squad arrive at Heathrow
1975
Three years later the Australians returned with more confidence after their emphatic and bruising win the winter before ("Ashes to Ashes, dust to dust, if Thomson don't get ya, Lillee must", et al).
"It was a huge summer in 1975," said Chappell. "The World Cup was a huge success – a seminal day. It encouraged people to look more seriously at limited-overs cricket."
The Ashes series that followed was restricted to four Tests, unlike this summer's concertinaed affair.
"Mike Denness' decision to let us bat in the first Test at Edgbaston meant it was his swansong, and ushered Tony Greig into the captaincy," said Chappell.
"I hadn't had a good look at the pitch so I wasn't overly surprised at his decision. History shows it worked out rather poorly. The pitches are covered these days and they drain better. Even on a sunny day back then you never really felt you were in. There was always some nip and you had to bat with care, although with the series a little later in the summer, the weather was better and the pitches a bit drier.
"We'd become a pretty good side by then, at the peak of our powers. Dennis certainly was. Jeff Thomson had started then. Ashley Mallett was a top spinner. We had good allrounders and solid batting. David Steele had been consistent in county cricket. He came in and his obdurate style worked well, but we won the series 1-0."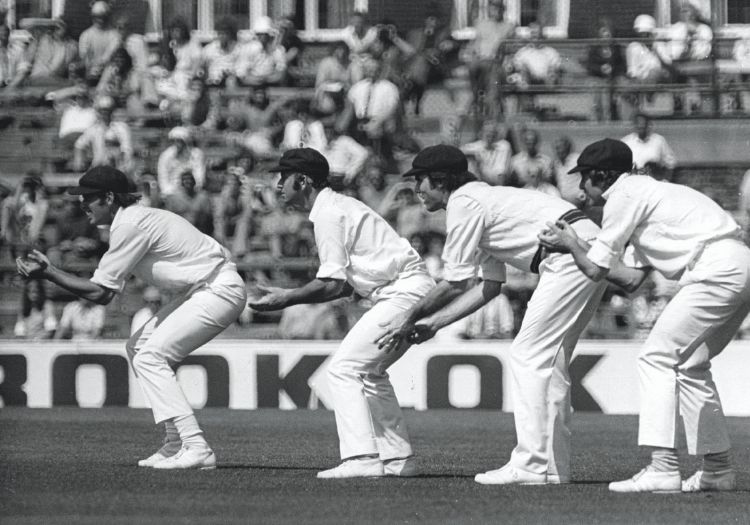 1977
Australia's hegemony was not to last for long, with Kerry Packer's intervention shattering the status quo. Chappell led an under-strength side here in 1977. "World Series Cricket was brewing in the background," he said.
"Dennis was unable to tour with his back problem, and Jeff had only just returned from a shoulder reconstruction and was a bit underdone. England were at the peak of their powers this time, and we were a young side.
"A lot was made of the Packer situation in the background, with Kerry appearing on television, in court cases and talk of players being banned, but even without that I think we'd have been hard-pressed to win.
"I had a reasonable series (footage of his 112 at Old Trafford in glorious sunshine, his 'modern' Gray-Nicolls Scoop driving crisply off front and back foot, is also on YouTube; it was described by Richie Benaud as one of the greatest innings he had seen). We had players on their first tour of England however – Ian Davis, Craig Serjeant, David Hookes, Len Pascoe, Richie Robinson, Ray Bright, Kim Hughes and Mick Malone.
"England were experienced, with Mike Brearley captain, managing the strong wills of Ian Botham, Geoff Boycott and Greig. We were outplayed. Botham was an exciting player. I was his first Test wicket [at Trent Bridge], getting out to a half-tracker outside off stump which I somehow bottom edged on to my stumps.
"That gave us an insight into what Botham's career might look like. He got a lot of wickets with less than good balls, but he also bowled a lot of good ones too. A lot of people under-rated his bowling.
"I always found he kept you honest – he had good pace, bowled in good areas, but he wasn't scared to encourage you to play shots – bouncers, and getting you driving, and that's how he got wickets. We also met the Queen in Nottingham, which was a memorable occasion.
"I bowled the ball [at Headingley] that Boycott hit for his 100th first-class hundred, after his self-imposed exile. He was a fine player and made a big impact on the series [107 and 80 not out at Trent Bridge, and 191 at Headingley]."
Str8bat
Chappell has always kept abreast of technology, and is now an adviser, mentor, brand ambassador and investor in Str8bat, a simple-to-use tool devised in India.
A sticker containing sensors is placed on the back of a bat, storing up to 300 shots of data for analysis.
"Str8bat is ideal for a player learning the game, or an elite star looking to go to a higher level," said Chappell.
"The data allows us to show a player the most efficient way of doing something. I can see the day when this technology is embedded in all bats and will be connected to the broadcast via the stump camera.
"It will be a game-changer for batting coaching and will also revolutionise the way we watch batting in the future."
Many international players have used and benefitted from Str8bat including Rahmat Shah, who is in Afghanistan's World Cup squad, and Lancashire's Haseeb Hameed, who has started the season well as he aims for an England recall; Rajasthan Royals also used it during the IPL as part of their practice sessions.
Please ensure all fields are completed before submitting your comment!