Facing up: Matt Prior on his favourite innings and playing on the ice in St Moritz
Prior was England's Test wicketkeeper for a decade, during which they became No.1 in the world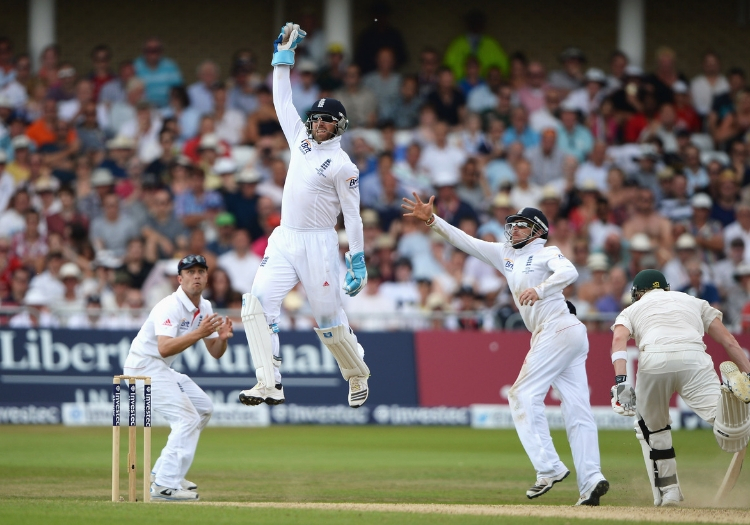 *This article was published in August 2019
Who is the best out of Jonny Bairstow, Jos Buttler and Ben Foakes?
I think you have to look at a number of different things. The batsman/wicketkeeper role has changed massively. You used to have to take all the catches and get the stumpings. You now have to bat at No.7 and score hundreds, average 45-plus, so it is difficult to quantify who is the best. I think as a pure gloveman Foakes is probably the best, but as an all-round package I think they all offer so much.
Did England get the balance wrong last winter when playing them all together?
I think the last Test of the West Indies series is when England probably got back to what they need to be doing which is the basic balance of a Test team where you have your top five batsmen, your allrounder at No.6, your wicketkeeper at No.7 and then your bowlers. I don't think you can go far wrong with that and they were a bit unbalanced to have three wicketkeepers at one point for me, which was just a bit nonsensical.
They wanted Ben Foakes to come in and keep in tricky conditions, but my only argument to that is that Bairstow and Buttler hadn't really done anything wrong. I just worry that you are going to create an issue where there wasn't actually an issue. When Foakes played and batted at No.8 or 9 it actually looked odd. Why on earth would you have a wicketkeeper batting there? That is no criticism of Foakes, who I think is a phenomenal wicketkeeper and a great batsman in his own right.
The opening batsmen? Who is going to replace Broad and Anderson? Who is the second-best spinner? There are so many other areas going in to that winter that I thought needed answering, the batsman/wicketkeeper position I thought was pretty nailed on and you had two players in Buttler and Bairstow who were playing well. But they have come through that now. It will be interesting to see what they go for come the first Test of the summer.
How influential has Bruce French been in changing the mindset of wicketkeepers?
I worked with Bruce from 2008 and I have a huge amount to owe to him. He is part of my family now – that is how closely we worked together for a long period of time. The only thing he looks at is how can a wicketkeeper get the best out of themselves. One of the first things I said to him was "Right, Bruce, you worked with Chris Read, he is amazing, I want to be Chris Read". And he said: "That's impossible because you're Matt Prior. What we need to do is find out what is best for you and how we can make you the best that you can be."
I think he has done that with all the other wicketkeepers, with Bairstow who will be different to Buttler who will be different to Foakes, and he works tirelessly with those guys to make sure that they are up to standards. Having come into the team and realising my keeping was not up to standard, I had to go and do some soul-searching and work out what I wanted to do, and part of that was getting in contact with Bruce and that is how that relationship started.
He then became so pivotal to my own game that if England cricket weren't going to take him then I would have paid myself to have him come around the world and travel with me to make sure I was doing it right. French is obviously a great man and a great coach and doesn't get spoken about a lot but I know the work he does has had a great influence on all those players.
How do you rate this England Test team?
I think it could be outstanding. There is no reason why they couldn't be as good as the one-day team. I think they just need a few changes with their mentality towards batting and scoring big first-innings totals.
Which of your Test innings do you savour the most?
Probably in New Zealand. It was at Auckland [in 2013] when we saved the Test match there. Monty Panesar, to avoid being run out, had to dive in on the last ball, but it was special because I basically had to play a different role. I was probably more renowned for my attacking cricket but there I just had to sit in and given how far away we were from saving that Test, to then finally get over the line was amazing.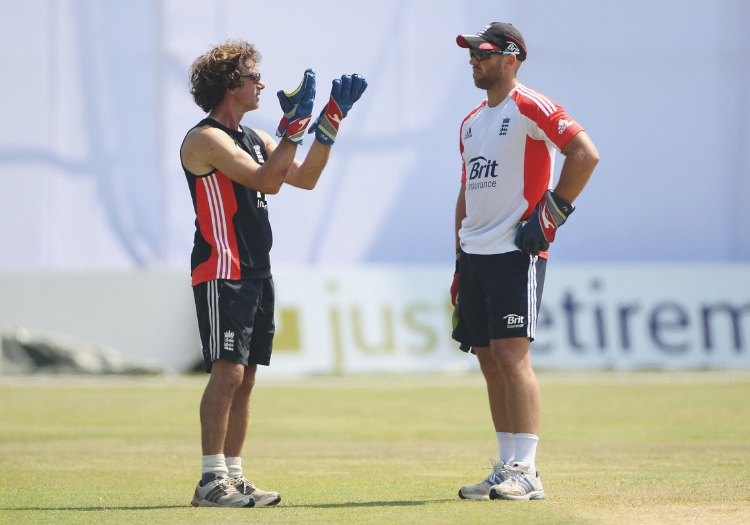 Bruce French became a mentor to Prior
What's happening with your cycling now? Was it interesting to go off on a tangent like that?
It has been a hell of a learning curve, getting involved in a different sport and working on that. The main thing I am doing now actually is I am riding the Tour de France. We are hoping to do the whole route one day before the actual race comes through, and we are hoping to raise about £300,000 for the charity Chance to Shine, so I am sort of mid-training for that. Fingers crossed we can get it done, so that is July.
Do you hope to work in cricket again?
I am really enjoying what I am doing at the moment with my business and building the brand and the charity and the bike rides. It is obviously quite a big thing that I need to sort of try and complete, but I am always keeping an eye on cricket. I love the game. I am constantly speaking to some of the England players in and around it and who knows. But yes, I would love to be involved.
How was playing on the ice in St Moritz?
It was ridiculous! It was good fun, it was an incredible few days, obviously you couldn't take the cricket too seriously although some of the guys did, they were diving around and everything so it was a surreal. I stood there on the frozen lake playing cricket, an incredible experience.
You said 18 months ago that some county players lack ambition...
There is a risk that there are some players not wanting to put themselves into the Test arena, because putting your head above the parapet there are easier options, white-ball options, whatever it may be. There is a risk there. I think that comment was generalised massively because there are some county cricketers who are determined to play cricket for England. I just think there is a risk that that can change and that was more to say we need to make sure we look after Test cricket and give players a reason to want to play Test cricket and to want to play Test matches for England.
The super over
Best piece of advice you were given?
I can't remember who gave it to me but it was 'always take the positive'.
Who would you like to invite for dinner?
I would probably just keep it to my team-mates to be honest! I would just have Broad, Anderson and Swann. Or I would just have that England team. I would just have my team-mates, yeah.
Someone you wished you had met?
Don Bradman – the greatest.
This article was published in the August 2019 edition of The Cricketer - the home of the best cricket analysis and commentary, covering the international, county, women's and amateur game
Save 30% when you subscribe to The Cricketer's print & digital bundle. £35 for 12 issues
Please ensure all fields are completed before submitting your comment!