ECB wait on government sign-off as international cricket return draws nearer
There had been some hope that the schedule would be able to be announced on Friday, but the complicated logistics which need to be put in place to facilitate bio-secure, behind-closed-doors cricket still need to be signed off by the government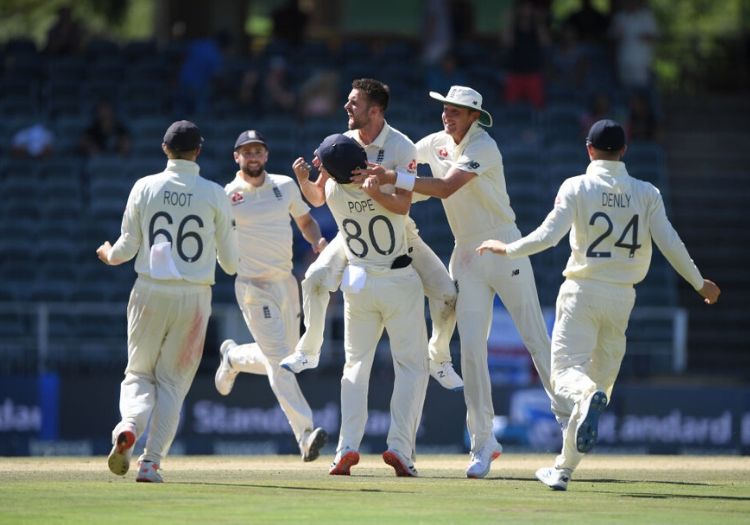 The ECB hope to confirm England's rearranged summer series next week.
It had initially been thought that the fixtures and venues for England's men's team in the coming months might have been announced this week, but any decisions must be made subject to government guidance.
England are due to face West Indies and Pakistan in two Test series in July and August, with Ireland and Australia also due to tour for limited-over series. Talks with all four relevant boards – as well as with the Indian and South African governing bodies for two women's series – remain ongoing.
"It's effectively government guidance and clearances for us to get the team into the country," said Steve Elworthy, of the final details required ahead of the series against West Indies, the targeted starting date for which is July 8, with subsequent Tests beginning on July 16 and July 24.
"That's the last little bit. From a planning point of view, we have got everything in place. We're ready for it, but clearly, we don't want to stray outside of government guidelines and government decision-making. We're working very closely with them."
The ECB's director of events, who directed last year's World Cup, is the man tasked with overseeing a complex period featuring behind-closed-doors matches and bio-secure venues.
There had been some hope that the schedule would be able to be announced on Friday, but the complicated logistics which need to be put in place to facilitate bio-secure, behind-closed-doors cricket still need to be signed off by the government.
While Elworthy was unable to comment on the identities of the venues to be used, the Ageas Bowl and Emirates Old Trafford – both of which have access to on-site hotels – have both been widely mooted in recent weeks as likely candidates.
"From the West Indies point of view there's been incredible positive conversations going on with all four boards currently touring – Australia, Pakistan, Ireland and the West Indies," he said. "Clearly the first cabs off the rank are the West Indies.
"Pakistan are a little bit later but their conversations are still ongoing. Wasim Khan and the PCB have been incredibly positive and supporting, and likewise with the West Indies. We're clearly working with government on this at the moment because they are expected to land here on June 9, which is not far away. That work is still ongoing."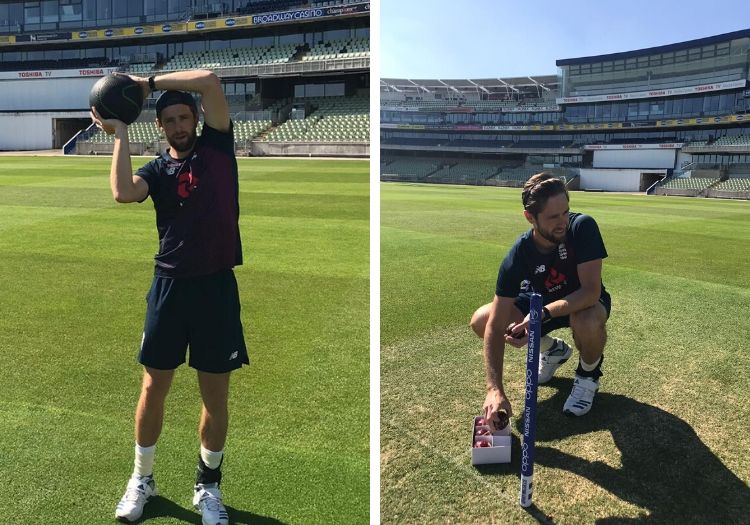 Some of England's players have already returned to one-to-one training
Elworthy explained the ECB's journey to this point in a season ripped up by the coronavirus outbreak and the rationale behind what he describes as a "two or three-venue model".
"When we first started this, from a contingency planning perspective, we looked at it through the lens of four different elements," he said. "Clearly, the operational side of it; what does behind closed doors look like operationally. The schedule that underpins that.
"Then clearly, government advice and the medical plan to create bio-secure environments in a behind closed doors element. We started thinking about the contingency of what the season would look like from one side of the scale, which is business as usual, to the other side which is full cancellation of the season.
"Then we started looking at everything in between. We ended up narrowing our focus down onto two possible scenarios. The first one being playing games behind closed doors environments in the originally allocated venues. Because clearly, we were moving to a point where we were starting to lose chunks of the season.
"The second part was going from a tighter bio-secure element, how we then actually pulled that to reduce movement up and down the country. We would then start thinking about a two or three-venue model. That was some of the thinking around the contingency.
"The key element to this was the schedule of matches from an international point of view. Looking at this, the scenario and contingency planning we are doing is looking at the international summer. We have been working very closely with John Carr and Alan Fordham, who do all the fixtures and schedules every summer, and they have been working very closely with all the international boards trying to secure a schedule for the back end of the summer. We have a July, August, September summer.
"The key was to try and find a schedule we could think about in a rolling block. So, although it's a three-month summer, what we also didn't want to do was move to a two or three-venue model all the way through to September. What we thought of is how we would section the summer up into three one month blocks effectively.
"That's some of the work that John is doing and it's still ongoing. That's the thinking around the first part of the season being the July month and then the behind closed doors in two or three venues.
"Then our focus narrowed very quickly on to the two or three-venue model. Some of the rationale for that from a planning point of view, clearly with the two other elements I touched on earlier which was the government guidance and the medical plan, was then starting to consider the rationale of why we would go from all allocated venues to a two or three venue model."
Elworthy added that the idea of a "two or three-venue model" was interchangeable.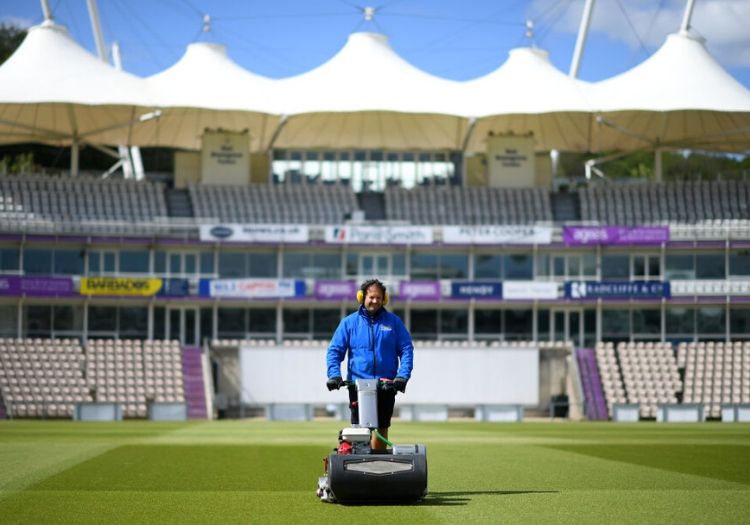 The Ageas Bowl is seen as a likely candidate to host some of this summer
"What we are wanting to deliver are two broadcast venues and one training venue," he explained. "You will have two venues dealing with the broadcast and clearly there is a lot of consultation that has gone on with a lot of stakeholders in this space as well.
"The rationale of going to that from a medical plan point of view is to reduce the movement of people. Clearly reducing the amount people would mitigate the risk of infection. It would also reduce significantly the number of people required to deliver matches because we would only be in two venues to deliver these. It also core infrastructure movement and associated time and costs.
"We wouldn't have to move different infrastructure and people around the country. Cost is an element to that. And also, then considering the venues would be in lockdown in these bio-secure environments probably for significant periods of time. So, that would then enable us to create island sites and you'd be able to lock that down."
He said, however, that the aim was for the teams involved to have to spend as short a period as possible in the isolated bubble – not much longer than a month, where possible.
"The final piece is considering the fact that what we didn't want to do was take measures that would add to the burden on the NHS," he stressed. "Clearly by reducing the number of venues, those were some of the core principles we worked towards.
He also stated that PPE, which has already been ordered, has been procured from a supplier so as not to impact NHS supplies.
"We ended up in this position where we ended up with a two or three-venue model," he explained. "I say the three because what we have got there is a training venue because for some parts of the summer, we may have a couple of teams that want to train pre-series.
"For example, Pakistan could arrive in the middle of July when the series is going on and we need them to be able to train somewhere so we need a secure training venue. That was part of having the third venue. Effectively a three-venue model.
"Then we started considering some of the principles of what a venue needed to look like. What does behind closed doors actually mean? You start thinking about the medical overlay that is required so for example, we wanted to find venues that have hotels on site or near to the venue. Clearly, a key element. Venues that have parking space for up to 200 cars because we want people to not use public transport. We want them to be able to drive. Then there's access and perimeter access control, all elements that add to being able to lockdown a venue in a bio-secure environment.
"We would need a vehicle and testing screening site, so significant space. Probably 1,500 square metres to 2,000 square meters worth of space to be able to set up the testing facilities. The venue footprint itself would need to be big enough to enable us to social distance, broadcast, changing rooms or whatever, keeping social distancing norms at play. The other element was the cricketing element so number of TV pitches, training venues, indoor schools."
Save 30% when you subscribe to The Cricketer's print & digital bundle. £35 for 12 issues
Please ensure all fields are completed before submitting your comment!