Emily Arlott emerges as an example to follow
NICK FRIEND: Arlott received a phone call from Jonathan Finch, director of England Women's cricket, on Sunday evening while she was eating her dinner. She missed him so returned his call immediately, out of courtesy as much as anything else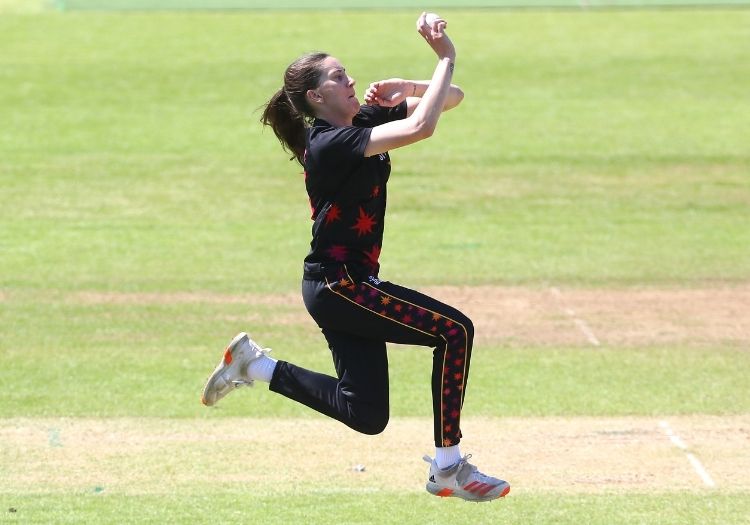 Thanks to the wonders of live streaming, Emily Arlott's feats were no mystery to many of the onlookers scrolling through England's squad for the upcoming Test against India and stumbling across the name of a 23-year-old seamer from King's Lynn.
Heather Knight, by her own admission, knew little about her newest teammate until a month ago; but then a weekend into the Rachael Heyhoe Flint Trophy, she stood 22 yards away from her and came through the double-challenge posed by Arlott and her Central Sparks colleague Issy Wong.
A couple of days later, when Knight was asked about the early throes of the competition and the immediate impact of the tranche of full-time domestic contracts handed out last autumn, she namechecked the young pair. Arlott and Wong, she suggested, were prime examples of how the regional revamp could benefit the national side over the coming years through its gradual professionalisation.
There have been several positive shifts since the major changes came into effect, not least with online broadcasts of every game in the flagship 50-over tournament opening up these players to both scrutiny and fanfare like never before. Arlott received a phone call from Jonathan Finch, director of England Women's cricket, on Sunday evening while she was eating her dinner, having finished unpacking after a lengthy round trip down to Hove and back. She missed him so returned his call immediately, out of courtesy as much as anything else.
"I thought it was a bit weird on a random Sunday evening," she said, laughing on Wednesday as she recounted the circumstances of the most significant moment in her short career so far.
"I called him back straightaway, he told me the news and I don't think I responded for a good two minutes. He was sat on the other end of the line like: 'I hope the silence is a good thing.' And I was like: 'Yeah, obviously.' I'm probably as shocked as anyone that I got the call, I didn't even think my name was in contention to be considered."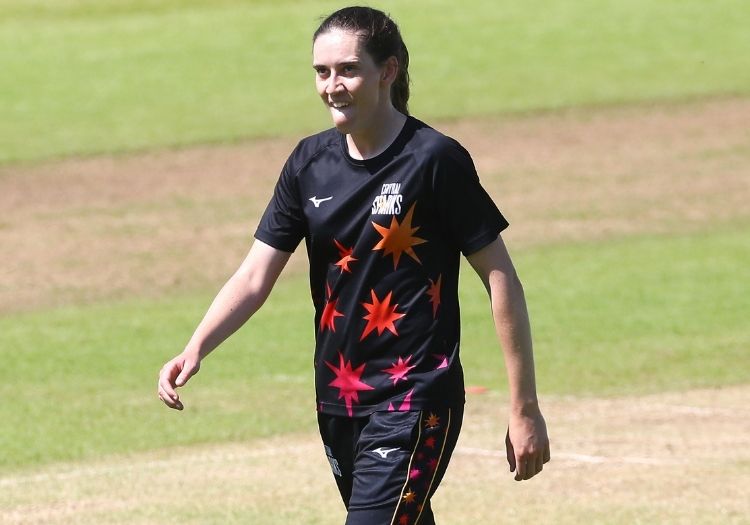 Emily Arlott has been called up to the England squad
By then, however, Arlott had already attracted plenty of new followers: the magic of live streaming meant that her hat-trick of Georgia Elwiss, Charlie Dean and Ella McCaughan – the second half of a quadruple-wicket maiden – had already stormed Cricket Twitter. There was a fifth wicket to complete her haul later on, as Carla Rudd was trapped in front to consign Southern Vipers to their first defeat in the competition's history.
Not that Arlott has been selected on the back of a single spell. In her own words, she is a much-improved bowler now than a couple of summers ago, when she recalls an impatient youngster who would walk away from games disappointed if she hadn't taken a wicket.
"It was quite a naïve way of looking at it," she added. "Whereas now I've really learnt about myself over the last couple of years and developed off the pitch as well.
"I think I've got that maturity that means I'm a lot more rational with my thinking on and off the pitch. I think that's probably been a big factor in having a good start to the year, really."
"He told me the news and I don't think I responded for a good two minutes. He was sat on the other end of the line like: 'I hope the silence is a good thing.' And I was like: 'Yeah, obviously'"
And the role of Central Sparks within that? "Obviously, you're in a professional environment now, and I think the professionalism breeds out of that now, so you learn things that you wouldn't even necessarily have factored into your cricket beforehand. I think that has to be a big reason for it."
Arlott played her first practice match at the beginning of March in freezing conditions – for which she praises Sparks' coaching staff; it was their call to take their charges out of the comfort zone of indoor nets earlier than might be traditional. "It was probably the best thing we could have done as a team because it got us outside, bowling properly," she said. "I think that's part of the reason why things like Saturday happen; we're at a point where we can physically replicate and not just bowl 10 overs but bowl 10 overs with a purpose rather than just bowl for bowling's sake, really."
Over the winter, plenty was made of Tash Farrant's recall to the international fold; she was asked more than once about what she represented and how symbolic her return to England colours might become in the long run. After all, until then it was an accepted norm that once out of the picture for higher honours and no longer on a central contract, reviving those ambitions was a difficult challenge. Farrant, for one, was working as a coach at Trent College when she was awarded a domestic retainer last June, from where her second-coming as an England cricketer truly sprouted.
Speaking on Wednesday, Arlott seemed equally aware of what her call-up might mean for the rest of the domestic circuit as a relative unknown to the wider world, who made her Worcestershire debut as a 15-year-old and has quietly gone about her business ever since. She has worked as a community coach for the county and claimed 19 wickets in 2019 – a breakthrough campaign of sorts – after dislocating her ankle during the previous winter.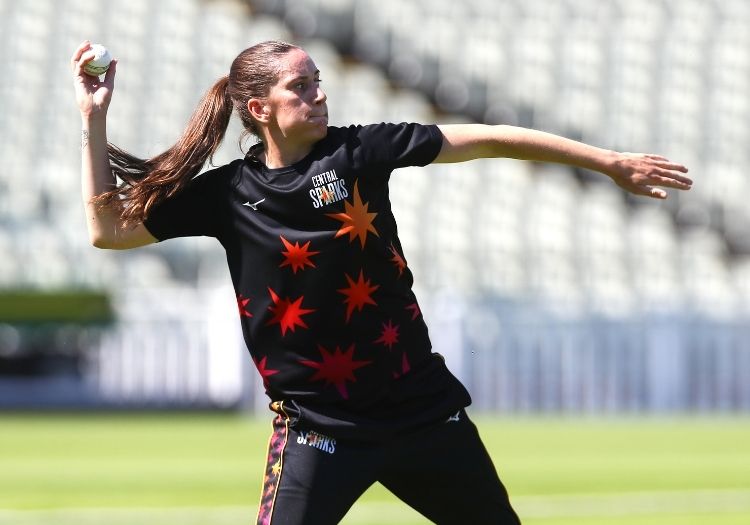 Arlott has been in fine form for Central Sparks
"Hopefully if my selection demonstrates anything, it's that actually everyone in the regions now has a chance," she reflected. "I may be one of the first to come through the Rachael Heyhoe Flint Trophy but I hope that I'm not the last by any means.
"I hope that people keep putting in performances – it shows that the system really works, and that's a credit to the ECB and the regions for creating such an environment that this is a possibility. I think two years ago, I don't think I'd have got to where I have done without it really."
Her shock is understandable: she is one of eight seam bowling options – alongside Farrant – included in a 17-strong party, with centrally contracted left-armer Katie George missing out through injury. Wong, Arlott's regional teammate and partner-in-crime, has not been selected, though she was given a taster for what surely lies ahead, travelling with the national squad for their tour of New Zealand over the winter. Back then, Arlott's name didn't appear to be part of many conversations; she took just three wickets in last year's Rachael Heyhoe Flint Trophy.
Knight added: "She's come out of nowhere, really, which is great. I don't know a huge amount about her apart from the last month or so when I've been watching her a little bit more closely. What a great story for the Rachael Heyhoe Flint as well, we've been calling for domestic competitions to be more professional for a while now and now it is you're going to get people coming out of the woodwork like Emily has.
"These girls have the opportunity to train professionally throughout the year, which I think is the biggest difference – they can work at all aspects of their game and be more ready if they do get that England call-up.
"Emily is one of the first to do that, but I think there will be many more to come and that's what we need and that's what we really want – to have that competition and players below pushing the players who are in the team and pushing us to go to new heights as individuals and as a team. Hopefully, it's going to be a great thing for England Cricket and hopefully Emily tears things up."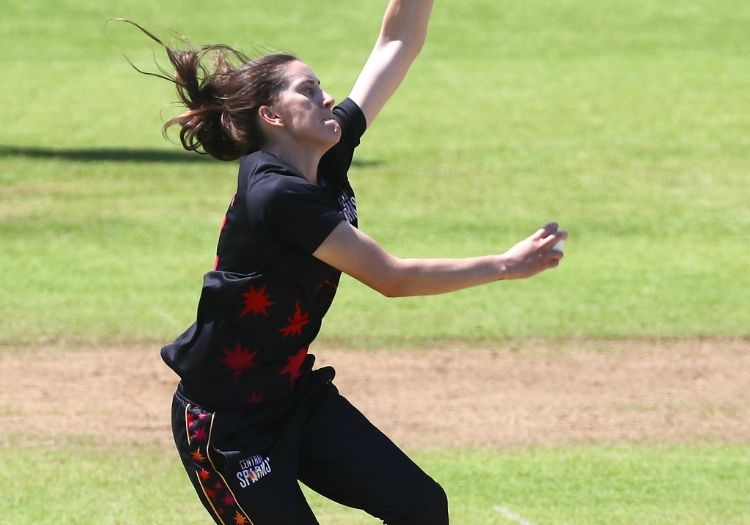 England play India in a one-off Test in Bristol next week
Indeed, that is perhaps the most intriguing aspect of this leftfield, exciting move – that it might be the start of something different. It is a sign that the regional system is being treated with genuine respect and, as was laid out when the ECB first announced its new plans for the domestic game, is viewed as a tangible step on the pathway towards the international arena. It means that players can be selected on form, as Arlott has shown. As she noted, that alone should act as an incentive to her teammates and rivals, offering reassurance that an international opportunity is by no means out of reach nor ever too late.
When England whittle down their squad down to a final 15, the nature of sport is such that Arlott might not make the cut. But for the time being, she wants to enjoy an experience she had not even begun to anticipate until Finch's number popped up on her mobile, using that unexpectedness as a helping hand.
"If it had been something that I expected, I think something like Saturday (when Arlott took five wickets) might not have happened, where I was trying to force something. Whereas I've spent the whole of this year just doing everything with a purpose but relaxing with it as well and actually I've found that the performances have come with being able to enjoy the moment rather than thinking too far ahead.
"I think it will do me really well long-term not knowing much about it just because I found out on Sunday, and I've got to Loughborough on the Tuesday. Actually, it just means I can get going straight away and get to know the girls."
All pictures courtesy of Laura Malkin
Please ensure all fields are completed before submitting your comment!