After 1,043 days, the taste of victory is on the tip of Nottinghamshire tongues
JAMES COYNE: Barring lots of rain, unforeseen calamity or a superhuman performance from their rivals, Nottinghamshire will surely end a wait of 1,043 days without a first-class win this weekend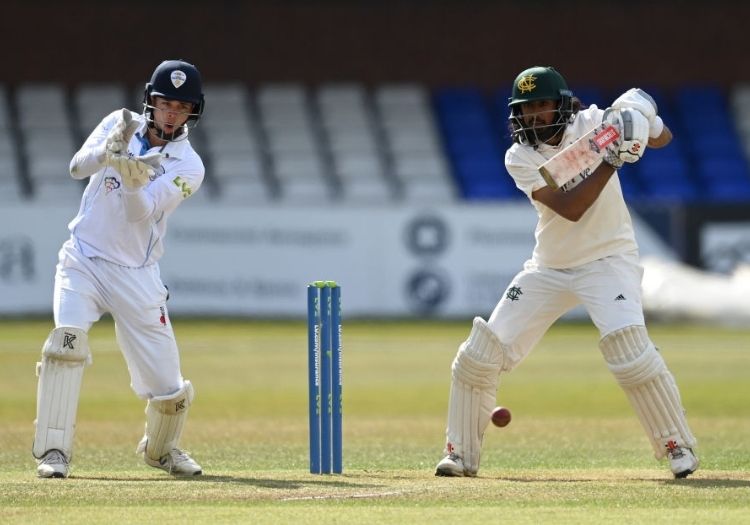 Derby (second day of four): Derbyshire 105 & 23-0, Nottinghamshire 256 & 318 - Derbyshire need 447 runs to win with 10 second-innings wickets remaining
If there are any history buffs in the Nottinghamshire dressing room still feeling sanguine after 30 first-class matches without a win, they might just wish to invoke Franklin D Roosevelt's most famous quote.
Because really, with Derbyshire tasked with chasing 470, the only thing Notts have to fear is fear itself.
That, and an unexpected meteorite landing on this part of Derby. (Few would mourn the loss of the Pentagon roundabout, except perhaps the town planners of the 1960s.)
But sometime tomorrow Notts should end a spell of 1,043 days without tasting victory in a first-class match, stretching back to their win over Essex in 2018.
Yes, Derbyshire did chase down 365 to beat their rivals at Trent Bridge last season, but that was in high summer and none of Stuart Broad, Luke Fletcher or Dane Paterson were bowling that day.
This time, ever since Notts reduced Derbyshire to 86 for 8 on the first evening, the game had run away from the home side, and the only real battle out there for Notts to contend with was against their own demons.
There was the sense that some of Notts' talented young batsmen were feeling their way for form, and they certainly had ample opportunity to find it, even if none of them pressed on to the big hundred that was there for the taking.
Nottinghamshire are in a strong position in Derby
When Notts captured the last two Derbyshire wickets to earn a lead of 151 first thing this morning, Steven Mullaney had a theoretical decision to make over whether to enforce the follow-on. It's hardly a fashionable course of action these days, but Mullaney did pause to chat with Broad over what to do, before motioning to the Derby groundstaff for the light roller as expected.
Derbyshire were frustrated at quarantine restrictions which prevented them from fielding their new Australian overseas bowler, Billy Stanlake, in this match, and their young attack made it too easy for Notts here.
Over the first half of the day a regrettably high proportion of the Derbyshire bowling was money for old rope. And, when they did start getting it together, they managed to drop two of Notts' set batsmen on 72.
With Sam Conners in particular bowling too short and wide, Notts had little trouble building their lead, though Ben Slater's success against his native county – he made a hundred in the first innings – did desert him when he defended a ball from Luis Reece onto his pad, and the ball dribbled slowly onto his leg stump, with just enough anger to dislodge a bail.
After not passing 25 all season, Ben Duckett was able to wait for the bad ball to make what must rank among his easier fifties. His biggest discomfort came when he was hit in the nether regions on 44.
This being Duckett, he still tried an ambitious lap to Matt Critchley's third ball in his spell – he had bowled one ball when Reece hobbled off earlier on – and attacked him with several typically robust sweep shots.
Duckett survived a drop at slip, and was kicking himself for missing out on a century when he was held off an edge off Fynn Hudson-Prentice for 87 from 101 balls. Hudson-Prentice was probably the most consistent of Derbyshire's bowlers.
Hameed was the one Notts batsman prepared to wait to play the ball under his nose, and his driving was wonderful. But even he wasn't able to press on to his third century in four innings.
He had one big reprieve when he fenced the left-arm seamer Reece behind in the most threatening spell of the day, but the ball seemed to keep rising on wicketkeeper Harvey Hosein after taking the edge and he couldn't cling on to his right.

Hameed sauntered on to 94, when he failed to account for a brief shower at tea. Off the third ball after the resumption he was bowled playing back to one from Critchley that went straight on, perhaps a bit quicker off the freshened pitch than before.
Two of the figures involved with England selection – can we call them selectors anymore? – in head scout James Taylor and ECB performance director Mo Bobat were roaming around the boundary, and Critchley was presumably the one Derbyshire player in England contention in the immediate term.
Derbyshire are a rarity in having a leggie as their frontline spinner at this time of year, but the lack of turn for Critchley on a pitch suited to swing and seam helped explain why so few counties are reluctant to throw the ball to wrist-spinners in April.
But when the dark clouds rolled over and the floodlights came on, the bowlers came back into it, the batsmen obliged them with some tame shots, and Notts lost their last five wickets for 10 runs – though even that wasn't bad enough to imperil their position.
Notts were unable to strike in 10 overs of the fourth innings before rain ended play slightly early, but Derbyshire will need a lot more of that to extricate themselves from this one.
All in all, not a vintage day's cricket, but after so many grim times with the red ball you suspect Nottinghamshire won't care too much.
Subscribe today and receive The Cricketer's centenary issue – six issues for £19.21. Click here
Please ensure all fields are completed before submitting your comment!