Coronavirus and cricket: Everything that's happened so far
The Cricketer rounds up all the latest news confirmed by leagues, governments, players and administrators as the COVID-19 pandemic brings the sporting world to a near-complete standstill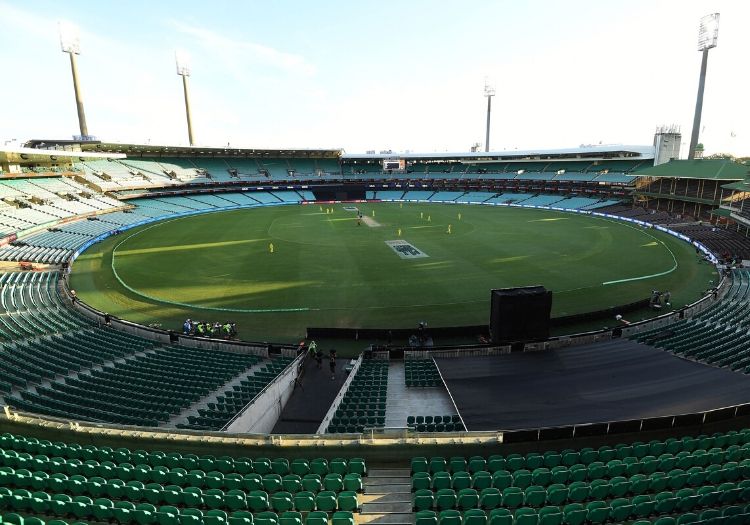 This page will be updated as and when new information is confirmed to The Cricketer
All information is correct and up to date as of 3pm GMT on March 21 2020
What it means for international cricket
Sri Lanka v England Tests
England and Sri Lanka have indefinitely postponed the two-Test series they had been set to play in Galle (March 19-23) and Colombo (March 27-31) later this month.
The second day of a first-class warm-up match with a Sri Lanka Board President's XI had been underway in Colombo at the time of the announcement, but the match has been declared a draw and the England squad and support staff will return to the UK. The draw – rather than voiding the game – means that Zak Crawley's first innings century stands.
An ECB statement on March 13 read: "Due to the COVID-19 pandemic worsening globally, and after discussions with Sri Lanka Cricket, we have today made the decision to return our players to the UK and postpone the forthcoming Test series.
"At this time, the physical and mental wellbeing of our players and support teams is paramount. We will now look to bring them home to their families as soon as possible. These are completely unprecedented times, and decisions like this go beyond cricket.
"We would like to thank our colleagues at Sri Lanka Cricket for their outstanding support and assistance throughout this situation. We look forward to returning to Sri Lanka in the very near future to fulfil this important Test series​."
Discussions had previously been ongoing between the boards and the High Commissions of both the UK and Sri Lanka, which had just three cases of COVID-19 recorded at the time of the announcement, according to Johns Hopkins University.
The Sri Lankan government has since extended its own actions surrounding the protection of its borders to cover UK nationals, with any England fans who had planned to travel to the country from the UK now prohibited from entering between March 17 and March 30.
Read more: England's Sri Lanka tour called off
England v West Indies Tests
England v India women's T20Is and ODIs
Home fixtures for both England's men's and women's sides remain scheduled to proceed as planned, despite Friday's announcement that the start of the domestic season would be postponed until at least May 28.
Both squads open their summer campaigns in June, with the men set to play the first of three Tests with the West Indies at The Oval on June 4 and the women beginning a T20 series against World Cup finalists India in Taunton three weeks later.
All matches are, however, subject to change, with the ECB continuing to monitor government guidance in response to the evolving pandemic situation. A statement issued by the board on Friday confirmed that they would be aiming to preserve all international fixtures in June where possible, though a number of potential alternative schedules for the international and domestic games are in the works for possible starts in June, July and August.
The May 28 date is currently set to mark the start of a four-day fixture between the touring West Indies and Worcestershire at New Road, with no alternative arrangements having yet been confirmed for the previous week's warm-up clash with an England Lions XI in Taunton.
Read more: Cricket season delayed until at least May 28 as ECB consider options for 2020 campaign
India v South Africa ODIs
On March 12, the Board of Control for Cricket in India took the step to announce that the remainder of India's home ODI series with South Africa would be played behind closed doors. Within 24 hours, the BCCI and Cricket South Africa had amended this to postpone and reschedule the series outright, after the first game of the series in Dharamsala had been rained off without a ball bowled.
Previous statements from the board had pledged to provide information posters, first aiders, comprehensive handwashing and sanitising facilities at the match venues in Dharamsala, Lucknow and Kolkata. However, advice is now being followed from the Indian Ministry of Youth Affairs and Sport – provided to all national sporting federations – that non-essential sporting events may proceed without spectators present on the advice of health officials.
India has suspended the issuing of any new visas for international visitors until at least April 15 as it seeks to mitigate and control the outbreak, though those issued to players such as South Africa's who are already in the country would remain valid. The series had been set to conclude with matches in Lucknow (March 15) and Kolkata (March 18), though reports from the Ministry of Health and Family Welfare at the time of the announcement confirmed that 11 of India's 64 cases of COVID-19 to date had occured in the state of Uttar Pradesh, of which Lucknow is the capital city.
Read more: India cancel final games of South Africa ODI series in escalation of coronavirus measures
Australia v New Zealand ODIs
New Zealand v Australia T20Is
Cricket Australia announced similar measures on March 13, saying it would proceed with Australia's three men's ODI fixtures against New Zealand in Sydney and Hobart without permitting entry to the grounds for spectators.
The first of these games took place at the Sydney Cricket Ground as planned later that day, but the remainder of the series was scrapped across the following weekend as New Zealand's government announced that any passengers arriving in the country from Australia would be subject to a mandatory 14-day self-isolation period as of March 16.
"The situation with coronavirus is changing rapidly, and we've been closely monitoring those changes to ensure we make the best decisions to protect our fans, players, staff and the entire cricket family," said a CA statement regarding the initial move.
"A lot of new information was emerging in the lead up to the game and even throughout the night leading up to the first match of the ODI series, which helped inform our decision. The responsible course of action for us was to limit public exposure and we believe playing without crowds does that, and we believe we made the right decision.
"We realise the impact of this can be greater for some people, but we have to put the safety of our fans, players and cricket family first."
Full refunds are being issued to those with tickets, and seam bowlers Kane Richardson and Lockie Ferguson – who had both displayed minor symptoms connected with the coronavirus – have tested negative for cases of the virus and returned to their team setups.
The two sides were also set to meet at three venues in New Zealand for T20 international clashes to close the southern hemisphere summer – in Otago (March 24), Auckland (March 27) and Christchurch (March 29). These games too have been postponed as a result of the New Zealand government's increased measures.
Read more: Australia v New Zealand ODI and T20I series postponed amid travel restrictions
South Africa v Australia women's ODIs and T20Is
CA also announced the postponement of an upcoming women's tour to South Africa, which had been set to feature three ODIs and three T20Is between March 22-April 4.
No alternative arrangements have yet been announced for this series, which is one of two remaining in the final round of the 2017-20 ICC Women's Championship.
However, both sides have already secured qualification for next year's World Cup and Australia have collected an unassailable points lead.
A series between Pakistan and India had been due to take place before December last year but remains unlikely due to political tension between the two nations.
An emerging women's series set to be played between South Africa, England and Australia's under-19 sides has also been removed from the calendar (April 15-May 1), as well as a junior indigenous T20 tour of New Zealand.
Read more: Australia postpones women's tour in coronavirus precautions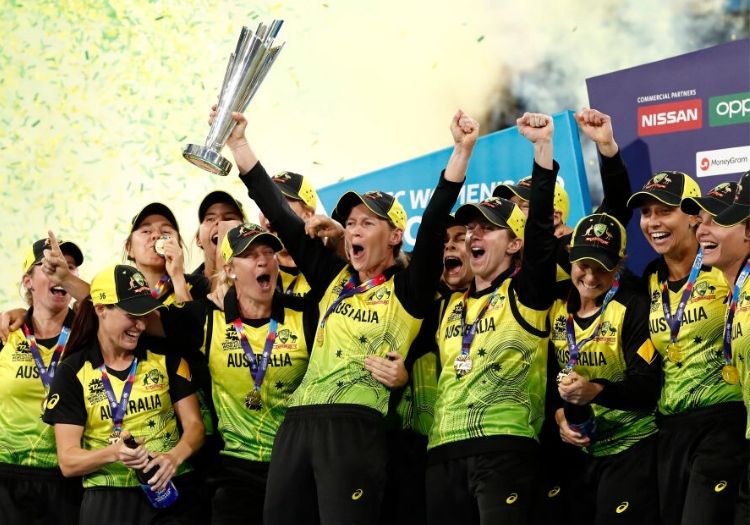 Australia's women had been set to return to action in South Africa later this month
Pakistan v Bangladesh ODI and Test
Asia XI v Rest of World XI T20Is
The third and final part of Bangladesh's tour of Pakistan had been due to feature a one-off ODI in Karachi on April 1 before the second Test of a World Test Championship series at the same venue, starting on April 5. This has now been postponed until further notice.
Pakistan currently lead the red-ball series 1-0 after taking the first Test in Rawalpindi by an innings and 44 runs in February.
Events organised by the Bangladesh Cricket Board to celebrate the 100th anniversary of the birth of Sheikh Mujibur Rahman, the country's first president, have also been postponed as a precautionary measure.
The Mirpur-based programme had been set to feature a concert from Indian musician AR Rahman on March 18 before a brace of Asia XI v Rest of World XI T20 international fixtures on March 21 and 22.
Nizam Uddin Chowdhury, the CEO of the BCB, said: "The decision to postpone the events was based on the general cautionary advice for the public from the government and international health agencies.
"We regret the inconveniences but at the same time hope that everyone concerned will understand our position as this is a major health issue across the globe and we cannot leave anything to chance."
Read more: Pakistan and Bangladesh ODI and second Test postponed
Zimbabwe v Ireland ODIs and T20Is
Ireland had been due to travel to Bulawayo for six white-ball fixtures between April 2-12, with no cases of the coronavirus having yet been diagnosed in Zimbabwe. Nevertheless, the two boards made the joint decision to postpone the series on Monday, following advice from the British and Irish governments.
Givemore Makoni, the acting managing director of Zimbabwe Cricket, said: "With the world in the throes of a public health emergency on a scale not witnessed in over a century, postponing the tour was the only reasonable decision.
"Indeed, the mutually agreed decision to postpone the series is the right thing to do, given the worsening coronavirus pandemic and the overwhelming priority to safeguard the players, fans and the entire cricket community."
Cricket Ireland had previously announced the closure of its offices to both employees and visitors from March 13-29, with all staff working remotely and cancelling non-essential travel and training sessions during that time.
Read more: Ireland and Zimbabwe agree to postpone series in light of COVID-19 pandemic
Ireland v Bangladesh ODIs and T20Is
On Saturday, Ireland and Bangladesh confirmed that their series of seven white-ball fixtures would no longer be going ahead as planned in May.
The teams were due to meet for a trio of ODI matches in Stormont (May 14, 16 and 19) before playing T20 international clashes at a quartet of neutral venues in England.
After the ECB announced its decision to delay the start of the English season until at least May 28, a Cricket Ireland statement confirmed that their fixtures at The Oval (May 22), Chelmsford (May 24), Bristol (May 27) and Edgbaston (May 29) would also be postponed until further notice.
Ireland remain set to welcome New Zealand and Pakistan for fixtures on home turf later on in the 2020 summer.
Read more: Ireland and Bangladesh postpone May fixtures amid growing coronavirus concerns
Other international series
The Women's T20 World Cup concluded on March 8 without any disruption, but Cricket Australia and the Melbourne Cricket Club issued a statement the following Thursday to confirm a member of the record 86,174 crowd had since tested positive for the coronavirus.
"The Department of Health and Human Services (DHHS) has advised of the patron's diagnosis and has classified it as a low-risk of spreading COVID-19 to surrounding members of the public and staff," read the statement.
"The patron sat on Level 2 of the Northern Stand at the MCG in section N42. The DHHS recommends that those who were seated in N42 at Sunday's event should continue to go about their normal routine, with an increased focus on hygiene measures, and should any flu-like symptoms emerge to consult with a medical professional."
Two standalone ICC men's events have since been postponed due to the outbreak: a Cricket World Cup League Two tri-series in Florida scheduled for April 1-8 between the USA, UAE and Scotland; and a Cricket World Cup Challenge League round-robin event with List A status set to take place in Malaysia from March 16-26.
Chris Tetley, the governing body's head of events, said: "We have been monitoring the situation very closely and have concluded that the best course of action is to postpone... owing to the increasing travel difficulties between countries and the potential uncertainty around teams returning home."
Further international schedules affected by the pandemic include the postponement of a bilateral T20I series between Malta and Czech Republic (March 14-15) and an eight-team T20I tournament in Kenya organised by the African Cricket Association (March 20-28). The first international cricket to be officially postponed was a quadrangular series in Thailand for their women's side to prepare for upcoming World Cup qualifiers with Netherlands, Ireland and Zimbabwe (April 3-11).
The Koninklijke Nederlandse Cricket Bond has called off the Dutch men's side's proposed tour of Namibia, in which two ODIs and four T20s were to be played in Windhoek. No cases had yet been confirmed in Namibia at the time.
Johan Muller, Cricket Namibia's chief executive, remarked: "The series was a highlight on our calendar. The Namibian public and our sponsors were extremely excited to welcome a top ranked cricket country on home soil. We believe that once the virus is under control, we can look to reschedule this tour."
The governing bodies for the sport in Belgium, Denmark, Japan and the USA have all since suspended forthcoming domestic training and trial activities.
No news has yet been confirmed by any governing bodies regarding international cricket for either men or women beyond the end of May, including home summer fixtures for England, Ireland, the Netherlands and Scotland. Australia are also due to tour Bangladesh for a two-Test series in June, announced earlier this month.
What it means for county cricket
No professional cricket for men or women will take place in England or Wales until May 28 at the very earliest, it has been confirmed.
After a week of negotiations and meetings between counties, broadcasters, board members and other stakeholders, the ECB announced on Friday that the scheduled start of the season would be pushed back by seven weeks as they continued to monitor the feasibility of playing out the 2020 summer season.
Currently, this move would eliminate the opening seven rounds of the County Championship, while allowing for the T20 Blast to begin as scheduled on May 28. However, this remains subject to change as the circumstances develop further.
In a statement confirming the news, the governing body confirmed that a curtailed calendar would look to immediately prioritise events both domestic and international through the month of June, though further possible schedules are being drawn up for shortened seasons beginning in June, July and August.
"The decision to delay the start of the season has been essential, given the circumstances the nation faces," said ECB chief executive Tom Harrison.
"I am reassured by the collaborative effort from across the game that together, we will make the very best of whatever length of season we are able to safely schedule in the coming months.
"With the information available to us at the moment a delay to the start of the professional cricket season until May 28 was unavoidable. This also allows us time to keep pace with a fast-moving situation and continue to plan for how a revised season might look. Critically, we can also remain as flexible and adaptable as possible, within the obvious restrictions we face.
"Securing the future of the game will be a primary focus as we plot a revised schedule with an emphasis on the most financially important forms of the game for the counties across international and domestic cricket."
Read more: Cricket season delayed until at least May 28 as ECB consider options for 2020 campaign
Pre-season overseas tours
With the exception of Nottinghamshire, who had not arranged any overseas preparations as part of their pre-season calendar, every county has now either cancelled, completed or cut short their overseas programmes.
Surrey and Lancashire had both been expected to travel to Dubai on March 17, however they are instead remaining at their respective Oval and Old Trafford homes. This followed guidance from the Dubai Sports Council that venues in the Emirate should "cancel or reschedule all international activities until the end of the month as a precautionary measure".
Lancashire had also been due to travel to Potchefstroom in South Africa, but this trip too has been cancelled. Glen Chapple's side had already spent a week in Mumbai through mid-February.
Three counties had been scheduled to travel to the nearby city of Abu Dhabi, however Worcestershire announced on March 11 that their trip (departing one week later) would no longer be going ahead. Somerset then called off their trip to the same location on March 12, citing the "adverse impact" should the UK government escalate isolation recommendations for those entering or returning to the country.
Essex, the fifth and final county that had announced a trip to the United Arab Emirates, travelled to Abu Dhabi as intended on March 9 for a 12-day trip, though fixtures against Somerset, Worcestershire and local sides would no longer be taking place. Six hours after releasing a statement on March 13, the county reversed its decision to proceed with the Abu Dhabi stay and announced the squad would instead return to Chelmsford over the weekend.
The Division One title-holders were also scheduled to travel to Sri Lanka later this month to play the annual Champion County game against an MCC XI, taking place in Galle on March 24-27 – beginning the day after England's planned Test in the city – but on March 13 the MCC announced the cancellation of the fixture, as well as a subsequent meeting of its World Cricket Committee in Colombo.
Likewise, all five counties that had planned trips to Spain have now called off their plans, with Leicestershire's announcement on Monday that they would no longer be travelling to the Desert Springs resort in Almería (March 17-22) following similar announcements from Glamorgan and Gloucestershire the previous week ahead of their planned trips to the La Manga Club near Murcia in the south-west of the country.
Hampshire and Warwickshire, however, had both already travelled to the location to begin their camps on March 11 and March 6 respectively, but both squads aborted these trips as a precautionary measure on March 13.
"We have been closely monitoring the coronavirus situation in Spain and have been working closely with our tour partners Sporta Group to get the latest local information," said Warwickshire sport director Paul Farbrace.
"Whilst the Murcia region of Spain is currently one of the least affected parts of the country, the health and wellbeing of our playing squad and management is our utmost priority and bringing them back to Edgbaston is the best outcome for everyone."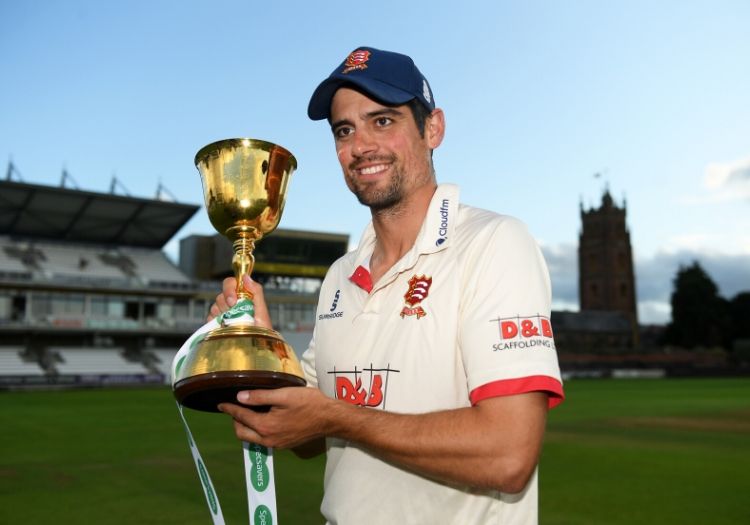 Essex have cut short a trip to Abu Dhabi and cancelled their Champion County fixture with the MCC in Sri Lanka
Derbyshire and Durham had become the first county sides to tour Zimbabwe in 16 years, and the country is one of the few that has yet to confirm a case of COVID-19 inside its borders. However, the squads opted to cut short their trips (which had begun on March 9 and 12 respectively, and were both set to continue until March 29) on Sunday and Monday respectively, citing concerns over travel disruption.
Sussex travelled to Cape Town in South Africa on March 9 and were set to remain in the city until the end of this week with fixtures against Loughborough and Cardiff university sides, though neighbours Kent – who had been based in Potchefstroom – called an early end to their stay on March 13 and all players and staff returned from South Africa over the weekend.
The country had 17 confirmed cases at the time of Kent's departure, including three in Cape Town according to the updates from the Western Cape Department of Health. Sussex later followed their lead and announced their return home on Monday.
Middlesex had travelled to the middle-eastern nation of Oman, landing on March 7 for a 12-day stay, though they became the 17th and final county to announce a change to these plans on Monday afternoon, three days ahead of schedule. Training for the Lord's club has resumed at Merchant Taylor's School, though a statement insisted that remaining in the kingdom would have "posed no additional threat" to player and staff welfare.
Having first arrived in the country with their bowling unit on March 6, Yorkshire announced one week that they would be returning from the Indian city of Mumbai with immediate effect, citing the decision to withdraw from their two-and-a-half-week camp as "the only possible course of action" after England's decision to call off their Test series in nearby Sri Lanka.
Nottinghamshire is the only county that did not plan an overseas trip as part of their pre-season schedule, but the Trent Bridge outfit have rearranged their plans to remove a three-day home fixture against Northamptonshire – the only county to be undertaking pre-season work in Singapore. The city-state has had 266 cases of the virus confirmed to date, though almost half of these have since made a full recovery.
Upon their departure on March 9, Northants' Steven Crook said: "I've been receiving information from many sources over the last 6-8 weeks, and have been monitoring the situation daily – at times, on an hourly basis.
"David Kelly, executive director of the British Chamber of Commerce Singapore, Scott McKechnie and Julyany Audouy within Singapore have provided us with daily updates of the situation on the ground. The simple answer is that we wouldn't be going if it wasn't for their support."
The squad was due to return to the UK on March 20, but this was amended four days before their planned departure in order to allow players to return to their families. An alternative to the Notts encounter has not yet been confirmed, though the Trent Bridge side and Hampshire have both confirmed additional domestic fixtures against Lancashire for their season warm-ups.
What it means for other domestic and franchise cricket
Pakistan Super League
Organisers of the Pakistan Super League, which was this year taking place in its entirety in Pakistan for the first time, announced on March 12 that the four remaining games scheduled to take place at the National Stadium in Karachi would proceed without spectators present, starting with the following day's top-of-the-table clash between Multan Sultans and Peshawar Zalmi.
This closed-door policy was then extended to cover all fixtures in the city of Lahore as well, in addition to the tournament playoffs being brought forward and restructured into a double-header semi-final (March 17) and grand final (March 18).
Overseas players and coaches were offered the opportunity to cut short their stays in the country in order to return to their home nations, with nine English players among 14 players to announce their departures from the league that same day.
However, the league as a whole was suspended indefinitely just hours before the rescheduled playoffs were due to begin, after Karachi Kings batsman Alex Hales started to display symptoms of COVID-19 and begin self-isolating shortly after returning to the UK.
While the batsman insisted in a statement that he had been fit and well throughout his time at the tournament, PSL organisers offered testing for the virus to all remaining players and staff as a precautionary measure.
No alternative arrangements have yet been announced to declare a winner for the tournament's fifth edition, in which Multan Sultans topped the points table upon the completion of the group stage.
The PCB has also postponed the Pakistan Cup List A tournament, scheduled to run from March 25 to April 19, as well as its franchise and international fixtures.
Read more: We took every precaution we possibly could, says PCB CEO
Indian Premier League
The BCCI confirmed on March 13 that the start of the upcoming season of the Indian Premier League would be postponed until April 15 from its previously announced March 29. The board has pledged to work with national and local government agencies to ensure the safety of all stakeholders.
While a statement from honorary secretary Jay Shah did not disclose any further information beyond describing the move as a "precautionary measure", the April 15 date matches the end of a suspension period for both existing entry visas and visa-free travel for overseas citizens of India, which commenced on March 13 and would have prevented any overseas players not already in the country from entering even if any league fixtures were to go ahead.
Read more: BCCI remain hopeful IPL will go ahead and are reassessing situation every week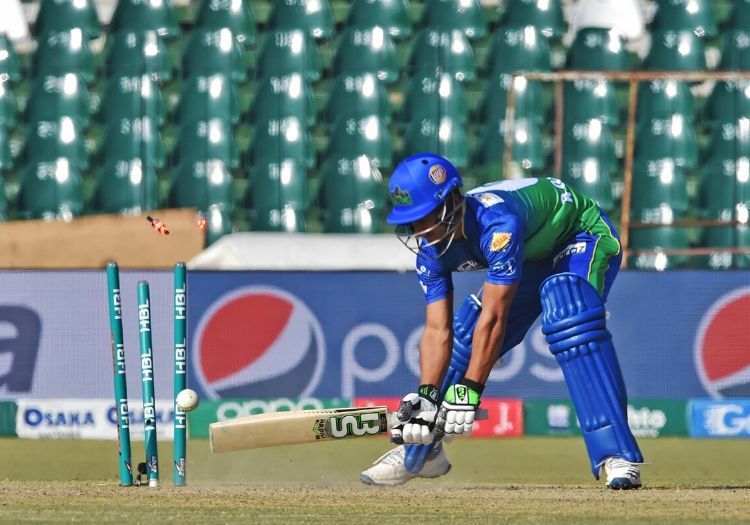 Several PSL fixtures were played in empty stadia before the league was ultimately suspended on Tuesday
All other competitions
While the majority of domestic competitions in southern hemisphere nations have been concluded at this stage in the summer, a number of leagues have confirmed either COVID-19-related changes to upcoming schedules or suspended all play and declared winners of their respective trophies.
Australia's Sheffield Shield had four games to play, with group games initially set to take place behind closed doors at The WACA and the Karen Rolton Oval this week with plans for the final to be confirmed at a later date. However, the remainder of the tournament has now been abandoned, with points leaders New South Wales officially awarded the title for the 47th time, and Cricket Australia has also recommended all club cricket is suspended indefinitely.
"At times like this, cricket must take a back seat for the greater good," said chief executive Kevin Roberts. "In recent days, it has become evident that we must play our part in helping limit the spread of the virus by reducing person-to-person contact wherever possible. These measures reflect that."
The Bangladesh Cricket Board suspended the second round of Dhaka Premier Division Cricket League fixtures (March 18-19) owing to "unavoidable circumstances" and is awaiting health and safety guidance from the government before proceeding with the 50-over tournament, which began on March 15.
The board – which is now working remotely wherever possible – has since extended this pause until at least the fifth round of games, on the weekend of March 27-28.
The fifth day of the Ranji Trophy final – India's first-class competition – took place in Rajkot without crowds on March 13, where Saurashtra were crowned champions after a higher first-innings score in the drawn fixture.
All other domestic cricket in the country was then suspended by the BCCI until further notice the following day, including several women's competitions and the Irani Cup for the champion Ranji Trophy side to play a rest-of-India XI.
Similarly, New Zealand Cricket called off the final two rounds of the Plunket Shield, its first-class competition, in order to "safeguard both the health and well-being of the New Zealand cricket family and the wider public interest". Wellington will take the title courtesy of a 26-point lead over Central Districts. All amateur cricket has since also been suspended until further notice.
In South Africa, administrators suspended all forms of the professional and amateur game for a period of 60 days from March 16, including the One Day Cup, ongoing first-class competitions and the final two rounds of the women's Provincial T20.
The Over-50 World Cup that had been taking place in the country had been cancelled with immediate effect the previous day, with seven of the 11 teams in the non-ICC event in the same hotel and several players in more vulnerable age brackets, though none have been said to display any symptoms of COVID-19.
Cricket West Indies has suspended all of its remaining tournaments and any face-to-face group meetings for a period of at least, beginning March 16, including the women's Super 50 Cup and the first-class West Indies Championship. The board has also postponed its Antigua-based board meeting and AGM, both scheduled for mid-April.
The Nepal-based Everest Premier League has been postponed from its March 14-28 calendar after advisory on mass gatherings, and Cricket Namibia's franchise T20 tournament has also been suspended after completing its first of two weekends of fixtures on March 14-15.
The remainder of the Road Safety World Series – a five-team legends tournament taking place in the Indian cities of Pune and Mumbai – has been postponed until later this year after previously announcing all fixtures would be played in an empty DY Patil Stadium in Mumbai from March 14-22.
This page will be updated as and when new information is confirmed to The Cricketer
All information is correct and up to date as of 3pm GMT on March 21 2020
Please ensure all fields are completed before submitting your comment!