Captain Tom Moore becomes an honorary Lord's Taverners member
Latest news from the Lord's Taverners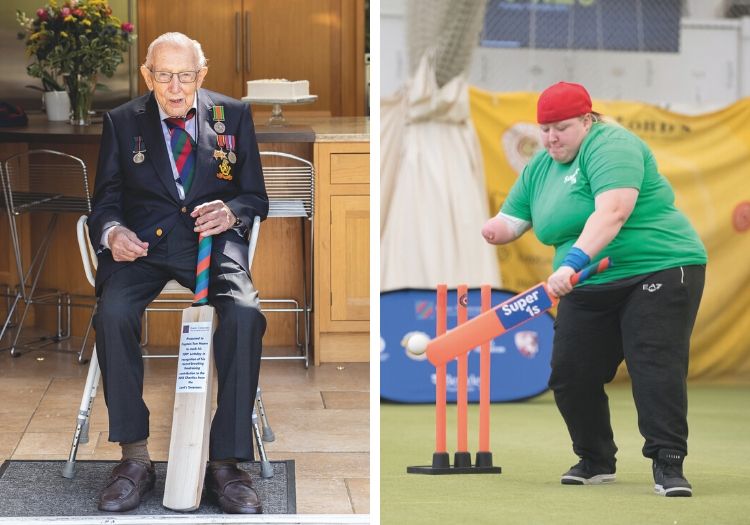 Captain Tom becomes a Lord's Taverners member
Captain Tom Moore has been made an honorary member of the Lord's Taverners in recognition of his heroic efforts to raise more than £32m to NHS Charities.
The honour is usually reserved for sitting Prime Ministers, England cricket captains and overseas Test cricket captains.
"Captain Tom's efforts captured the hearts of the nation and his dedication and commitment to a cause that touches us all, that makes him a great role model to the country and all the young people we support on our programmes. His family are long-term supporters of the charity which is why we are delighted to be able to present him with an honorary membership," explained Lord's Taverners CEO Paul Robin.
Photo by Emma Sohl - Capture the Light Photography
England Physical Disabilities Squad take on marathon challenge
The England Physical Disabilities Cricket squad are challenging themselves to complete a marathon a day as they keep their fitness while waiting for the season to begin – and they will look to fundraise for the Lord's Taverners at the same time.
The squad, which enjoyed a successful 2019 finishing as runners-up in Physical Disability World Series, have pledged to complete a combined 26-mile target everyday while at the same time looking to support the leading youth and disability sport charity.
Allrounder Callum Flynn said: "We had a great season last year and disability cricket around the world is going from strength to strength.
So, as you can imagine, when we can safely take to the field again, we can't wait to get back playing. We're all training really hard for the season ahead and although we need to do that in isolation, we wanted to do something as a squad that will hopefully help further raise the profile of disability cricket and also the fantastic work of the charity.
The England players taking part in the challenge are: Callum Flynn, Liam Thomas, Angus Brown, Jamie Goodwin, Matt Askin, Jordan Williams, Liam O'Brien, Will Flynn, Ben Sutton, Ali Layard, Ben Tyler, Danny Hamm, Fred Bridges and James Nordin.
Youngsters stay active during lockdown
Thousands of disadvantaged and disabled young people are remaining active in their homes thanks to the launch of a series of new online hubs to support the wellbeing of participants on the three Lord's Taverners national cricket programmes.
During these unprecedented times and with the community and disability cricket programmes run by the charity currently suspended due to Covid-19, it has launched a series of home-based activities to increase physical activity and help with mental wellbeing during this time.
Each programme now has a bespoke hub on the Lord's Taverners website with activity catered to the needs of participants which includes weekly challenges set by celebrities from the world of sport and entertainment. Karen, mum of Bexley Super 1s participant Lewis Williams, said: "Young people like my son Lewis normally have limited access to a group that accept each other without judgment and he has been missing his once weekly catch up, social and practice. For this reason I think the activity booklet is a wonderful idea, not only giving our youngsters the incentive to find a constructive activity but also a way of reconnecting them with their friends."
For more information about any of the above stories and how to support the charity, visit www.lordstaverners.org
Please ensure all fields are completed before submitting your comment!