Warne on Brexit as Australia are given a Manchester welcome... ASHES TALKING POINTS
NICK HOWSON AT OLD TRAFFORD: David Gower turns newsreader and what does Joe Burns have to do for a recall?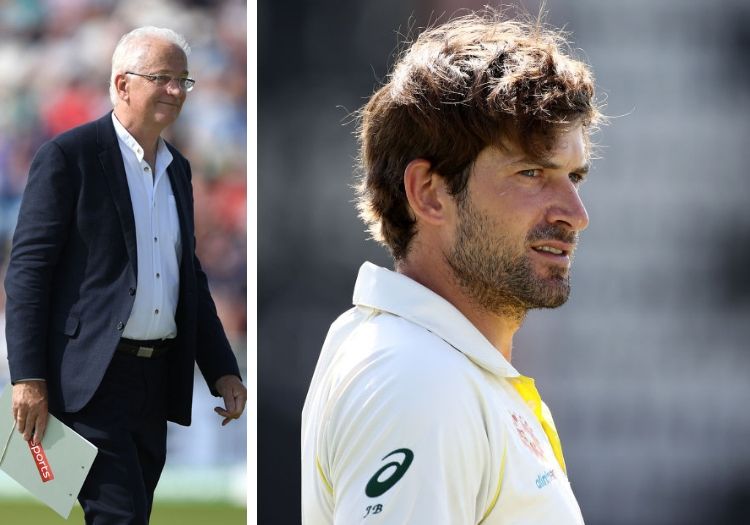 Welcome to Manchester
Though many of the Australia team will have been scarred by the events of Headingley, one opportunistic bookmaker gave the tourists another reminder ahead of the fourth Test down the A63.
Positioned outside their hotel in Manchester, a 7.1m x 5.6m electronic screen displayed an image of a euphoric Ben Stokes celebrating England's momentous win in Leeds.
It included the slogan "Welcome to Manchester" - a strap-line which will not be lost on residents of the city. Several photographers were in attendance to see the screen illuminate with the message, and had to be beckoned away from the scene by members of Australia's management team.
Nearly 10 years to the day Manchester City taunted their arch-rivals United with a poster of Carlos Tevez, who had moved across the city that summer, including the same message. The idea on that occasion was that having swapped United for City the Argentina international had truly moved to Manchester, despite having been at Old Trafford for two years.
City later admitted the act was a deliberate attempt to antagonise their opponents. England had nothing to do with this latest episode, but it shows again how the Ashes inspires a type of tribalism seldom seen in international cricket.
Gower deserves better
Though one of England's most decorated batsmen and finest and flamboyant stroke-makers, many will know David Gower better as the anchor of Sky Sports' brilliant cricket coverage.
For the past 20 years, Gower has occupied the role with aplomb. In an industry which demands cutting opinions and memorable sound-bites, he has been a considered presence on our screens delivering a telling insight in the game while barely breaking stride.
But this summer will signal the end of such comfort and familiarity. Gower in his own words has been retired by Sky, with a new wave of presenters ready to step into the breach. While new voices and faces are welcome, there is something about the exit of the 62-year-old which leaves you feeling empty.
Bar a handful of dates on the autumnal tour of his one-man show David Gower: On the front foot, the left-hander is set to slip sadly into the background. Monmouth, Cleckheaton and Hunstanton await.
An Indian summer to Gower's career will not occur with the BBC, despite an appearance on Radio 4's Today programme on the morning before the first day of the fourth Test. Coupled with an interview with England captain Joe Root, Gower also read the morning sports bulletin which included updates on the US Open tennis and horse racing tips. Not exactly his comfort zone.
While few would accept the loss of Gower to the airwaves, having him demoted to newsreader would be an ignominious end to his broadcast career. Though the arrangement with the BBC is not expected to be extended, he deserves much better. Let's hope this is not his final stand.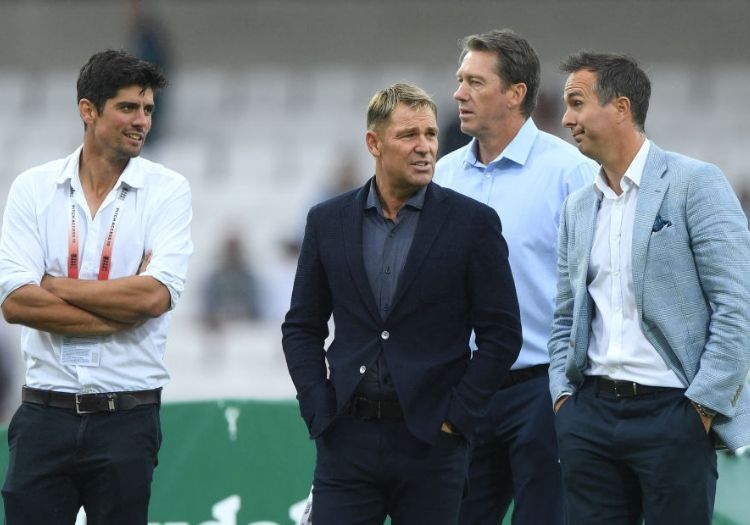 Shane Warne spoke on BBC Radio 4 ahead of the Test
Shane should have been warned better
Having had his private life splashed across the tabloid newspapers in recent weeks, Australia's legendary spinner has captured attention for all the wrong reasons of late.
The United Kingdom's ongoing exit from the European Union has provoked opinion from everyone from Danny Dyer to a member of Bucks Fizz. It is quickly becoming the topic of the decade.
Sport's role is seemingly to distract the nation from the events in Westminster and offer at least a modicum of respite. Or at least try.
Speaking on BBC Radio 4 regarding the resumption of the Ashes series, Warne was asked about the contest in light of the increasing scrutiny on events in the capital. Having toured England on numerous occasions, represented Hampshire, worked as a pundit on Sky and committed to coach the Lord's-based side for The Hundred, Warne will be conscious of the issues close to the saga. Of so you'd think.
"With the whole Brexit thing, a couple of things stand out," he said. "After such a long period of time you've asked the public to vote for these things.
"I saw it reported that the most searched thing on Google after the Brexit (vote) was done was 'what is Brexit'?
"The second thing is you've made the decision: get on with it! All this procrastinating, (Prime Minister) Boris (Johnson) is great, get on with it! It is a great country, get on with it!"
The public are understandably sensitive to issues regarding Brexit and therefore Warne's comments have been received badly on social media, given they appear to ignore the complexities of the subject.
Whether Warne was ambushed with the question regarding Brexit is debatable, but he certainly needed no invitation to express his view, to which he is entitled. But unless the 49-year-old has a deep-seated desire to start influencing matters in the House of Commons (which I doubt) then he is unlikely to make himself popular by making such cutting remarks.
The case for Joe Burns
Few roles in Test cricket are fraught with danger more than opening the batting. Since the start of 2018, on just 19 occasions in 149 innings has a team reach three figures for the first wicket. The previous 18 months saw it happen 30 times. A historically cherished position is starting to become an unwanted one.
Australia's various combinations have averaged just 8.86 at the top, with seven innings having yielded just 163 runs. Though perversely no side has won a Test in this series without losing their openers for single-figure scores in both innings, David Warner and Marcus Harris were undone once again, with Stuart Broad the beneficiary.
With Cameron Bancroft dumped after the first two Tests and Usman Khawaja overlooked and sidelined completely for this match, Australia have been through several options in an effort to arrest their plight. Indeed, Harris' retention appeared to be born out of continuity more than anything else.
It is curious however that Joe Burns remains unused. Crucially a right-hander, the 29-year-old hit a century in Australia's last Test before the Ashes yet didn't make the squad for the series. Though forced to abandon his spell at Lancashire for personal reasons, Burns has since returned to first-class cricket with a century for Australia A against Sussex.
Granted, outings against the England Lions and in the tour match prior at Southampton didn't go according to plan, but it is unfathomable that given the issues Australia have encountered that Burns hasn't yet been given the call. Spells at Leicestershire, Middlesex and Glamorgan means he knows English conditions well while he spent the last Sheffield Shield season playing against the old Dukes ball, scoring six half-centuries in 10 matches.
The result in Manchester will likely dictate whether Burns will be called upon for the fifth Test at The Oval. Cricket enhances the reputation of the sidelined player like few other sports, yet you can't help but feel Burns has been mistreated.
Please ensure all fields are completed before submitting your comment!