Destructive Andrew Tye rescues draw for Gloucestershire against Glamorgan
The 32-year-old's violent innings of 38 from 19 balls with three fours and a six brought about a stalemate in a thriller in Cardiff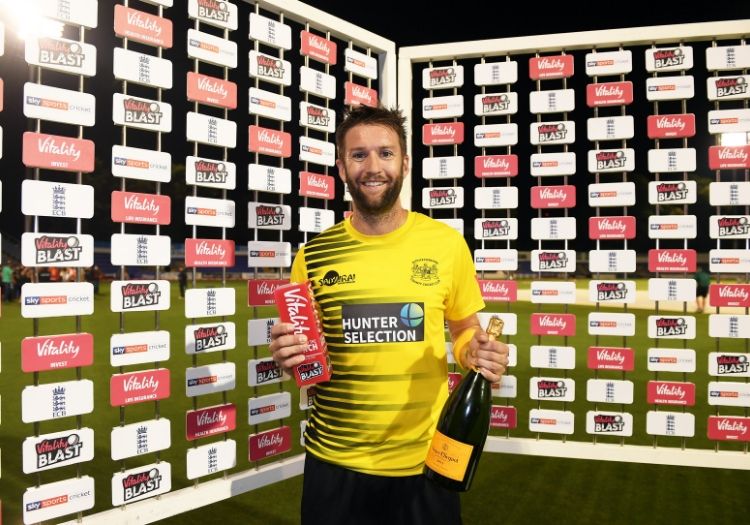 Sophia Gardens: Glamorgan 172-5 v Gloucestershire 172-7 - Match tied
The game at Sophia Gardens ended in a tie, with Gloucestershire, needing three runs to win from the last ball, scoring two.
Glamorgan were favourites to win with two overs remaining as Gloucestershire needed 33. But Andrew Tye struck De Lange for 19 in the over, although Tye was given a life by Colin Ingram, who dropped a simple chance at mid-off.
The home team are still waiting for their first win this season, but they will never get a better opportunity than last night.
Needing to score at 8.65 runs an over, Gloucestershire lost Miles Hammond to the first ball of the innings when the left-handed opener was deceived by Andrew Salter's off spin and struck a simple catch back to the bowler.
Then two overs later the visitors lost their second wicket, when James Bracey was caught off Marchant De Lange on the mid-wicket boundary.
Gloucestershire were 46 for 2 after six overs, but in the next over Michael Klinger edged Dan Douthwaite's fifth balls to the wicketkeeper, and with Graham Wagg conceding just three runs from his first over, Glamorgan's bowlers held the upper hand.
After ten overs Gloucestershire required a further 100 runs, but Cockbain raised their spirits by taking 14 runs from Wagg's third over before the batsman was caught off Salter for an aggressive 40.
With five overs left, the visitors required 57, but Salter struck twice in three balls to dismiss Higgins and Jack Taylor in three balls. Root held on to a low catch at mid-wicket to dismiss Higgins before Taylor drove to log on.
Glamorgan were favourites, but Tye had other ideas in his violent innings of 38 from 19 balls with three fours and a six.
Glamorgan, who were put in on a true pitch were given a rapid start by David Lloyd and Fakhar Zaman with both batsmen striking three consecutive boundaries from Graeme Van Buuren and Ryan Higgins respectively, and the end of the power play the home team were 59 for 0.
The partnership was broken in the ninth over when Lloyd, who had scored 35, attempting to pull Benny Howell to mid-wicket but got a leading edge where Klinger held on to a swirling catch at extra cover.
Glamorgan were 81 for 1 at the halfway stage, and in the next over Zaman reached fifty from 37 balls which included a six and eight fours, but in the following over the Pakistani opener was caught off Higgins on the long-on boundary.
Five runs later, Glamorgan lost their third wicket when Ingram, who scored 12, lofted Tom Smith to the long off boundary where Cockbain judged the catch perfectly. With five overs remaining, Glamorgan were 121 for 3 and Cooke immediately launched Higgins for six and followed up by striking three more sixes off Smith and Howell.
With four balls remaining, Billy Root was run out for 20, then Jeremy Lawlor two balls later for 2 to leave Cooke undefeated on 42 from 21 balls, with four sixes, and Glamorgan 172 for 5.
Report courtesy of the ECB Reporters Network
To celebrate England winning the World Cup you can subscribe to The Cricketer for just £20.19. Click here to learn more
Please ensure all fields are completed before submitting your comment!