Alex Blake and Heino Kuhn combine in final piece of the jigsaw for victory over Middlesex
KISHAN VAGHELA AT LORD'S: The Kent duo's 114-run stand came in a match that was dominated beforehand and throughout by statistical analysis of the two sides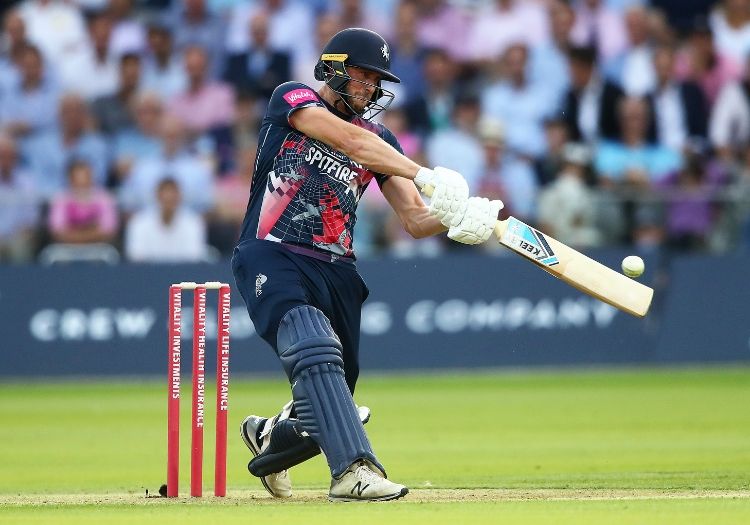 Lord's: Middlesex 176-7 v Kent 204-4 - Kent won by 28 runs
It was always going to take something special to overhaul Eoin Morgan's competitive return to Lord's after England's World Cup triumph. And it was Heino Kuhn and Alex Blake who delivered it.
The England ODI captain had returned to the ground just four days after the epic encounter against New Zealand, trophy in hand, aloft, and then grasped firmly again as he sported a smile of disbelief which had yet to be wiped from his face.
But now the point of, dare to say it, moving on from that peerless piece of history had arrived, the time to let the thrill of that day which resulted in a first World Cup for England occupy a part of the back of the mind.
Because as Morgan has come to realise, the game of cricket has often come to be defined by the hundreds, the average, the run rate, the over rate, the number of World Cups. Anything and everything you can get your hands on.
And this encounter, Morgan's re-introduction into the Middlesex set-up, was one dominated by numbers even before it had got underway.
Toby Roland-Jones and Tom Helm held first and third position in the competition's leading wicket-taker table, while Dawid Malan was sat behind D'Arcy Short and Babar Azam in the race for most runs.
Tumble your way through the individual stakes and you arrive with second place hosting first, and Kent still undefeated.
Morgan could boast no such unblemished record at the World Cup, and nor could Middlesex's bowlers when Zak Crawley look effortless in motion, but equally as destructive, even if his ambitions may lie in appearing in England whites where the Dukes ball hooping around will offer him little help.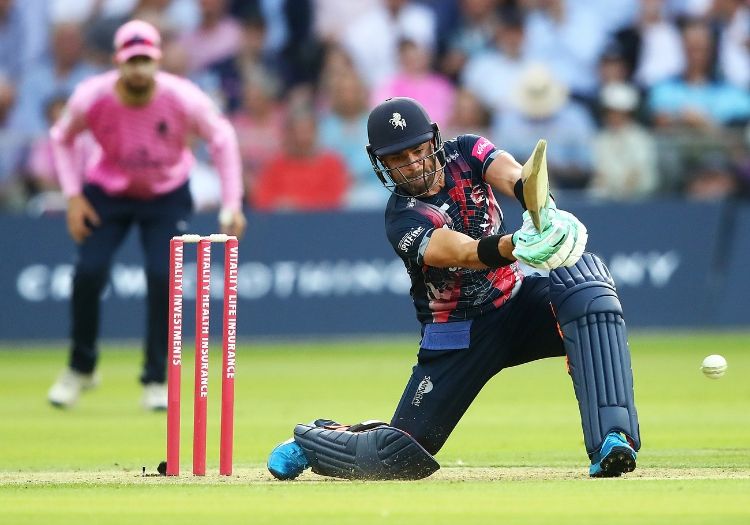 Kuhn hit 54 not out from 31 balls to lead Kent to victory
But Crawley's brief flourish against Roland-Jones aside, this felt for most of the game like the South Division's best sides were facing off, almost at a disquieting loggerheads.
Much as world cricket's best two sides went toe-to-toe on July 14, neither Middlesex nor Kent gave each other an inch in a match where hero at Surrey Mohammad Nabi's belligerent style fell short. That's until Kuhn and Blake came together.
Statistically, and in the game's context, there was no stopping Kuhn, the beguiling craftsman whose innings was characterised as much by craft as by sheer force. There were the paddles around the corner - largely down to the legside line Nathan Sowter, Mujeeb Ur Rahman and Paul Stirling were trading with - but those reverse swats were employed to send the balls into the stands when that pressure became all too much.
Pressure, what pressure? Surely something Alex Blake must have chuckled as he banished four Steve Finn deliveries over the ropes.
The Kent duo both hammered their path through to a second fifty in the tournament. Head coach Matthew Walker said after the Surrey game that his side hadn't quite clicked with the bat. Well, after a slow start, they ruddy well did so on Thursday night at Lord's.
Just a spectator when Nabi unleashed on Surrey, Blake's numbers do really tell the story. He scored 66 runs off 29 balls. Strike rate 227.58. Five fours. Five sixes.
His knock included some extraordinary strokeplay around the wicket, the elongated cries of "shot" audible almost every time he connected with the ball, and so to define his knock by pure statistics does somewhat of a disservice to his spectacular display.
But it was the mere hurdle that Middlesex faced of overcoming a 200-plus score, the first for Kent in the Blast in this campaign, that proved too high a mountain to climb, and so insurmountable that Malan was unable to overhaul his ten-run deficit to Short for tournament runs.
Finding a bad Kent bowling performance in this tournament is almost as impossible a task as the one those who were trying to predict the forecast on the opening day of the Ashes series at Edgbaston. Seeking out bowlers who stand up for them though is much less difficult.
Hardus Viljoen, no doubt flashing his Kolpak deal proudly around the circles, simply reaffirmed Walker's simple assertion on Tuesday: batsmen do not like facing his pace. It was too much at The Oval, and it was too much for the great AB de Villiers here.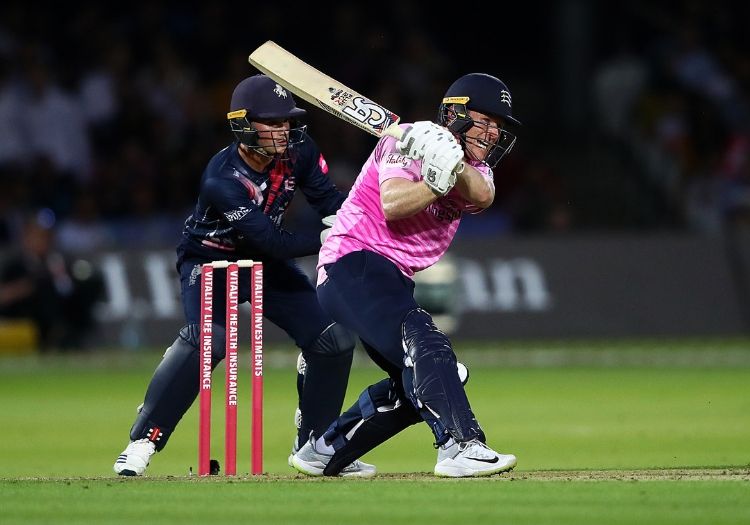 Eoin Morgan returned to action but couldn't steer Middlesex home
Then came that all-important, cliched squeeze from Nabi, continuing his excellence from Tuesday night, his masterful ways you might say.
Masterful Morgan was a theme here not too long ago, and he was still at the crease, maybe not quite at the bludgeoning Afghanistan levels, but there were the trademark movements and smashes to keep things ticking, until his masterly Afghan counterpart finally got him.
But none of these bowling figures have come as much of a surprise. It has clicked throughout the competition so far, and how it has.
Five wins out of five reads the screen if you crunch the numbers a tad more, their best run in a T20 competition ever.
With qualification from the South Division to the quarter-finals already looking extremely promising, Kent may have more than statistics to endorse the quality of their performances come the end of the campaign.
To celebrate England winning the World Cup you can subscribe to The Cricketer for just £20.19. Click here to learn more
Please ensure all fields are completed before submitting your comment!