Rahul and Dhawan give India a reason to kick their tinkering habit
SAM MORSHEAD: Whatever conversations had taken place between the two batsmen, head coach Ravi Shastri and captain Virat Kohli in the build-up to the match obviously sparked a change in technique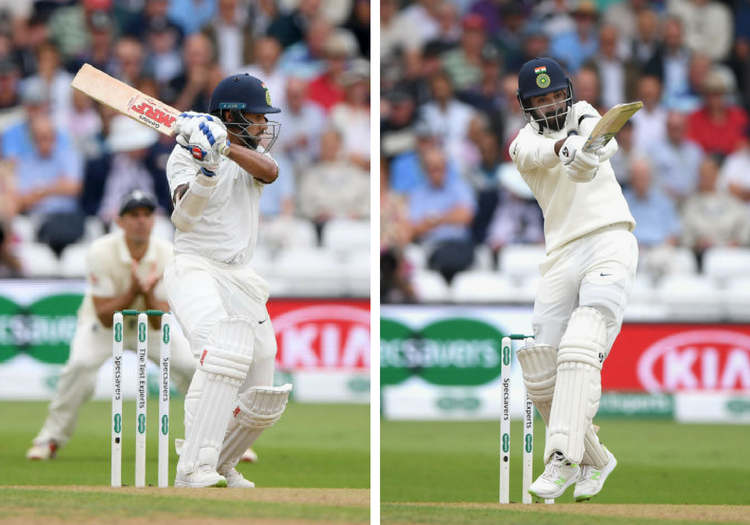 KL Rahul and Shikhar Dhawan put on 60 for the first wicket against England
Their stand might have lasted for less than an hour and a half, and it might only have added up to 60 in the scorebook, but Shikhar Dhawan and KL Rahul did plenty in that time to suggest that, at the top of the order at least, India's tinkering needs to stop.
The tourists' hyperactive selection policy is well-documented - the third Test at Trent Bridge is the 45th consecutive match in which a different starting XI has been named - and, given their feeble efforts with the bat on this trip in particular, there has been little reason for the selectors to change their ways.
At last, however, they now have a little clarity.
Away from home, this was the tourists' highest opening partnership for more than a year, stretching back to the Test match against Sri Lanka in Palekelle last August.
It was also their highest stand for any wicket in the current series... until Virat Kohli and Ajikya Rahane bettered it later in the day.
Now, some might argue that says just as much about the overall quality and stability of India's batting against the seaming and swinging ball as it does the candidacy of Rahul and Dhawan for the first-pair role long term, but there was more to this admittedly still modest stand than meets the scorecard.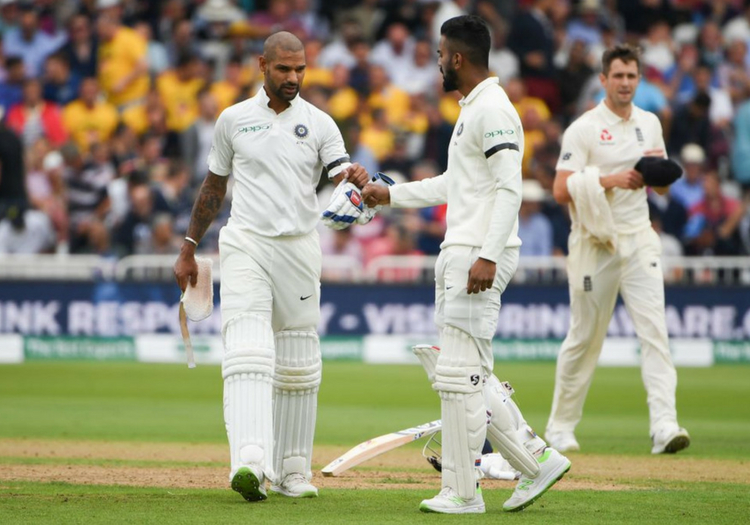 The pair laid down their case for a continued run at the top of the order
Whatever conversations had taken place between the two batsmen, head coach Ravi Shastri and captain Kohli in the build-up to the match obviously sparked a change in technique between the pair.
Gone were the big, self-defeating forward lunges which saw Dhawan fall cheaply at Edgbaston, and ultimately which cost him his place for Lord's.
Gone was Rahul's tendency to nibble at the outswingers, a major factor in his meagre run in England.
Instead, the Indians were considerate, contemplative and, more than anything else, really rather conservative at the crease.
Trent Bridge, particularly in overcast and breezy conditions such as these, will always benefit the home attack. Joe Root quite clearly knew this in choosing to insert India, even if Kohli said at the toss that he would have chosen to have a bat anyway.
So it was right, and must have come as a relief to India's supporters, that their first pair did their jobs in seeing off the new ball, and more particularly Jimmy Anderson.
Anderson was not at his brutal best, as he was at Lord's, but even running at 70 or 80 per cent, England's record wicket-taker is as big a threat in assistive conditions as any bowler in international cricket.
Yet Dhawan and Rahul negated him with one or two simple tactics.
Firstly, they played the ball considerably later than India's openers have throughout this series - waiting for the cherry to come under their eyes.
INDIA'S OPENING PARTNERSHIPS SINCE AUGUST 18, 2015

Pujara, Rahul: 2 innings, ave 1.00

Patel, Vijay: 3 innings, ave 21.00

Rahul, Vijay: 20 innings, ave 21.15, 2 50s

Dhawan, Mukund: 2 innings, ave 23.00

Pujara, Vijay: 1 innings, ave 23.00

Mukund, Rahul: 2 innings, ave 25.00

Dhawan, Vijay: 17 innings, ave 33.93, 1 100, 3 50s

Gambhir, Vijay: 4 innings, ave 35.00, 1 50

Dhawan, Rahul: 8 innings, ave 76.87, 2 100s, 3 50s

Patel, Rahul: 1 innings, ave 152.00, 1 100
During their 112-ball stay together on Saturday morning - the longest in terms of deliveries faced for India's first wicket in this series by some distance - the pair put bat to ball at an average of 1.70m from the stumps, some 30cm later than India's openers' series average of 2m.
Secondly, they were much more willing to leave the ball alone, offering no shot to 42 per cent of all balls bowled by England across the duration of the opening stand. That represents a near-20 per cent rise from the average of leaves across four innings at Edgbaston and Lord's.
Thirdly, they did all this while England were getting the ball a-hooping and a-hollering just as much, if not more than they have at any time in the series. During the first 25 overs of their first innings here, the English pace quartet achieved on average 2.26 degrees of swing and 0.93 degrees of seam movement.
At no other point in the current campaign has there been more swing out of English hands in that first 25-over period, while only in the gloom of Lord's, on a pitch which had sat under wet covers for most of two days, did the hosts get more assistance off the seam.
INDIA'S BEST OVERSEAS OPENING PARTNERSHIPS IN 2018

60 (Dhawan & Rahul vs England) - Trent Bridge

50 (Dhawan & Vijay vs England) - Edgbaston

30 (Dhawan & Vijay vs South Africa) - Cape Town

28 (Rahul & Vijay vs South Africa) - Centurion

19 (Dhawan & Vijay vs England) - Edgbaston

*India have had seven opening partnerships below 20 this year
And still India's openers persevered, and for a while survived.
Dhawan's demise, 80 minutes or so into the opening session, was not a horribly loose shot, nor an unnecessary attempt at aggression.
Chris Woakes dragged the batsman into a defensive prod close to his body, the same shot he had been comfortably executing for much of the morning, only on this occasion the delivery swung considerably less. In fact, at 0.2 degrees, only 10 balls had moved less in the air to that point. Dhawan was undone expecting more movement than came. Jos Buttler completed a smart catch at second slip.
England, for the first time in the innings, had to work hard, think harder and deliver on a carefully considered plan to make an incision in the Indian order. While by the end of the session the visitors had lost two more wickets for 22 to abandon a position of strength, Rahul and Dhawan had at least provided a few answers.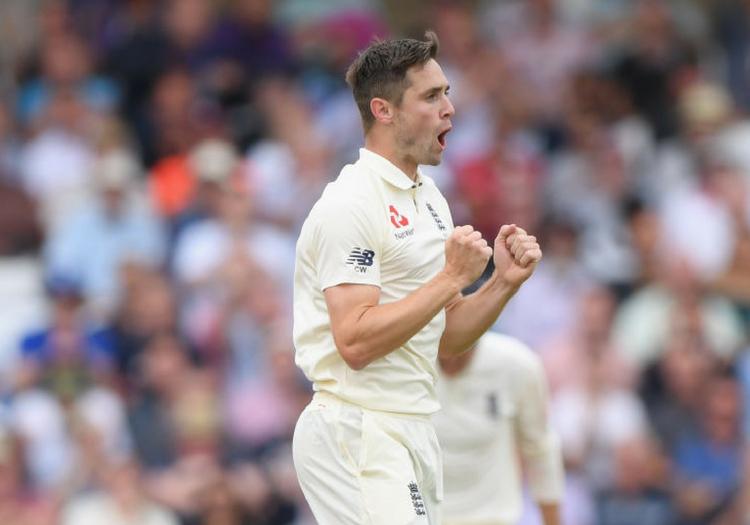 Chris Woakes had to work hard for the first wicket of the day
And how they need it.
India have tried 10 combinations at the top of their batting lineup over the course of the past three years, more than every Test-playing nation with the exception of Sri Lanka (11), who are going through an identity crisis of their own.
Not all countries are like New Zealand, with their two combinations at the top of the order in that time - England, Australia and South Africa have tried eight pairings, Pakistan seven and West Indies five - but it remains fairly obvious that India are having more trouble than most when it comes to deciding on what works best for them.
Yet the stats, and the performance of Rahul and Dhawan together at Trent Bridge on Saturday morning, suggest the problem is quite easily solvable.
ENGLAND'S BOWLING IN FIRST 25 OVERS OF THIS SERIES
 

| | | |
| --- | --- | --- |
| Innings | Swing degree average | Seam degree average |
| 1st innings, Trent Bridge | 2.26 | 0.93 |
| 2nd innings, Lord's | 0.96 | 0.81 |
| 1st innings, Lord's | 1.53 | 1.14 |
| 2nd innings, Edgbaston | 1.92 | 0.72 |
| 1st innings, Edgbaston | 1.21 | 0.83 |
*data courtesy of CricViz
In eight innings together at the top of the order over the past three years, both at home and away, Dhawan and Rahul average 76.87 with two century stands and three half-century partnerships.
Compare that to the Murali Vijay-Dhawan record (average 33.93 from 17 innings) and the Vijay-Rahul equivalent in that time (21.15 from 20) and it seems curious that the India selectors have not made this leap sooner.
But wait, there's more. Of India's top 10 opening partnerships of the past three years, Rahul and Dhawan have five, while each feature in two more with different partners.
Vijay is on the list four times - one of which was a monster 188 stand with Dhawan in Afghanistan's first ever Test match - while the other two batsmen to appear are Gautam Gambhir and Parthiv Patel.
The solution seems obvious. Surely India can now give these two more than a game to prove their worth?