Strike-Spot - The new cricket product helping you hit the right spot every time
"A representative of one major bat maker has said it was the most innovative product they had seen in 20 years"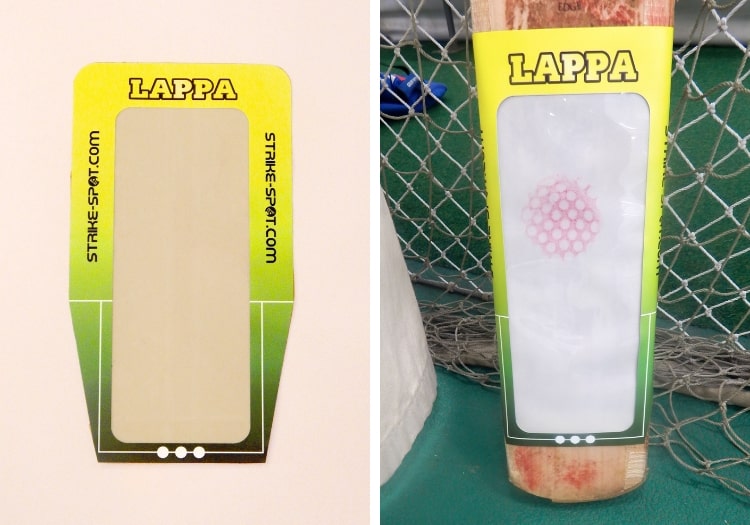 Bats might feel like grand objects in the hand, but they are really rather narrow things. The most minimal difference in where the ball is hitting the bat can have a massive impact on where the ball actually goes. The feeling you get from holding the bat when using it can only get you so far. You can feel like you might not have got everything from a shot, but not really know how far away you were from hitting that perfect sweet spot. That is where Strike-Spot comes in.
Strike-Spot is a sticker which you apply to the face of your bat, and will show you exactly where the ball has hit your bat. How does it do this? On that sticker is an active layer that reacts when it experiences any kind of hard impact. This means that any hard ball, regardless of the colour or the material they are made from, will create a red mark on the sticker when they hit it. Each sticker lasts for approximately 50 balls, which is the best part of a decent T20 innings and long enough for an intensive net session. Having it on the bat means you can find out which method works best for playing a specific shot. Then using the best method, you can set about intensively training the muscle memory of that shot, with the Strike-Spot giving you the instant feedback that tells you how well it was executed.
Knowing where on the face of the bat you are hitting the ball can give you the information and evidence you need to start changing the way you are playing any shot, particularly if it is by small margins.
Creator Simon Burr explains: "I was having a net session in 2016, and I kept edging the ball. Now, I knew the outcome of the shot but I didn't understand why I was doing it. I went away and I held the bat in the sunlight, and at the top right-hand corner I could see a matte finish because I had been netting with rubberised balls from a bowling machine.
"It had felt like I was edging it, and here was the proof. It occurred to me that it would be handy if I had something that could tell me instantly where I was hitting the ball on the bat so I could look to rectify that immediately – and that is where Strike-Spot comes in.
"Each sticker works for bats from size 5 and up, and does not have any technological obstacles meaning Strike-Spot is perfect for cricket players of all ages, something which is central to the aim and design of the product."
Simon adds: "We want anybody to be able to use it. Products that involves the use of an app do not allow you to see the feedback as instantly as Strike-Spot does, and are not nearly as straightforward. This can be used by anyone young or old, male or female, left-handed or right-handed, it doesn't matter – people can gain value from it whatever their age and whatever their ability."
Importantly, because Strike-Spot is just a sticker, it will not noticeably affect the weight of your bat, and therefore will not affect the strokes you play. At £10, it's a product within reach of any level of player, and a representative of one major bat maker has said it was the most innovative product they had seen in 20 years. Strike-Spot could just be the innovation that you need to start perfecting your game.
Visit www.strike-spot.com and enjoy free delivery for the rest of 2018
Please ensure all fields are completed before submitting your comment!