Rossouw century helps Hampshire to Royal London One-Day Cup final triumph
SAM MORSHEAD AT LORD'S: Sam Billings' decision to bowl first after winning the toss came back to bite him as Hampshire racked up the highest ever score in a domestic final at the Home of Cricket, beating the 322 made by Warwickshire in 1993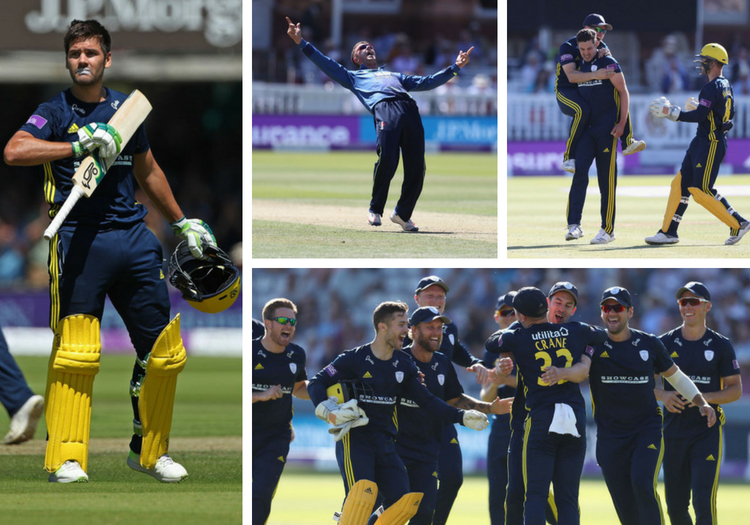 Lord's: Hampshire 330-7, Kent 269  - Hampshire won by 61 runs
Hampshire broke a long-standing Lord's record and plenty of Kent hearts on their way to a Royal London One-Day Cup final victory.
Kent captain Sam Billings' decision to bowl first after winning the toss came back to bite him as the opposition racked up the highest ever score in a domestic final at the Home of Cricket, beating the 322 made by Warwickshire in 1993, in 10 fewer overs.
Rilee Rossouw's belligerent hundred and half-centuries from Tom Alsop and Sam Northeast - hounded throughout by fans of his former club - laid the foundations as the Kent seam attack which for so much of this season has appeared nigh-on irresistible were made to toil for practically no reward in the hot Marylebone sun.
Hampshire's 330 for seven would have been substantially more had it not been for a compelling 10 overs of leg-spin from Joe Denly, who finished with four wickets, and Imran Qayyum's 2-60.
In all, the tweakers returned figures of 6-117 in 19 overs. The pace attack, including rampant Kiwi Matt Henry, will look back on their contribution of 1-211 with a grimace.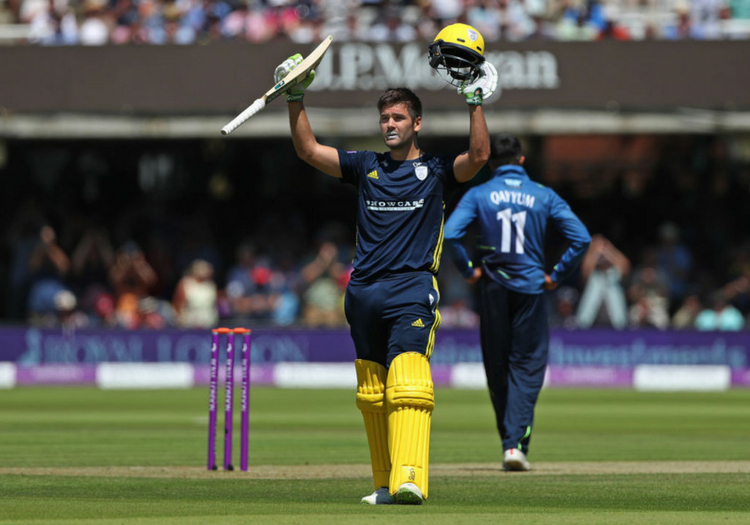 Rilee Rossouw celebrates reaching his century
A tough chase was made gargantuan by the early loss of Heino Kuhn, brilliantly run out by Gareth Berg, and despite the best efforts of Daniel Bell-Drummond, who made 86, Kent could not get close.
Earlier, Billings' choice to insert the opposition made more sense given the form and prowess of his bowling line-up, rather than the beautiful overhead conditions.
But Hampshire refused to crumble.
Alsop and Rossouw were cautious early on but, from the moment the former took four boundaries from Calum Haggett's first over, they accelerated and pushed their county into a position of control.
The 100 partnership came up midway through the 18th over and both men had gone to their respective half-centuries by the time Alsop, in looking to take the attack to Imran Qayyum, skipped down the track, lost his bearings and turned to see Billings whipping off the bails.
There was a palpable sense of relief among the substantial Kent support inside Lord's.
It was not to last for long.
Now Rossouw took charge, swinging and swatting from his power stance. He had already accumulated one century in this season's 50-over competition, against Essex at Southampton, and was evidently in the mood for another.
Alongside him, Vince made a calm start, manipulating the field from the off.
Vince's 504 runs in the competition up until the final had been the bedrock of his side's successes but here he could only make 23 before picking out Denly at long-on off Qayyum.
Qayyum's celebrations, a whirlwind of arms and fists and more air-punches than a Rocky montage, illustrated just how much the wicket meant to his team.
To their fans, though, the prized scalp was just click-clacking his way down the pavilion steps.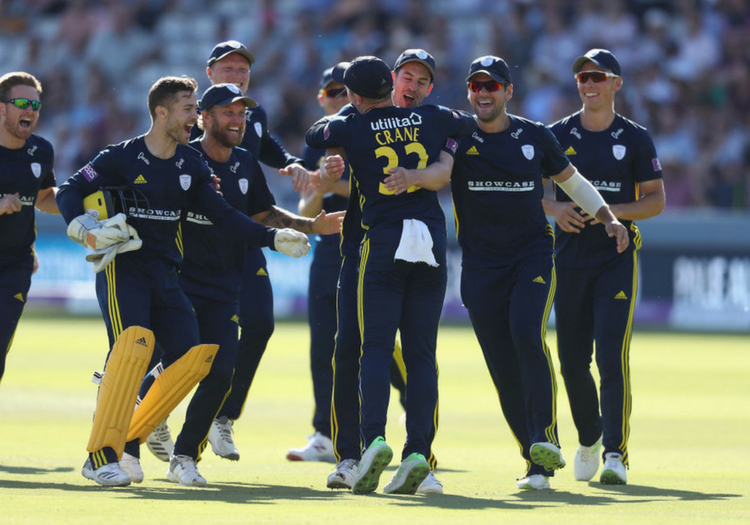 Daniel Bell-Drummond made 86 in vain for Kent as they chased 331 for victory
Northeast's arrival at the crease was marked by a blanket of boos from the Kent supporters. 'Judas', they shouted. Heckles followed after every dot ball. The Hampshire contingent retaliated with an amplified cheer when their No.4 appeared to get off the mark. Leg bye. Cue louder, ironic applause from the Spitfires hub at HQ.
That sense of rivalry added something new to a Lord's occasion. A hint of vitriol. A dollop of jealousy. Call it banter if you must, but over Northeast's stay at the wicket it turned into something quite nasty.
Northeast's departure from Canterbury has hurt the county's supporters deeply and time has yet to be a healer.
As he cut and drove elegantly, particularly through the air from in to out over extra cover, still the Kent fans jeered; lovers so estranged they had become blind to the beauty of what they once had. Those 12,000-plus runs he made don't seem to mean all that much any more.
Northeast went to 50 in effortless fashion, using his range of classics with the touch and timing of a seasoned Radio 3 DJ. A one-knee slap through wide mid-off here, a wristy flick into the legside there. Oh look, it's ended up in stands over the bowler's head.
More boos.
With Rossouw, he gave Hampshire a chance of reaching a totally unreachable target. The pair put on 77 for the third wicket, propelling their side to 270 with almost nine overs remaining. Rossouw reached his century in 97 balls and celebrated by lofting Qayyum into the top tier of the Edrich Stand.
Was 400 achievable? Probably not, but 350 certainly should have been.
However, Kent's pace-off approach paid dividends when Rossouw mistimed a pull into the leg side, succeeding only in picking out Blake on the midwicket boundary. His near three-hour stay at the crease was over at 125.
Liam Dawson quickly followed, chipping a catch to Blake at extra cover for eight, before Dickson produced a tremendous take at wide long-on - steadying himself as the ball hung forever in the clear blue London sky - to get rid of Lewis McManus.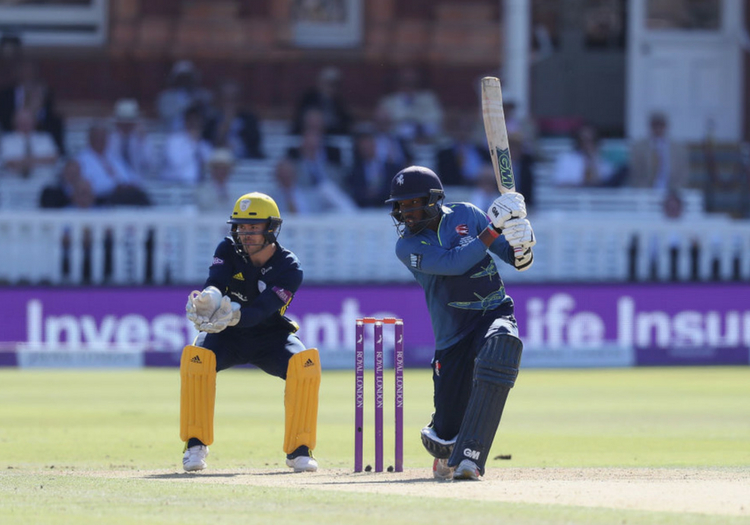 Hampshire's players congratulate Mason Crane for running out Alex Blake
Denly had a fourth victim when Joe Weatherley pushed down the wrong line of a delivery which turned neatly and rapped him on his back leg, while Haggett bowled Gareth Berg.
And so Kent had to chase 330.
Behind the rate early on, they suffered a major blow when Kuhn was run out trying a sharp single into the off side while Denly skied a catch to James Vince, darting round to mid-on, off Berg.
Daniel Bell-Drummond, finding form which has deserted him for much of the season, made the most of being dropped at backward point to reach 50 and with Sean Dickson added 75 for the third wicket.
But the required rate was edging upwards despite their best efforts. When Dickson looped a catch into the offside, trying to heave Mason Crane into the stands, it was well over eight an over with still 173 runs needed.
Once Bell-Drummond had departed, chopping Chris Wood onto his own stumps, there was little left in reserve for Kent.
Billings would have needed to find the innings of his life and, even though he threatened to produce just that with a combative and inventive 75, he needed partners to hang around if he was to pull off the impossible.
Alex Blake was run out by a direct hit from Crane at fine leg, Darren Stevens found Joe Weatherley in the deep off Dawson, Matt Henry went second ball in similar circumstances - this time Alsop the catcher, while both Hagget and Harry Podmore were run out.
When Podmore went, with 75 still needed from 38 balls, Billings threw his bat to the ground and ripped off his gloves. Maybe he still thought the target was achievable but, in reality, the chance had gone.
The Kent skipper scooped Berg to short fine leg. He slumped, hands on knees.
The day was Hampshire's.