India's spin twins can leave England in a daze and burst their 50-over bubble
JAMIE WILLIAMS: The trump card is the spin attack. Given the fickle nature of England's batting line-up against the turning ball, they ought to be very, very afraid of these two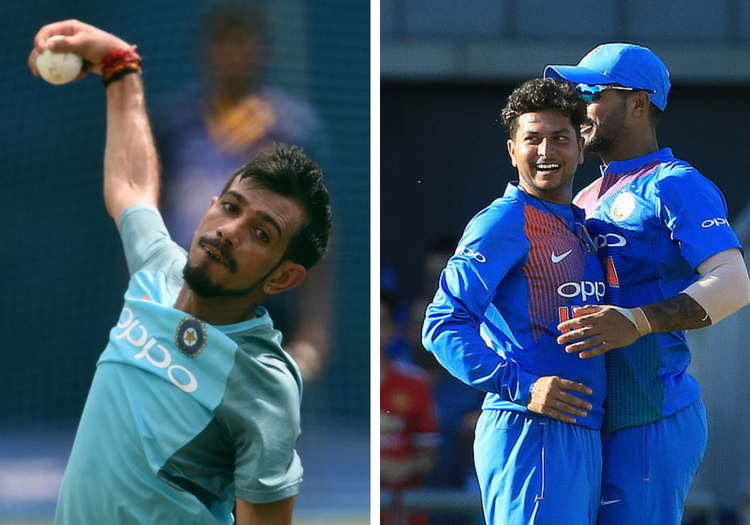 Kuldeep Yadav and Yuzvendra Chahal will pose England problems
Well it has finally happened, England are the best in the world.
Seemingly, no one has either the firepower or the nous to beat the world champions-elect, especially on the kind of pitches that are currently being rolled out in England for touring countries.
Simply, the answer is that England are in their own sweet bubble; they are a team stacked with talent but are they really as unbeatable as many are maintaining?
Next up is a three-match ODI series against India which will go some way to reaffirming the position that England believe they are in and highlight the true favourites before next year's World Cup.
On paper, the two teams are nigh-on equal with the bat and their proficiency in the field is at elite levels. Crucially, the direction of the contest lies with the ball.
England have a good all-round attack but, to quote Aristotle, "the whole is greater than the sum of its parts."
Liam Plunkett and Adil Rashid are both well-established bowlers who would challenge for a place in many of the world's ODI teams. But what of Mark Wood and David Willey?
Willey, for instance, is a player who averages 17.63 with the bat and 36.09 with the ball. While stats do not tell the full story, he often is only trusted to bowl when the ball is swinging and his death-over skills, while developing, are not quite as evident as other bowlers in the England set-up.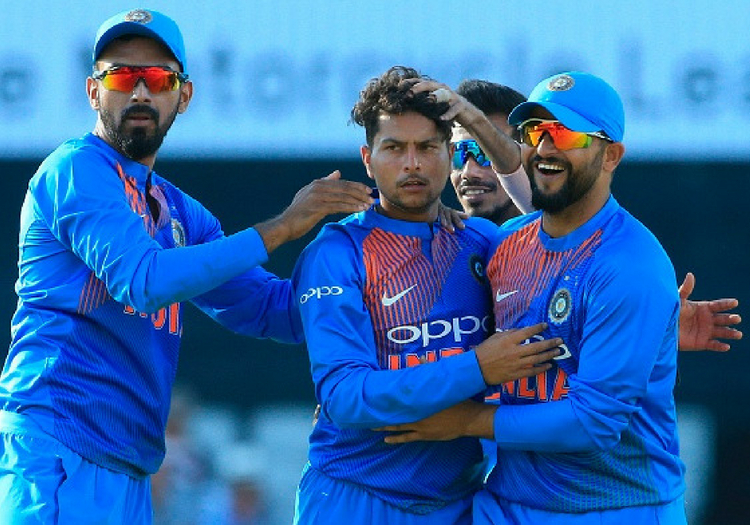 Kuldeep has a haul of 39 wickets in only 20 games
Compare him to India's Bhuvneshwar Kumar, a man who can swing balls both new and old and whose extra yard of pace makes him a challenging prospect at any stage in the innings.
The case of Mark Wood is a curious one. He has the reputation as a mean fast-bowling machine, able to top 90mph and cause top batsmen major difficulties yet at international level this version of Wood hasn't surfaced for long. There have been isolated occasions - such as for his last-over performance against David Miller and South Africa last summer - but he will want to improve on a bowling average of 46.18.
Wood's counterpart in the Indian set up is Jasprit Bumrah. Bumrah is arguably one of the best limited-overs bowlers in the world, whose unorthodox action has brought him a superb average of 22.50 and a strike rate of a wicket every 29 deliveries. 
The versatility of India's pace attack is enviable and, spearheaded by Bumrah and Kumar, the tourists' arsenal outguns England's pound for pound pretty easily. But this wealth of pace bowlers is not why India will burst the England bubble. The last few cricketing years have highlighted the fundamental necessity for a wrist-spinner in limited-overs games. India were stung in the Champions Trophy as Ravis Jadeja and Ashwin were taken apart by a rampaging Fakhar Zaman on a flat Oval deck.
Virat Kohli then finally understood the need for a wrist-spinner, and he has been vindicated. Since that Oval final, Kohli's side have won six series out of six, a streak that has included 21 wins from 27 games with just five losses and a no result. The catalyst to this remarkable run of form? Kuldeep Yadav and Yuzvendra Chahal.
Kuldeep is a truly exciting prospect, a left-arm wrist-spinner who exhibits perfect control with a devilishly disguised googly. Coming into the ODI team, Kuldeep has managed to take a haul of 39 wickets in only 20 games. It's a seriously impressive start, so much so that when he passes the 1,000-delivery mark, on current form, he will rank as the seventh best ODI bowler of all time, purely by average. What's more, Kuldeep strikes every 25 balls.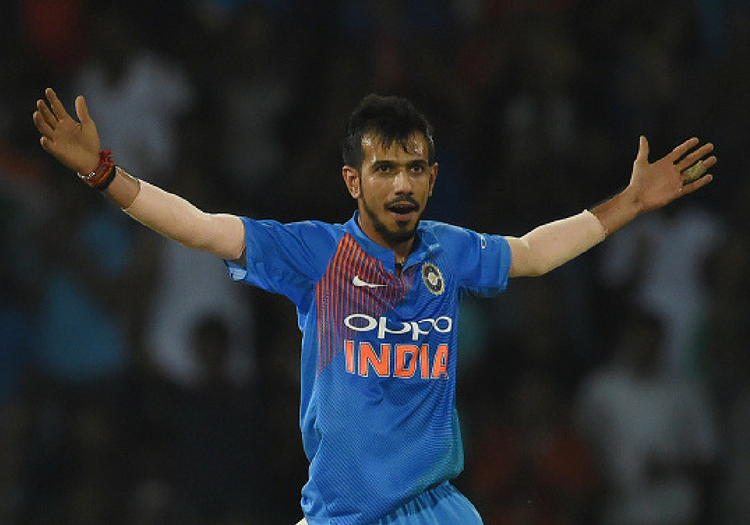 Chahal has an economy of 4.97 in international cricket
Chahal, meanwhile, averages 21.83 and strikes at a rate of a wicket every 27.5 deliveries. These numbers are world class.
England could attempt to fight fire with fire. The issue here is not Rashid but his partner. Moeen Ali adds plenty to the side but his serviceable off-spin is his second suite. They are a decent pairing who strike regularly - in the case of Adil Rashid at 33.6 - yet the most notable difference is in their economy. Even when in apparent career-best bowling form this year and last, Moeen had on average an economy of 5.24 runs per over and Rashid in the same period a figure of 5.50.
Crucially, they pale in comparison to Chahal and Kuldeep, who since their arrival on the global scene last year go at 4.97 and 4.80 respectively. This difference across 20 overs may be only 10 runs but the sheer pressure they exert on batmen during this period can make a marked difference.
The coming series will undoubtedly be the showdown many have waited for, flat pitches will be served and runs will be aplenty. Yet, now England have a seriously good bowling attack to try to score their own runs off. The pace and skill of Bumrah and the swing and toe-crushing yorkers of Kumar are one side of this coin.
But the trump card is the spin attack. Given the fickle nature of England's batting line-up against the turning ball, they ought to be very, very afraid of these two.
If they do not treat this marvellous duo with the respect they deserve, this Indian ODI bowling unit will finally act as the needle to burst the England bubble.