England obliterate Australia and records to win series at Trent Bridge
Centuries from Jonny Bairstow and Alex Hales set up monumental victory as hosts take unassailable 3-0 lead in the five-match contest
England obliterating their own record ODI score with 27 deliveries to spare? Surpassing their highest margin of victory in an ODI? Eoin Morgan hitting England's fastest ever ODI fifty? Jonny Bairstow belting his fourth hundred in six ODI innings? Alex Hales unleashing a blistering 147 (which may not even win him a place in England's first-choice XI)? 
No. None of those events and numbers are the most surprising in this Trent Bridge thriller…
It wasn't even that they hit 21 sixes in the match, which is three more than they managed in the month-long sludge heap that was the 2015 World Cup.
Nobody knows how they did it. Not Justin Langer. Not Tim Paine. But somewhere in the past, before England rolled out a monumental 481 for six, Australia produced 12 straight dot balls in the match.
12.
How did that happen? 12 dots that couldn't have looked more out of place than if Eastenders stalwart Dot Cotton herself entered the fray and turned her arm over.
Anyway, it was perhaps that dirty dozen for England that stopped them from sticking 500 on the board.
500.
A total that was a genuine option. Imagine proposing that three years ago.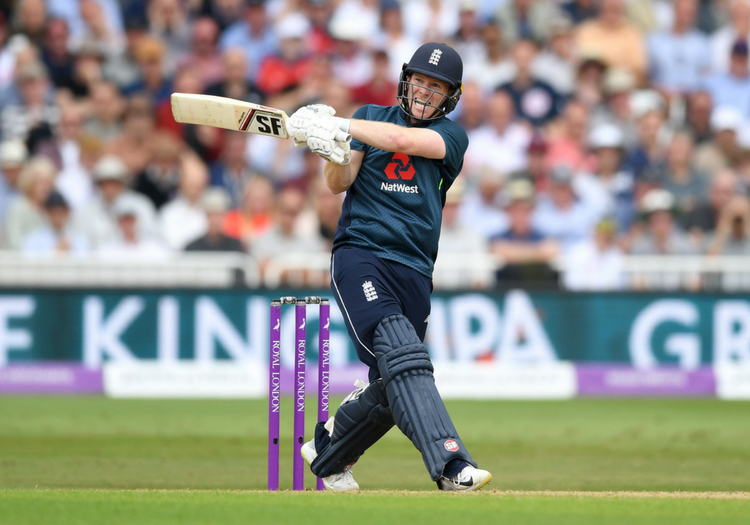 Eoin Morgan hit England's fastest ever ODI fifty
England made one change from the win at Cardiff with captain Morgan returning to oversee his team's march to an unassailable 3-0 series lead.
He would play his part down the line but two men in outstanding form got the whole destructive show off to a flyer. Bairstow - who arrived in Nottingham having recently hit three ODI hundreds on the bounce - and Jason Roy - who punched in 120 on Sunday - put on 159 for the opening wicket as Australia's attack took a shellacking.
Sent in to bat first at a ground on which they belted the highest ever ODI score (444-3 vs Pakistan in 2016), England looked like they meant to top it from the off. 
Before the match skipper Tim Paine reiterated Australia were "here to win" (as you would), but in reality whether winning is plan A, B or C, it doesn't much matter when you are fielding an unsettled and depleted unit against a purring V8.
Australia continued to tinker with their team - with Billy Stanlake replacing Kane Richardson - as they seek to reshape their identity, and on a more basic level, remember how to win a game of ODI cricket.
Roy was no in a charitable mood however, freeing the arms, picking line superbly and smashing through it.
In recent times he and Hales have been trading blows to see who will reign as holder of England's highest ever individual ODI score.
Hales took the crown by  hitting 171 here in that 2016 match against Pakistan, before Roy bested him by posting 180 at the MCG last winter.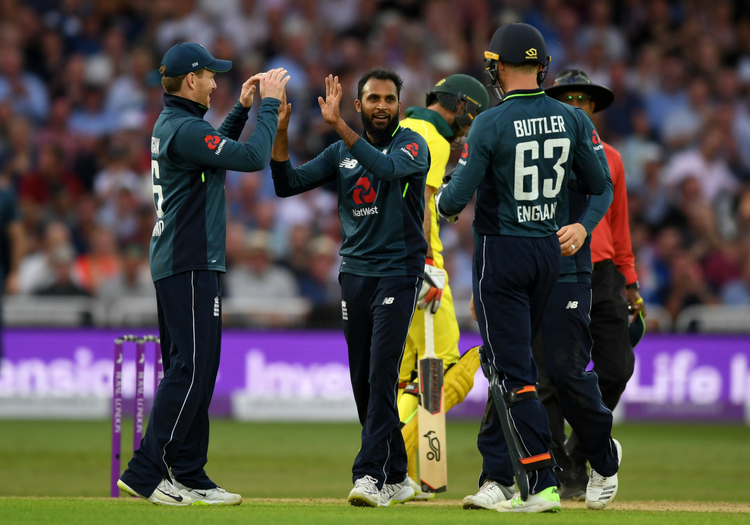 Adil Rashid claimed 4 for 47
Roy looked well on course to improve on it but fell needlessly to a run out when well set on 82. The running between the wickets had been extremely impressive until that point, but with 159 runs on the board in the 20th over, they really didn't need to push it.
Disappointing for the Surrey man but it made little difference to England's progress as Hales swiftly settled into the pace of the game.
England were rolling over Australia like a train. When one cart fell off the tracks, the one behind it charged in with equal momentum. For Australia's bowlers it was like trying to stop a runaway by laying twigs on the track.
When Hales' stretch-arm levers get swinging it's like his reach gets him so far down the wicket he's middling the ball out of the bowler's grasp before they've had a chance to release it.
At the other end Bairstow bullied his way to a fourth ODI hundred in six matches. His latest coming from 69 balls in another blistering effort. By the time he fell for 139, he and Hales had added another 151 to the total
Jos Buttler was promoted to No.4 to keep the party going but could only manage 11. That brought the skipper to the crease who effectively spiked the punch bowl and suggested everyone moves from the kitchen to the pool area.
Showing the wicket-keeper batsman how it's done, Morgan smashed England's fastest ever ODI fifty (21 deliveries), beating Buttler's own 22-ball effort here against Pakistan two years ago.
At one stage the captain larruped 42 in nine bombastic deliveries. Jhye Richardson released a wry smile as he went for six, four, six, as Morgan propelled England to 400.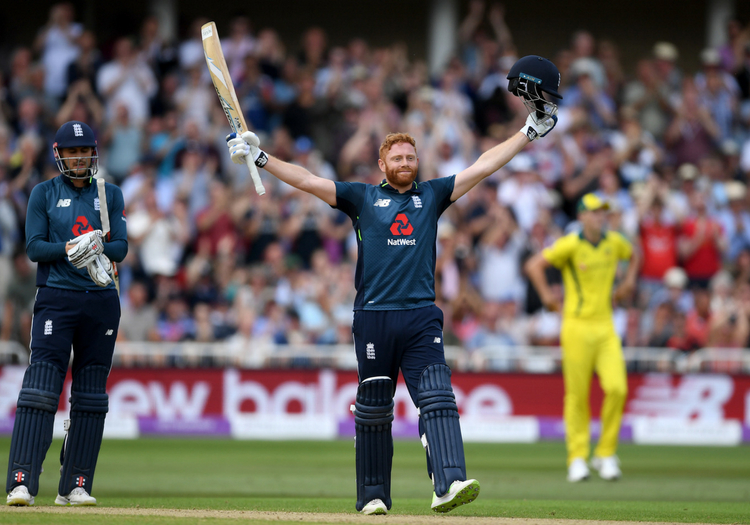 Jonny Bairstow continued his rare form
It must have felt like striving to take down the Great Wall of China by slinging garden peas at it.
Alongside Hales the pair added 124 in 61 deliveries as 500 became a serious reality. Somewhere along the way Morgan passed Bell as England's leading run-scorer in ODIs.
England's charge was so ballistic, when it came to a close it almost felt as though the Trent Bridge crowd were going to up sticks. They had smashed their own world record with 27 deliveries to spare before ending up with 481 runs in the bank. How could there be more? How was that not the end of the event?
As it was, Australia were still allowed their say. And when they did, they took to the task impressively, putting on 87 runs for only the loss of D'Arcy Short in the first 10 overs.
The wheels began to come off however when Travis Head sent an easy chance to Moeen off the spinner's own bowling just as the opener had passed fifty.
Shaun Marsh looked in touch but offered Moeen his second wicket of the day when he picked out Liam Plunkett on the boundary.
A crazy run saw Marcus Stoinis depart with Langer looked livid on the balcony. Australia would not recover and ended the piece staring at a mountainous 242-run defeat. A record margin of victory for England in ODIs, and indeed margin of defeat for the tourists.
England take an unassailable 3-0 series lead and go in search of a series whitewash. Australia go on in search of their new identity.