YOUR CLUB NEEDS YOU: What are the main challenges facing the clubs in our villages, towns and cities?
Everyone is hoping the epic 2019 summer will lead to a surge in people picking up a bat and ball. But what are the main challenges facing the clubs in our villages, towns and cities? Humble clubbie JAMES COYNE investigates...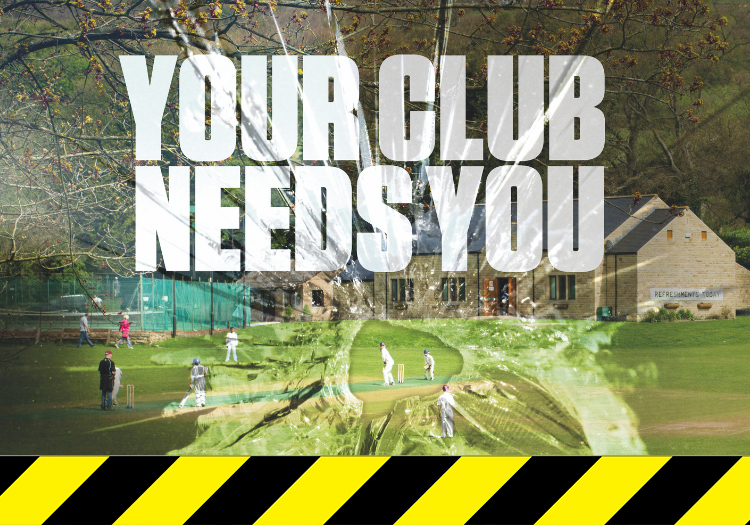 PLAYING NUMBERS
Getting to the core
How many people play cricket in England? Somehow the simplest questions are the most complex to answer.
It's a moot point: so moot that the ECB have not released definitive figures on the subject for five years. This at a time when growing grassroots participation is behind much of what they are trying to do, right up to The Hundred.
The last time they released the figures, in 2014, they were hit with an avalanche of state-of-the-game articles decrying the decline of cricket in our national life. The killer stat – based on 37,500 responses to their National Playing Survey – was that that all recreational participation for 14 to 65-year-olds had dropped from 908,000 in 2013 to 844,000 in 2014. 
Moving beyond anecdotal stories to hard numbers is notoriously difficult in the diffuse club world. The Cricketer has given it a go. Is there a crisis in playing numbers – or is it something more complex than that?
Officials in almost 1,000 clubs responded to our survey, conducted through the Cricket Club Development Network. Sixty-two per cent of these clubs have ECB Clubmark status – the Sport England scheme which acknowledges steps taken to achieve a certain standard of administration, especially high levels of player welfare – and 38 per cent do not.
First, the encouraging news. Not quite half of respondents (46 per cent) reported that the number of players had gone down over the last 10 years. Slightly more than half felt that numbers had either stayed about the same (30 per cent) or gone up (24 per cent).
The devil is in the detail. There is mounting evidence to suggest that the real issue is commitment: players turning out fewer and fewer times a season, and potentially investing less care, time and money in their local club as a result.
Back in 2014 the ECB defined a "core player" as someone who turned out 12 weeks or more of a 26-week summer season – and estimated that there were 247,000 of these diehards across the land. Whether that number was anywhere near accurate, it seems that those kind of week-in, week-out players are on the wane.
And the most telling findings in our survey related to availability. Fifty-four per cent of clubs said that between half and three-quarters of players were available two weeks out of three on average.
Sixty-four per cent of respondents felt that regular availability at their club had gone down in that time; 28 per cent believed it had stayed the same; just 8 per cent thought it had gone up. A number of clubs told us they needed more members than ever to get all their teams out each week.
Of course, no league or club is the same. And the fact our survey was conducted with a majority of Clubmark clubs – when just 1,762 of the country's 6,500 or so clubs have that status – suggests that the overall picture may be less rosy than this set of results.
Either way, the results confirmed there are two particular demographics that club cricket is in danger of losing.
The ECB say that 40 per cent of junior cricketers drop out of regular cricket by the age of 19. Everyone knows that this age group is the most examined in history. The flipside is that, once exams are done with, availability can improve drastically. That's if they're not doing a weekend job. Or playing for a private school until July. Or go to university and never return. Or just doing something else in a world of myriad glittering attractions.
"The ECB have nailed their colours to the mast: 40-over win/lose cricket. Long enough to contain a tactical element, short enough to be home in time for dinner"
The second demographic is parents who are starting families. The latest employment figures suggest that 71.4 per cent of women aged 16 and over are in work – so increasingly fathers are taking on shared parental responsibilities.
No one is seriously suggesting that fathers should shirk that load. But the weekly frustration from captains who are missing out on some of the best and tactically aware cricketers is palpable.
Clubs usually try to plug the gap with juniors. And so the Friday-night or Sunday-morning swarm of colts onto the ground – and their parents to the bar or the barbeque – has become the most reliable form of income for many clubs. However, Nick Gandon, chairman of Hoddesdon Town and one of the originators of Chance to Shine, says clubs should avoid accepting every kid just for the quick buck.
"Too many clubs offer what is in effect a crèche service," he says. "My impression is that while many clubs are happy to take the money from junior fees, the attrition rates are sky-high.
"Working with manageable numbers at Hoddesdon we ensure that everyone gets regular matches. At the earliest juncture we feed them into adult cricket when they are 13, 14 or 15 alongside a few old sweats. Of 70 cricketers who have played in adult Saturday league cricket for us, 47 have come through our junior section. It works."
There is a simplistic tendency to lump all South Asian cricketers in Britain into a single mass – as if they all think or behave the same. But there is no doubt that many South Asian cricketers – who make up a third of recreational players, and in some parts of the country, way over half – keep some clubs in existence.
The ECB say that 79 per cent of South Asians play "every week", compared to just half of white British players. As they are, on balance, keener to both bat and bowl than the average club cricketer, they are often golddust to a poor, overburdened skipper.
Our survey was carried out by John Swannick of the Cricket Club Development Network, on behalf of The Cricketer. Officials in 991 clubs responded out of 4,300 asked. Thank you to everyone who did.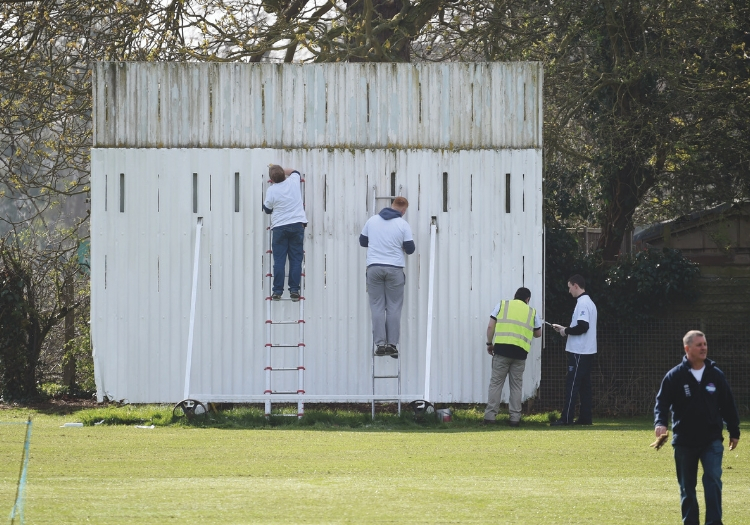 NatWest CricketForce days at Bedford CC
FORMATS
The long and the short of it
The playing format of club cricket is in flux. The ECB say a total of 121 leagues have been through some adaptation of their format over the last 10 years.
Whether leagues are settling on the format that will safeguard their existence for the foreseeable future, or just fiddling while Rome burns, is more of an open question.
At the risk of over-generalising, younger cricketers want a shorter format so they can fit more in on a Saturday – whether that's a part-time job, playing or watching football, revising for exams or hanging out with their mates. A generation reared on white-ball run-chases are bemused by the prospect of taking most of the day to finish up with a winning or losing draw.
More traditional players love the time in the open air and away from other stresses in life. Players of a certain vintage will remember 11am starts, 7.30pm finishes and 10pm arrivals back home; 65 overs shared out between two bowlers. Where do you think their tactical nous came from? From years of having to be creative to bowl the opposition out to win.
When the vote came up at my old club – to stay in a league nearer London which played the draw rule; or move to a rural league playing a shorter result format – the old sweats were lined up one side; the youngsters on the other. It feeds into a narrative that ex-players on the committee are fighting to preserve formats which are redundant to the younger players coming through.
And yet, in that case, and I would venture many others, the traditionalists conceded the argument if the reduction in overs meant younger players didn't give up playing altogether. And the feedback to our survey does suggest that, in many cases, the widespread switch to win/lose formats over the last 10 years may well have kept many twenty-somethings in the game.
Already the ECB are through year six of the ECB Under-19 T20 – a post-exam midweek tournament in the regions aimed at retaining the precarious demographic caught between age-group and senior cricket.
Even so, at a time when T20 is the format driving the world game, and the ECB are bringing in The Hundred, there is a temptation to believe that an even more drastically shortened format could be the panacea for weekend cricket too.
"The reason non-turf pitches are going in is because of the massive cutbacks at local authorities. It's difficult to justify cut wickets"
Harry Gurney – once of Loughborough Town CC, now a short-format specialist at Nottinghamshire and in franchise leagues – tweeted in February: "All club cricket should be T20 or The Hundred. It would lead to increased participation at grassroots level. More exciting for younger generations and done and dusted in three hours, so people who work long hours can enjoy family time at weekends alongside it."
Already in some areas the desire for a quicker format is being sated outside the traditional pyramid. Last Man Stands is a global short-form phenomenon, played in coloured clothing and often on non-turf pitches. LMS UK is part-funded by the ECB and included in their participation figures.
The Surrey Slam, supported by the Surrey Cricket Foundation and the ECB, is played on Sundays and midweek evenings, hoovering up London commuters and others who feel they cannot give up all day of a weekend.
Warwickshire – the home of the Birmingham League, the country's oldest league – launched a 100-ball Sunday Smash this summer, with games starting at 2pm in a family-friendly environment.
All are targeting the young male in work who lacks the time – or feels they do – to play regular club cricket. All offer the chance to have a hit without investing time and money in a club or ground in their local community.
In their defence, LMS say that three-quarters of their players had not been playing cricket for the previous five years – so they are bringing some people back to cricket.
Under their previous director of participation and growth, Matt Dwyer, the ECB nailed their colours to the mast in favour of 40-over, win/lose cricket. Long enough to contain a tactical element, and still give most players a fair go during a match; short enough to start at 2pm and be home in time for dinner. Many leagues are edging closer to that format, even if they are not quite there yet.
Even then many youngsters would prefer to start at, say, 11am, if it meant the evening could be free for socialising; older players often use the time before 1pm to spend time with the family… especially if it buys them some time at the bar in the evening.
There was a steadfast response to Gurney's tweet from many club cricketers. Simon Prodger, managing director of the National Cricket Conference, conducted what he admits was not a scientific straw poll with first-team cricketers: "The majority said they favoured 50-50, win-lose, with coloured clothing and a white or pink ball."
Gulfraz Riaz, chairman of the National Asian Cricket Council and a leading light at Watford Town CC, says: "I firmly believe 50-over cricket is the benchmark of good club cricket. I can't see any value in playing T20 on a Saturday. I think we'd lose a lot of the core of what Saturday cricket is about if we don't play 50-over games."
Besides, would a switch to a T20 format be more or less likely to keep players around for the post-match social – the lifeblood of many a club's finances – or would they just skulk away quicker?
Timothy Abraham of Carmel & District CC says that in some regions where the survival of clubs is at stake, there may be little choice: "I think we are close to the stage in our region where all 2nd XI and 3rd XI cricket and below should be T20 with early start times. It's not the cricket I want to play and the old guard won't like it, but it would be better to have more teams with 11 younger players playing a competitive league fixture where everyone wants to be there. Cricket needs to cultivate a sense of being like a game of five-a-side football which people can squeeze into their day."
In several ECB Premier Leagues, half the season is now pink-ball, win/lose conditions at the start and end of the season; white clothing, red balls and a draw rule in midsummer. Some of the best leagues in the country have abandoned the draw altogether and just play win/lose.
Prodger maintains: "Anybody who's playing first or second-team cricket, of a level, wants the best opportunity of engagement in the game. Despite the fact they are amateurs, they still want to gauge themselves. You want enough time in the game to be a contributor."
The worry will be that, if T20 comes to dominate, batsmen whose approach was forged in a different era could be rendered obsolete. Is four overs enough for a bowler to get their money's worth? Cricket can ill afford to lose any players, especially if they are volunteers.
In much of the club pyramid, the main issue seems to be travel. Many clubs have reassessed their priorities after years of travelling to chase best possible standard.
Mark Fletcher, president of Stockton CC, reports: "Numbers went up last season after we returned to the North Yorkshire & South Durham League, which offered us shorter games, especially for the 2nd XI and more local games than the North East Premier League had for 19 years." Many others expressed similar sentiments.
In the Hampshire League, everything but the top two divisions has some form of regionality – which cuts down on travel. In the Hertfordshire League, though, 21 of the 25 divisions are still played pan-county – and beyond, to Middlesex and Bedfordshire. That means potential three-hour round trips as low down as Division 10B. I can vouch that driving from Flitwick to Ware and back again takes up quite a chunk of your Saturday…
FACILITIES
A better place to play
Head back perhaps 40 years, before the mass selling-off of industries and playing fields for development, and there were many more sports fields in our urban or industrial environments. Back then, recreational cricket was not merely weekend club cricket: it was works cricket, church cricket, pub cricket and more. 
A glance at some of the outgrounds used by counties up to the 1980s lays bare the social change: Coventry's Courtalds ground (textiles); the Ind Coope (brewery) ground in Burton-on-Trent; the John Player (tobacco) Ground of Nottingham. There were plenty more.
Some works clubs have reinvented themselves. The Steetley Company (bricks) ground in the Nottinghamshire pit village of Shireoaks was bought up by a private company and Shireoaks CC reformed there in 2002. Houghton Main is now the Asos clothing distribution centre, but at least the old colliery recreation ground is protected by the Coal Industry Social Welfare Organisation.
Town clubs are often under most pressure. The lucky ones might have a long-term covenant on the ground dating back to Victorian times, paying peppercorn rents to the local council. Others, like Hastings & St Leonards Priory – whose old square is now somewhere underneath Shoe Zone in the Priory Meadow shopping centre – moved out of town. Some have died out altogether.
"It looks as though some provincial town clubs are struggling," says Simon Prodger. "Vauxhall Mallards in Norwich are the latest to have folded, though they were a result of a merger." They struggled after the money from a rich benefactor dried up.
Four years ago Mallards were producing an England bowler, Olly Stone, who in 2018 even went back to play nine matches for them as a bowler on his way back from injury.The breaking point was a four-hour round-trip to Frinton-on-Sea for which they failed to raise a side. And that was in the East Anglian Premier League.
"Local media is littered with reports of vandalism of private or community property at cricket grounds. More than 250 incidents have been recorded over the last two years"
Of course, it's not just urban clubs where facilities are an issue. From 2020 the ECB will offer a County Grant Scheme, a City and Strategic Fund and Emergency Fund, plus interest-free loans through the England & Wales Cricket Trust. Sport England offer a Community Asset Fund and Small Grants.
Carmel & District CC play in the North Wales Cricket League, and draw on a mixture of Welsh and English speakers. Their former secretary Timothy Abraham says they have been burned by the experience of applying for central funding: "The general impression is the ECB are only interested in bigger clubs who can provide pathways for players to move up to the elite level.
"A couple of smaller clubs in our region have gone to the wall – and one or two I know wouldn't have with help from the ECB. Inevitably these were clubs with the worst facilities."
The ECB maintain they put considerable work into "holding the ground" on existing facilities. Matt Dwyer told The Cricketer in 2017: "A large percentage of my discretionary budget is going on facilities where we can hold the ground."
The ECB's national funding and facilities manager Bruce Cruse has at his fingertips software which allows him to map all cricket clubs within distance of a residential development – and therefore identify those under specific threat from being bulldozed.
Why does all this matter? Current projections are that 88 per cent of Britons will live in towns and cities by 2030, yet just 10 per cent of cricket clubs are located in high-population density areas. There must be plenty of urban dwellers heading out of towns and cities (mostly by car) on weekends to play for and against village teams. Could the Arcadian ideal of English cricket, to play at an idyllic village ground, actually be a millstone round the neck of club cricket?
A lack of accessibility to facilities disproportionately affects South Asian cricketers, who live overwhelmingly in urban areas. One in five Asian cricketers told the ECB they have encountered a problem finding somewhere to play, compared to one in 20 of all cricketers.
The ECB have pledged by the end of 2019 to build three urban cricket hubs in areas where facilities have been hard to access. The first two are Leyton and Bradford Park Avenue, famous venues which used to host Essex and Yorkshire.
Chevy Green, cricket development officer at the Surrey Cricket Foundation, says accessing grounds in London is a continuing issue.
"Some people have to travel a bit further afield. There's just not the space. In London, the facilities that are there are more expensive than in the rest of Surrey.
"If you look at black British cricket years before, the nomadic West Indian leagues used to travel, because there was no support for a clubhouse. There was a similar issue in South Asian cricket. They had to travel, they had their own leagues, playing on council pitches. Over the last seven years, when the first ECB South Asian Engagement Strategy started, the funding has helped teams and leagues secure better facilities.
"But, because there's not many pitches, those leagues fight over who can get on them. So there's still an element of not everyone accessing the better grounds, but it's better than nothing."
Lonsdale Skinner, the former Surrey wicketkeeper who is chairman of the African Caribbean Cricket Association, says that over one winter the rate of ground hire in Tooting almost doubled – £130 to £250 – for his club, Carnegie Herne Hill, who are now wandering again.
One of the ECB responses to this has been to embark on a wave of installing non-turf pitches, which require only periodic upkeep. The ECB are committed, through their South Asian Action Plan, to install 100 NTPs in urban areas by the end of this year, with an "ambition" to put in 1,000 more by 2024. They will "install or upgrade" just 25 and 100 grass pitches over the same periods.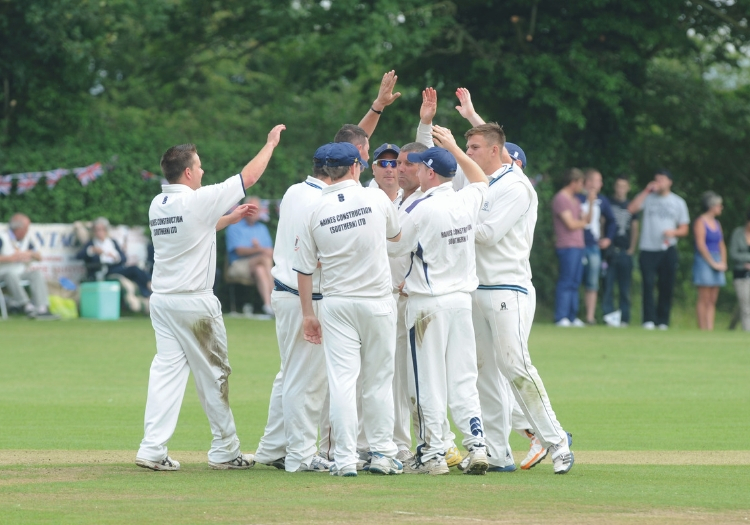 Goatacre of Wiltshire celebrate a wicket
Artificial pitches are the staple diet in many Associate nations where acquiring groundskeeping equipment or personnel is difficult. Even in Australia, 95 per cent of junior cricket is played on NTPs. But the reaction from most English clubbies to the prospect of playing on matting is sniffy to say the least.
Gulfraz Riaz, who fed into the South Asian Action Plan and praises it, thinks there are less palatable reasons for the push towards NTPs. Around 28 per cent of cricket grounds are owned by local authorities, and after a decade of local council cutbacks by Conservative-led governments, built-up areas have lost an average of £386 per capita over the last eight years. Easy to see how a hoary old concern like a cricket wicket is one of the first items for the chop.
Riaz says: "The reason non-turfs are going in is because there have been massive cutbacks at local authorities, and it's difficult in this economic sphere to justify fresh-cut wickets in parks.
"For those who don't have a choice, they will just make do. My view is that NTPs are a solution to get people playing in the first place, but I can't remember how often my club have used our non-turf pitch. We are lucky to have a brand-new one that gets upgraded by the local authority, but how often do we actually play on it? In traditional clubs how often are they utilised?
"The majority of club players want to play on grass, even if it's in a park and it's a bit dangerous and flying off a length."
Riaz says that the reaction to NTPs has been lukewarm in the Birmingham Parks leagues.
"Some people have pulled out when there are no turf pitches. You can understand if the top divisions are played on grass, but then lower divisions should play on artificial. But some have said 'no, we don't see that as real cricket'.
"There is no doubt that 18 to 35-year-olds of today feel more time-poor than I did 20 years ago. Perspectives, work life and social life are all different"
"So how much money has been invested, and has it been put in the right place? I would argue that at times have they been put in the wrong communities."
The ECB have targeted 4,000 matches involving 12,000 players on NTPs by the end of this year.
"How are they measuring it?" asks Riaz. "Are they calling it a 'match' on an NTP because some kids have gone along there and used a milk-crate as wickets, or is it an actual league game played there every week for a whole summer?"
Conversely, there are areas of the country seemingly oversaturated with cricket grounds, but not the players to fill them. This seems especially the case in affluent villages where younger people have moved away for work or to settle in more affordable areas.
Martin Leary, of Royston CC in Hertfordshire, says: "There are too many clubs in the area – lots of villages – all still trying to put out a competitive Saturday side, harking back to the days when people worked and lived in the same place. There just aren't enough players – especially youth players – in villages to support the what some clubs are trying to do.
"Bigger, more established clubs suck up most of the decent cricketers who might move to the area and so the village clubs keep bumbling along but with dwindling numbers. My club is lucky as Royston is one of the larger towns, however we still struggle to retain players as the town is a commuter town and so people come and go fairly frequently."
There are 24 clubs within a five-mile radius of Riaz's Watford Town.
"Where traditional village or town grounds are not as active as they used to be on Sundays, they could hire out their facilities to an Asian team," he argues.
"Traditional friendly cricket is dying out. Our Sunday cricket at Watford Town wasn't that strong for a time, so we leased it out to the British Tamil League, who used it on a Sunday. If you allow them to play on really good grounds, five or six might say 'I want to play for this club on a Saturday' and therefore become a member here.
"South Asian leagues don't have junior set-ups, so if kids want an avenue to play they have to join a traditional club. All of a sudden you'd have Asians coming to play at a young age, and that's the seed of integration sown."
Riaz offers the tantalising thought of schools which have multiple cricket squares, and might stop using them in mid-July, opening them up to clubs for the latter third of the summer.
It is already happening. A club in Shropshire are looking to lease part of Ellesmere College's land; Chislehurst & Sidcup Grammar have recognised the paucity of council pitches in their corner of Kent, and are looking to rent out their square.
"I'm not sure if county boards have any sway over private schools," says Riaz. "It goes without saying that clubs and leagues have got to pay the going rate for ground hire, and leave the grounds as they find them.
"But wouldn't it have been a great statement: 'we, the traditional, have allowed the non-traditionals to come in and use our facilities'. Because I can't see local authority grounds getting any better."
COST
Striking the balance (sheet)
The financial challenges facing cricket clubs in a world of rising prices is significant. For those with small membership bases, it is even more stark, writes Sam Morshead.
White Horse CC is five miles outside Swindon, in the Wiltshire countryside. With a playing group 30 strong, it runs one Saturday league side in addition to a Sunday team and a midweek XI.
Around a decade ago, the club was made homeless after being evicted, and were rehoused thanks only to the generosity of a local farmer, who allowed the conversion of a dairy field into a new ground.
Club members and their friends flattened the land, sowed the seeds of the square, dismantled the pavilion at their old haunt and rebuilt it block by block in its new location. Since then covers, sightscreens, an electronic scoring system and new changing rooms have been added, and new machinery bought. Its growth is considerable and impressive, yet it masks a cold truth of club cricket.
"The key message that I always play back at AGMs is that if we didn't have the catering aspect and significant fundraising, the club would not survive from membership and match fees alone," treasurer Mark Watling said.
In 2019, White Horse brought in £1,628 in membership fees (it costs an adult £60 a year), and added £2,847 in match and net subs.
That combined income (£4,475) only just covers the annual liability insurance (£1,375), rent (£700), electricity bill (£284), league entry (£349), and equipment and maintenance costs (£1,011).
As Watling says, if it was not for the money that changes hands over the bar, or for the hundreds of hours of voluntary work put in by members to run events such as the club's biennial Summer Ball, then there would be no club.
In 2019, the primary fundraiser – a six-a-side competition – made £314 profit, but that did not even cover the £451 in cash stolen during a robbery earlier in the summer. And that brings us onto another troubling trend.
There is little that can be done to predict the impact of criminal activity on club cricket. Local media has been littered with reports of vandalism of private or community property associated with cricket clubs over the course of the past two years, and more than 250 such incidents have been recorded in that time.
It is another burden on the already strained club circuit, with the cost of rebuilding substantial.
In West Oxfordshire, Eynsham CC report themselves as being in a "precarious" position after they failed in their efforts to overturn a £37,500 VAT bill incurred reconstructing their pavilion following an arson attack in 2012.
The club had been initially advised that they would be able to benefit for a zero rate of tax because the building was a community asset, but they found themselves hit by HMRC in 2015 and multiple appeals have failed.
Zero ratings can be offered to the construction of buildings for a 'relevant charitable purpose', with charities defined as "non-profit distributing bodies established to advance education, advance religion, relieve poverty sickness or infirmity or carry out certain other activities beneficial to the community".
Eynsham was found not to have been founded on a purely charitable basis because it provided "social facilities" in addition to its recreational purpose.
Chairman Ian Miller told the local press that Eynsham would not "have been allowed to win purely because of the implications for HMRC with other clubs throughout Britain in a similar position".
"We will have to pay back the money that was lent to us by friends and club members," he said. "If something goes wrong, we can't possibly pay these loans and also buy equipment. Without equipment, we can't play cricket. It puts us in a very precarious position."
In County Tyrone, Sion Mills CC are fighting for their future after yobs set their equipment store ablaze, inflicting thousands of pounds worth of damage. The club, which staged Ireland's famous victory over West Indies in 1969, has a small membership of around 30 and will struggle to replace the lawnmowers, strimmers and other machinery lost.
In Sussex, just weeks after £50,000 of renovations were completed on its clubhouse, Jevington CC fell victim to a similar attack, and lawnmowers were also stolen.
It is the same story up and down the country – and extends beyond arson. Theft to order is a common concern, with high-value machinery in modestly protected buildings a major issue.
In May, Thorton CC of the Shropshire League were victims of a break-in for the second time in 11 months, when thieves made off with two mowers and a strimmer. In addition to the incurred cost, the team was unable to prepare its wickets as a result and had to rely on the generosity of the cricket family.
In North Lincolnshire, Barton Farm CC had their £700 boundary rope stolen, and despite installing 16 CCTV cameras have failed to identify the culprits.
Such tales are becoming two-a-penny in the local press. It is hard to tell if there has been a huge spike, or if, with more clubs building a social media profile, these stories are just reaching a national audience now.
Vandalism presents an additional headache for overstretched committees already drowning under the weight of paperwork required to keep a club operating. In addition to the age-old tasks of managing ledgers, monitoring player availability, ordering supplies and liasing with leagues, the introduction of various safeguarding requirements over the past decade puts more pressure on volunteers.
Some clubs have pursued a different financial model. "I went over to a club in the Herts League," says Gulfraz Riaz. "It was a hive of activity. Afterwards five or six people came out. They were clearing the boundary markers, watering the pitch. A couple of mums came out to do it. They said: 'We've all bought shares in the field.'"
Some leagues require teams to be registered with ECB Clubmark as a condition of entry. Clubmark's intentions are undeniably admirable, but the application process and triennial requirement for re-accreditation is time-consuming and lengthy. While it may help in enticing new parents, or assist in the application for grants, there are some around who struggle to see its overall worth.
Providing umpiring training – as many leagues ask for each competing club to provide their own standing official – can come at a cost, though some county boards subsidise these arrangements; DBS checks are demanded of all senior or responsible figures at every club; and the cost of bringing amateur coaches up to scratch to cater for junior sections is not small.
It costs more than £300 to go through the relevant courses to gain a Level 2 coaching badge, while the ECB Certificate in Coaching Children's Cricket costs around £350.
These are sums which many clubs cannot afford – that would represent more than 10 per cent of White Horse's earnings on memberships and matchday subs.
Those who can swallow the outlay, meanwhile, worry about getting a member trained up only for them to move house or team. There have been instances where coaching courses are paid for by a club based on a commitment that the member will stay at the club for a specified period of time. Even that is not legally executable, however, and can be scuppered anyway by job changes, family relocation or a personal falling-out.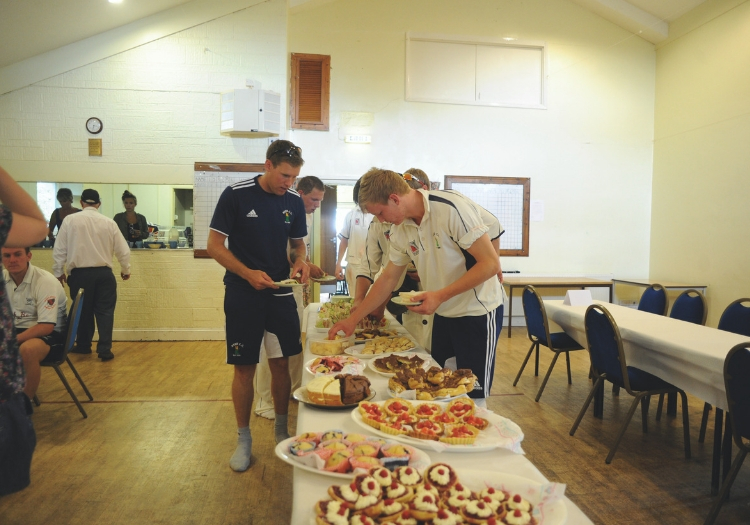 Tea is served
VOLUNTEERING
Moving on from the 'take' generation
"My fear is there's a big nightmare scenario which we're not ready for. Can you identify your club's next secretary, your next chairman, your next treasurer, your next welfare officer? Who's going to run our clubs when the current generation is too old?"
Gulfraz Riaz is just one of many club stalwarts reaching the conclusion that the biggest issue facing club cricket is a shortage of younger volunteers. It is the single biggest issue identified by clubs in The Cricketer/CCDN's own survey.
If club cricket faces a battle to keep players in the game, then persuading them to take on some of the administrative burden is an even tougher sell. There doesn't seem much glory these days in running things – only stress and blame.
The most common excuse given is busy lives: that people of working age lack the time, in this demanding and flexible labour market, and with modern family commitments, to sacrifice some of it running a colts side or attending fraught committee meetings.
It means that some committees or associations are populated entirely by people of retirement age. Even if there is undoubted expertise to be found in this life experience, it does run the risk of clubs becoming detached from the playing membership.
"My experience is that club committees are dominated by ex-players, veterans and parents of juniors who have come into the club," says Simon Prodger.
"My general impression is that young participants of the club game want to play but don't feel they are time-rich enough to do much more than that. Now that might sound like a crass generalisation, but I don't think it's a million miles off the mark.
"We can all prioritise our time to some degree. But there is no doubt that the 18 to 35-year-olds of today feel more time-poor than I did 20 years ago. Perspectives are different today, work life is different, social life is different. Obviously there are going to be pockets that disprove that – motivated young people who are keen to be involved – but we need that to be the norm."
There are plenty doing superb work for their clubs and leagues, as witnessed in the annual nominations for the ECB NatWest OSCAs, some of which verge on genuine heroism.
Prodger had considered that his views might be coloured by his proximity to the London economy and all the implications that brings.
"But when Chris West – the chairman of the Yorkshire Cricket Board, president of Stokesley CC and president of the North Yorkshire & South Durham League – says the biggest issue in participation at the moment is getting volunteers to help run club cricket, you realise this is a national issue."
Riaz, 47, is the first to praise volunteers of all ages. But he fears the situation is to some degree generational.
"We're the 'take' generation – we're not so likely to give," he says. "It comes down to the same old thing: a minority doing the majority of work. It's the same everywhere – people just expect things to be done.
"The most important role in a cricket club now could be the social secretary. At how many clubs do the seniors and juniors know each other? How many seniors come down to help with training?"
Riaz set up the NACC to represent the interests of British Asian cricketers, but he thinks there are both traditional and Asian players who could do better.
"Just as we're educating your traditional player, umpire or club official about Asian culture, we need to educate the Asian community that it's not right that you turn up 10 minutes before the start of play, then leave five minutes after the end. Actually you have to be here an hour before and an hour after. You have to make sure that the boundary markers are brought in, the shutters are put down… all those things that need to get done. If you don't do those kind of things, you don't become part of the fabric, that erodes integration and creates resentment in some quarters.
"Of course alcohol is very important in an English club – but there's nothing to say you can't have a can of Coke or an orange juice afterwards, or do a Halal barbeque, or a curry. Something that embraces everyone. Life is a lot easier if you meet everyone halfway."
Play-Cricket is the official portal for club cricket, and its selection facility has generally made team selection easier over the last decade. But Timothy Abraham says some captains underestimate personal contact.
"Having a captain with excellent communication, organisational and people-management skills is imperative. I don't believe enough captains place value on face-to-face contact or speaking to someone on the phone. People are bombarded with messages, emails and texts. It's easy to ignore them. It's harder to say 'no' when someone calls you on the phone and even more difficult to say it face-to-face."
But too much time pleading with people to play is bound to eventually break even the most committed volunteer.
And, on a micro level, club chairmen have been made personally liable for a maximum £20,000 fine if there are irregularities in the engagement of an overseas player. It does not seem fair to burden a young person – perhaps saving for a mortgage or bringing up a young family – to bear these kind of potential risks.
Prodger says: "We are running quasi-businesses, with all of the social and legal considerations around running a small business or a small enterprise. There are serious matters that have to be considered – and yes, there are some things that you can learn only through a process of time.
"And you can quite understand why potential liabilities of being part of a cricket club turn people off. It's one of the challenges of finding volunteers in any recreational sport. This isn't just a cricket problem."
The ECB think they have the answer: make volunteering attractive. Make it a virtue in a competitive jobs market – a way for young people to stand out from their peers. By coaching All Stars Cricket at their local club, or becoming the social secretary, or captaining a team full of adults, a young person can acquire crucial life skills which for their CV or just help them become more assured.
Already some county boards are running Young Leaders in Cricket – a course for 14-16-year-olds in coaching, umpiring, scoring, groundskeeping, First Aid and fundraising.
In women's club cricket, 73 per cent of respondents to ECB surveys felt an absence of volunteers was a barrier to achieving more in the club game.
While a third of all recreational cricketers are South Asian, that figure drops markedly among females. Asian women are particularly underrepresented in the 6.3m people volunteering to make sport happen in the UK.
The ECB are badly lacking the role model of a female Asian playing for England; the nearest they have is Isa Guha, who is now a prominent broadcaster.
To try to tackle this, in late 2018 the ECB secured £1.2m funding from Sport England to finance 2,000 South Asian female volunteers, who will coach All Stars in seven of 10 ECB core cities, which make up 61 per cent of the country's Asian population. The hope is that this will gradually diversify the make-up of teams, club committees and county boards in parts of the country.
"Two of our board members – Saba Nasim in east London and Kay Baig in Manchester – are doing a huge amount," says Riaz. "It's about healthy lifestyles for women and girls, becoming mobile in their mindsets, embracing new cultures. We are seeing progress."
Coaches have started heading into mosques and temples. Shilly Pancholi, the Leicester city programme executive, says: "We're using different things to get women to consider volunteering. I do a Bollywood cricket class, where someone teaches dancing and I do 45 minutes of cricket. The women doing it have loved it, and the class has trebled in size."
So why do the ECB think this can suddenly work now? They have reason to believe that, across all ethnic backgrounds, Generation Z (16 to 25 year-olds) could be more likely to volunteer than Gen X or Y.
As a self-confessed time-poor 34-year-old a little burned by previous experience of putting my name forward, I hope they're right.
Subscribe to The Cricketer this Christmas and receive a £20 John Lewis voucher or Alastair Cook's autobiography. Claim your free gift here
Please ensure all fields are completed before submitting your comment!