MCC Community Champion Award 2018 - Shortlist
MCC and The Cricketer have again joined forces to highlight the incredible work being carried out across the country by volunteers in cricketing communities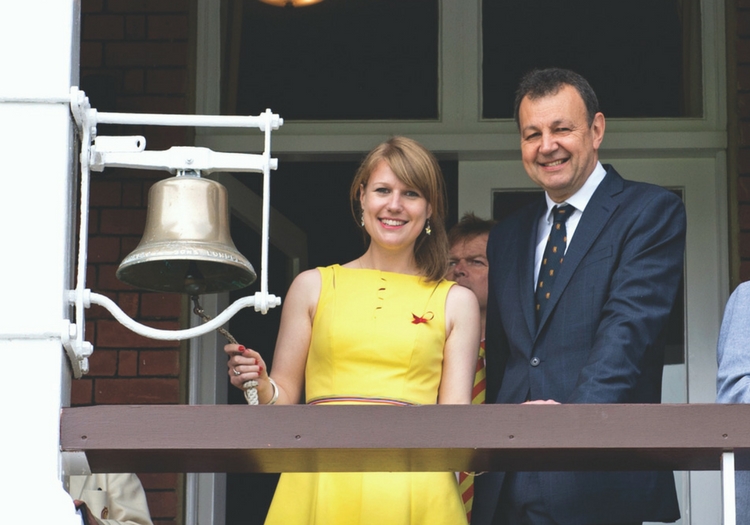 MCC and The Cricketer have again joined forces to highlight the incredible work being carried out across the country by volunteers in cricketing communities. This follows the success of the inaugural Cricket Community Champion Award last year.
The award seeks to find the true heroes of recreational cricket, who often go unsung despite their relentless work to help bring communities together using cricket as a medium.
The winner of the award will be invited to the England v India one-day international on July 14 2018 at Lord's, and have the honour of ringing the five-minute bell.
We received nominations for many worthy candidates, below are our final 10. Many thanks to all those who took the time to nominate someone from your club.
Matt Camp – volunteer administrator, Surrey
Nominated by: Simon Hards (Surrey Cricket Foundation)
- A dedicated, forward thinking and hugely passionate volunteer, Matt has thrown himself into the task of rejuvenating participation in the game through providing an alternative for people can no longer commit to the more traditional formats
- Driving force behind growth of Southwest Surrey Midweek Cup T20 competition, which featured 5 teams in 2013, into the Surrey Slam which 64 teams now enter, with a plate competition for teams not making it out of the group stages
- Competition is run with minimal expense – rule changes are voted for electronically by participant clubs for example – meaning it costs only £5 per team to enter
- Matt has obtained funding from the ECB and Surrey Cricket Foundation, helping spearhead a marketing campaign which has generated a great deal of interest and response from newspapers, radio stations and websites – over 200 individuals got in touch with clubs with a view to participating in 2018
Max Eason – secretary, Horspath CC
Nominated by: Lesley Pykett (club member)
- A member of Horspath CC for 54 years, Max has been instrumental in the club's rise during that time
- Max has held nearly every position at club at some point – from chairman to welfare officer to bar manager – as well as starting up the club's youth section, which now has over 60 boys and girls participating
- Attends every senior game often stepping in to umpire, score or even play in the case of the odd 4th XI game
- Max managed with the assistance of Sport England lottery funding to develop modern changing rooms in 1996 and nets in 2000
- "Max simply is Mr Horspath"
Laura Griffiths – child welfare officer, coach, Mossley CC
Nominated by: Carl Nancollas (teammate)
- Runs junior coaching and is child welfare officer at the club, organising events or training four to five nights a week
- Presided over a massive increase in junior participation at the club thanks to the All Stars events which she organises and runs
- Mossley had experienced difficult times with its very existence in the balance. Laura was instrumental in the organising of family days and a sponsored walk to raise money for the club, which in turn helped pay for an extensive redevelopment of the pavilion
- "She goes about everything with a fantastic energy and always puts the club before her own personal time. Without Laura and her work ethic Mossley Cricket Club would struggle to exist".
Billy Harris – Treasurer, Cookhill CC
Nominated by: Kenny Hirst (club captain)
- Transformed a club of small stature and limited resources into one that can compete with many larger ones
- Single-handedly set up club's junior section which now has over 70 members and teams playing at every age group and a thriving All Stars section
- Successfully obtained grants to purchase sightscreens and update the club's basic clubhouse
- Acts as treasurer, bar manager, head groundsman, senior team umpire and "generally all round Mr Cookhill"
- "The club owes its existence to Billy – without him, it would have been swallowed by one of the big boys"
Chris Mainstone – coach, Ketton CC
Nominated by: Paul Mahoney and John McAvoy (committee members)
- Arrived at Ketton in 2004 when the club had no junior section at all, so he took matters into his own hands
- 2017 ended with 100 junior cricketers playing across seven different age groups, with teams regularly competing in the Borders County Youth League; 18 have been selected to take part in the Leicestershire CCC Pathway Programme and two girls winning county age group caps
- Chris has raised money through car boot sales, six tournaments, family quizzes to pay for essentials like cones, bibs, first aid kits, not to mention playing equipment
- Owing to his vision and passion for cricket, Chris has recruited an army of volunteers, helping many to complete ECB Level 1 Coaching courses, as well as obtain the necessary DBS and First Aid certificates
- In return, Chris set up the "Ketton Casuals" – a team of parents and volunteers that travels around Rutland playing T20 games against like-minded individuals
Marcia Monk – Colts secretary, Bexleyheath CC
Nominated by: Mick Parnham (chairman)
- As secretary of the club's junior section, Marcia has overseen a year on year increase in junior membership at Bexleyheath since 2010
- Marcia manages the U15 and U17 Colts teams Bexleyheath and provides invaluable support to chairman Mick with the day to day running of the club
- Organises the club's annual U12 softball tournament, which involves seven other local clubs and is their biggest fundraiser of the year
- Attends all colts' training sessions and liaises with parents, addressing any concerns they may have about their children transitioning to hard-ball cricket
- In 2016, started a petition on www.change.org to prevent Bexleyheath player Ashoquolla Sultankhil from facing deportation back to his native Afghanistan which gained over 1,200 signatures including that of Leicestershire head coach Paul Nixon
Saba Nasim – coach, Wanstead CC/Redbridge Rangers
Nominated by: Husnain Nasim
- In 10 years dedicated to playing, coaching and organising cricket, Saba has coached over 1,000 girls from all different backgrounds
- Obtained her ECB Level 2 coaching qualification while still a student, and since then has branched out, coaching in local primary and secondary schools, as well as sixth forms and colleges to help grow female participation in the game
- Set up the Redbridge Rangers in 2013, an all-girls youth team funded by Chance to Shine and the Essex County Cricket Board – the team has regularly won regional Chance to Shine Street competitions
- Named Coach of the Year at the Chance to Shine awards in November 2016, as well as being awarded the British Empire Medal in the Queen's New Year Honours list, amongst numerous other accolades
- "I have never met someone who has so much passion and dedication for the sport, she has earned the immense respect of her peers and become a truly inspirational role model"
Nominated by: Ross Blyth, Dominic Perrin, Aaron Walsh, Chris Cheetham-Roberts, Samantha Holgate and Jay Riley (club members)
- Involved at Broadbottom CC for over 60 years, playing well into his 50s and is now the lynchpin of the everyday running of the club
- Instrumental in the building of three separate clubhouses, giving up multiple evenings to take on as much of the work as he could himself, to keep costs down
- The most recent of these clubhouses was named "The Robert Parry Pavilion"
- Coached multiple generations of Broadbottom cricketers – Chris Cheetham-Roberts recalls being a shy seven-year-old on the boundary, too scared to get involved when Bob put his arm round him and said "You're not going to have any fun sat on the side, lad" – Chris is now captain of Broadbottom 1st XI, 10 of whom were all coached by Bob at some point
- Aaron Walsh says "Bob makes everything run so well. Without him I think our club would have really struggled over the past years, but he has got us all together…he is such a selfless man and gives nearly all his time to Broadbottom CC"
Nominated by: Sajid Patel (colleague)
- Founded the National Cricket League as a means of getting young people playing cricket and creating a competitive Sunday league to get players involved in traditional Saturday cricket for their clubs involved
- From 14 teams initially in 2010, the NCL has now has 64 across eight divisions, branching out from its East London base into Essex, Kent, North London and parts of Surrey, often using the pitches of clubs not involved in Sunday cricket, providing an extra income to them
- Used the NCL as a vehicle for extensive outreach work including a charity match against a side representing the Metropolitan Police and staging a Youth Academy at Leyton to give youngsters an introduction to the game
- Plans in place to create a midweek for over-50s to keep older players involved in the game when unable to get a regular game at weekends
- "I am so proud to work alongside Nehad as he has done all this on a voluntary basis due to his passion and love of the game – in my mind he is a real champion"
Alan Stancliffe – Chairman, Treasurer, Alsager CC
Nominated by: Chris Hindle (club member)
- Alan spends almost all of his free time keeping Alsager CC going, as both their chairman and treasurer, as well as turning out for the 2nd XI on Saturdays
- Has begun running and captaining a midweek XI for unselected players, while also leading the very popular junior coaching sessions
- Turning his hand to anything that needs doing, Alan will often be found getting his hands dirty on the ground or in the pavilion (the picture shows him fixing the covers)
- Puts Alsager at the heart of the community – the club is the base for a local hockey club and chess club, and he has also formed links with the local Asian community whose team use the ground on Sundays
- "'Stan' keeps Alsager Cricket Club going almost single-handedly…he does all this in his own time, for free, whilst working full time as a primary school teacher!"
Nominated by: Alan Smith (chairman)
- A member of Herstmonceux of over 35 years, Paul has held numerous roles at the club, including captain, Welfare Officer, Junior Manager
- Oversees the coaching of junior players and mentoring other coaches, Paul manages two of Herstmonceux's five junior teams
- Signed up as the club's All Stars Activator in 2017 which attracted a dozen youngsters in 2017, increasing to 16 this year, over half of whom have identified physical or learning needs
- Established links with local primary schools to provide umpiring and scoring support for their annual cricket tournament – results in the club being a ubiquitous presence in the local community, helping continue to attract new players, despite larger clubs sharing the same catchment
- Instigated numerous fundraising projects to improve the club's facilities, the most recent of which in February 2018 resulted in the refurbishment of the club's three artificial wickets
- "Paul has a passion for sport, a desire to bring the joy and the friendship which he has found through cricket to others. His onward focus it to ensure cricket remains within the village and so far with his outstanding commitment, this should be the case long into the future"