A private audience with England head coach Lisa Keightley: "I take an interest in my players as people"
NICK FRIEND: Not many walk straight into the flames of a global tournament – a first assignment to be followed by a major restructuring of the English game. As far as Keightley is concerned, the Ashes are in the past. Here, she is looking forward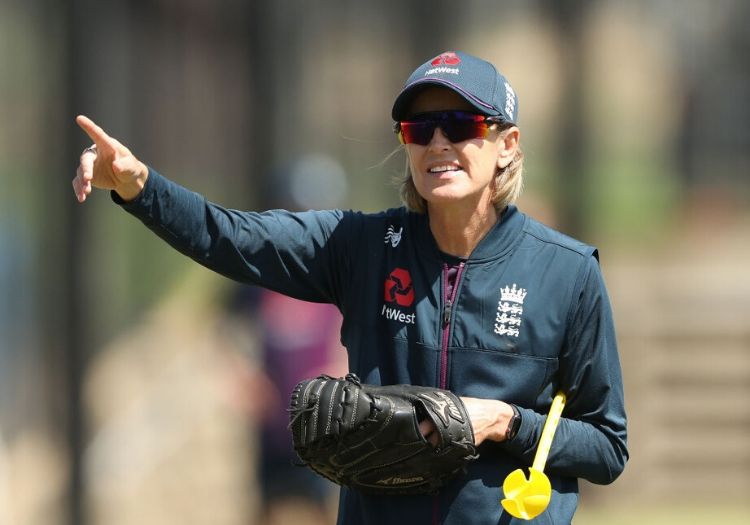 It is almost thirteen years now since Lisa Keightley was first appointed as Australia's head coach. She recalls sitting in her hotel room after matches, tallying up numbers and fulfilling the role of a team analyst that did not exist.
She had a part-time assistant coach, a full-time strength and conditioning expert and a part-time physio. There was no high-performance manager.
"You were pretty much running the programme by yourself – the difference is chalk and cheese," the 48-year-old laughs.
Then, she was overseeing a group of part-time cricketers, some of whom were left with no option but to quit jobs in order to go away to represent their country.
"I think all the players from the past are just flabbergasted to see how it's moved and where the game is at," she adds with a chuckle. On March 8, the prospect of a full MCG awaits the two finalists of this year's T20 World Cup.
"I know when I played, we were really big on wanting to make an impact and to move women's cricket forward in Australia. We wanted people to come and watch and to walk away thinking: 'Wow, these cricketers can play.'
"I really feel like my work is a hobby. I really don't feel like it's a job. I'm lucky to be able to have worked in cricket for all my working life and to have played in an era and then watched it gather speed after I finished playing.
"I know this generation of players are really respectful of those who have come before them and want to leave a legacy for the next generation to take it further still. It has just been amazing to watch the transition."
It is a measure of how far the sport has come that Keightley has taken the England reins at this point. She arrives on the back of an Ashes defeat that stung and brought with it a level of scrutiny to which Heather Knight's side had never previously been accustomed. That, however, is history. "The girls parked that months ago," Keightley stresses.
"You can get too caught up in an Ashes series. A team can get on a roll; playing three formats in a single competition and calling it the Ashes is really tough. It's not the norm. I know from speaking to a lot of the Australian players and coaching staff, they didn't expect it to go the way it did.
"It's an unusual competition and only two countries do it. I always go – David Warner and Stuart Broad. Warner is not a bad player, but his average through the Ashes would suggest he is. We all know that's not the case – Broad just got the wood on him and I think that can happen. I'm taking the Ashes all out of it – I think we've moved past that now."
Instead, excitement. Not many walk straight into the flames of a global tournament – a first assignment to be followed by a major restructuring of the English game. Forty domestic contracts are being awarded across eight new regional hubs, with the aim of streamlining the current domestic setup and increasing the player pool available to the national side.
Australia have led the way here and Keightley has witnessed it all unfold back home, watching as increased professionalisation has led to a rise in standards.
"I have no doubt that domestic contracts will have an impact," she adds, speaking from her own experience as head coach at Western Australia.
"I've seen that with my own eyes in Australia, so I don't see why it should be any different in England.
"I think you'll have a bigger player pool to choose from. That player pool will grow and we'll see better athletes and better cricketers because they're able to focus on their skills and fitness more, without having to worry about how they're going to pay the bills."
It is part of a £20m investment over the next two years from the ECB and a wider five-year £50m project.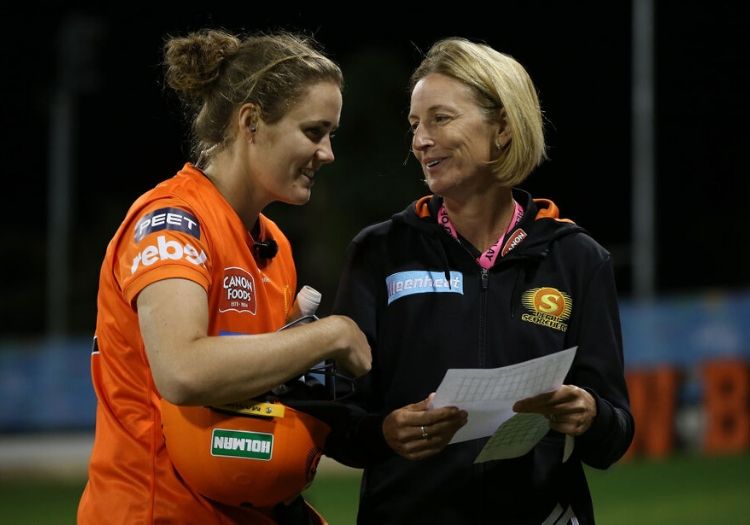 Lisa Keightley coached Nat Sciver at Perth Scorchers in the Women's Big Bash
And the more Keightley runs through her own plans, the more this all makes sense. The Australian is an impressive talker; nothing is off limits in a conversation that bounces around from selection policies, to Nat Sciver's all-round potential and Tammy Beaumont's drop down the order, to bridging the gap between domestic and international cricket, to the impact in Australia of the Women's Big Bash, to her own philosophies developed through a lifetime in the sport.
She knows the English game better than most, having previously headed up the England Academy. In addition, her experience of the Australian domestic game has given her a feel for the inner workings of the regional hub system.
In her Women's Big Bash role with Perth Scorchers, she signed up – among others – Anya Shrubsole, Katherine Brunt, Kate Cross, Amy Jones and Nat Sciver as overseas players for the simple reason that she "always knew what she was getting from them".
Keightley has followed their careers since and has watched on from afar when other England players have represented different WBBL sides. It comes with the territory; a human touch is part of her coaching fabric.
"I think with any team that I work with, I have an interest in how that person is going in life – what they're doing off the field and how they're going on the field," she explains.
"What the England team already has is a really good friendship. The staff really care for their players so, if you can continue that – because you spend so much time away, it really does make things easy, especially when you're on tour and on the road, living the highs and lows of being an international sportswoman."
Keightley's own playing career has taught her that much – 92 caps across all three formats act as a reminder of her pedigree as a fine batsman in her own right in an era when everything was different.
She ended her Australia career with scores of 56, 58, 66, 78 and 58 in five consecutive ODIs and became the first woman to make a century at Lord's in 1998.
Her only T20I came against England in 2005 – only the second ever played; Karen Rolten made an unbeaten 96. And who dismissed Keightley? None other than Katherine Brunt, her new opening bowler – another who has experienced two different cricketing lives as amateur and professional.
"I suppose when I played, we would have trained just as hard, but we would have worked 40 hours as well," she reflects. There is an audible glow to her voice as she looks back on the past – she was part of a record-breaking team, a juggernaut that won 17 consecutive ODIs between 1997 and 1999.
"From one side of things, you had a life outside of cricket and if you got dropped and if you were successful, not much changed.
"Now, if you get dropped you are losing your contract and that's your income. From that point of view, things have changed. How much we trained would have been quite high, but when you're a full professional and you're focusing on one thing, you've got to become a better athlete, I think.
"But hopefully, we will still be able to have players doing things in the background at their speed and at their level, so that when they walk away from cricket, they are still really set up for life afterwards."
It is refreshing to hear of elite sport discussed in this way. With the number of professional players set to rise in the coming years, it is an increasingly significant discourse.
Keightley has seen the impact of the ever-growing professionalisation of the women's game in Australia and the improvement in the overall standard of the level below the international arena.
At Western Australia, she would field regular phone calls from Australia coach Matthew Mott, who would ask how her side was getting on and which players were worth looking out for. His selectors would do the same. It is an exercise that Keightley will be looking to replicate, building relationships with those managing each regional hub.
"For me as a national coach," she explains, "it's about tapping into those coaches and opening lines of communication on how players are going. Who are you really impressed with?
"When a player goes back into the system, this is what we're after from you to support them back in their hub. It's about everyone working together for them to get the best players for their teams and then moving up and down."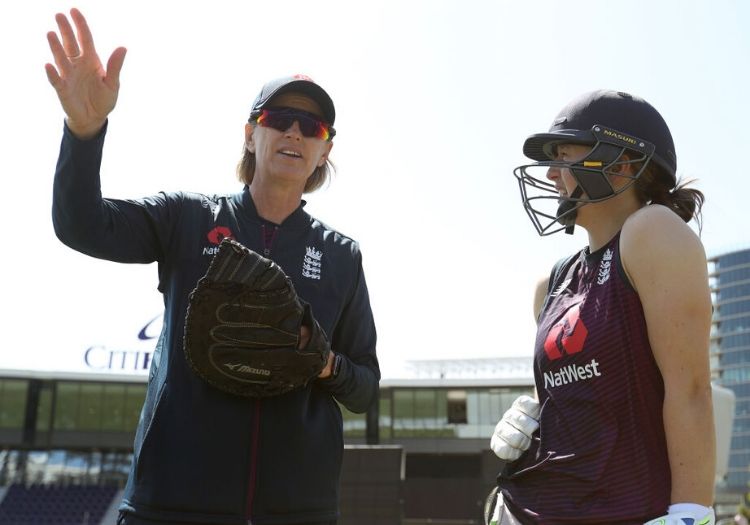 Keightley replaced Mark Robinson as England's head coach
Nevertheless, while the new batch of full-time domestic contracts will give coaches the chance to invest in young talent, Keightley remains wary of gambling on her gut instinct.
Selection of personnel will be a group effort, ideally born out of hard evidence and shared – more than individual – opinion.
"You have players who are high potential, but I'd like to see them actually performing within their national competitions to put their hand up for selection," she admits.
"I think sometimes, you might take someone on who might be ready, but you're wanting them to fulfil a skillset or they're a really good competitor or you've seen something in them.
"I'd hope that the coaches, selectors and myself are all working together to ask those questions and to come up as a collective more so than me just plucking players out. I would hope that no one is coming up out of the blue because I'm having really good conversations with the hub coaches, that we're not going from left-field, but it's actually strategic and we're all working together to make the right call."
Keightley is quick to praise the England Academy for its role in bringing through a crop of young players, especially in the absence of an England A equivalent.
She namechecks Linsey Smith, Sophia Dunkley, Kirstie Gordon and Katie George – the quartet share an average age of under 22 and all four made their England debuts under Mark Robinson. The challenge, though, is in bridging the leap from domestic to international stage.

It is where Australia have found themselves pushing ahead of their rivals; Annabel Sutherland, 18, provided the perfect case study on her international debut against England during their recent tri-series clash. She impressed with the ball, before almost steering her side home with the bat.
"I've seen her do that in the Big Bash and for Australia A," Keightley points out.
"I think the Big Bash has made that transition a lot easier for Australian players, who then go into international cricket. The competition is strong, so you know if you're performing in that competition, if you jump up to international cricket, you're going to perform okay.
"The Kia Super League was starting to do that and I hope that The Hundred gives players the opportunity to perform at a high level and then players are sticking their hands up and saying: 'Look, I'm performing here. I'm ready to play for England.'"
At one stage, Keightley was set to lead London Spirit in the inaugural edition of the new competition, only to stand down – she has since been replaced by former Western Storm coach Trevor Griffin – when she took the national job.
Having worked in the women's game in both England and Australia, it places Keightley in a somewhat unusual position – "there are some really good things I've learnt from both countries," she says.
"I remember when I first came over, I actually thought England was leading the way in women's cricket in how they set their players up.
"The biggest thing I've seen with Australia is their investment into the WBBL and really pushing it to make it the top female sport in the country. They've taken that really seriously and they're driving it to take it forward – they had a plan to make it standalone this year and I think it was really successful.
"With The Hundred, I have no doubt that England will be looking to do the same to make sure they're leading the way.
"I was really excited to hear about the investment they're putting in – not just from a high-performance side of things, but in community cricket for women and grassroots. That excites me because you might not be a cricketer at a high-performance level, but to be able to play in a domestic competition just down the road is hugely important for women in sport.
"It will only benefit the high-performance end down the road if we're looking to make cricket a game for men, women, boys and girls."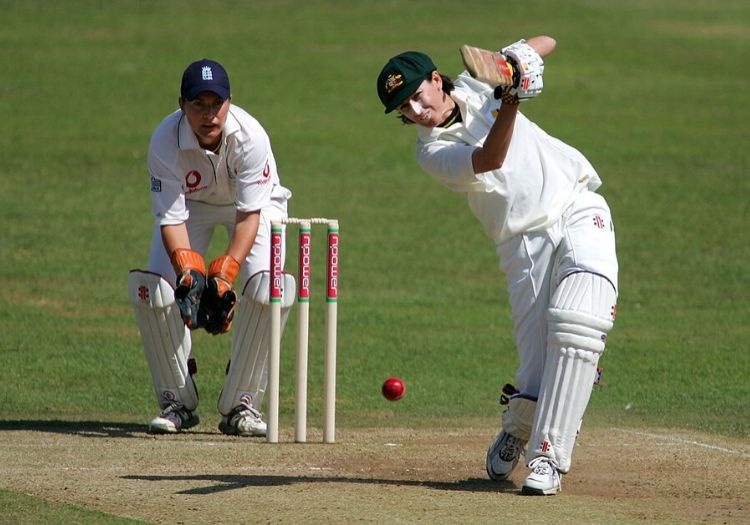 Keightley made five successive half centuries against England in a 2005 ODI series, before announcing her international retirement
Before Keightley can put her mind to any of that, however, there is a T20 World Cup to fight for. The intricacies of her team have started to become clear and the early signs have been promising, even if a botched run-chase against Australia ended England's tri-series hopes before the final.
There have been few changes in personnel – only those enforced by the international retirements of Jenny Gunn, Laura Marsh and Sarah Taylor and the emergence of Sarah Glenn, but rather shifts in batting order and in the overall balance of Knight's side.
Amy Jones and Danni Wyatt have been backed as the opening pairing, with Tammy Beaumont dropping down to "a huge role" at No.6.
It is a move that has divided onlookers; England's men have often fought with a similar dilemma in the case of Jos Buttler – the question of whether the best players should face the most deliveries or instead be positioned where they can have maximum impact in a particular phase of the innings.
For the moment – at least, England have plumped for the latter. "Her experience gives us depth and another person who can finish off an innings under pressure or be adaptable to whatever the game needs," Keightley explains.
And adaptability appears to be the name of the game. These are early days, but there has been a clear willingness to be flexible and to alter game plans according to specific situations. Brunt swaggered out at No.3 against India, tasked with taking down the slow spin of Rajeshwari Gayakwad. It didn't come off, but the adventure was evident.
"The batters might change around depending on a matchup," she says. "I think we've got a lot of options and people who have a different style of going about their game.
"Fran Wilson, for example, has a different style to Heather Knight, to Nat Sciver, to Tammy Beaumont. It's about being adaptable and open-minded on the idea that things can change on a matchup."
Sciver might just hold the key to this new era. Her combination of sheer power and skillful finesse with the bat is hardly a secret, but with England looking to field eight batsmen, her bowling has become increasingly important.
She bowled 34.4 overs in this season's Women's Big Bash, taking six wickets, while in the tri-series against Australia and India, she bowled her full allocation on three occasions out of four – that, compared to 12 T20Is in 2019, in which the 27-year-old got through four overs just twice.
"I think Nat Sciver can be the world's best – the No.1 allrounder in the world, I really do believe that," Keightley adds.
"I think she can be a great bowler for us and, to do that, I think she needs to bowl four overs in the games as much as possible, when the situation is right and the pitch conditions are right.
"I think the more batters the better and the more allrounders the better. The bowlers who bowl like Sophie Ecclestone, she's still a young player who's getting better with the bat. I'd envision over the next three years that her job is to try to move up that batting order and to be viewed as an allrounder.
"That's a challenge I've set out for all the bowlers – we want them to be able to bat and win us matches."
Please ensure all fields are completed before submitting your comment!