Cricket remains behind the times as Woakes passes Edgbaston audition... TEST MATCH TALKING POINTS
NICK HOWSON AT LORD'S: Thunderbolts and lightning prove very, very frightening and Ireland find out what it is like to be on the wrong end of the record books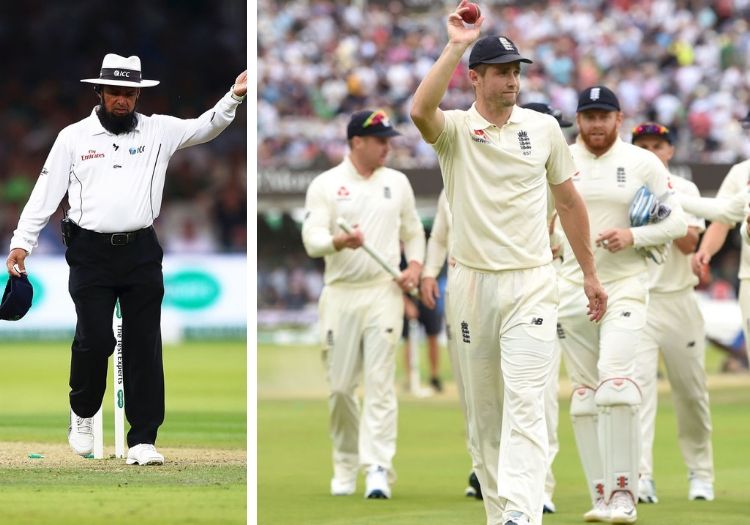 No rain stops play
A fascinating second day at Lord's was curtailed before the rain eventually came when Aleem Dar became spooked by some flashes of lightning. The rumbles of thunder appeared to be many miles away but nevertheless, the players were taken off and the bemused ground-staff bought out the covers.
It was not for another 10 minutes or so that the inclement weather eventually came. It ensured that the number of overs lost swelled to 33 - not helped by a ludicrously slow over rate on day one as the wickets tumbled and the temperatures soared. Ill-informed supporters were forced to watch the outfield being protected, unaware that play was not going to resume.
Such nonsense decision-making returned the following morning, when play was delayed by 10 minutes because of the prospect of rain. Eight balls and an innings changeover was possible before it actually came, leaving the umpires embarrassed again.
Several attendees to this Test match may well have been inspired to having been caught up in the drama of the World Cup final. Tickets were reasonably priced and the game certainly entertained. But such needless delays, slow over rates and confusion in the stands is not going to keep them coming back.
Cricket apparently needs new formats and artificial quirks to keep people interested. But just a brief look inwardly would go a long way to improving what already exists. Millions will instead be spent on new-fangled projects. What a waste.
Woakes complicates England bowling make-up
While Chris Woakes could not have wished for better conditions in which to bowl at Ireland on the third morning of this one-off Test, he still had to execute his skills. The Warwickshire seamer was close to his best, however, with his 6-17 now ranking as his best Test match figures.
The display was another timely reminder as to his abilities on an overcast, mild day and gives England a selection dilemma heading into the opening Ashes Test at Edgbaston. Such are the issues with their batting line-up they must select a bowling attack which can dig them out of any hole.
There are still plenty of questions to be answered: Will James Anderson recover from his calf problem? Is Jofra Archer worth risking after his side issue? Has Olly Stone done enough to force his way in as the out-and-out pace option? Does Sam Curran's golden arm deserve another go?
If Joe Root could guarantee the weather then Woakes would be a shoo-in on a close, muggy day. But if Anderson comes through, selecting two bowlers who can move the ball through the air would be risky and offer little variety. Though that overlooks Woakes' reliability with the bat, which may also become a factor.
Even if Woakes is ignored to play on his home ground, a schedule of five Tests in seven weeks dictates that he will feature at some stage against Australia this summer. And the timing could be everything.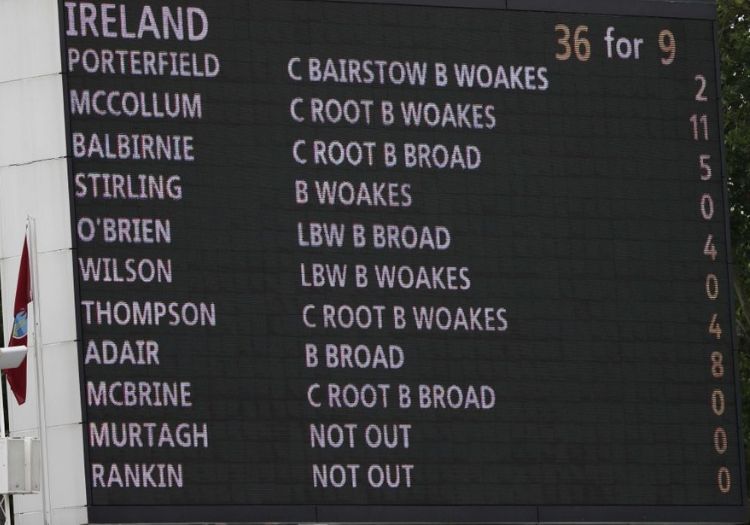 The record books will not reflect well on Ireland
Ireland become record-breakers for all the wrong reasons
After bowling England out for 85 on the first morning, it was Ireland's turn to suffer the ignominy of the record books.
The visitors' 38 all out in their second innings was the seventh-lowest in a Test history lasting 2,352 games.
The 85 made by England is the fifth-lowest first innings total made by a side who went on to win the match. Indeed, not since 1907 has a team made fewer and be able to prevail.
Gary Wilson's pair means that he and Jonny Bairstow are the only wicketkeepers to make noughts in both innings of the same Test.
They left their mark on the home of cricket in more ways than one.
Please ensure all fields are completed before submitting your comment!