Cook was a man of great service but how easy is it to justify claims he is among the giants of the game?
PETER CASTERTON: Cook is not a gilt-edged limousine cricketer. He is a 12-year-old Mondeo with 12,472 on the clock and an economy of 45.35 mpg. He may lack the elegance of a Porsche or the class of a Jaguar XJ, but he is reliable and well maintained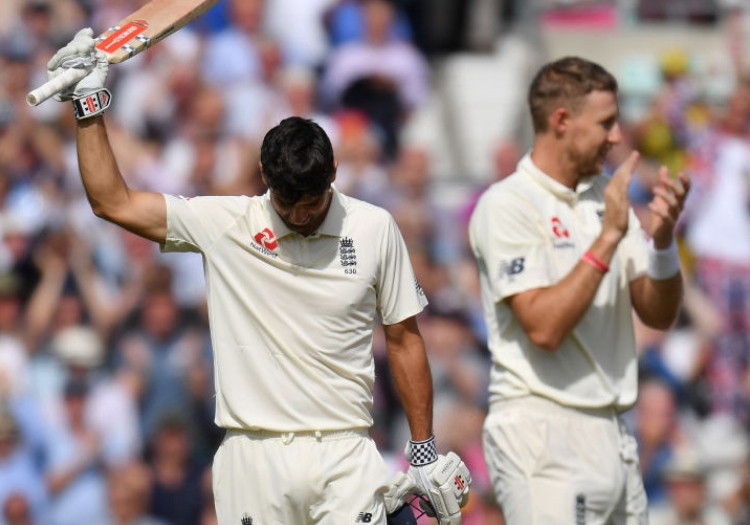 Alastair Cook has retired from international cricket
It was fitting that Alastair Cook led the teams off the field at the end of the fifth Test against India, leaving one of the greatest-ever English Test cricketers to follow in his wake. It's not so much that Cook's sense of entitlement is skewed but he has, for much of his career, had skewed entitlement thrust upon him.
He has suffered and survived lean and barren spells of such length and regularity that he must have a portrait of Gary Ballance in his attic. He presided over ignominious losses and curated the disintegration of one of the finest England Test teams with no visible accountability; an inviolable, favourite son excused frittering away the family fortune with a shrug and a smile. He led his country with little flair and limited growth. Shane Warne might have observed, rather than captaining the side in 59 Tests, Cook captained the first one 59 times.
It is hard to suspend disbelief. It's harder to forgive the spin and the puff; to excuse the fear and favour. But there is no better time than now to strip away the artifice and pull aside the curtain to reveal and acknowledge a man of who gave great service to his county even if he himself was not a great.
Few but the most curmudgeonly would begrudge Cook his fairytale finale. He signed off a record-breaking career with, perhaps, one of his finest, most fluent innings. It's easy to see why folk gush about his achievements and rush to crown him as one of the giants of the game.
Justifying the claim is much harder. Aspects of Cook's career are unparalleled. His run tally and 33 centuries are the best-ever by an England cricketer. But these, while notable, are also products of time, and longevity breeds unwanted children.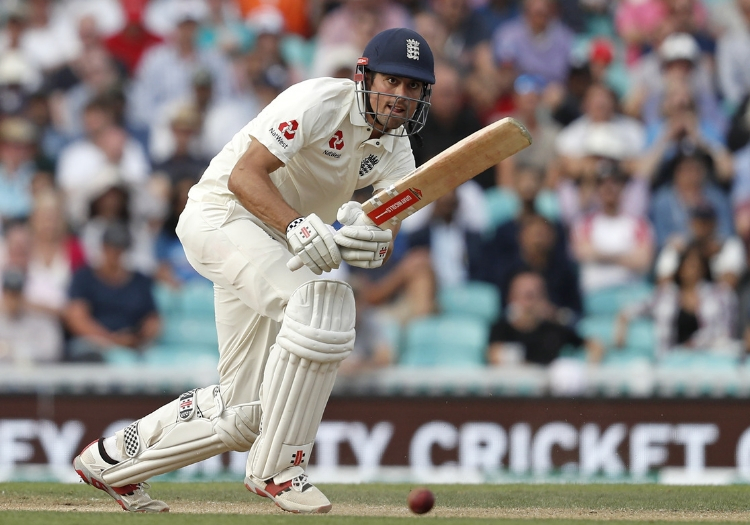 Cook played in 161 Tests for England
While no England batsman has come close to Cook's 291 innings, his average of 45.35 is rather modest and an awkward fit in a pantheon of giants. On the world stage, Cook's average barely registers. For England, it's bettered by 38 Test cricketers (half of whom have played more than 20 Tests); six were openers. Each of the six had a better century-per-innings percentage. Pietersen bettered Cook on both metrics. 
Michael Holding on Sky identified the best England Test cricketers he had witnessed as Gower, Gooch and Pietersen. Cook arguably is not the best England batsman of his generation or even his team.
Listed among Cook's top 10 innings are his 244 not out in the fourth Test against Australia in December 2017 and his 263 in the first Test against Pakistan in October 2015. With the Ashes already lost and nursing a series average of 13.83 after three Tests, Cook's unbeaten double century did little more than muddy a modest, nay, meagre record across six of the seven Ashes series he played in.
His superb performance in the 2010-11 Ashes in Australia will always be recognised as one of the great sporting achievements and for the short period that also embraced a series win in India, Cook indubitably stood alongside giants of the game. Across his long career, the association faded somewhat.
The Pakistan Test neatly highlighted the kind of headlines that have consistently marked Cook's career achievements; it also captured the hidden, soft statistical underbelly that diminished them.
As the Test finally petered out in the Abu Dhabi gloom, the credulati abandoned objective scrutiny and went about adding a fresh chapter in the ever-growing mythology of Alastair Cook. While the match only came to life in the last hour as the prospect of an unlikely England win began to emerge, it threw up a slew of records that embraced the debutant Rashid as well as Shoaib Malik and Asad Shafiq.  But these were penumbral footnotes as the spotlight was fixed firmly on Cook.
His second innings was presented as epic and its heroic provenance underpinned by folkloric statistics. He scored 263 runs over 856 sun-scorched minutes during which he faced 528 deliveries. This was the longest innings ever played for England and the third-longest of all time. His 263 was the highest innings by an England player overseas since 1932-33.
While great efforts of concentration and character were doubtlessly demonstrated, there were no impossible odds. The pitch held no demons.  There was no heroic struggle, no risk of defeat. The missing story here was England's failure to win.
Do Cook's stats add up to greatness?
Cook's innings was then around the 59th highest score in Tests. Only four of the 58 above him scored more slowly than his strike rate of 49.81. None scored fewer than his 18 boundaries. At one point he went 36 overs without scoring a boundary. Almost half his runs were scored in singles.
The skipper was the heartbeat of a side that accumulated 598 runs at 2.90 an over. Regardless of match situation, bowler, pitch, time of day or opportunity. England missed out on the win by 25 runs.
When Phil Tufnell on TMS suggested to Ed Smith that there may have been a case for thinking Cook could have kicked on a bit during the later part of his innings, Smith dismissed the suggestion, replying "that's just the way he plays." The irony will not be missed on supporters of Kevin Pietersen. 
This match was Cook's career in miniature. A metronomic, statistical phenomenon, who could accumulate runs for ever but never shape a game like Pietersen, save one like Atherton or mould a team like Hussain.
Mike Selvey regarded Cook's genius as his ability to fashion a game plan and stick to it with puritan rigidity. But this was also his weakness. Cook's inability or refusal to change direction seemed psychologically positioned somewhere between his much-lauded steely determination and the stubbornness of a child refusing to eat its greens. It veered from indomitability to petulance. His response to being dropped as one-day skipper was unseemly.
Cook is not a gilt-edged limousine cricketer. He is a 12-year-old Mondeo with 12,472 on the clock and an economy of 45.35 mpg. He may lack the elegance of a Porsche or the class of a Jaguar XJ, but he is reliable and well maintained. There may be neither roar nor purr from engine or crowd. No edge-of-seat excitement or shift through the gears. But Cook has challenged himself to grasp a real but limited talent and take it to the very edge of possibilities.
In many ways, that is his greatest achievement. Cook is the David Beckham of cricket. He falls short of greatness but has risen to the top through hard work, practice and a single-minded determination. Curiously both captained their country 59 times, though Cook lost a record 22 times. Cook is a man of notable records.  It's just that some of them are unwanted.
Please ensure all fields are completed before submitting your comment!