And it all went Pear-shaped: How Worcestershire became a force to be reckoned with
NICK FRIEND: When Worcestershire ended their 2017 T20 Blast campaign with just three wins, few could have foreseen what would follow. Champions just twelve months on, another final a year later – a victory for camaraderie, self-belief and opportunity
Sometimes, the greatest successes can be traced back to the most ignominious beginnings. The foundations of England's World Cup win, of course, lay in the bruised rubble of a humiliating group stage exit in 2015. Before the zenith was the nadir.
On September 21 last year, Worcestershire came within a single delivery of an unmatched feat. No English side has ever retained the domestic Twenty20 crown. None will come closer; all that ultimately stood in their way was Simon Harmer, a man having a day to remember, just as Pat Brown and Ben Cox had theirs 12 months earlier.
Only twice before – and not since 2008 – had the holders reached the following season's final. If someone was going to change that, few – as recently as 2017 – would have placed their money near New Road. Back then, Derbyshire were the only other county never to have paid a visit to Finals Day, the carnival in English cricket's calendar. The previous year, Leicestershire were the solitary club to finish beneath them in the round-robin phase.
As for 2017, the campaign was a write-off. "We were shocking; it was pretty grim," recalls Joe Leach, captain of the T20 team at the time. Tom Kohler-Cadmore had joined Yorkshire a month before the tournament began, while Moeen Ali wasn't available at any point. They ended only above Durham, who were hindered by a points deduction.
Brown made his debut in the sixth round of fixtures among it all, immediately handed the daunting task of bowling at Alex Hales and Riki Wessels – now a teammate, but then of Nottinghamshire – on a flat Trent Bridge surface. "If I could take my first six games off my T20 record, I'd definitely do it," he laughs. "Luckily for me, I didn't stick out too badly because we were all struggling a bit." For what it's worth, it would bring a career economy rate down from 8.32 to 8.09 – some effort for a 21-year-old operating almost exclusively in the powerplay and at the death; in his last two Blast campaigns, that figure dips further to 7.88.
The same year, however – Steve Rhodes' final season in charge, Worcestershire won the North Group in the Royal London Cup, losing just once. There were scores of 361 and 342 en route to a semi-final defeat by Surrey. Something was starting to brew, a more positive brand of cricket settled upon.
"We kind of mirrored what England did," Leach explains. "We embraced that and because we're a group that has grown up together and we're reasonably young as well, it was quite an easy transition for us to make to playing like that.
"It also suited the individual players that we have – guys like Ross Whiteley and Ben Cox. We stumbled across the formula to really hammer teams at home and confidence then meant that we'd go away from home and do the same thing. That's where it started."
Everything since then has been a fine-tuning: an extension here, an expansion there, another tweak towards something closer to perfection. "I think clarity in our roles has been key," he adds, "and then there's that little bit of gold dust to win you games, possibly when you don't deserve to."
Enter Moeen, who struck a scarcely believable match-winning hundred in last year's quarter-final against Sussex in a repeat of the 2018 final. That evening, Leach, who made his first-class debut as a batsman before becoming one of the circuit's more potent new-ball bowlers, had opened the batting amid a spate of injuries and unavailability; he lasted just two balls. It seemed unusual at the time, but it was a marker of the side's precision of thought. "I think I opened purely for the reason that we didn't want to muck around with everyone else," he says.
"T20 is a game of momentum and belief – and you can see the flipside in 2018 and 2019."
Belief. That's a good word. It might just be the word when you delve into the Worcestershire story.
"It's as if, when they put that Rapids shirt on, they suddenly become a very close, powerful, intimidating outfit," says Kevin Sharp, head coach in the title-winning year of 2018. It is quite the image he paints: 11 supermen – the majority of whom have sprouted through the club's academy – empowered by their crest.
"If you look at the results over the last two or three years in white-ball cricket – two T20 final appearances, two semi-finals and a quarter-final in the 50-over, in both competitions, we've been up there near the end.
"It's been coming for a little while. They're a very fit bunch of guys. I would suspect that there wouldn't be many teams fitter than ours. I remember beating Notts at Trent Bridge last year; it was one of the best fielding performances I've ever seen in any game of cricket. The speed, the energy, the catching – the skills were absolutely outstanding."
It was televised: an exhibition in efficiency and athleticism – the club's first T20 outing since the glory of the previous autumn. Ed Barnard's flying boundary catch was its crowning glory, a performance that summed up a champion team; bursting with both competence and confidence, tremendously well-drilled. It looked fun to be part of.
Sharp has since moved on to become the county's head of player and coach development, with Alex Gidman taking over as first team coach, assisted by Alan Richardson, both of whom played a pivotal role in the 2018 triumph. Gidman had initially arrived to lead the second team – another important cog in the Worcester wheel, only for Sharp to call upon his white-ball expertise; he had been part of a successful limited-over side during his playing days with Gloucestershire.
It brings us to a defining moment. If 2017 saw the origins of a new way of playing, then it was a year later that a seemingly unshakeable hoodoo was broken – in a Blast quarter-final against Gloucestershire.
"Put it this way," Leach reflects, "I made my debut in 2012 and I don't think we won a white-ball knockout game until that one.
"I think now it's easy to look back and say [not reaching Finals Day] never really affected us, but I think what did affect us more was the continual losing of knockout games." Only a couple of months earlier, Kent had chased down 307 in a Royal London semi-final, Heino Kuhn making 127. In the two years previous, Jason Roy and Mahela Jayawardene had put on similarly dominant displays in winner-takes-all clashes. They had qualified from their Blast group in 2014 and 2015, only to be beaten by Hampshire and Surrey in the last eight.
Leach can laugh about it now that the curse has been vanquished, with Callum Ferguson to thank. From 66 for 4 in the 11th over, the Australian struck an unbeaten half century to lead Worcestershire to victory and Finals Day.
"The tension was quite tangible throughout all of us, really – the players, the coaching group, the members, everybody," Sharp remembers. "It was a bit of a bizarre game; the ground was packed but it was very eerily quiet for a T20 game. It was almost as if, without talking about it, we were all wishing us over the line.
"I think it was only us and Derbyshire who had never been to a Finals Day, but we didn't talk about that. I could feel it. When Callum Ferguson got us over the line, the relief was palpable."
It sits among the most significant results of this period – not simply because it opened the door to Edgbaston and a first title, but because of the belief it transmitted to a club that had become conditioned to losing at that stage.
"It meant there was almost a serenity about the group when we went to Finals Day," Leach adds, "which Mo encapsulated in his leadership – ultimately calm."
"It's as if, when they put that Rapids shirt on, they suddenly become a very close, powerful and intimidating outfit"
Almost exactly a year later, Worcestershire travelled to Durham as holders – a far cry from their wooden spoon meetings in 2017. Chasing just 118, Durham were 79 without loss, requiring 39 runs to win off 50 balls.
And yet, Worcestershire won. Belief. There's that word once more. "We were completely out of it," Cox chuckles, still tinged with astonishment at a triumph from the blue. "I had a weird feeling that we were going to win. It was like: 'Something's happening here, lads.'" They didn't concede a boundary in the final eight overs – it remains a victory that those involved pinpoint as the epitome of what this team represents.
"That game gives you the belief that you can win from anywhere and that you're going to go all the way," admits Dillon Pennington, the 21-year-old seamer who forms part of an exciting pack of young bowlers.
Quite simply, it is what this group has learnt to do: a squad founded on an undying togetherness, longstanding friendships, a refusal to give in and a total comfort and confidence in itself.
"There's nowhere else, in my opinion, that's better for white-ball cricket," says Brown. "We know how we play and we have success doing it.
"We don't want teams to think we're a nice team to play against – in the last few years, I wouldn't have thought teams like playing against us in white-ball cricket.
"In white-ball cricket, we know – in my opinion, anyway – that we're the best team in the country."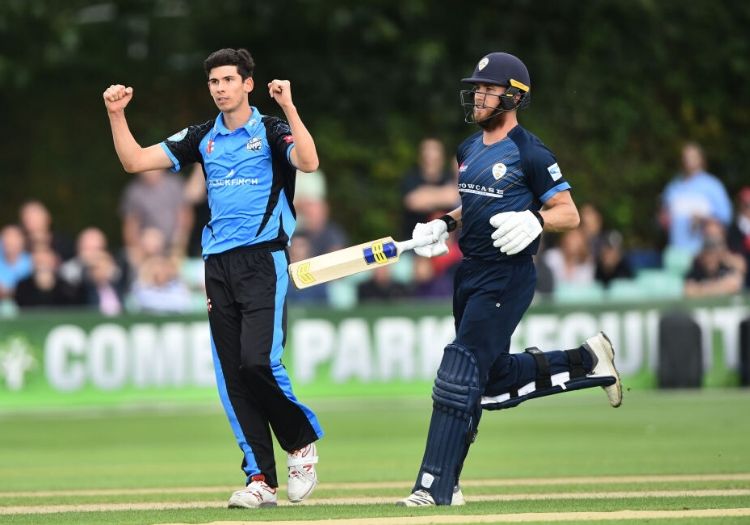 "Pat has been brilliant in these last couple of years," says Ed Barnard. "He'll practise something for a couple of weeks and then, all of a sudden, you'll see him do it in a game and he's nailing it under pressure"
***
Through the winter, the bowlers meet to discuss other teams' batsmen. They talk about them in general terms and then come up with plans for each one. They call them "badger sessions".
"It gets us ready for the season quite well," Brown explains, "so when we do come to play them we don't have to spend an hour talking about them, we can just flick through what we got down before and have a quick ten-minute chat and update ourselves on what we think we need to be doing."
The meetings are led – to a point – by Richardson, a taker of 569 first-class wickets and whose playing days ended at Worcestershire in 2013. In his final game, he was captained by Daryl Mitchell in a side that also featured Moeen, Cox, Whiteley and Tom Fell. He gets the club, despite his association only beginning in the twilight of his on-field career when he joined from Middlesex, via a nudge from Vikram Solanki.
His role now is in overseeing a pride of fast bowling cubs. After Leach, Charlie Morris and former South Africa international Wayne Parnell, whose experience and knowhow have been paramount, Barnard – at 24 – is the next oldest. Brown, desperately driven, hugely impressive and already an England international, is just six months older than Pennington.
The highly regarded Josh Tongue is only 22, as is George Scrimshaw, while Adam Finch – a teammate of Pennington at the 2018 Under-19 World Cup – is 19. Another teenager, Mitchell Stanley, signed his first professional deal in November – "another cab off the rank," is the description from academy coach Elliot Wilson. "We've had a freakish three years [with bowlers coming through]."
At a club committed to its youth system and where openings exist for academy graduates, there is a prominence placed on the need for "effective learners", as Wilson coins them, as well as player-led thinking; the "badger sessions" encourage their input.
"When a kid comes out of the pathway environment and into the professional environment, if he makes a mistake that's fine," he says.
"What the pros and coaches that they're working with won't have patience for is someone to continue to make the same mistake. They don't mind them making it once if someone is smart enough to work things out and problem-solve quickly."
It is a major part of Worcestershire's principles; chances for young players come early and frequently – it is a victory for coaching and for a philosophy of patience and self-sufficient sustainability that so many have come through to form the fulcrum of a thrilling team. "We put a lot of emphasis on opportunity for our own," adds Sharp. "Having lads like Ben Cox and Daryl Mitchell is priceless – guys who've come from Worcestershire and through that system, it's their heart and soul really."
Remarkably, every single member of the 2019 squad made their County Championship debut for the club in a team featuring Mitchell. "He makes himself three-dimensional in three formats, which is an unbelievable skill," Richardson stresses. "He's a huge example to all the guys of working out what your best benefit is to the team."
"It's instilled in us years ago: no selfishness. You wouldn't dare talk out of place. You're in a team here. There's no I"
The small size of the playing staff means that there are often slots in the second team for some who might elsewhere not be given a crack, while youngsters are given time to make an impression.
"It helps massively just to give people enough time to get in, get a feel for it and have time to work it out as opposed to needing to get in and hit the ground running," Wilson adds.
"But ultimately, the guys we're giving those opportunities to are getting those chances because we believe that there will be a good return on providing those opportunities if we give them enough. We're not just willy-nilly letting guys play. We're letting guys play who we feel have got the make-up – both skills-wise and temperament-wise."
Pennington, 31 games into his first team career and in his penultimate year at university, hopes he is reaching that stage. "I think there's a point where I'm not young," he acknowledges. "I think I'm getting to that now." He has played 16 T20s across the last two campaigns, though is yet to feature at Finals Day. His second List A appearance came as a teenager in the Royal London semi-final with Kent – "a learning curve and a pretty harsh one to get over". He is highly rated – and for good reason: tall, quick and prodigiously talented. In 2018, Morne Morkel admitted to being "blown away" by the seamer.
"I think the 'young card' can be pulled a lot, but we all are professional cricketers and we're there for a reason. I think I have a lot of practice to do to get to where I want to be, and when I'm picked to play, I'm picked to play for a reason. I shouldn't have an excuse for why I've gone at sixes for a session or why I'm not good at the death in T20. I should be practising that day in day out to get that better.
"I'm extremely lucky to have played the number of T20s that I have really. Worcester have given me a huge opportunity to play so many and I've learnt so much playing those."
His refreshing, disarming honesty is typical of the culture that runs through the club's youngsters. Opportunities are earned rather than handed out, and there is a collective desire to repay the faith shown in them.
"I wasn't as big a badger as I should have been when I was a player, but all the great [bowlers] who I played with were," Richardson says. "They knew everything about anyone. Any batter who came out, they knew about them – strengths, weaknesses. I'm just trying to get them to buy into that, and they're doing really well. They talk about it a lot, they're really keen.
"It's not just about rocking up and bowling or just knowing about your own game. Actually, you need an edge.
"As a young cricketer at first team level, you might be in the bottom one or two players on the pitch, going from being one of the best. When I say worst, I mean least experienced, potentially less skilled. So, how are you going to tread your way through that little maze to get yourself to be one of the best on the park?"
Brown has led the way. It was only five years ago that he made his second team debut for the club; since then, he has earned four T20I caps, while only a recurring back problem has prevented him from stints in the Big Bash and Bangladesh Premier League.
Nobody has taken more wickets in the last two T20 Blast campaigns than his 48 and, of the 34 seamers to play a T20I for England, only Stuart Broad was younger on debut.
Quite apart from his pace – he is capable of reaching speeds of 88mph, his variations have become a calling card. They stem from two things: a commitment to self-improvement and a fascination with innovation.
"The good thing is that no one is scared to learn and no one is scared to try new things," Barnard explains. Brown has set the precedent in that regard; knuckle-balls are one predominant area of intrigue, while Barnard namechecks Dwayne Bravo and Ben Laughlin as two of the T20 circuiteers he has surveyed for ideas.
The pair point to a video they came across recently of a baseball pitcher. "We're both such badgers that it just made us both really excited seeing it," Brown laughs. "In slow-mo, it was incredible – it just had no revs on it." Baseball isn't a regular hunting ground for new tricks though, as it has been for Gloucestershire's Benny Howell.
"I do a lot of stuff off two or three yards, literally walking in and getting a feel for stuff," says Brown. "That's how I develop stuff really – just find any way that I can make something slightly different.
"Before the quarter-final at Sussex last year in training, I'd just started my run-up and one of the tendons behind my knee clicked and I couldn't run for about two weeks before Finals Day.
"In the nets, I couldn't do any bowling. There was a Championship game going on and I was there every day just bowling 100 balls off two steps, just trying to get a feel.
"I bowled my spell against Sussex. I just had to hobble around in the field – I was nowhere. It wasn't ideal prep for Finals Day; I just had to do whatever I could to prepare without bowling at batters or with a run-up.
"It wasn't ideal but I probably came into it feeling better than I would have, just because I worked so much on the little intricacies and how stuff should feel when it comes out nicely. Ironically, it probably led me to something that I'll probably stick with now."
There can be few more strikingly mature young cricketers out there – the way in which Brown talks about the game and the humility on show in his assertions of his own limitations. He has become "a real leader" in both white-ball formats, says Richardson: a wise head on still young shoulders.
He admits that he found the first half of last season difficult. His wicket tally was down and his economy rate half a run higher than in the previous year. Yet, only Alfonso Thomas in 2010 has taken more wickets in an English domestic T20 campaign than his 31 in 2018.
"I had a conversation with myself and realised that the reason I wasn't doing as well was because the previous year was exceptional," he reflects. "I was always on a hiding to nothing and I was never going to do as well.
"I realised I was still doing quite well, even though it felt like I wasn't. But I had to have that conversation because it was a struggle – I was almost chasing something that wasn't attainable."
He confesses as well to being surprised by the England call-up that followed his Finals Day disappointment. It was his first taste of international cricket; he had never been involved at under-19 level nor featured at the Bunbury Festival and assumed that a Lions place would be unlikely, having mostly made his name in the T20 sphere.
He was on the golf course when the call came, with his teammates down at Hove in red-ball action. When the news reached Sussex, Pennington ran the message onto the field in excitement as part of his 12th man duties – an image that befits a close-knit group at a club where higher honours have not always been a regularity in recent years. The hope is that Brown's success might alter that outlook.
"We signed a lot of extensions this winter," he says, "myself being one of them, signing up for four seasons, so hopefully that shows for me that Worcester is a good place to carry on with England aspirations and win trophies.
"From my point of view, in white-ball cricket, why would I want to go and play anywhere else?"
***
Six times in our conversation, Leach returns to the same word: "stardust". Worcestershire don't do egos. "It's instilled in us years ago," Cox stresses. "No selfishness. You wouldn't dare talk out of place. You're in a team here. There's no I."
There is, however, a genuine respect and admiration for Moeen, who in his role as captain of the T20 side, has led an extraordinary transformation.
Since taking over as skipper, he has averaged 53.8 with the bat, with a pair of centuries and a strike-rate of 173.4. There have also been 22 wickets for good measure. On the day of his century at Hove in last year's quarter-final, England were in Ashes action, having dropped him three Tests earlier. It is hard even to contemplate how a club of Worcestershire's stature could replace him: a top order batsman and a fine off-spinner.
They are the tangibles. Less visible – but still patently fundamental – are the leadership qualities: the calculated calm, the composure under pressure, the reassuring aura and the complete sense of trust he exudes in each of his colleagues, all of whom look up to him. It takes some skill to cultivate an environment in which young players are so comfortable in expressing themselves.
Moeen Ali has been a hugely influential figure for Worcestershire since taking over as T20 captain
"You can see bits of Eoin Morgan in the way that he leads," says Leach, the club captain and in awe of his long-time teammate. "He's been exceptional, an absolute revelation, to be honest."
"It's just the belief everyone gets from him coming back," Brown explains. "Having him as a captain gives our team such a lift."
His mind returns to 2018 and the beginning of their victorious Blast campaign. "Before we'd made the final or anything, he said to the group: 'We're going to do something special this year. We're a f***ing good team and we're going to get to Finals Day. We're not going to get to Finals Day to be there, we're going to get there to win it.'
"Straight away, for people who hadn't thought about that before at Worcester, now from what he thinks and from what he's told us, he expects that from us and we expect it from ourselves now. That just stemmed from what he said. The success we've had leads us into that mindset now, but I think going into the season when we did win it, we expected to be right up there because we'd spoken about how good we are.
"Mo doesn't say stuff he doesn't mean, so when he says we're the best team in the country, straight away you sit up and, even though you haven't thought about it yourself, you believe it."
***
Finals Day: a unique occasion. A pinnacle with a fancy-dress theme. Everything is deadly serious, but sprinkled with more than a touch of boisterous jamboree. It is a sign of T20's commercial behemoth that it has become the season's marquee event.
Having previously never been there, Worcestershire have experienced both sides of its offering in the last two years – elation and despair, with the line between the two never finer.
"The day beforehand in 2018, we practised at New Road and Mo said a few great words," Sharp recalls. "He didn't say much, but what he did say was: 'I expect everybody to think that we're going to play two games tomorrow.'
"It was powerful because, in a way, he was almost saying: 'We're going to win this', without saying it. We just all looked at him and he said: 'Right, now let's crack on and practise.'"
They won relatively comfortably in the morning semi-final against Lancashire. It is the only one of the four games Worcestershire have played at Finals Day that feels even slightly forgettable.
"It was as if it was meant to be on that day," he reminisces, still with a twang of pride in his recollections. "We had worked so hard, the club had never been there, the group enjoyed it rather than feeling any pressure."
Clubs only received 530 tickets each for supporters in 2018, with that figure raised to 750 in 2019. "But I kind of felt that the crowd as a whole, with us being underdogs, were on our side," he laughs of the atmosphere in the Hollies Stand, next to which their dugout was situated during the semi-final.
Cox and Brett D'Oliveira have played together since the age of nine. The D'Oliveira name will forever have an indelible attachment to the club, while Cox, who made his first team debut as a 17-year-old Bromsgrove schoolboy, was named man of the match in both the semi-final and final in 2018, his two match-winning knocks clinching the title.
"It makes it all worth it," he reflects, speaking about the county of his life with a glorious enthusiasm.
"We all just muck in together. We've all come from the same spot, we're all pushing in the same direction. Nobody is bigger than the system.
"The thing that stands out for me is that we've done some horrible, horrible fitness sessions together.
"But when you start having success together, that's when all the hard yards are worth it. There was nothing better than lifting that trophy on Finals Day in 2018. Nothing better."
Twelve months on, they could hardly have come closer to repeating the trick. In truth, it made for quite extraordinary theatre. "We shouldn't have been there in the first place, so the final was a bonus," he reminds himself.
Worcestershire had come through a semi-final against all semblance of logic. It was as if the earlier win over Durham had been served up in preparation for what they would encounter at Edgbaston. Nottinghamshire needed 49 to win off 42 balls with nine wickets in hand. And lost.
Barnard had spent part of the second innings weighing up what he might do in the afternoon – whether to stay and watch the final. Only, with Cox up to the stumps and Parnell defending a single off the last delivery, they pulled off a heist for the ages.
"Like the 2018 final, it was one of those moments: over-my-dead-body is this going under me or through me," the wicketkeeper remembers of the split second in which the ball thudded into his gloves, past the bat of Ben Duckett.
It was a cruel irony then that, come 9.30pm, the dream of successive titles trickled away through point – again off the very last ball. Harmer ran in celebration, arms aloft, exuding all the same joy that Worcestershire had felt a year earlier.
"That final," Cox adds with a wry chuckle, "I thought we were going to win it until the last seven balls. I thought we had it."
Richardson, who has been at five of the last six Finals Days, having reached three as Birmingham Bears' bowling coach, can't bring himself to sit through the video; his five-year-old son put on the recording recently. "I couldn't watch it," he admits. "I literally couldn't watch it. I was like: 'This is going to make me so sad; this is going to make me hurt again.'
"Mo doesn't say stuff he doesn't mean, so when he says we're the best team in the country, straight away you sit up and, even though you haven't thought about it yourself, you believe it"
"But then you have to remember that we won a game that we had no right to win in the semi-final. And so, just remembering how good a day it still was for us and how we're not going to be at Finals Day every year, so we should really try to enjoy them as much as possible. I believe that despite not performing to our best all the time, we enhanced our reputation. We learnt a lot from it, we seemed to fit in a whole campaign of emotions in one day.
"I could never watch that game again. That would be awful. There would be some really good stuff in it, but just knowing that we don't quite get over the line.
"I'm looking at Pat and someone like Dillon, they've been through more now in that format than I went through in 17 years. Pat has played in two Finals Days now and has been involved in so many games – he's been through so much already and they should really embrace that. You can't be blasé about those opportunities."
He recalls the post-match scenes. "There was a lot of silence," he says. "As a coach, I remember thinking about what I was going to say after that last ball – if anything."
As it happened, Brown, Parnell and Richardson congregated after the conclusion of the ceremony and chatted through the game's dying embers. "There were some regrets but not many," he reminisces, "just a real acceptance" – any disappointment tempered by the knowledge that they had done all they could. Brown's cumulative Finals Day figures are remarkable: 7 for 85 from 16 overs.
But it was Harmer's day.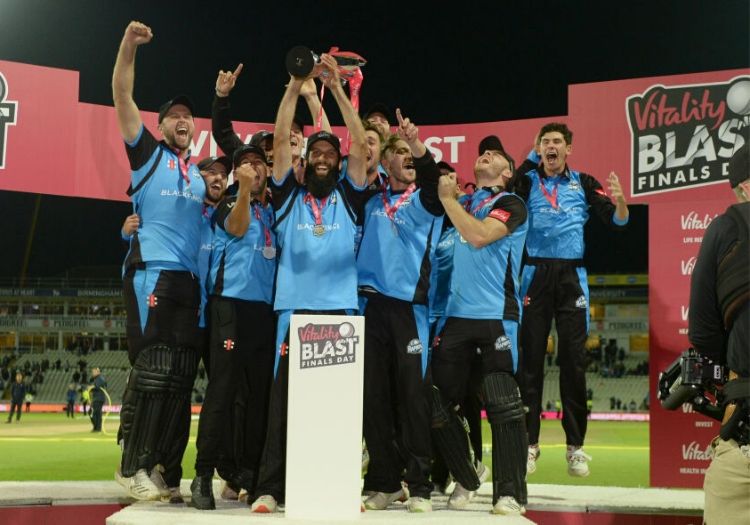 The Rapids' title win in 2018 marked an extraordinary transformation from a side that just a year earlier had won only three games in their entire Blast campaign
***
In Wilson's tenure as leader of the club's academy, Brown, Finch, Pennington, Scrimshaw, Stanley, Tongue, Ben Twohig, Olly Westbury, Josh Dell and Jack Haynes have all come through the system.
It is an environment that breeds friendship, where togetherness breeds belief; Pennington, Tongue and Finch live together; everyone knows everyone. There are regular group coffees and social gatherings.
Leach and Barnard played together when Shrewsbury won the ECB National Championship in 2011, while Barnard and Joe Clarke came through the same age-group together at Shropshire. Clarke's penultimate Worcestershire appearance before joining Nottinghamshire was the 2018 final.
Quite simply, success feels sweeter among friends. "People have so much understanding of how far people have come," Brown explains. "I think you appreciate what people have been through and what sacrifices they've had to make. Obviously, I can't compare it to anything, but I imagine that the team spirit we've got from the moments we've shared together is probably as good as any team could have it because of how close we are."
If there can be a downside to such a bond, it exists in becoming almost too familiar with colleagues to challenge one another. It is something they are aware of as a squad. "There lies the danger – if you are quite close – that you may not always pull your teammate up if they've not quite got it right or if they're not pulling their weight," Sharp says.
"The most powerful thing is for that to come from within the team, and that's something we're constantly working on. We have some really nice guys. I think that at times we challenge them as a coaching team to really speak up and be a bit harder with each other."
"It's great that we've got a really great relationship," Leach adds, "but sometimes you can be too close to each other in a professional sporting environment. I think we've had to go through that journey together and, as we've got older, I think you can probably see the maturing of the group. The way we deal with each other is now slightly different from what it might have been in the past, which is good. If there are things that need to be said, they're said now."
At the root of that mateship is a shared love of the club. Richardson speaks of "the pride in wearing the shirt" he noticed almost immediately when he signed as a player. "It was very obvious when I got there that it meant a lot to play for Worcester – it's in their DNA."
It is an approach that predates Wilson, back to when Damian D'Oliveira headed the academy until his passing in 2014.
And his successor is quick to pay tribute, adding that "without the work that was clearly done before he passed away to put things in a good place so that there were strong foundations for someone to take it on and evolve it, a lot of the success of the last five to seven years wouldn't have happened."
"There's nowhere else, in my opinion, that's better for white-ball cricket. We know how we play and we have success doing it"
As part of the pathway, a weekly session is run for senior players and academy prospects to train together, all with the intention of easing the transition process for when the youngsters step up to the professional setup.
"They might give you a nice comment and it would just lift you," Brown recalls of his own academy days and the buzz that came with mixing it among the pros in practice. "You'd think: 'Maybe I am good enough, maybe I've got something to offer.' You get such confidence from putting yourself up against them."
At first, he played his age-group cricket for Huntingdonshire; when he initially became involved with Worcestershire, he would take five-hour round trips to training twice a week, before moving on-site once he enrolled on a scholarship at the University of Worcester. He agreed his first professional contract in March 2018, his England bow coming 20 months later.
"You look back now and you can see why he's achieved so much so quickly," Wilson says. "He had a bit about him, he was prepared to get in the car and drive three hours to train with us, he was prepared to sacrifice.
"The rewards have been for us but they've also been for him – he's uprooted himself from his family, he's been very independent, he's lived on his own, he's done a degree while playing.
"That outlook on life and how the world works, you're not surprised at what he's achieved. No one probably deserves it more because of the sacrifices he's made – they've all made sacrifices but his have been a bit more significant than most."
These sacrifices work both ways, however. There is a willingness to be creative in accommodating those players from beyond Worcester; the coaches make the same long journeys to visit them – "I think that goes a long way with the families we work with," Wilson adds.
The club has collaborated with both Shrewsbury School and Malvern College, while they run a satellite academy in Shropshire. Twohig, Kohler-Cadmore, Haynes and Alex Milton all went to Malvern and the county use some of their indoor facilities through the winter. If Haynes had a free period during his time in the sixth form, he might strap his pads on for an hour between classes. 
Wilson himself played much of his cricket for Lincolnshire, and so has an understanding and appreciation of the National Counties. Through that link, he was able to set Brown up with Mark Fell, Lincolnshire's director of cricket, for some remote coaching nearer home before his relocation to Worcester.
Leach, Pennington, Westbury and Barnard have all also been involved at some stage with the Shropshire network, with whom Worcestershire share a strong relationship – not least thanks to Paul Pridgeon, who played for the club, leads the satellite academy, has coached at Shrewsbury School and is both Worcestershire's vice-chairman and head of cricket steering group. Pennington reckons he was just 10 years of age when his father booked him in for his first one-to-one session with the former seamer.
"We're quite a small county in terms of numbers – the sheer headcount is quite low compared to quite a lot of the counties," Wilson explains, "so we have to be quite creative in terms of how we work across the region."
His academy philosophy is simple; he does not worry necessarily about having a balanced group of batsmen and bowlers. "My belief is that if we've got cricketers that we believe are good enough, they will get onto the programme. It's all about trying to identify players who we feel are good enough.
"To see the number of kids on the professional staff that have come through my time and the transitional period of Damian, it blows my mind from time to time. But also, as they come in one end, they disappear the other end. My job is to make sure that we've got a ready-made replacement for them.
"Now, that's not easy but it's also the fun bit for me. If we can keep doing that for a decade or longer, that can only stand us in good stead."
It's the Worcestershire way.
And just like that, through a combination of belief, camaraderie, opportunity and a sprinkling of stardust, the Rapids – T20 also-rans once upon a time – have become a force to be reckoned with.
To remind ourselves of happier times we're offering a £20.19 subscription to celebrate England's World Cup win once again. Click here to claim
Please ensure all fields are completed before submitting your comment!