Tim Murtagh ensures old world has representation in the new normal
SAM DALLING AT THE KIA OVAL: The scorebook looked so familiar. Tim Murtagh: 25-13-47-5. Business as usual, a script that could have been ripped from an anthology of a dozen or so campaigns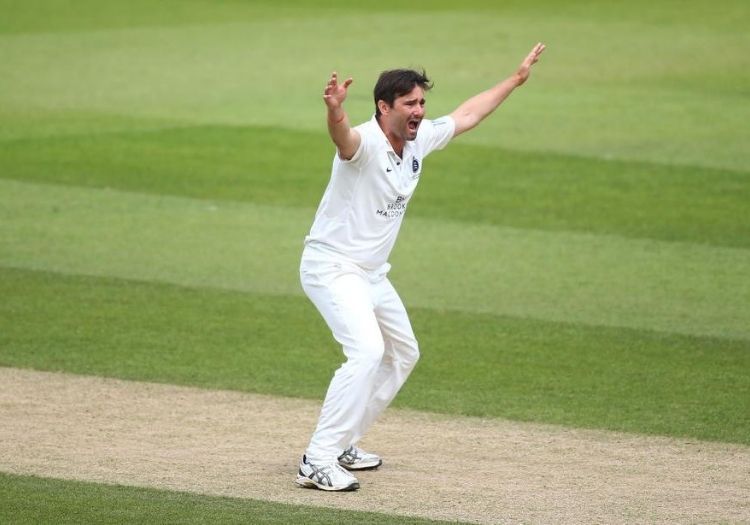 The late great Bob Willis would be loving this.
He spent years trying to revitalise county cricket.
It was his bread and butter. He cherished little more and dreamed of a little oomph being injected back into the domestic game.
A five-day final at Lord's you say? Magic.
And the penultimate day at the Oval was everything for which the former England paceman could have hoped.
At stumps Middlesex lead by 244. The acceleration came later than anticipated and they'll need to add a few more in the morning. Still, the London derby is teed up nicely. It could be a fascinating final day: 300 ahead and game on.
It could of course peter out tamely.
But wins will be vital in this truncated tournament. Chances are a couple of sides will go five from five.
They'll be the ones pulling on the jumpers in St Johns Wood come October. No one can afford to get left behind this early.
As lunch approached there was little sign of the carnage to come. Surrey were cruising, Scott Borthwick on his way to three figures and young Jamie Smith batting beautifully.
Then the former gave his wicket away and the new ball was taken, 10 overs later that in previous years but that didn't matter. The result was the same.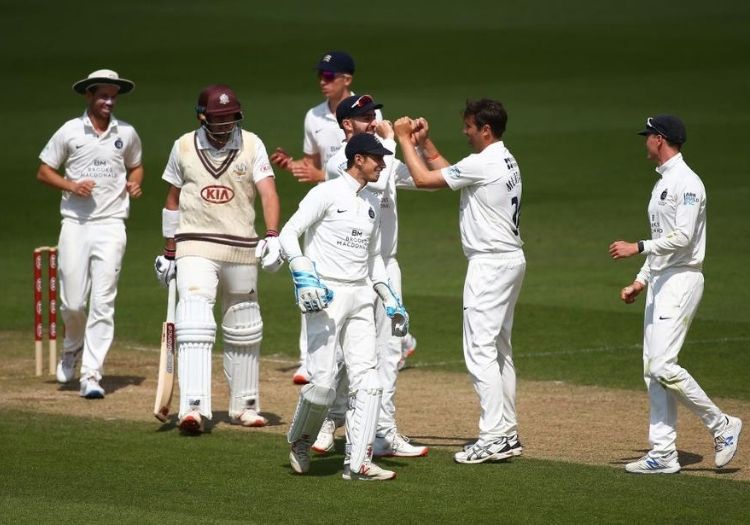 Tim Murtagh celebrates the dismissal of Daniel Moriarty
It's supposed to be a new normal. Yet...
Tim Murtagh: 25-13-47-5.
Business as usual, a script that could have been ripped from an anthology of a dozen or so campaigns.
The veteran turned 39 on Sunday, and might have taken the lockdown enforced break as a sign: Time to call it a day and troll off into the sunset with just shy of 1,200 professional wickets. Few would have blamed him.
But that's not his style. Never has been, never will be.
The collapse was started in uncharacteristic fashion. Caught behind is Murtagh's stock in trade, but strangled down the legside isn't usually the way.
Not that it matters. He reached 1,200 victims straight after grub, trapping debutant Daniel Moriarty in front for a debut duck (insert Sherlock joke here).
Bang. Bang. Bang. 254 for 4 became 282 all out. Game on.
Yet again the man they call Dial M had answered the call. It feels like an eternity ago now, but Murtagh started life on the other side of the fence.
He came through the ranks at Surrey, but couldn't find his way into an attack featuring the likes of Martin Bicknell, Alex Tudor, Jimmy Ormond, Azhar Mahmood and Mohammad Akram.
There was no shame in that. A fresh start was needed, and a switch across the capital came.
It paid almost immediate dividends. Almost but not quite – 1-147 on debut at Taunton; hardly got him off to a flier. The one was a certain Justin Langer, although he had 315 at the time.
Two games and a six-wicket haul later Murtagh was up and running, and he hasn't stopped since. What he lacks in pace, he more than makes up for in accuracy, swing and sheer persistence.
In 13 full seasons at Lords he's passed 50 wickets eight times, going on to hit 60 on four occasions. A lowest tally of 36 isn't bad. A best of 85 in 2011 is astonishing.
Sum total: 706 at 24 a piece.
A county champion in 2016, he's also played at Test level thanks to his grandparents.
He's bowed out of that stuff now, recent ECB changes to the regulations making his decision to walk away a darn sight easier.
You get the impression Middlesex won't mind. Gamblers would back him to have a say tomorrow.
Murtagh probably won't get the 115 or so more he needs to catch Willis, but he could still be key for a while.
At some point he won't be there to lead the attack anymore. Until then savour him. They don't make them like Tim anymore.
For unrivalled coverage of the county season, subscribe to The Cricketer and receive four issues for £15
Please ensure all fields are completed before submitting your comment!