Weekend Championship cricket cut by 44% in 2019... could it be the beginning of the end?
SAM MORSHEAD: Research by The Cricketer shows that 16 of the 18 counties will see less weekend Championship action next season than they did in 2018, and two-thirds of clubs are set to stage four days or fewer over the course of the campaign
This July 7, spare a thought for members of Worcestershire and Essex. And particularly those with 9-5 jobs.
For the men and women who fit into both categories and just happen to most enjoy the red-ball form of the game, the county fixture list has not been kind.
Actually, that's an understatement. With just one weekend day of Championship cricket to look forward to next year, New Road and Chelmsford regulars might feel shortchanged by their annual subscriptions (£195 and £188 respectively).
It is a problem which in 2019 does not only affect just those two clubs, and is not the counties' own doing.
Across the country, members will find first-class cricket at a premium on Saturdays and Sundays. Kent will only host two in total at Canterbury on their return to Division One, while two-thirds of clubs are set to stage four days or fewer over the course of the campaign.
In fact, research by The Cricketer shows that 16 of the 18 counties will see less weekend Championship action next season than they did in 2018. And 24 have been set aside for days three and four of matches, which if we've learned anything from the term just gone cannot be anywhere near guaranteed.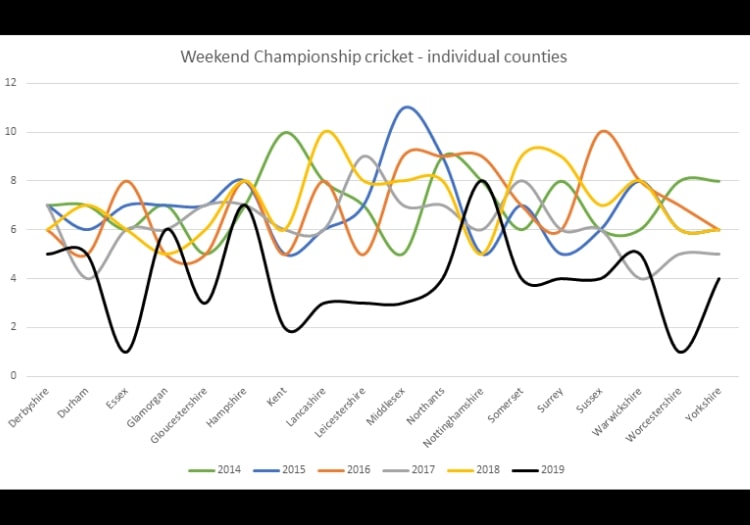 Each county's weekend Championship gameday totals over the past five years and in 2019
Overall, there will be 43.75 per cent less weekend red-ball cricket in 2019 - down to 72 scheduled days from 128 this year - and the significant shift, unprecedented over the past half-a-decade, has not gone unnoticed.
Fans of several counties have written to The Cricketer, explaining their discontent. Some are questioning whether membership, which often does not include entry to T20 Blast matches, represents value for money anymore.
Many have already made the decision. Posts on social media speak to the frustration being felt by long-term supporters who feel they are being abandoned.
If it is not yet a tipping point for the 'traditional' fan, it could quickly become one.
Essex chief executive Derek Bowden understands the emotions of the situation.
"It is unfortunate, and we have heard from a few members," he told The Cricketer.
"The ECB have had a challenging time with the fixtures as so many grounds are impacted by the World Cup, the Tests and women's cricket next summer.
"It is a tight schedule, and grounds need preparatory work. It isn't ideal. We will hopefully address it for 2020."
Next year, though, will see the introduction of a fourth domestic tournament into the English season, involving eight major grounds and dozens of the country's best players.
If there is a scheduling clash now, what is going to change in 12 months which will prevent it from happening then as well?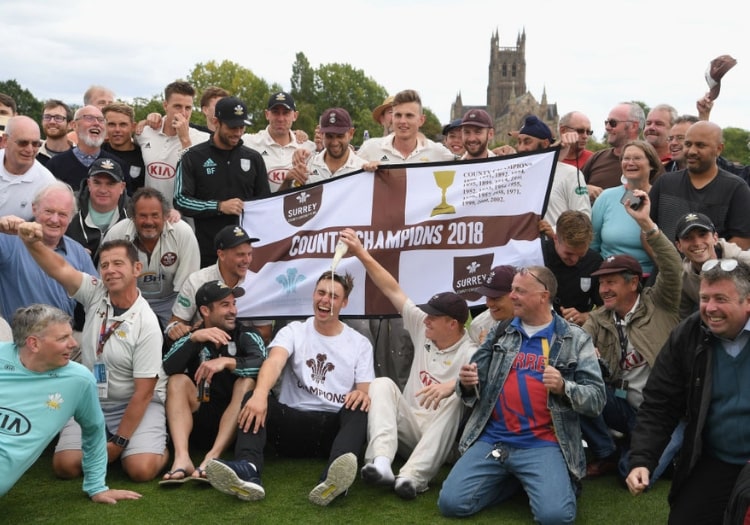 Surrey fans celebrate with the players
The ECB declined to comment on the considerable downturn in weekend red-ball cricket but sources close to the governing body indicated that the logistics and six-week duration of a home World Cup, the enforced bumping forward of the Royal London One-Day Cup and the turnaround time required between Championship and T20 Blast games in the second half of the season all played a part in the scheduling working out as it has.
It is feasible, too, that counties might yet rearrange some of the many Championship games which are due to start on a Monday, bumping them forward 24 hours providing all parties are agreed.
And that all makes sense.
But there is still a nagging feeling that 2019 could become a trendsetter.
Two years ago, England hosted the Women's World Cup and the Champions Trophy, two major events which occupied a large number of the stadiums which will find themselves in constant use again next summer.
There were 68 international matches in England - for senior men's and women's teams - in 2017, compared to the 70 pencilled in for next year. And despite all that, there were still 112 days of County Championship cricket scheduled on weekends. That's 55 per cent more than has been booked in for 2019.
Even taking into account that fewer county grounds were used for international cricket that summer, it remains a sizeable leap. How was that balance achieved in 2017, but 2019 is proving so torturous? 
From a business perspective, it makes sense to stuff weekends full of the shorter fare. The Blast and to a lesser extent the One-Day Cup command a different kind of audience dynamic and are built to indulge flights of fancy. Bar takings on Blast nights dwarf their Championship daytime equivalent, while the four-day game has little more chance of TV exposure than a Jim Davidson-fronted Big Break reboot (Sky Sports are contractually obliged to screen just one game per season until 2024).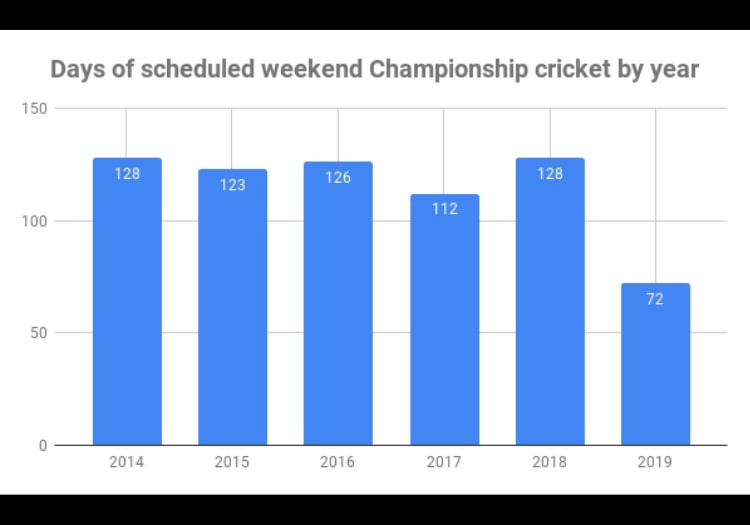 The total number of Championship weekend days have dropped substantially 
Little wonder, then, that although there are only 25 weekend One-Day Cup games in 2019, there are 34 Saturday and Sunday fixtures in the Blast, and 53 more on Friday evenings.
Yet many counties also rely on members' financial contributions to underpin their businesses and, as the product they are offering (free entry to first-class and 50-over cricket) is perceived to be of less and less value, it will be fascinating to see how 'brand-loyal' their customers are. Particularly when they begin to self-identify as customers instead of fans.
There will be regulars - those of retirement age, parents and kids in school holidays, the self-employed and others with less traditional working patterns - who might still find that membership offers a good deal. There will be those who continue to renew through force of habit, or wish to take advantage of the other aspects of membership other than matchday entry.
For the rest, though, the equation may no longer make sense. Why pay more for less? No deal.
And in that eventuality, surely everyone is worse off. Fewer people with the inclination to spend a day at their local club, fewer kids getting their noses in the game early because mum or dad or grandpa has a season ticket, less money in the bank for counties who need it so much, less exposure for the game beyond the garbageball construct that is The Hundred (which, let's not forget, is designed only for those who until now have used Googly as a pet name for their favourite search engine).
Maybe this is Project Fear. Maybe everything will be just dandy going forward, a more even spread of fixtures will return from 2020 and future versions of ourselves will wonder what all the fuss was about.
Then again, maybe not.
Please ensure all fields are completed before submitting your comment!