Ahead of the 10-team World Cup, Nick Friend puts together a side featuring players from seven associate nations to serve as a reminder of those excluded from this year's tournament
Xavier Marshall (USA)
Once upon a time, Xavier Marshall was the next big thing in West Indian cricket. Playing alongside Denesh Ramdin, Ravi Rampaul and Lendl Simmons, he hit 106 against South Africa at the 2004 Under-19 World Cup.
Four years later, he struck an unbeaten 157 for his national side against Canada; only Sir Viv Richards, Brian Lara, Chris Gayle, Evin Lewis and Ramdin have made higher scores for the West Indies in ODI cricket. He is in good company.
More than a decade on, however, Marshall is still going – just in a different cricketing universe. Last month, he made his maiden hundred for the USA in a comfortable victory over Hong Kong – a win that granted his adopted nation ODI status for the first time.
If Marshall's unusual backstory makes his latest achievement seem comparatively small-fry, the significance of its wider impact cannot be overlooked. The United States of America – the world's most powerful nation, but cricketing outsiders.
Until now. You won't find them at this World Cup, but with a population of 327 million and a growing cricketing profile, the USA – and Marshall – could soon find themselves on a global stage.
Paul Stirling (Ireland)
Jofra Archer will have played enough cricket against Middlesex to know of Paul Stirling's talents. Yet even so, watching his first delivery in international cricket flash away to the boundary off the willow of the burly Irishman was an ironic symbol of the shame of the ten-team World Cup and Ireland's absence from it.
The bowler – his eligibility fast-tracked ahead of the tournament – up against a swashbuckling stroke-maker, whose old-school methods will be nowhere to be seen.
A pair of ODI hundreds against Pakistan are testament to the skills of a man whose ability – Eoin Morgan said during the inaugural T10 League in 2017 – deserves worldwide exposure.
Indeed, no man in world cricket has scored more runs against Afghanistan's feted bowling attack than Stirling; his record of 1472 at an average of 37.74 is nearly double the return of Kevin O'Brien, who is second on the list.
Brendan Taylor - wk (Zimbabwe)
If the World Cup is, indeed, designed to bring the planet's very best together, then Brendan Taylor should be there. He is keeping wicket in this 'Missing XI', but he is very much selected on account of his class with bat in hand.
With one-day hundreds against New Zealand, Sri Lanka, South Africa, India, Afghanistan and Bangladesh, as well as Ireland, he is not just a proven operator, but a player of bona fide ability.
He is now back in the international fold, having temporarily quit for Nottinghamshire in 2015. Zimbabwe, however, struggled in the qualifying phase for this year's tournament – their first absence from the sport's flagship competition since 1979.
At the 2015 tournament, Taylor was one of the stories of the group stage, with his hundreds against Ireland and India coming back to back. After being dismissed for 138 in the final game of his first stint as an international cricketer, Virat Kohli rushed to congratulate the former Zimbabwe skipper – both on his knock and a stellar career. Four years on, he's back in the international fold, after leaving Trent Bridge. He won't, however, have the opportunity to recreate those heroics.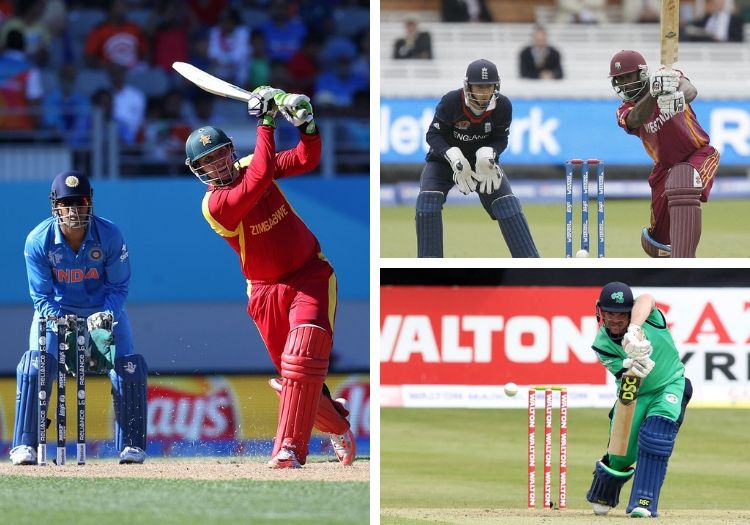 Marshall (top right) played for the West Indies in the 2009 World T20.
Andy Balbirnie (Ireland)
A batsman of immense quality, it feels – rightly or wrongly – like Balbirnie has gone under the radar in an Ireland team full of stalwarts who made their names either in the midst of World Cup giant-killings or through prolonged careers in county cricket.
Balbirnie, on the other hand, failed to make his mark during a stint at Middlesex, though mainly owing to persistent hip problems.
Since then, however, he has progressed both in the green and white of Ireland. In the Test arena, he followed a pair on debut against Pakistan with a second-innings 82 against Afghanistan, while a staggering match-winning 145 against the same opposition in an ODI earlier this year was further proof of the 28-year-old's immense talent and aptitude against the turning ball. He first displayed his international potential during the 2015 World Cup, making 97 against Zimbabwe before being run out.
Four years on, those early spurts of talent have grown into something far more substantial. Just weeks ago as the West Indies took on Ireland in Dublin as part of their own World Cup preparations, Balbirnie struck 135 against a bowling attack consisting of Sheldon Cottrell, Kemar Roach, Shannon Gabriel and Jason Holder. The kind of knock that opens people's eyes.
Calum MacLeod (Scotland)
There have been few better knocks in ODI cricket than Calum MacLeod's unbeaten 140 against England last summer.
In many ways the perfect retribution for the ECB's role in the ten-team World Cup and Scotland's subsequent absence from this year's tournament, perhaps what heightens the quality of the knock is the fact that few who have followed MacLeod's career would have been at all surprised. Quite simply, this is what the 30-year-old does.
A stroke-maker of immense natural talent, MacLeod can boast scores of 175 against Canada, a 62-ball 113 against the UAE and, most impressively, an unbeaten 157 against Afghanistan on a day that the normally impenetrable Rashid Khan saw his nine overs swept and swatted away at a cost of 68 runs.
Curiously, despite representing an associate nation, MacLeod has played Test cricket for England – albeit as a substitute fielder during the 2009 Ashes.
Ryan ten Doeschate (Netherlands)
Of those to have batted more than 20 times in ODI cricket, nobody in the history of the game has a superior average than that of Ryan ten Doeschate. Essex's Dutch stalwart sits at the pinnacle of a list whose top ten includes Virat Kohli, AB de Villiers and MS Dhoni. Five hundreds and nine fifties at an average of 67 across 33 games – it is quite a record.
It is, perhaps, little exaggeration to describe the all-rounder as one of associate cricket's greatest ever players – if not its founding father, then among the pioneers who showed what might be possible for those buried in the purgatory beneath full ICC membership.
A five-year stint in the IPL with the Kolkata Knight Riders made Ten Doeschate associate cricket's first participant in the competition; where he first went, others have followed. Rashid Khan, Mohammad Nabi, Sandeep Lamichhane and others.
It is difficult to quantify his importance to the sport, not least as he continues to grind his way along the county circuit – a genuine Essex legend as he creeps ever-closer to two decades with the Eagles.
He returned from a near six-year international hiatus in 2017 as the Netherlands attempted – without success – to qualify for this year's tournament. With Ten Doeschate now 38, it may well be that he never has another chance. If that is the case, his last World Cup innings came in 2011 – a ton against Ireland in Kolkata: a fitting end, one might say.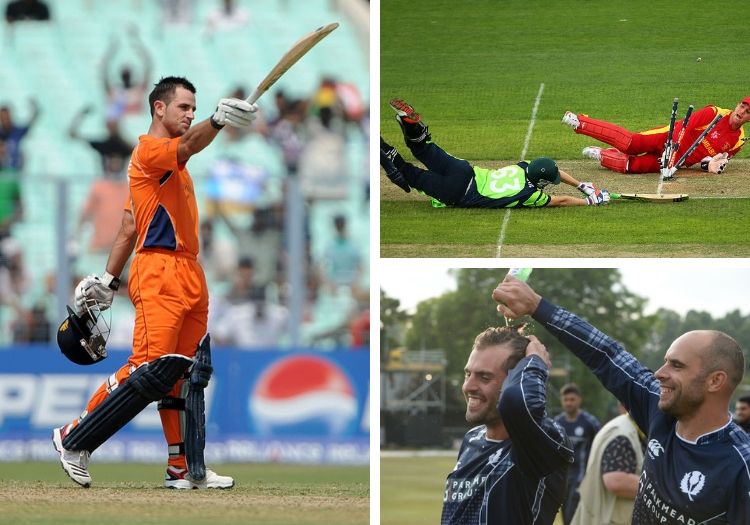 MacLeod's innings against England (celebrating alongside his captain, Kyle Coetzer, bottom right) was one of the highlights of the cricketing summer.
Kamau Leverock (Bermuda)
Now, to suggest that young Kamau Leverock is among those most unfortunate to miss out on this summer's World Cup might well be slightly disingenuous. However, his selection highlights a sadder, wider tale – that of the fall of Bermudian cricket.
It has been twelve years since the island team competed in the 2007 World Cup, when the Leverock name wrote itself into World Cup folklore.
And what an impact Bermuda made; Dwayne Leverock became an icon of a tournament that has hosted all of the greats of the sport. That catch – one-handed, his oversized body flying through the air.
It has stood the test of time, while Bermudian cricket has endured a different fate. In 2018, Kamau – Dwayne's nephew – was part of the side relegated to Division Five of the ICC World Cricket League. There was little more that Leverock could do; he opened both the batting and bowling and passed fifty in his country's only win against Jersey.
Yet, he – and the Bermudan fairy-tale – have, perhaps, rarely felt so far from replicating their World Cup dream.
Kevin O'Brien (Ireland)
Perhaps responsible for one of the World Cup's most famous shocks, it was the kind of performance – both from the all-rounder and his team – that highlighted exactly why a ring-fenced, reduced tournament will never be the answer.
The scene was Bangalore; Ireland were chasing England's 327. They were 111-5. And then Kevin O'Brien happened; 113 of the most brutal runs struck in the space of just 63 deliveries. It was his first score above fifty in a World Cup match at the tenth attempt.
Eight years on, some might argue that the red-headed star has never truly set himself free from that extraordinary night. Yet, just as every dog has its day, this was always going to be an unsurpassable knock. In 136 ODIs, it remains one of just two hundreds in the format – the other came against Kenya; a scarcely believable statistic to those who witnessed the carnage ensue.
Given his reputation as a big-hitting brute, his exploits in the Test arena in recent times have been somewhat unexpected. After being skittled for just 130 in their first innings as a Test nation against Pakistan, the pressure was on Ireland to make more of their second effort.
In a vigil lasting 217 deliveries, O'Brien went a long way to silencing those who doubted both his and his country's capacity to compete at the very top level. His 118 was a triumph of skill, guts and resilience.
Ali Khan (USA)
The second USA international in this entirely theoretical side merely highlights the world's largest global power's growing status in the sport.
A sharp, slingy seamer, Khan has made his name on the worldwide T20 circuit, representing the Trinidad Knight Riders and the Guyana Amazon Warriors in the Caribbean Premier League, while he has also enjoyed stints in Bangladesh and Afghanistan.
He dismissed Kumar Sangakkara with his first ever delivery in the CPL. Born in Pakistan before emigrating to Ohio, his is the kind of story that should be seen – and heard – on the world stage. He certainly has the quality; with 17 wickets in six games during April's ICC World Cricket League Division Two tournament, he was the competition's top wicket-taker.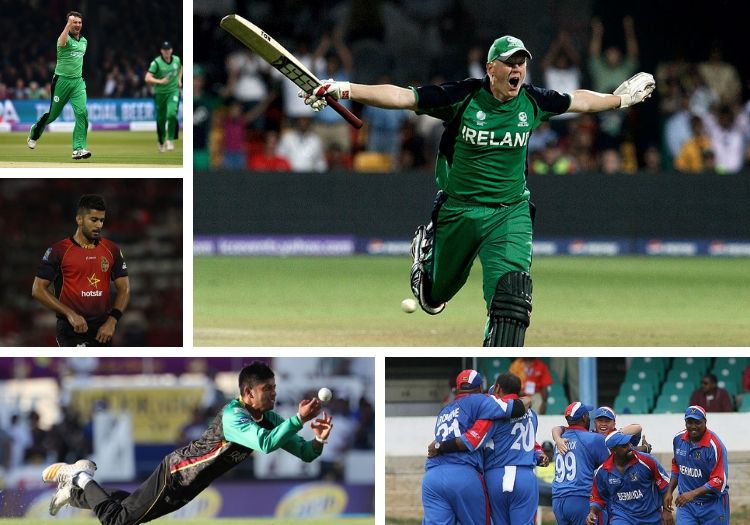 Both Khan and Lamichhane have become linchpins of T20 franchise teams around the world.
Sandeep Lamichhane (Nepal)
Beyond the obvious example of Rashid Khan, Sandeep Lamichhane may be the world's most exciting young spinner. And yet, he's an 18-year-old from Nepal. It is a logic-defying tale; not just the idea that a 14-year-old Lamichhane was discovered, essentially, by chance, but then that Michael Clarke would be so impressed by the youngster – then aged 16 – that he would bring him to Sydney for the Australian summer to develop under his own watchful eye.
There is a film in it somewhere down the line. Since then, his reputation has ballooned – a haul 14 wickets at the 2016 Under-19 World Cup was another indicator of his rare talents, before franchise sides raised eyebrows to a unique opportunity.
Much like Rashid, his Afghan contemporary, he scuttles quickly to the crease, rolling the ball from behind his wrist in a whip-like motion. It is that fast arm action that has made this new generation of white-ball leg-spinners so taxing to face.
Tim Murtagh (Ireland)
Tim Murtagh won't be at the 2019 World Cup. And with that, it seems safe to suggest that we will never see the wily seamer at the world's flagship white-ball tournament. The old-stager, with 779 first-class wickets and counting, has had some career.
He only set sail on his international journey in 2012, qualifying through his grandparents, before waiting for Trent Johnston to retire and Boyd Rankin to, at least temporarily, defect to England in search of Test cricket.
Since then Murtagh has been a terrific mainstay of his adopted nation – he played Under-19 cricket for England – and his county side, Middlesex. Having sustained a foot injury that ruled him out of the 2015 World Cup, it is a crying shame that a man so skillful will never get his opportunity on this particular stage.
Our coverage of the ICC Cricket World Cup 2019 is brought to you in association with Cricket 19, the official video game of the Ashes. Pre-order your copy now at Amazon.co.uk