T20 champions, Ashes holders, heavy favourites... but fallible – How do you beat Australia?
NICK FRIEND: Australia enter their home T20 World Cup as overwhelming favourites - the best team in the world, with a fear factor that comes with their dominance. But two defeats in their recent tri-series are a reminder of their human fallibility...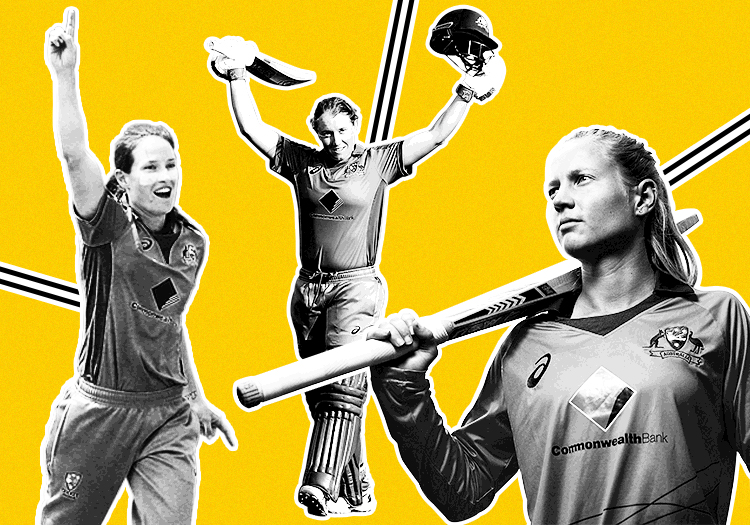 It is three years now since Australia last lost any bilateral or trilateral series – though they did lose once each to England and India in the pre-World Cup tri-series, before ultimately winning the final.
Before then, their last defeat in a T20I on home soil had come on November 21, 2017. In the last two years, they have been beaten just five times in 31 T20s. In ODIs, Australia have won 18 consecutive matches – a run that has shown few signs of ending.
Recent weeks, however, have acted as a reminder of the increasing strength in depth at the top of the women's game. India chased 177, simply out-batting Australia. By then, England had already come out on top in a Super Over, having dominated for large parts of the game. Annabel Sutherland's heroics that took the game into extra-time should be remembered as exactly that - they added gloss to an otherwise below-par display.
In their final World Cup warmup game against South Africa, the Proteas ran them close after putting a competitive score on the board. And yet, they still won that tri-series despite often being below their best and sometimes second best.
It all serves as a reminder that tournament sport is never a foregone conclusion and, indeed, that even the best are fallible under pressure. With the promise of an MCG final and a title to defend in front of an expectant local fanbase, Matthew Mott's side will be well aware of the challenges they face.
"From my point of view, I think in world cricket – and it's shown in this tri-series – you can get beaten by a number of teams," England head coach Lisa Keightley told The Cricketer shortly before her own side came a cropper against a Sri Lanka team that had won just once in 20 previous completed T20Is. Chamari Atapattu, a centurion twice over the winter against Australia, did much of the damage for the Sri Lankans.
"Everyone is chasing Australia because they've been the most dominant team and they've probably earned that right," Keightley added.
"But when you're chasing someone, it's a really good feeling to beat them. You know you're doing a lot of things right when you beat a good team.
"You look at the All Blacks and England beating them on the big stage at the World Cup – it's one game, one opportunity."
And so, with a global competition landing on the doorstep of the world's leading side, the question to the rest is simple – and twofold. How do you stop them and how, in the last couple of weeks, have they been stopped?
Ignore the hype – everyone is human…
Easier said than done, perhaps.
Reflecting on the summer's Ashes series, former England off-spinner Laura Marsh explained that England had fallen onto a slippery slope. Defeats in two games they might have won saw a knife-edge series slide out of control.
"When you're in the position we were in the summer, where we couldn't get a win on the board, the longer it goes on, the more the spotlight is on us and the more praise is on them," she said.
"Once that ball starts rolling, it can be really difficult to stop it. The frustrating thing for us in the summer was that on a number of occasions we weren't far off. But when it mattered, we didn't make it count."
Mark Robinson, who led England to World Cup glory, before leaving his role in the wake of last summer, recognises that a gap – "not big" – exists between the old rivals but added that it can simply be difficult to ignore the hype around the Australians. He recalls an episode during the tour of India that kicked off 2019.
"I was in the lift with a lovely couple after having breakfast," he recounted to The Cricketer. "They said: 'We've just had breakfast with some of your girls and we hear you're the second-best team in the world.' I said: 'I like to think we're at least the joint-best.'
"We'd just lost the World T20 final but we're World Cup winners, but we'd like to have thought we were just as good as Australia. And they said: 'Oh, we weren't trying to be offensive. It's just that some of your girls told us you were second-best.'"
Self-belief, he pointed out, takes you a long way. It is a thought that leads us to an opposite image.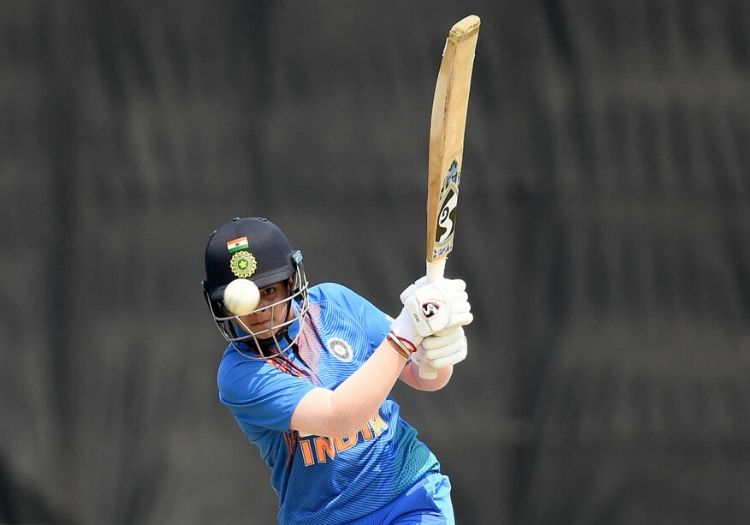 Shafali Verma took a no-fear approach to facing Ellyse Perry
With one swing of her bat during the tri-series, Shafali Verma told Ellyse Perry what she thought of her world-beater reputation. She was fearless. In a single fell swoop, any cloak of invincibility had been ripped from the bowler – arguably the greatest player in the history of the women's game, no less. Verma had unfurled an attitude that reverberated through her dressing room. Sixteen years old – a child, but also a mind uncluttered by past experiences.
She had already scythed Perry away through cover point by the time she stepped out to flat-bat her back over her head. Few do that to Perry. It was a tone-setter: 38 of her 49 runs came in boundaries as India chased down 177 to win by seven wickets – their fourth-highest T20I total of all time and their highest score batting second. Positivity is key.
Of England's Super Over win against Meg Lanning's side, Keightley said: "I think we showed that in the win against them. We've made a few changes and it might take a bit of time to gel, but we've got the players to win matches."
And while extra-time was forced by the excellence of Sutherland – another, like Verma, showing the exuberance of youth, in truth, England were the better side for long periods. Heather Knight and Fran Wilson added 115 in 11 overs; Australia were ragged by their standards but were forced beneath their best by the ambition of England's batting.
West Indies off-spinner Anisa Mohammed has spoken of "spoiling the party". After all, Australia spoiled theirs two years ago in the Caribbean.
"We've come to win this World Cup and take it back from Australia," she said.
"Australia are known as the top team in the world. All teams will be gunning to beat them."
The message, then? Go boldly.
Catch up with them – off the field…
Analysing the swashbuckling brutality of Alyssa Healy, the all-round excellence of Perry or even the wily control of Megan Schutt is one thing. And ultimately, it is what happens on the field that nine other nations will be looking to counter when the T20 World Cup gets underway.
Beneath all that, however, lies a structure that has been put in place with world domination in mind. Quite simply, everything that happened before now happened with this in mind. That we sit here now on the eve of a global competition wondering quite how to burst the tires of this juggernaut is a triumph of ambition and organisation.
Since 2017, all Australian players have received the same base pay rate, regardless of gender, thanks to an MOU with the Australian Cricketers' Association.
The introduction of the Women's Big Bash as a standalone event was just the next logical step when it was brought in for 2019 by Cricket Australia.
"We have had certain research done at different times during the cricket season and there were times in the last cricket season when two of the top three favourite Big Bash players were actually women," Alistair Dobson, head of Big Bash Leagues, told The Cricketer of the popularity of the women's game.
"When you're putting the men's and women's leagues up against each other, the role that the women's players like Ellyse Perry and Alyssa Healy have as high-profile cricketers is on a par with some of the bigger-name men's cricketers.
"That comes with both them being absolute quality cricketers, but also how engaging they are as people and as athletes and their ability to connect so authentically with kids."
Among the ultimate ambitions of the WBBL is for cricket to become the main sport for women in Australia. In doing so – and thanks to the professionalisation of the domestic game, the standard has risen and, by extension, the leap to the international stage bridged.
"I think the Big Bash has made that transition a lot easier for Australian players, who then go into international cricket," Keightley confirmed, reflecting on her time as Perth Scorchers head coach.
"The competition is strong, so you know if you're performing in that competition, if you jump up to international cricket, you're going to perform okay."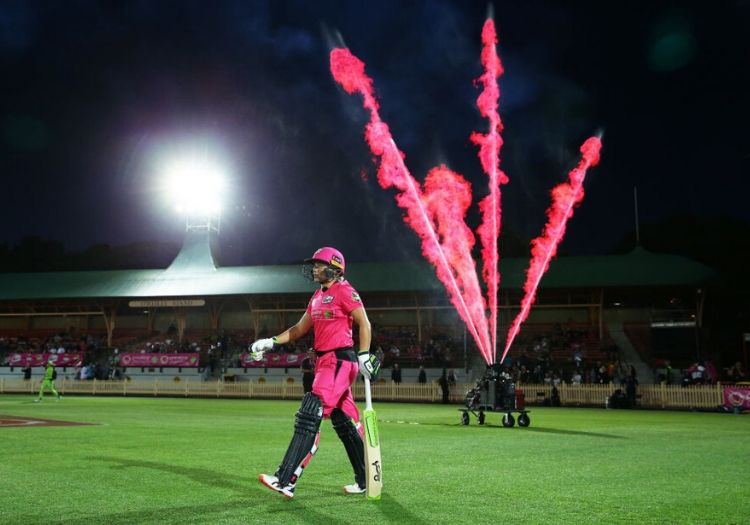 Alyssa Healy walks out to bat amid flames of magenta in the Women's Big Bash
A parental leave policy has also been confirmed. Players who become pregnant are now able to move to a non-playing role until the birth of their child, while being eligible for 12 months of paid parental leave. They are also guaranteed an extension to their contract for the following contract year, in line with their contractual arrangements. Meanwhile, players who act as primary carers are given transport assistance until the child is four years of age.
Australia's governing body has shown the way with its treatment of the women's game. It was announced in October that Cricket Australia would top up any prize money won by Meg Lanning's women's side at this T20 World Cup to ensure parity with the equivalent winnings of the men's team.
The ICC had already increased prize money for the women's event by 320 per cent, but that did not constitute equality.
The point is simple. All of the above has created an environment of winners. Jurgen Klopp described his all-conquering Liverpool team as 'mentality monsters'. The same has become true of Lanning's group. Everything is in place for their success. Until this year, Australia had five times as many female professional cricketers as England.
It is hardly rocket science: more cricketers, more opportunities, more success.
Tame Alyssa Healy, the firestarter…
The development of Australia's wicketkeeper from useful contributor to the world's most destructive opening batsman has been quite some ride. Her journey in T20I cricket can be split into two parts: the first eight years and everything since.
Before 2018, Healy had passed fifty just twice. She had never scored her runs at a strike-rate higher than 130. She had struck eight T20I sixes. And then everything changed. A flick was switched and the light went on. What has followed has been, given what came before, unprecedented.
She holds a world record – her unbeaten 148 against Sri Lanka is the highest individual score in women's T20I history. In 2018, her runs came at a strike-rate of 145.95. In 2019, that was upped to 173.02. Of every female player worldwide to have scored at least 400 runs in T20Is in the last two years, nobody has done so at a higher strike-rate. There were 22 sixes in 26 innings and eight scores above fifty.
At the end of 2017, she averaged 17.53 and carried a strike-rate of 110.41 in T20Is. Now, those numbers are at 24.32 and 129.45.
The transformation has been remarkable. When Australia last lost a T20I series – against New Zealand in February 2017, Healy batted like an archetypal wicketkeeper; she was down the order at No.6 and dismissed cheaply in successive games as Meg Lanning's side lost 2-1.
Now, however, the threat has been strengthened. Healy begins, all guns blazing. When it goes well the platform is set for a superstar middle order.
In recent weeks, however, Alyssa Healy 2.0 has faltered. In international cricket in 2020, she has made scores of 1,4,0,1,4 and 9. Never in her career until now had she made six single-figure scores in a row. And her failures have opened doors. Meg Lanning would rather not bat in the powerplay, while Ashleigh Gardner's buccaneering style also offers chances. Get through Healy and the door creeps ajar. Australia's middle order is so dangerous, but early wickets put them under pressure.
Back to Healy. She will surely come good; her record suggests that she is too good not to. If and when she does, someone will pay the price.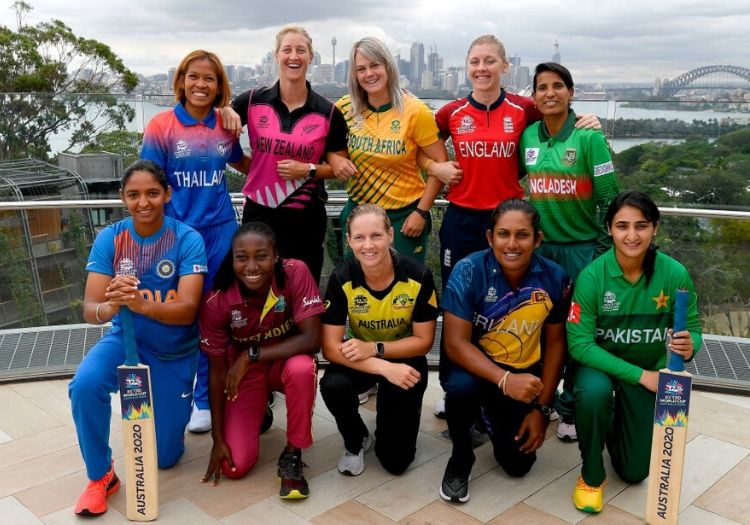 Meg Lanning, front and centre, will hope to be holding the World Cup trophy aloft come March 8
Break through the Megastar…
Meg Lanning's 650 runs in T20Is through 2018 and 2019 came at an average of 72.22. She peaked – by her own admission – at Chelmsford during the Women's Ashes last year.
Her unbeaten 133 was an astonishing knock: when England bowled wide, she guided through third man and scythed through cover-point. When they tightened up, she would chip, clip and flick over midwicket. It was the cleanest she had struck the ball for some time, she acknowledged afterwards. And Lanning isn't the kind to give away her secrets.
It is one of the reasons she is so roundly feared. That she can do all this after suffering a serious shoulder injury that kept her out of cricket for eight months through 2017 is extraordinary in a sense, but also entirely normal – at least for a cricketer who had already shown her stardom.
Despite this all, there is a weakness of sorts to be exploited. Five left-arm spinners – Holly Colvin, Rebecca Grundy, Radha Yadav, Rajeshwari Gayakwad and Sophie Ecclestone – have all dismissed Lanning.
Ecclestone, in particular, has found her number, targeting the stumps and forcing Lanning to shift her guard legside in order to clear her front pad from the pathway of her bat flow. Sarah Glenn – an unusual leg-spinner in that she targets the stumps – has also had success against the Australian skipper in her short international career. Lanning has been caught just four times since the start of 2018, but bowled or LBW on nine occasions.
It is a rare chink in the armour of an otherwise flawless batsman.
The quiet assassin…
Because of the firepower of those around her, Megan Schutt has often flown beneath the radar. Or maybe, it's because that's how she goes about her work. There's certainly nothing flashy about her game; Schutt is streetwise – a captain's dream. She is hardly quick, but she makes up for that in guile and prodigious in-swing.
And she is immaculately consistent. In 31 games in the last two years, she has bowled 114 overs – just 10 short of the maximum she could have delivered in T20Is.
There have been 47 wickets in that time at an economy rate of just 5.76. Only five times in that period has she conceded upwards of 30 runs in a four-over spell. Likewise, just twice has she gone wicketless. It is a remarkable record that lays the foundations for so much of what Australia do.
Breaking her rhythm and getting on top of her might just be the biggest challenge facing opposition sides.
Women's Cricket
|
Women's T20 World Cup 2020
|
1Banner
|
Please ensure all fields are completed before submitting your comment!