Who is Australia's 'phenomenal' new kid on the block Will Pucovski?
The 20-year-old's selection has come after just eight first-class matches, in which he has managed to peel off a hundred and a double-century, and The Cricketer takes a closer look as to how he has got to this point...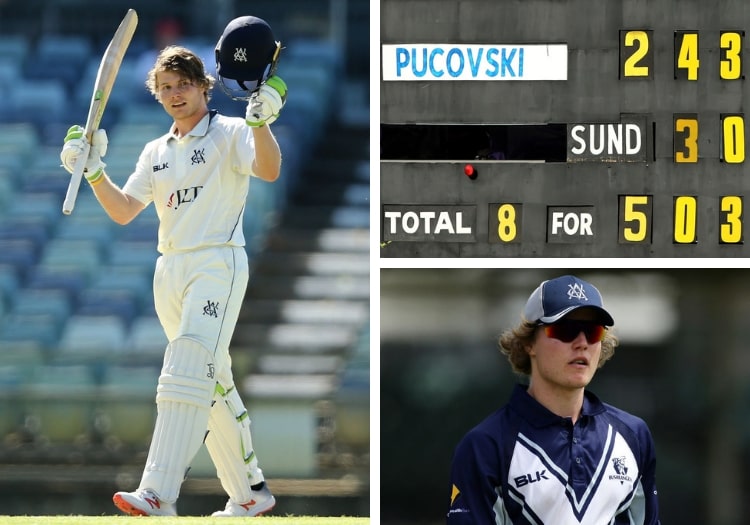 The main headline out of the Australia squad selected for their upcoming two-match Test series at home to Sri Lanka was the inclusion of the uncapped Will Pucovski.
The 20-year-old has only played eight first-class matches since making his debut in February 2017, but burst onto the scene big time when he scored 243 for his home state Victoria against Western Australia in their opening match of the 2018-19 Sheffield Shield.
He was the first Australian batsman to score a first-class double-hundred before turning 21 since the great Ricky Ponting.
Remarkably for someone of that age, it was not his first hundred, though it was his first double-hundred. His first actually came in February 2018 when he made 188 against Queensland.
This emergence came as no surprise to those who follow the Australian game closely. In 2016, he broke the Australian U19 National Championships run record while captaining Victoria Metro.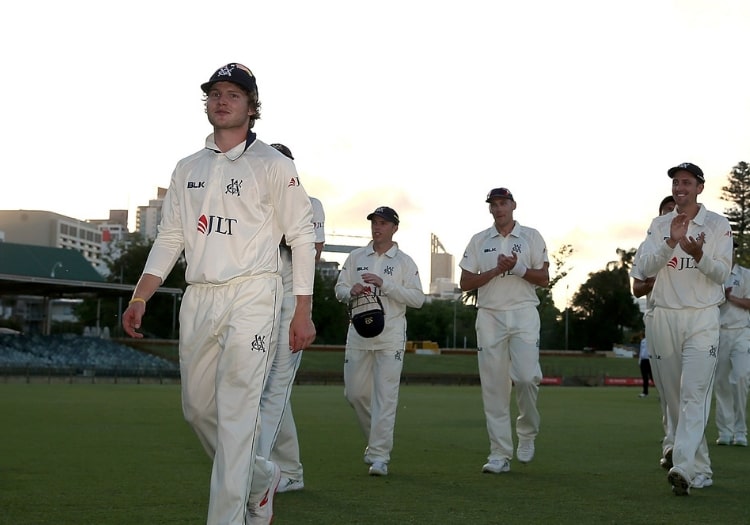 Will Pucovski leads the Victoria team off the pitch having scored 243 against Western Australia
During the tournament he scored a mammoth 650 runs at 162.50, including four consecutive centuries and a half-century – a performance which Australian selector Greg Chappell labelled as "phenomenal".
This rise came to a sudden halt in October when he announced he was taking an indefinite break from the game to get treatment for a mental health-related illness after suffering a breakdown in the midst of his mammoth 243, something he spoke about on the Fox Cricket podcast, The Follow-On.
"It was one of those things where what it looked like from the outside wasn't quite matching up with what it was on the inside… I was more confused than at any other time in my life," he said.
"I was 64 not out overnight if I remember. I got to the game to have my pre-morning hit in the nets and pulled one of the coaches, Lachie Stevens, aside and said 'look mate, this is what I'm going through. I don't really understand what's going on and don't know why it's happening but this is what's happening'.
"It was quite a confronting thing but they were beyond awesome about it… They were just so supportive from the outset. I still remember Lachie putting his arm around me and saying 'Mate, I'm shattered for you and we will get you sorted when you're back but if you can do anything to get us some runs today that would be great.'
"I replied: 'Don't worry mate. I will be ready to go and will try my very best.' Obviously, it turned out to be quite a good day."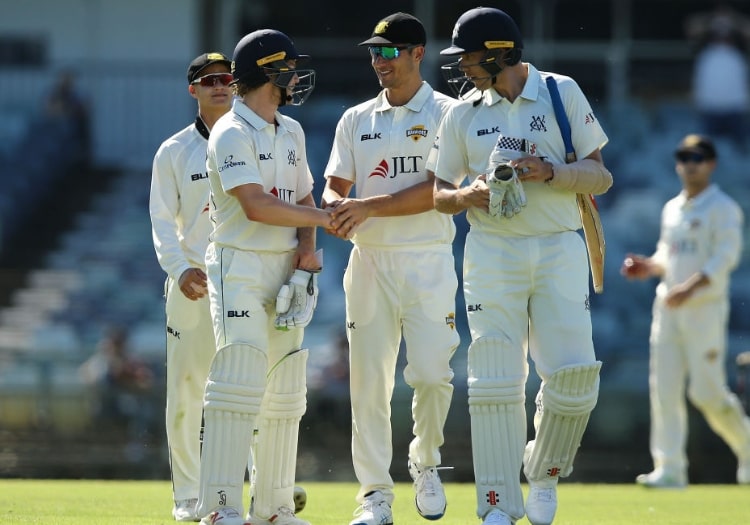 Pucovski is congratulated by Marcus Stoinis having reached his double-century
Having made his return to cricket in December, the young batsman will be preparing for his potential Test debut with his grade cricket side Northcote, before playing for the Cricket Australia XI against Sri Lanka on Saturday.
He also appears to have come to terms with what happened and is more than ready to represent his county if called upon.
"I am feeling really good. I am feeling as good as I have felt in a really long time. I have met some people along the way that have really helped me turn things around.
"There's probably no better time to get exciting news like I have in the past 24 hours. It's not every day you get called up to represent your country, so it's been a very exciting couple of days.
"It's one of those things that it's a day-by-day proposition for me now that I have to manage but I think it's a good thing to invest time in and I feel like I have done quite a bit of work over the last few months. I feel like I am back in action."