Uber Eats job provides "therapeutic" change for Paul van Meekeren, whose 2020 was turned upside down
NICK FRIEND: When Dutch international van Meekeren tweeted to his followers on Sunday about the significant shift in his own personal circumstances during the last year, it was to make light of a challenging period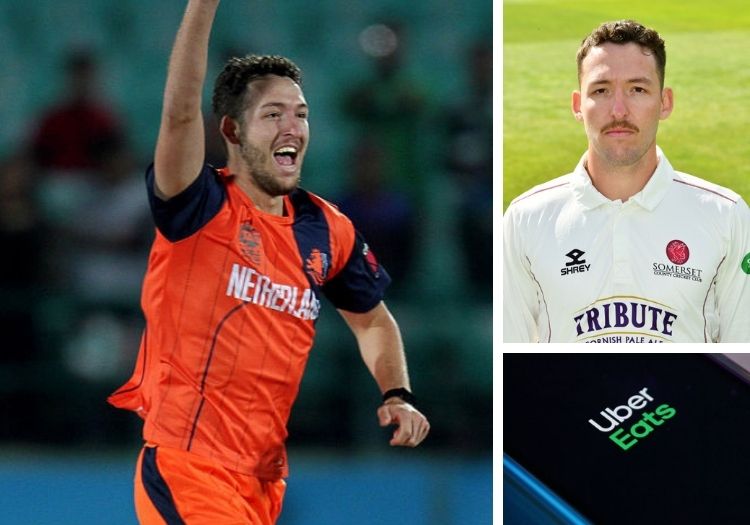 During his time at Somerset, Paul van Meekeren was known to some of the Taunton members as 'The Smiler' on account of his unwavering positivity and a will to always seek the best from any situation.
He has needed that energy in the last 12 months, ever since being released by the club at the end of the 2019 season – a tough exit on the back of a injury that was initially misdiagnosed and meant he didn't play for the county during the final year of his contract. "Still, there are no hard feelings," he insists.
That sense of optimistic spirit was present in a social media post on Sunday, making light of how different his own world now looks from the one he had anticipated last November. He was responding to a tweet from ESPNcricinfo marking what should have been the date of the T20 World Cup final in Australia.
Instead, the coronavirus pandemic saw the competition postponed for a year, with dreams now on the backburner and the tournament taking place in India in 2021.
"Should've been playing cricket today," van Meekeren wrote. "Now I'm delivering Uber Eats to get through the winter months! Funny how things change. Keep smiling people."
The response to his tweet – "I decided that I'd make a bit of a joke out of it and send it out" – has been typical of social media's power. At one point, he turned off the notification settings on his phone, such was the level of reaction. His Instagram following has enjoyed a sharp bounce and, overwhelmingly, he has been met with messages of support. By Monday evening, the comment had reached 800,000 people.
Van Meekeren is scarcely on his own in cricketing circles in having to confront personal circumstances that have taken a dramatic shift in light of the current climate. For many still on contracts and looking to the future, this is a uniquely difficult time, with job security at an all-time low. But for those unattached and without a regular source of income, this period has been even more complicated – a kind of purgatory, where cricketing opportunities have been hard to come by for those stuck on the outside.
"I had enough savings but they're savings that I don't want to touch," the Netherlands seamer tells The Cricketer. "But I've dipped so deep into my reserves now that I had to think about what I was going to do this winter, because there isn't going to be any cricket. I need some income."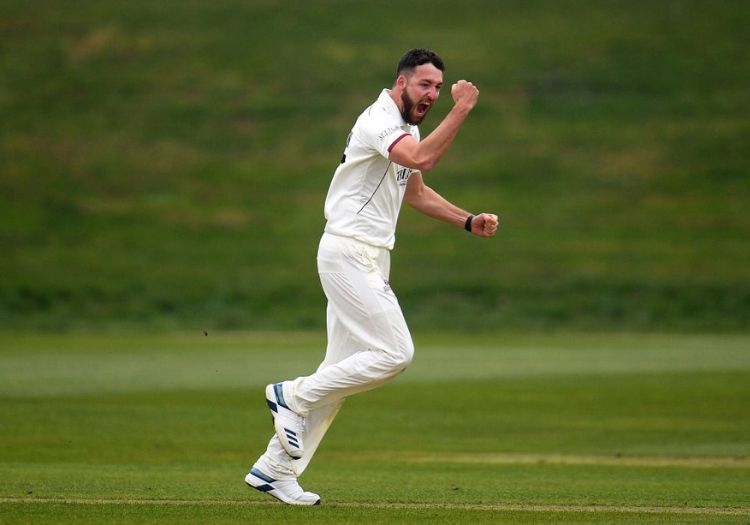 Van Meekeren left Somerset last year
There was no formal second team cricket over the course of the summer, while openings for trialists were rare in the extreme. The Euro T20 Slam, initially meant to launch in 2019 to the benefit of Dutch, Irish and Scottish cricketers, was delayed once again. He played for Cutthorpe, a Chesterfield-based amateur club, as their pro to make ends meet, but those commitments ended when the season drew to a close.
And so, he describes his new part-time role with Uber Eats, the online food ordering company, as "therapeutic" – a stable, adaptable chance to keep himself ticking over through a difficult winter. He only began recently but typically "there have only been positives, and that's how I look at life".
Being brought up in the Netherlands and only officially becoming a professional cricketer at 23 has given him a significant level of perspective; more than anything, he is at pains to stress the respect for holds for his new job.
"At the start, I was looking for a job to just cover the simple things like petrol, food, rent, phone bills and those kinds of things," van Meekeren says. "But then, I also wanted to be as flexible as possible if any cricket opportunity did come up – whether with the Dutch team, franchise cricket or a chance to train with a county. That's what happened and I've been very open about it to my friends: I was never ashamed of the fact that I was going to do it.
"I've always enjoyed driving, so I wasn't worried about being in the car all evening. I turn on some Dutch radio with an app on my phone, which has been great fun. It's nice to actually hear people speak Dutch, so it works well for me. I just pick it up and drop it off. It clears my mind.
"I wasn't sure how much I'd have to do to cover my bills, but it turns out that even with just an evening ride or lunchtime, you can get a very good amount of money. It's probably better than working in a bar or restaurant – I guess you get paid more and it's safer."
He laughs as he recalls one incident from his first week on the job; after collecting two separate orders from the same restaurant, he learnt that they had come from a pair of brothers now living at different addresses, who attempted to bribe van Meekeren with tips if he brought them their meal first.
The 27-year-old has even purchased a Santa Claus outfit in anticipation of his Christmas journeys. "I'm thinking of dressing up as Santa just to have a bit of fun," he explains. "It's all about keeping a smile. Hopefully when people open up and see a guy dressed up as Santa, that brings a smile to people's face in tough times.
"It has been great; I did two and a half hours earlier. I was going to do tonight as well, but we've got a call with the Dutch team a little bit later. I might go out for a couple of hours after."
2020 had been well-placed to become a major year for Dutch cricket, only for Covid-19 to see a busy summer – including games against Namibia, Oman, USA, Pakistan and New Zealand – shelved, followed by the bombshell news of the T20 World Cup's postponement.
As a result, the national side has not played since sealing their place a year ago by beating United Arab Emirates during the playoff phase of the qualifying event. Van Meekeren starred alongside fellow seamer Brandon Glover – captain Pieter Seelaar lauded the pair as his side's "X-factor", taking 31 wickets between them in nine games. But that is the most recent top-level game he has played.
His strife is shared by a number of players on the associate ladder, where income from cricket is often dependent on selection on tours or in matchday squads. It is one of the reasons why van Meekeren spent much of his summer devising the Dutch Cricketers' Association – a body to represent players back home, of which he is the founding president and international teammate Scott Edwards his deputy.
"I think for the guys who live in Holland, for the whole year round they're in a similar position," he says. "Especially for the fringe players who are expected to train three, four times a week, but you only get paid when you go on tour or when you get selected for a game in Holland.
"We're going to represent this group of players moving forward to make sure we can help these guys prepare for these big games as well as we can, while they might have to juggle cricket, study and work.
"Clothing is a massive thing; we're often low on stock, so guys might only have one training shirt or one pair of shorts to training. But that's associate cricket. We never blame the KNCB for that. We have been busy doing that over the summer; it's been a great learning curve and good for personal development."
In a sense, it is part of van Meekeren's glimpse into his own future. He can still play county cricket as a local next year and plans to train with counties through the winter in the hope of earning himself another shot at the county game, but he will only become an English citizen in April 2022, by which point he will be 29. The alternative, he adds, is to return to the Netherlands at the end of next summer and seek a contract there.
In the meantime, however, he has found a new calling in his car. When December comes in Chesterfield, watch out for the smiling Dutch Santa delivering Christmas dinner to your door.
Global Game
|
Features
|
County Cricket
|
1Banner
|
Please ensure all fields are completed before submitting your comment!