Tom Curran holds his nerve, Chris Jordan masters his art and Moeen's artistry... SOUTH AFRICA V ENGLAND TALKING POINTS
NICK FRIEND: An England win by two runs. Not even the closest game in this crazy series. Happy Valentine's Day, cricket fans. This was the sport you love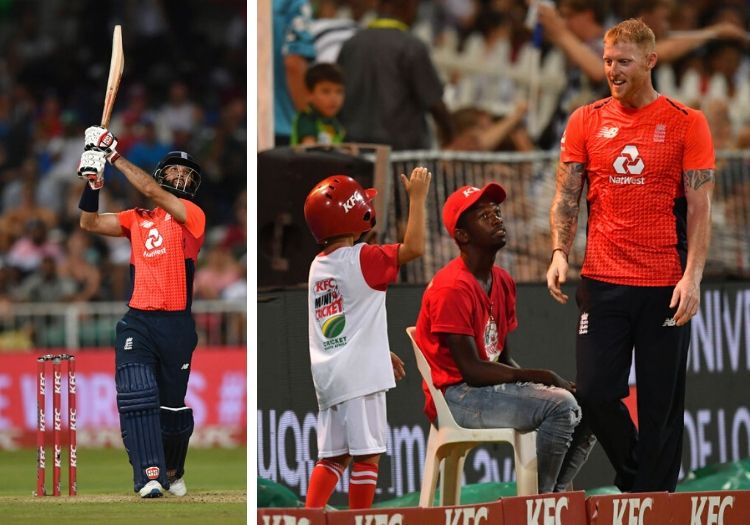 Balls of steel
Wow. Well, what an ending to a quite ridiculous game. There were 28 sixes struck in 40 overs of cricket - a game that at one stage looked to be petering along on a surface that, briefly at least, appeared to be slowing up into something stodgy and slow, difficult for stroke-play. How quickly that all changed. First, it was Moeen Ali, then Quinton de Kock, and finally Rassie van der Dussen. Three defining knocks in a game that never seemed to fall into one side's grasp.
But even in this batsman's paradise, a word for the bowlers. Chris Jordan has just about mastered his art. After nailing successive yorkers in defeat on Wednesday, he did the same in Durban, cleaning up Jon-Jon Smuts and then Andile Phehlukwayo one after another, all done with the menacing smile of a man who knows his game inside out and is equally aware that, just at the moment, he's got it all sussed.
His penultimate over left Tom Curran with 15 runs to defend and, after outfoxing Dwaine Pretorius with the first delivery, the allrounder responded in style, swinging him away for six over long-on and then following up with a flat swish over extra cover. But then, back came the Surrey seamer. If international cricket has learnt anything in the last two years, it is that the Curran brothers are a gritty, ballsy bunch.
Some might have believed that the game was up. This writer certainly was concerned enough to rewrite the opening lines of his match report. Three to win. Two balls to get them. And then, the perfect yorker - straight out of the Jordan playbook, arching in with a hint of reverse tail and pinning Pretorius on the toe. Off he limped - at least until he was reminded about a review that nearly saved him. But it didn't. And he traipsed once again from a ground whose atmosphere had been utterly electric, but then suddenly silent.
Out came Bjorn Fortuin: one ball to face, three runs to find. Be a hero. There can't be many tougher positions in sport - cricket, after all, is a tremendously individual team game. But for a split second, it was about two men: Curran v Fortuin. Hero. Villain. No in between. And the left-arm spinner went to flip him over fine leg. And then, the game was on another man. It becomes Fortuin v Rashid for the shortest instant. And as it nestled in the leg-spinners palms, the game was up. An England win. By two runs. Not even the closest game in this crazy series. Happy Valentine's Day, cricket fans. This was the sport you love.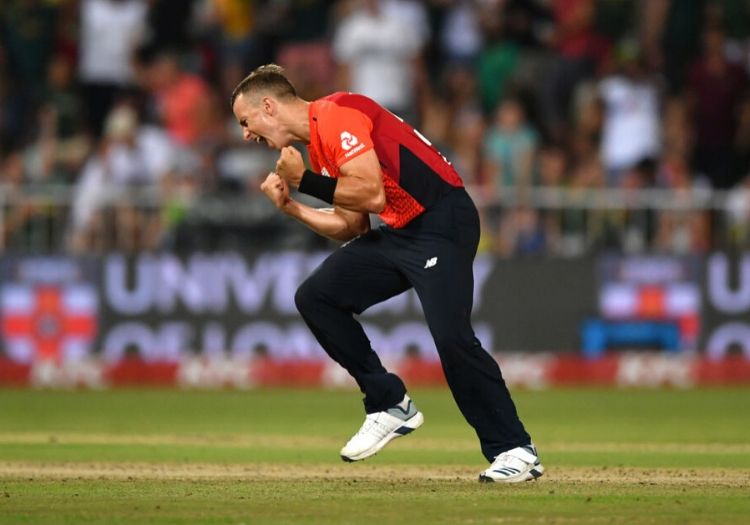 Tom Curran held his nerve to see England home
Jason/Jos/Jonny or Jonny/Jason/Jos? Gung-ho or the greater good?
There can be few debates that better highlight the progression of England's white-ball cricket than the question of Jos Buttler's best position in this T20 side. Because England have options like never before.
The last time there were murmurings around Buttler, he was still a Somerset player. He had been dismissed without scoring in England's five-run Champions Trophy final defeat against India, cleaned up first ball by Ravi Jadeja. At that stage, he had passed 21 just once in his 14 ODIs and had never reached 50. Some wondered how much substance there was behind the style of a maverick finisher with a quiver full of trick-shots.
How wrong they were – and what a player he has become. The question now, then, is of where he might best be utilised in a team full of quite staggering hitters. If there is a weakness to Eoin Morgan's T20 outfit, it might just be its sheer array of options and, therefore, the makeup of it all. There is no room in England's touring party of South Africa for Tom Banton, Alex Hales, Phil Salt, Liam Livingstone or James Vince – all fiends of the T20 circuit.
Dawid Malan is yet to remove his yellow bib, while Joe Root – a star of England's 2016 World T20 campaign – has, at least for the moment, been sacrificed.
Some have described Buttler's place at the top of the order as an experiment. But it isn't, is it? He has starred for Rajasthan Royals in the Indian Premier League as an opener and similarly for Sydney Thunder in the Big Bash.
In England colours, he has opened up on eight occasions, averaging 40.14 and striking at 156.98. The evidence is there that it works. It has been tried and tested. There is sound logic attached – in a format as short as T20, why wouldn't you want your best player to face the most deliveries?
Yet the question, rather, is whether it makes sense for this team - a side that already is top-heavy and awash with powerplay options. As a duo, Jason Roy and Jonny Bairstow are the most destructive and fearsome that English cricket has ever seen in white-ball cricket. They are intimidating and brutal; their record together is exceptional – other teams fear them. They push fielders back onto the edge of the ring merely through their reputation as a pair of bludgeoners.
So, why break them up? Buttler. A persuasive answer, granted. But, as England have found in both games in South Africa, there is an imbalance to the rest of the order – a disruption where one need not exist, even if Moeen Ali here made a mockery of such concerns.
At the moment, Moeen has become collateral; the left-hander is one of the premier hitters of spin in world T20 cricket. And yet, he has been enlisted as England's de facto finisher, with Buttler otherwise engaged.
There is no argument that when it comes off – as it did here in the end, England will profit immensely. The dilemma, though, is of where they will benefit most regularly.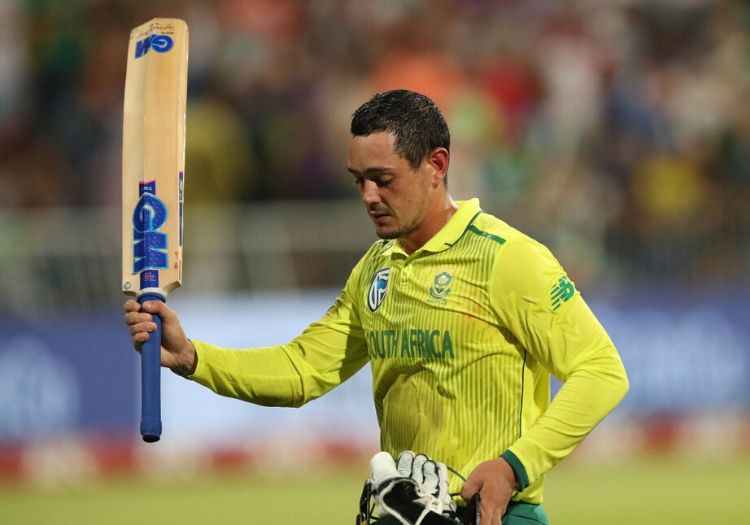 Quinton de Kock's 65 came off just 22 balls
The curious case of Joe Denly…
It's been a curious time for Joe Denly, hasn't it? Nobody is truly sure quite what his role is in this England T20 team. He didn't bowl in the first game between the teams, making just three before holing out.
Here, he followed up with just a single, before elbowing a slower-ball onto his stumps – the kind of dismissal reserved for a man short on runs and with question marks hanging over him.
Does he get another go at Centurion, with Dawid Malan waiting in the wings?
England's fastest 50 - the wait goes on...
Yuvraj Singh still holds the record for the fastest half century in T20I history: his 12-ball hammering of England at the 2007 World T20 – a knock that also came at Durban. Thirty-six of those, of course, came in the space of six consecutive deliveries to the misfortune of Stuart Broad.
Marcus Trescothick smashed a fifty of his own off just 13 deliveries for Somerset against Hampshire in 2010, but in the international arena Eoin Morgan's 21-ball effort against New Zealand in late 2019 remains the quickest effort by an Englishman.
Given the power of England's lineup, that seems somewhat surprising. For a brief moment, it seemed as though Moeen Ali might challenge his skipper here. His 39 required just 10 balls, before the fun ended by the 11th. By the end of 2020, however, it would be a mighty shock were Morgan's figure still to stand.
Moeen the dream
When Moeen Ali plays quite like this, it seems almost maddening that there could ever be any debate over his role in this England side.
It was only short – 11 balls and 16 minutes, but it was an effort that will live long in the memory. One shot – an improbable slice away over gully for six – almost defied description.
A wide full toss, Moeen's entire bat flow seemed to dictate a flail over wide long-on. But then, his wrists entered the fray – those molten, golden wrists. It was Smithian in its artistry; the arc of the bat was so unlikely that he had no business in even attempting to skew Lungi Ngidi over backward point.
That is not to say that this No.7 role is necessarily even his best position – it is hard to think that Moeen would not be better served entering the fray in the middle overs, such is his aptitude against spin. Yet, alongside Ben Stokes, he dragged England to the second-highest total in T20I history at Durban, taking 79 runs from the final five overs of their innings.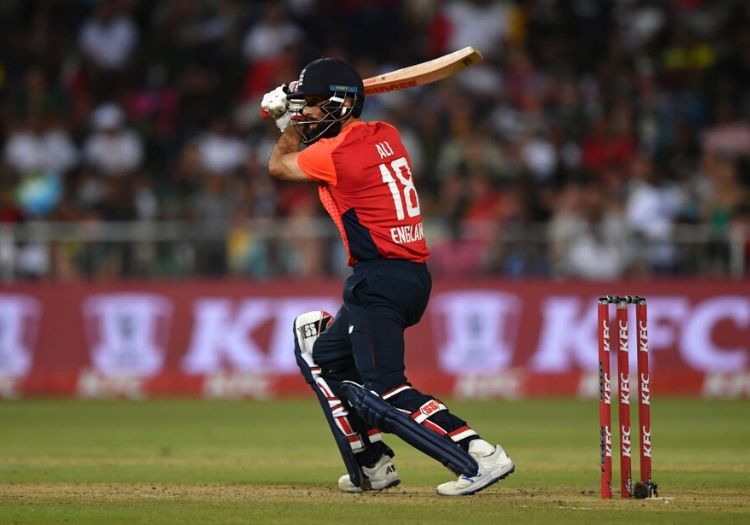 Moeen Ali's quickfire 39 hauled England towards a match-winning total
Quinton de Knock
There can't be many people in the world who hit a cricket ball more cleanly than Quinton de Kock. There were eight sixes and two fours in an outrageous display of hitting. Twice, he cleared Kingsmead's steel roof.
According to Cricviz, only ten players have ever scored more runs than de Kock's 65 from their first 22 deliveries.
When he was dismissed, however, clothing another Mark Wood full toss to Ben Stokes at deep midwicket, the subsequent efforts of his teammates - van der Dussen apart - highlighted quite how well their captain had played.
Each maximum was marmalised - Curran dispatched, Rashid dominated, Moeen hit twice over square-leg and then once - like a golfer off his tee - straight down the ground.
An absolute treat to witness and, from England's perspective, a mighty relief that it was curtailed when it was.
South Africa
|
International
|
England match centre
|
England
|
1Banner
|
Please ensure all fields are completed before submitting your comment!