Time was right for Ed Barnes to start a new life in Leicester
SAM DALLING - INTERVIEW: Barnes is a Yorkshireman through and through but, with chances at a premium at Headingley, the time came to fly the nest. He knew it had to happen but walking away is never easy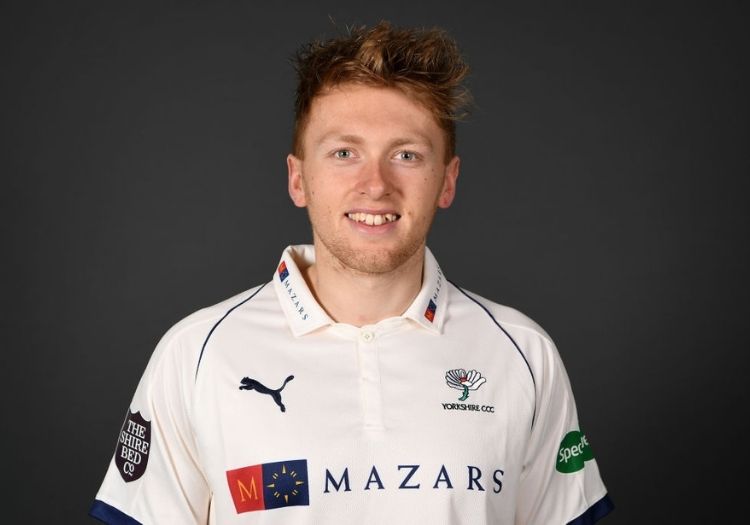 Life has a habit of taking unexpected twists.
When Ed Barnes strolled out at the Fischer County Ground for his first-class bow in August, perhaps the last thing on his mind would have been the possibility of one day calling the ground home.
Then, he was a Yorkshire player, picking up valuable first-team experience on loan at Derbyshire.
Fast forward a couple of months, however, and the paceman has joined Leicestershire on a three-year deal.
"I knew from the off that going on loan would be my best bet of playing some cricket this year," he told The Cricketer. "With this short season I knew that chances would be few and far between at Yorkshire. Thankfully I managed to get an opportunity at Derbyshire and played a few games.
"It just so happened that my first game was against Leicestershire at their ground. I bowled horrendously in the first innings but settled down a bit in the second, bowled much better and picked up a couple of wickets. They took a bit of an interest in me, got in touch and things picked up from there really."
The young quick is the third man to join the Running Foxes so far this winter.
He follows in the footsteps of talented top-order starlets Rishi Patel and Scott Steel, who arrived from Essex and Durham respectively.
Barnes, who turns 23 later in the month, is the elder statesman of the trio and the capture of exiting young talent speaks volumes for the vision of head coach Paul Nixon and new chief executive Sean Jarvis.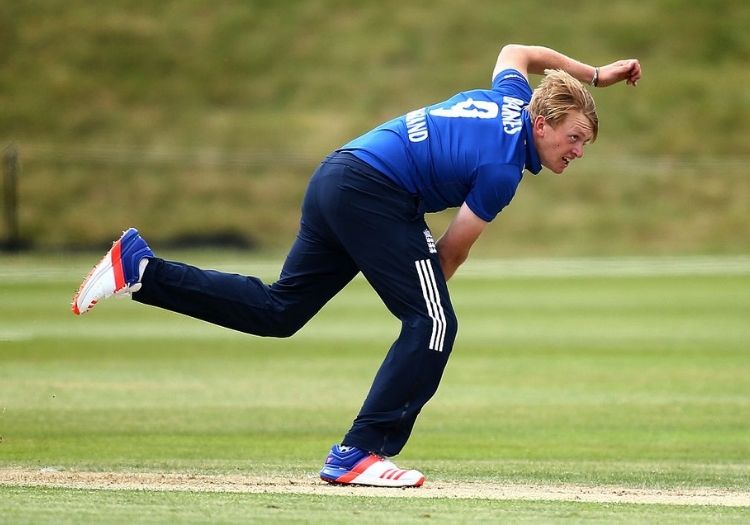 Former England Under 19 international Ed Barnes has left Yorkshire
And it bodes well for an improving side who came within a whisker of reaching the T20 Blast Finals Day last month, losing out to eventual champions Nottinghamshire on runs scored in the powerplay after a tied quarter-final clash at Trent Bridge.
"Paul Nixon and Shaun were both brilliant. They were in contact quite regularly which is nice – it makes you feel wanted. That played a big part in it.
"And Leicestershire are definitely progressing as a club. The quarter-finals showed that and if a few things had gone their way they could easily have beaten Notts and qualified for the finals.
"The squad seems hungry to develop and that is exciting. Hopefully I can be part of a club that continues to build and gets better in all three formats."
The Yorkshire academy graduate's arrival was announced earlier in the week but the ink has long since dried on the contract. The deal was sealed back in the summer and Barnes has already taken up residence in the city.
He had hope to be fully immersed in pre-season by now, but Lockdown 2.0 stopped him in his tracks.
For now he is just happy the cat is out of the bag.
"It has been on the cards for a while. Even towards the end of the summer when I was still at Derbyshire I knew I was signing here. I'm just delighted everyone knows now.
"We were due to start pre-season at the start of November so I moved down ready for that and did manage to get out in Leicester a little bit. But I had rented my place out back up North so once lockdown came again I could not go back there.
"It has been hard to keep it quiet when you are moving sticks and everyone is asking why. It did get out a little bit to my friends and all my knew family because I asked their advice. I was glad when they finally gave me a date of when they were going to announce it!"
Barnes is a Yorkshireman through and through and was first sighted in the 2nd XI back in 2016 but, with chances at a premium at Headingley, the time came to fly the nest. He knew it had to happen but walking away is never easy.
"I have played with those guys for years and become best mates. You spend so much time together especially in the summer so it was definitely tough saying a few goodbyes but I will still get to see them plenty.
"It is important for me to remember it is the best thing for my career going forward. You don't get a long career and you have to do what is best for you at the right time. This is definitely the right time."
Although he never made a first team appearance for the White Rose, Barnes was highly regarded by his peers and is a former England Under 19 international.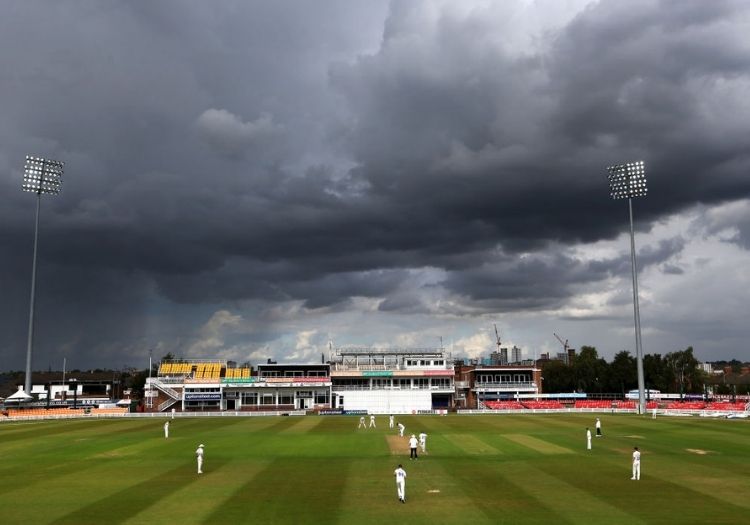 Barnes has made Leicestershire's Fischer County Ground his new home
Both his attitude and ability made a favourable impression during his stint at Derbyshire, with bowling coach Steve Kirby in particular a huge fan.
The feeling was mutual with Barnes enjoying himself under Kirby's watchful eye.
"I absolutely loved working with Steve, even though it was just for a short while and the playing schedule was quite full on. I remember watching him at Taunton right at the end of his career. He was the angriest man ever to be seen but he is a cracking bloke and is so enthusiastic – he is quite young in his coaching career but his desire to learn was the best I have seen yet."
Does he take after Kirby on the field?
"I rarely say anything. I love an early bumper just to get things going, get it pumping. I do love a battle but I keep it internal."
Barnes' love for the game stems from an early age. His dad – a farmer – showed his boys the way.
"Dad is the biggest cricket fan you will ever meet. He took me to one of the local village cricket clubs – Ouseburn CC - and Michael Vaughan was running one of those summer camps. I was only four or five at the time – too young for it really."
"I get called Phil Jones daily. I don't think you would have to search too far for a photo to back it up"
From there he never looked back and learned his trade in unusual surroundings.
"My older brother loves cricket too and we created a bit of a cricket pitch in one of the barns on the farm. We spray painted the pitch and also spray painted fielders on the wall. We used to play at night and have some massive battles. It has progressed from there."
And when he wasn't playing cricket, he was up at all hours helping out on the farm.
"I would always help out in lambing season as that is when they are at their busiest. I used to do the night shift – you get up every hour and a half to go and check. I used to love it. I'd get a tenner for my troubles."
Barnes' other passion is football.
He is a die-hard Leeds United fan and is enjoying Marco Bielsa's reign.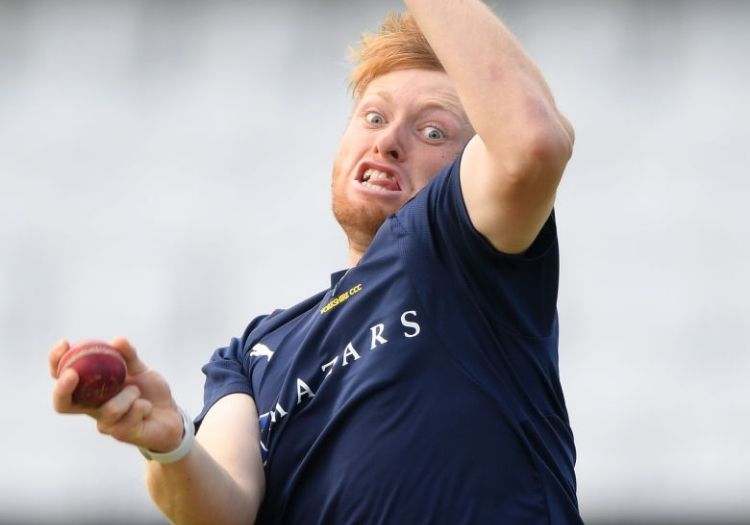 Barnes has picked up the nickname Phil Jones for his facial similarities to the footballer when in action
"I am absolutely loving it. It is so good. It is tough to watch on TV as I get more nervous than being there. Hopefully there aren't many Leicester fans in the squad – we got beat 4-1 by them recently so it could be a long winter if there are. As long as we stay up that has got to be the main aim."
The rivalry between his beloved Leeds and the red half of Manchester runs deep.
And so the last thing any Lilywhites fan wants is to be likened to one Ole Gunnar Solskjær's troops.
Unfortunately for Barnes his facial expressions during delivery have led to an unwelcome nickname.
"I get called Phil Jones daily," he reveals laughing. "I don't think you would have to search too far for a photo to back it up. It is horrendous – my jaw sometimes hurts if I bowl a lot of overs in the day. It is from my load up and the way I bowl; may jaw is constantly moving around all over the shop. I was once spent a whole winter trying to get out of it!"
Like all of us, Barnes is hoping for a return to normality in the new year. In the meantime, Joe Wicks and his favourite soaps will keep him busy.
"I don't think I have missed an episode of Corrie or Emmerdale for about 10 years. Whenever we go away I download it all and catch up. I definitely get a bit of stick for that from the lads.
"Lockdown has messed up the structure a little bit. They are trying to build up these big storylines which you can see coming – but it is a bit weird as they are so far away from each other and no one is touching. Obviously they have to do it and they have brough in masks and all that – it is real life in soaps, mate!"
Yorkshire
|
Leicestershire
|
Features
|
County Cricket
|
1Banner
|
Please ensure all fields are completed before submitting your comment!