Chorister, actor, theologian... seamer: The curious background of Ethan Bamber
NICK FRIEND: Ethan Bamber's outlook on one of professional sport's most fragile careers is one of a deep thinker, of somebody who understands the complexity of life's challenges. It is this sociological instinct that led him to theology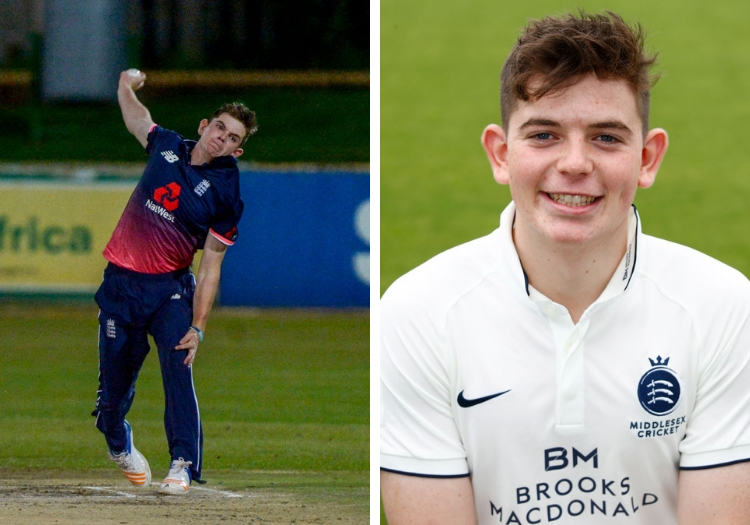 Ethan Bamber has enjoyed a rapid rise with Middlesex
Just six years ago, Ethan Bamber was representing North Middlesex Cricket Club's fifth team, only entrusted with getting through four overs of medium pace in the middle of an opposition run chase.
Now he sits in the corner of a London restaurant, reflecting on a whirlwind summer that saw him become an impressive fixture in a Middlesex side already boasting a formidable seam attack. Twenty-eight Division Two wickets at an average of 20.25 – the early results of an unlikely professional career for one of the game's most interesting and self-effacing young men.
By his own admission, never a childhood prodigy, Bamber has reached first-class cricket via the unusual path of choristry and theology. In a unique family, it is a journey that places him on his own.
His father, David, is an actor, who played Adolf Hitler in Bryan Singer's film, Valkyrie. His mother, Julia, is also an actress – as were both of her parents. His brother, Theo, is the latest in the lineage to make the same move.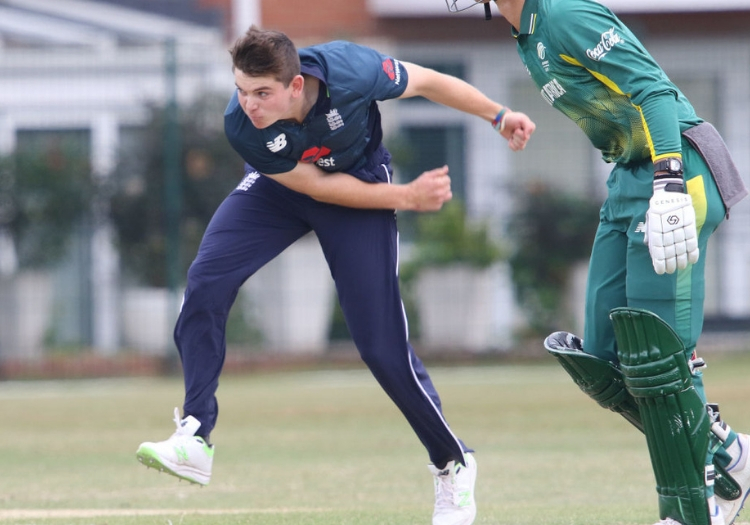 Bamber comes from a family of actors
"I was awful at acting because I used to laugh during my lines," he explains as he pinpoints the break in family tradition.
"I think I have been really fortunate to have two parents who are in the arts and are actors. It has given me a wider perspective on life. I love going to the theatre, and my parents are hilarious at home."
He laughs as he recalls his father's role in Valkyrie, where he performed alongside Tom Cruise.
"My dad was allergic to the sticky stuff that goes on fake moustaches," he says.
"So, he was forced to grow an actual version. He came back home for two weeks during filming and he literally couldn't leave the house. His hair had been cropped for the role and he had this tiny little moustache."
It was an unusual background for a seam bowler still learning his trade after a series of consistent displays at the Under-19 World Cup, where he was England's top wicket-taker.
But it is also an upbringing that Bamber credits with his development, both in his early guise as a choirboy, where he performed Evensong and Eucharist as a soprano until his voice broke, and in his work ethic that has led to a burgeoning cricket career.
"I love watching my parents' performances," he gushes. "I'm just in awe of the characters they play and how committed they are to their preparation and the care and thought that they put into their work. I see it as a real pleasure watching them."
Bamber has followed that example meticulously in his pursuit of a first-team berth in a stable of seamers that includes Steven Finn, Toby Roland-Jones, Tom Helm, Tim Murtagh, James Fuller (until his recent defection to Hampshire) and James Harris.
It has been easy for the ever-humble youngster to adopt such a mantra. Quite simply, he admits, he never expected to be here.
"I wasn't destined to play professional cricket," Bamber says. "I'd like to think that, at this point, I have worked incredibly hard and have made very willing sacrifices to try and get the most out of myself."
His fitness work has become paramount – not because he wasn't fit before, but because of a self-awareness that reminds him of who, what and where he is.
"I have to be able to bowl all through the day and be bowling at the same pace and the same consistency at the end as I would do at the start," he says.
"Otherwise, I don't really have a USP. I don't think I'll ever bowl rockets, but I hope I can add a couple of miles on somewhere. I have to be consistent and skilful because there are 200 people in the country that bowl my pace, so if you want to stand out you have to be able to do something better.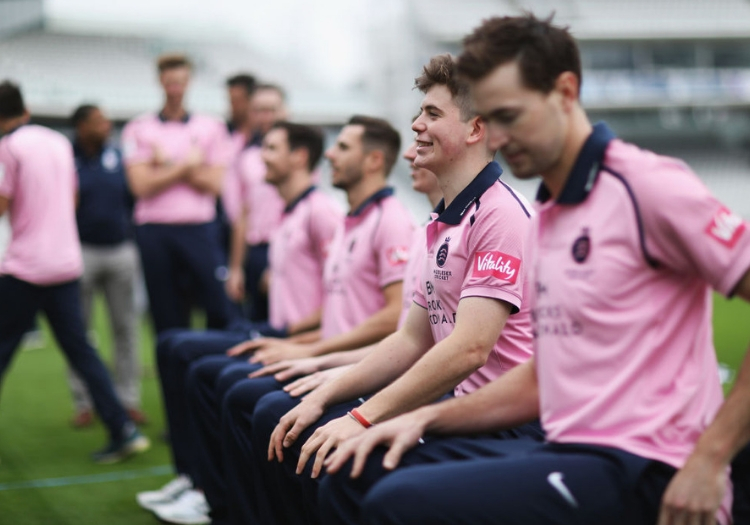 Bamber has made waves domestically and with England Under-19s
"That is having better control, moving the ball consistently, being able to deceive batsmen in white-ball cricket and being able to bowl in different conditions and still be effective."
The desire to improve, he believes, comes from a lifelong enjoyment of the sport that he is now tied to professionally on a three-year contract. Even when he speaks of his amateur cricket at North Middlesex, he does so with a thrilling enthusiasm for what the club has afforded him.
"When I was playing those fifth team games, I genuinely thought that was the pinnacle of cricket," he chuckles.
"To be playing cricket with adults I just thought was awesome. At that point, it was. And because of that, it was so easy to enjoy it.
"I always wanted to be a cricketer, but I never thought I would be one. Because of that, I didn't get worried about which team I was being selected for."
If there seems to be a refreshing modesty about Bamber's words, it is because that is his character. There is no hint of any false underplaying of his abilities and achievements.
His Twitter bio features just a single word: 'sorry'. It is part of a running joke among his team-mates, that Bamber will apologise for anything and everything. He has tweeted just six times, once to congratulate Martin Andersson on his professional contract, and five times to thank those who have congratulated him.
Behind the humility, however, is a steely determination. He looks back at his debut at Northamptonshire, where he took four wickets as Middlesex won after following on, with an element of frustration.
"I bowled too many bad balls," he sighs. "I expect a lot of myself, so when I had bowled 14 overs for 55 on the first day at Northants, I thought I was a failure. I still think that was a failure.
"I hated the excuse in my first few games of it being my debut or my first game at Lord's because – to me – you have to believe that the reason you are playing is that you are good enough to be there. In my head, I was good enough to do the job I was there to do and – in that first spell – I didn't feel that I was doing it."
There is something quite brilliantly mature about the honesty of Bamber's self-analysis. Since his maiden scalp of Northants' Ricardo Vasconcelos, he has been happier with his contribution. Plaudits for his consistency and versatility – with new ball and old – have come from all quarters.
Bamber, though is not one to get even remotely carried away. When he signed his deal, he said: 'If I don't make it, it will be because I'm not good enough.'
Twenty-eight first-class wickets later, he reflects: "Being good enough is being what I think is good enough.
"I don't think I'll ever achieve that. I want to be faultless, to be the absolute best that I can be. I'm certainly not that at the moment.
"I'm fortunate in that what I've done so far has worked, but people work you out and the game moves forward, and you have to move with it. That mantra hasn't changed in terms of giving it everything. The nice thing is that nobody can take away what I have done and that does give you a bit of confidence and does make that hard work easier. It is very early on though, and I know that things can change."
Bamber's outlook on one of professional sport's most fragile careers is one of a deep thinker, of somebody who understands the complexity of life's challenges. It is this sociological instinct that led him to theology, which he studies at Exeter University.
Not religious himself, he links his deep interest in its study to his days as a chorister, being exposed to the real-life workings of a religious environment.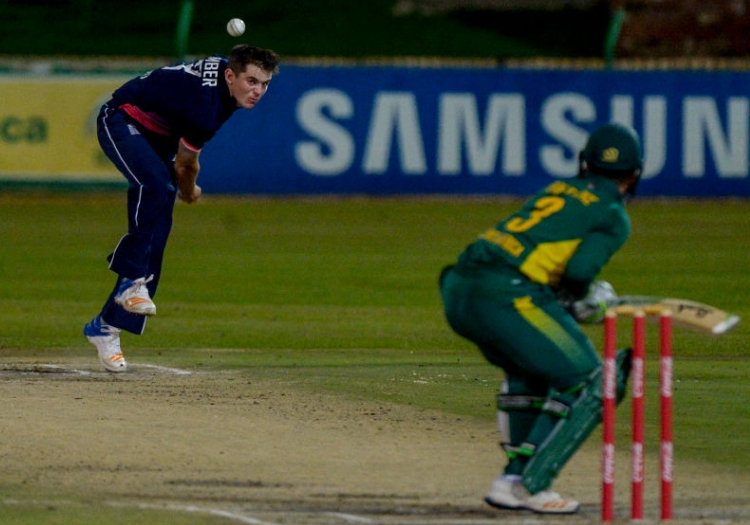 Bamber studies theology at Exeter University
"I see a lot of what we read as symbolic," he explains. "For example, there is a theory propagated by Luther and then by Karl Barth, which states that you carry a cross throughout your life of the burden of suffering, which helps you grow." He stops for a second, apologising for going into detail. There is no need. His intellectual thirst – combined with a nagging desire to apologise – is what stands Bamber out from so many.
He knows that it is a curiosity that renders him different from most on the county circuit. That said, it has evoked intrigued questions from his peers.
"Once people get past the fact that it is an obscure degree, it is plain to see that religion has an enormous effect on the world," he says.
He goes on, explaining the philosophy of Charles Williams.
"He says that we as people can take on the symbolic role of Christ and that we can absolve one another of our sins, with Christianity being a religion for the ordinary person. You don't need to be a priest to act vicariously, so Williams thinks.
"I don't personally believe that, but I like the idea that it is open to all."
As Bamber points out though, he is by no means English cricket's first theologian. David Sheppard scored three Test hundreds before being ordained as the Bishop of Liverpool. That route, however, is not on Bamber's radar.
The focus, he admits, is simply on continuing his dream.
"After winning a game, walking back through the Long Room past the members on the side of the stairs clapping, all I could think was: 'Wow, how lucky am I.'"